LEGO, the iconic Danish toy brand, has been inspiring creativity and imagination in children and adults alike since its inception in 1932. The company's signature interlocking bricks have become a global phenomenon, transcending cultural and generational boundaries. However, in the early 2000s, LEGO faced significant challenges that threatened its very existence. Our LEGO case study will explore how LEGO revitalized its brand by refocusing on its core product, expanding into new markets, and leveraging digital and content marketing.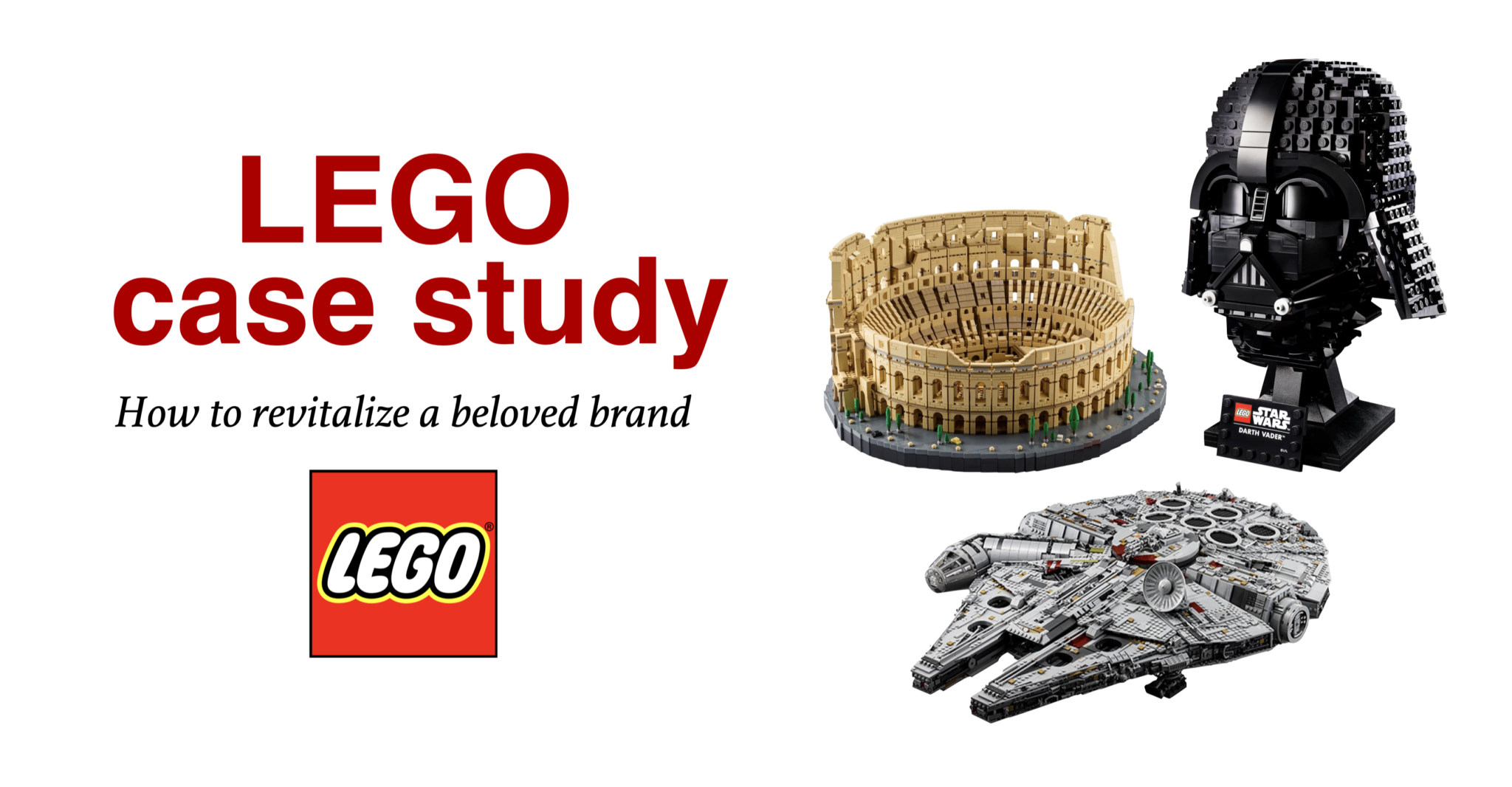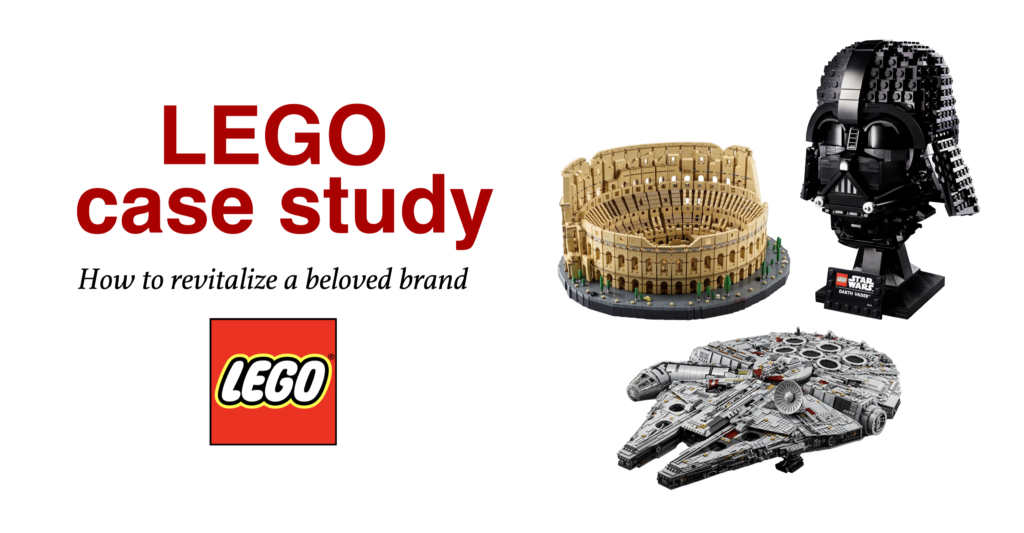 The Challenges LEGO Faced
In the early 2000s, LEGO was grappling with several issues that put its brand at risk. Declining sales, increased competition from digital entertainment, and a loss of brand focus due to excessive product diversification left the company struggling to find its footing. These factors created a sense of urgency within LEGO's leadership, who recognized the need for a fundamental shift in strategy to revitalize the brand and secure its future.
Recognizing the need for change
LEGO's management understood that they needed to reassess their business approach to overcome these challenges. They initiated a comprehensive review of the company's operations, product portfolio, and marketing strategies. This process led to several critical insights, which informed the company's revitalization efforts.
Refocusing on the Core Product
One of the key realizations was that LEGO had drifted too far from its core product—the iconic interlocking bricks. The company had diversified its product line to include action figures, clothing, and various themed sets, diluting the brand's identity. LEGO decided to streamline its product portfolio and return to the essence of its brand: the simple, yet versatile, building blocks that had captivated generations of fans.
Simplifying the Product Range
LEGO reduced the number of individual brick types, making it easier for customers to build with the product while maintaining its versatility. The company also reemphasized classic themes, such as City, Castle, and Space, which resonated strongly with its core audience. This refocusing allowed LEGO to reestablish its identity as a brand that fosters creativity and learning through play.
Expanding into New Markets
At the heart of the LEGO case study is a revitalization strategy that involved expanding its market reach. The company identified untapped potential in emerging markets, such as China and India, and developed targeted marketing and distribution strategies to cater to these new audiences. LEGO also recognized the importance of engaging adult fans, leading to the creation of sophisticated sets with intricate designs and higher price points.
Building a Global Presence
LEGO invested in building a strong presence in emerging markets, opening new offices, retail stores, and production facilities. This expansion allowed the company to establish a local presence and better understand the unique needs and preferences of customers in these regions. By adapting its products and marketing strategies to cater to local tastes, LEGO was able to grow its brand and increase sales significantly.
Leveraging digital and content marketing
LEGO understood that the rise of digital technology and social media presented both challenges and opportunities for the brand. To capitalize on these new avenues, the company embraced digital and content marketing as essential components of its overall brand strategy.
Engaging with Fans Online
LEGO created an extensive online presence through social media platforms, engaging with fans and customers directly. They share behind-the-scenes content, hosting contests, and showcasing user-generated creations. This allows LEGO to foster a sense of community and loyalty among its audience. This approach helped the company maintain relevance in an increasingly digital world.
LEGO launched the LEGO Ideas platform, a crowdsourcing initiative that allows fans to submit their own designs for potential production as official LEGO sets. This innovative approach not only provided valuable product ideas but also deepened the connection between the brand and its fans. By involving their most cherished customers in the creative process, LEGO fostered a sense of ownership and loyalty, further strengthening its brand identity. To illustrate our LEGO case study, click on the video below that explains how the LEGO ideas program works. 
In 2021, there were 57 submitted ideas that made the Lego review stage. What a great example for engaging your most loyal brand fans. To illustrate our LEGO case study, click on on the examples of the ideas below.
Creating Immersive Digital Experiences
In addition to engaging with fans on social media, LEGO explored new ways to create immersive digital experiences. The company developed video games, mobile apps, and virtual reality experiences that allowed users to build and interact with LEGO bricks in digital environments. By extending the play experience beyond the physical product, LEGO demonstrated its adaptability and commitment to embracing new technologies. 
To illustrate the LEGO case study, below is an example of one of their more immersive experiences. This allows LEGO customers to go deeper into each of their product lines. 
M   A   R   K   E   T   I   N   G        B   O   O   K
the playbook for how to create a brand your consumers will love
Covering every aspect of brand management, it is no wonder that our readers reach for Beloved Brands multiple times each week to guide them through the challenges of day-to-day brand management.
Get ready for a mind-bending journey as we take you on a deep dive into your brand strategy. We'll challenge you with thought-provoking questions designed to shake up your thinking and help you see your brand in a whole new light. And our unique process for defining your brand positioning will leave you with fresh ideas and new possibilities for how to differentiate your brand.
But we won't just leave you with ideas – we'll show you how to turn them into action. Learn how to write a brand plan that everyone can follow, ensuring that all stakeholders are aligned and contributing to your brand's success. We'll walk you through the creative execution process, from writing an inspiring brief to making smart and breakthrough decisions.
And when it comes tao analyzing your brand's performance, we've got you covered. Our innovative methods will help you dive deep and uncover insights you never knew existed, giving you the knowledge you need to make the best decisions for your brand's future.
But don't just take our word for it – our Amazon reviews speak for themselves.
With over 85% of our customers giving us a glowing five-star rating and an overall rating of 4.8 out of 5.0, we know we're doing something right. And with numerous weeks as the #1 bestseller in brand management, you can trust that we have the experience and expertise to help you achieve success.
Ready to join the ranks of the Beloved Brands community? Order our book on Amazon, Rakuten Kobo, or Apple and start your journey towards brand success today.
Take a read through our sample chapter on strategic thinking
The Impact of LEGO's Revitalization Strategy
The combination of refocusing on the core product, expanding into new markets, and leveraging digital and content marketing proved to be a winning formula for LEGO. The company's sales and profits surged, and LEGO reclaimed its position as a leader in the toy industry. Moreover, LEGO's revitalized brand image resonated strongly with both new and existing fans, securing the brand's future for generations to come.
Our LEGO case study shows how they have experienced impressive growth and financial performance over the last 15 years. With revenues increasing from $1 billion to $8.4 billion, the company has managed to achieve an 8x increase. 
Moreover, our LEGO case study shows they have achieved a profit margin of nearly 25% and a profit of $2 billion indicate exceptionally strong performance.
Lessons Learned from the LEGO Case Study
Our remarkable LEGO case study offers valuable insights for brand management:
Stay true to your brand's core identity: Maintaining a clear focus on the essence of your brand is crucial for long-term success.
Understand and adapt to market dynamics: Continuously assess market conditions and adapt your strategies accordingly to stay relevant and competitive.
Engage with your audience: Foster a sense of community and loyalty by involving your audience in the creative process and maintaining open lines of communication.
Embrace new technologies: Leverage digital marketing and emerging technologies to create immersive experiences and reach new audiences.
LEGO customer service story
This customer story involves a 7-year-old boy who lost his Lego when he took it on a family trip to the mall. Kids lose a toy all the time. But he was so upset that he wrote a letter to Lego, telling them the story and asking for a replacement. He lost just one figure in his Lego kit (Jay ZX) but to him, it's the most important thing in his life.
We empower the ambitious to achieve the extraordinary.
Without a doubt, our role at Beloved Brands is to help the ambitious marketers who are trying to improve their marketing skills. Most importantly, we will prepare you so you can reach your full potential in your career. You will learn about strategic thinking, brand positioning, brand plans, marketing execution, and marketing analytics. As well, we provide a suite of marketing tools, templates that will make it easier to do your job, processes that you can follow, and provocative thoughts to trigger your thinking. 
Have you gone through an assessment of the marketing skills of your team? Take a look below:
The fundamentals of marketing matter.
Our Beloved Brands marketing training programs cover different streams to suit the type of marketer you are. For instance, our marketing training covers consumer marketing, B2B marketing, and Healthcare marketing. 
The marketing fundamentals that we show in this article are part of what we use in our marketing training programs. Ambitious marketers will learn about strategic thinking, brand positioning, brand plans, marketing execution, writing creative briefs, advertising decision-making, marketing analytics, and marketing finance. 
Importantly, when you invest in our marketing training program, you will help your team gain the marketing skills they need to succeed. Without a doubt, you will see your people make smarter decisions and produce exceptional work that drives business growth. 
Finally, I wrote our Beloved Brands playbook to help you build a brand that your consumers will love. If you are a B2B marketer, try our B2B Brands playbook. And, if you are a Healthcare Marketer, try our Healthcare Brands playbook.
Everything a Marketing must know about.
Importantly, Brand leaders need to know how to think, define, plan, execute and analyze with the best of them. Moreover, while the brand leaders don't really know how to do anything, they are looked upon to make every decision. Have a look at our five minute video on everything a marketer must know. To read more, click on this link: Everything.
To view, use the ▶️ controls to play or volume buttons 
If you are looking to make your marketing team smarter, we can help. To get started, email Graham Robertson at [email protected]