Buying a YETI is not a purchase, but rather an investment. That's how the founders think of their exceptionally high priced products. In YETI Case Study, we delve into the fascinating world of the YETI brand – an unyielding player in the outdoor gear industry. YETI, renowned for its ultra-durable and superior quality products, has not only redefined the cooler market but has also created an entire lifestyle around its brand.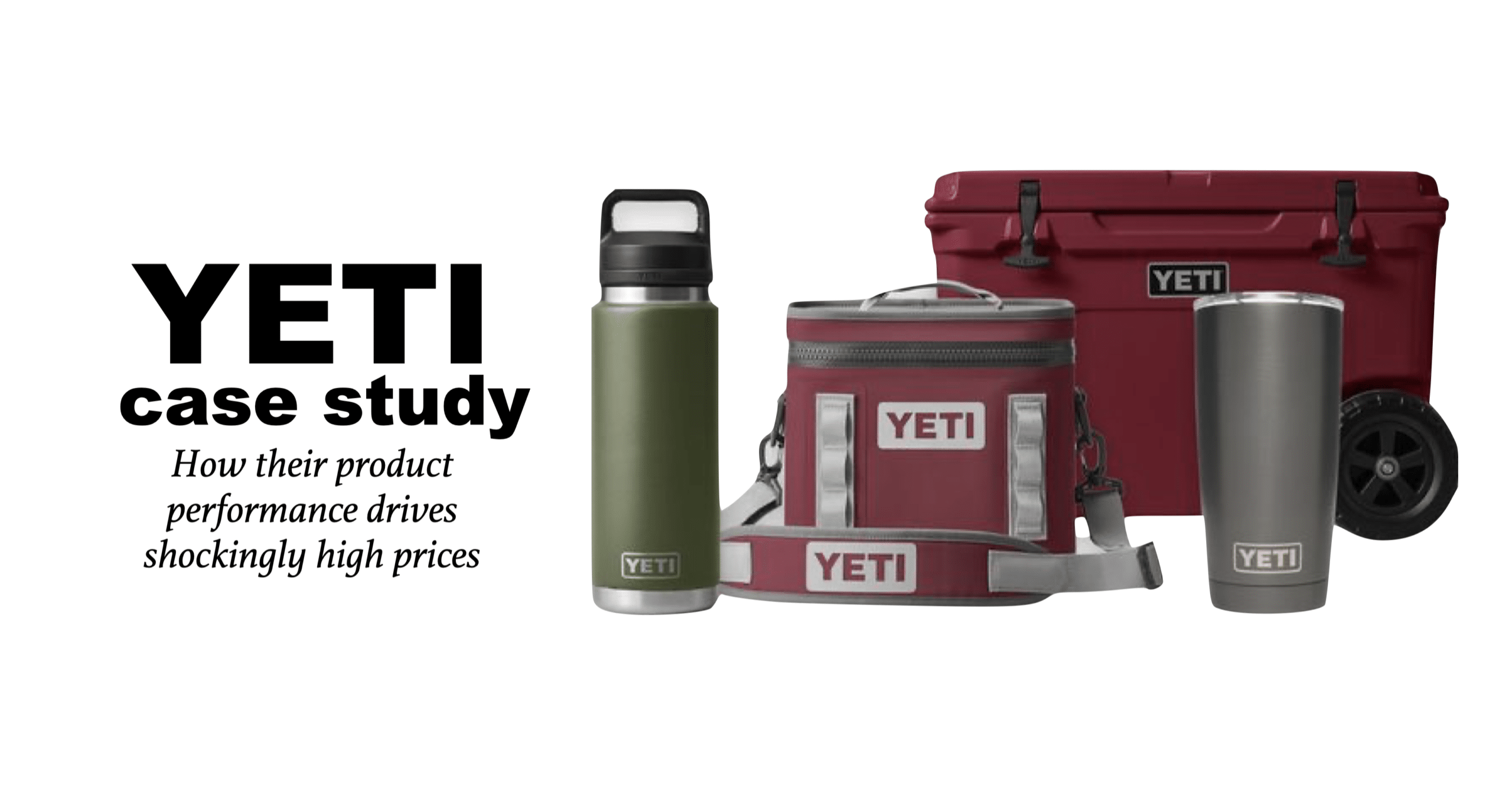 Our YETI case study illuminates how YETI's bold strategy of unwavering quality and premium pricing has led to their undeniable success. If you're intrigued by how a brand can command such high prices while maintaining an enthusiastic and loyal customer base, then this YETI brand exploration offers a comprehensive understanding of this compelling phenomenon. Buckle up for a deep dive into YETI's branding, marketing strategies, and the secret behind their shockingly high-end prices.
Two brothers in pursuit of a quality cooler.
The YETI brand was born from necessity and a personal passion for the great outdoors. It all started with two brothers, Roy and Ryan Seiders, who were raised in Driftwood, Texas. The Seiders brothers grew up with a love for hunting, fishing, and spending time outside. 
However, they found themselves continually frustrated with the subpar coolers available in the market. Their coolers simply could not stand up to the rigors of their outdoor adventures – hinges broke, lids caved, and handles snapped off.
Frustrated with the quality of the existing coolers, the brothers decided to create their own. 
They set out with a vision to build a cooler that could withstand the tough and demanding conditions of outdoor life. A cooler you'd use every day if it existed. Their goal was to build a product that was ultra-durable, with superior ice retention, capable of withstanding rough handling and tough environments.
In 2006, they founded YETI Coolers with an initial focus on creating high-end, hard-sided coolers. 
They worked on perfecting the design and materials, producing a rugged, near-indestructible cooler that kept ice for days. These products were a hit among serious hunters, anglers, and outdoor enthusiasts who recognized the value of a cooler that could take a beating and still perform.
The YETI brand expanded rapidly, and as its product line grew, it evolved into more than just a cooler company. Today, YETI is a beloved outdoor lifestyle brand with a wide range of products, including drinkware, bags, and other gear. 
YETI's commitment to quality, durability, and its connection with the outdoor community remains as strong as ever. The journey of the YETI brand is a testament to its founders' vision and the power of a relentless commitment to product quality.
A product-led brand in pursuit of the ultimate performance cooler.
Our core strength model forces you to select one of four possible options for you to win with. Is it the product, brand story, experience, or price? For many marketers, their immediate response is an urge to pick two or three core strengths. They believe the myth that having many strengths makes your brand stronger. Focus will make your brand stronger.
Finding your core strength
Here is the game I have created to help choose your brand's core strength.
Use the diagram below, start with four chips. You must place one chip where you believe you have the highest competitive advantage to win.
Then, put two chips at the medium level that backs up and supports the core strength.
Finally, the game forces one chip to be at the low end. This is a throwaway weakness that will not be part of the strategy.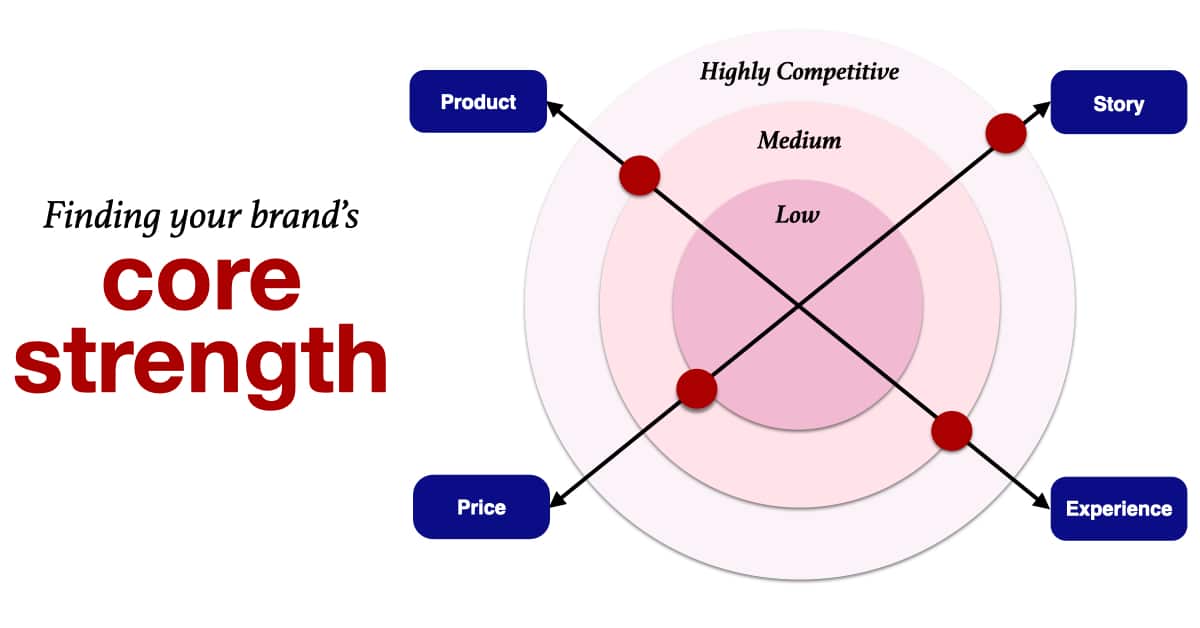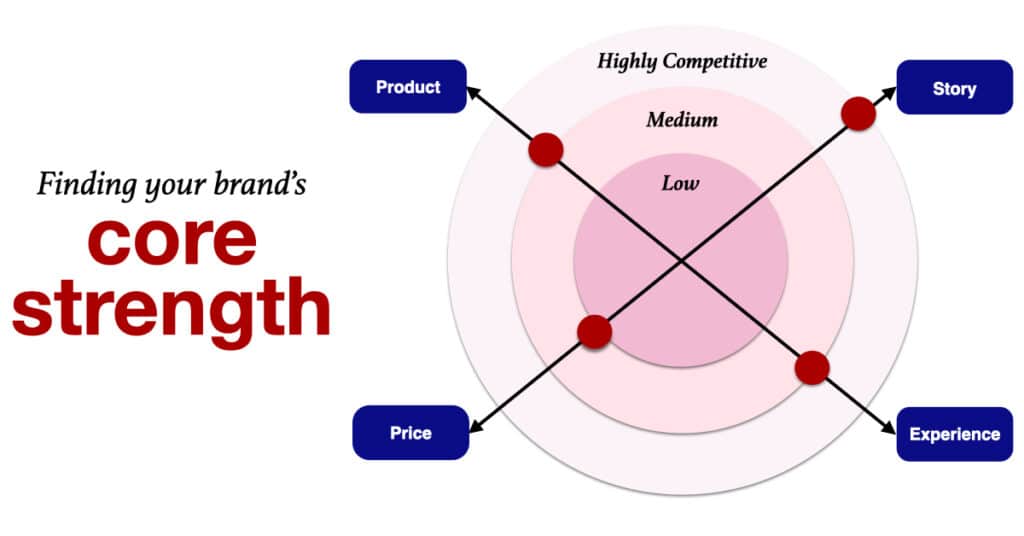 Our core strength model is a great game to try with your team. It sets up a great debate among your team members.
Four types of brands
Product-led brands should invest in R&D while communicating the consumer benefits, features, and claims for what makes the brand better. 
Story-led brands need to invest in advertising, with the story, idea, or brand purpose communicating what makes the brand different. 
Experience-led brands have to invest in creating a culture with strong operations. Build your brand communications around the idea that, "Our great people make the difference in creating amazing experiences." 
Price-led brands must invest in operational efficiency. And, the brand communications explains how "We are smarter and able to deliver the same quality at a lower cost."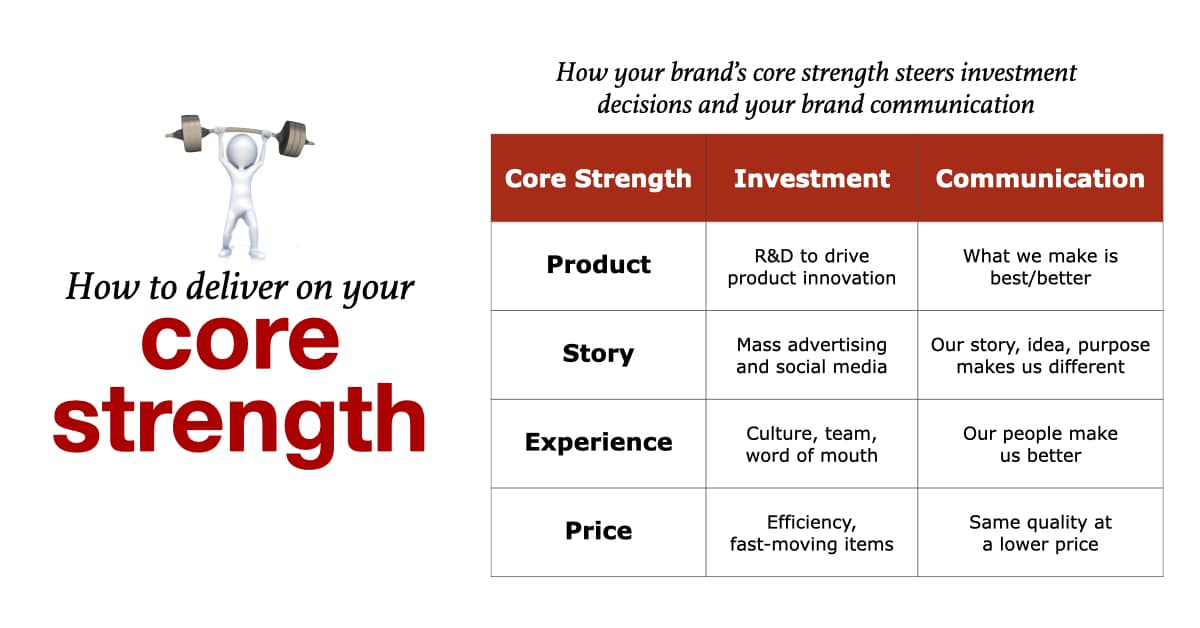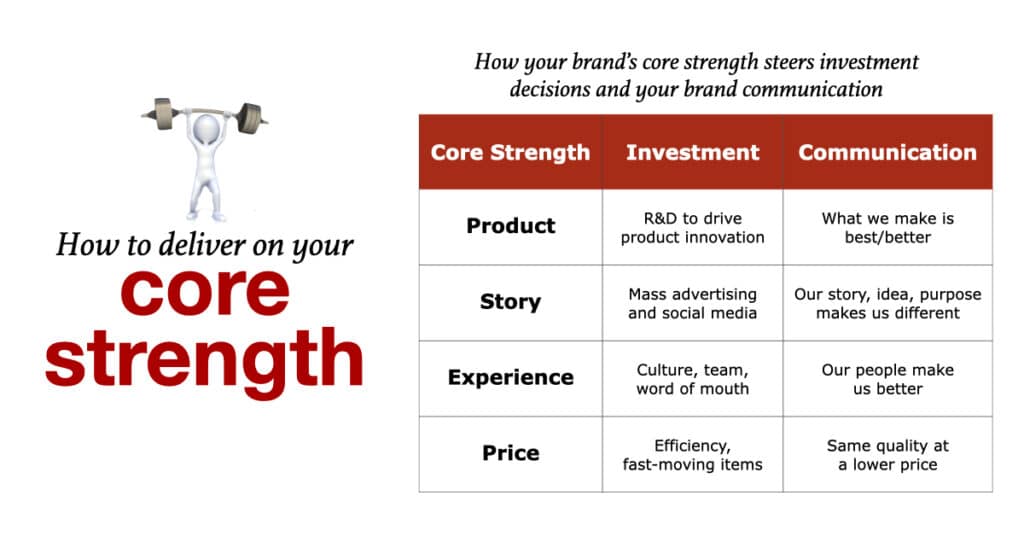 To illustrate, click on how core strength steers strategy. You can zoom in, download it, or share it.
YETI is a product led brand
YETI's vision of building the cooler you'd use every day has been the driving force behind its strategies and tactics. Its emphasis on product differentiation, lifestyle branding, and community engagement has set YETI apart from its competitors and defined its unique market position.
YETI products are renowned for their superior quality and durability, and several key features have contributed to the brand's reputation. What I love about their brand communication is the various language choices they use in creating sub-brands with highly creative words for each product feature. What a great way to bring a product to life.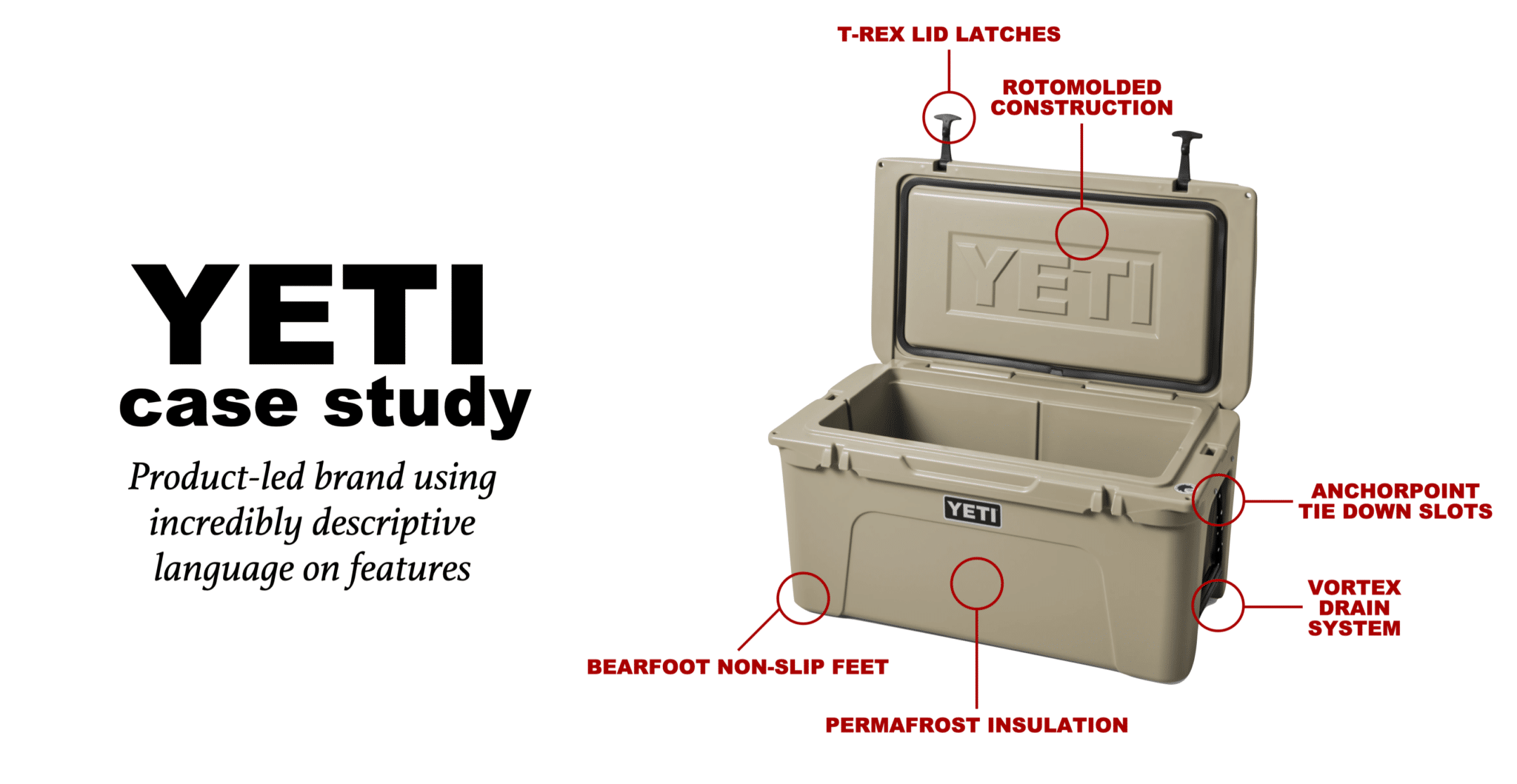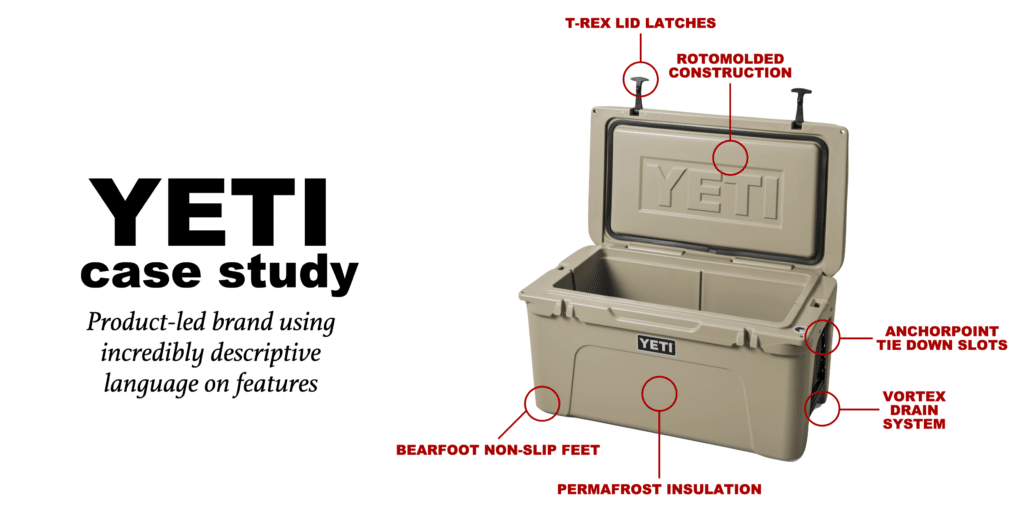 To illustrate, click on YETI's product features. You can zoom in, download it, or share it.
Superior Insulation:
YETI products, especially their coolers, are known for their impressive insulation capabilities. Their PermaFrost™ Insulation is a pressure-injected commercial-grade polyurethane foam that ensures superior ice retention. This means that their coolers can keep contents colder for longer periods compared to many other brands.
Rugged Construction:
Durability is one of YETI's trademarks. Their Tundra coolers, for instance, are designed with a Rotomolded Construction, making them virtually indestructible. This means the coolers can withstand rough handling, making them perfect for rugged outdoor adventures.
Bear-Resistant Design:
YETI's hard coolers are designed to be bear-resistant when locked, adding an extra layer of security in wild environments. This feature is more than just a marketing gimmick; their coolers have been tested in both controlled bear simulations and with wild grizzly bears.
No Sweat Design:
One of the features in YETI drinkware, like their tumblers and bottles, is the No Sweat™ Design. This ensures that the exterior remains dry, preventing any sweating on the outside even when filled with cold beverages.
Magnetic Closure:
Some of YETI's products, like the Hopper soft coolers, employ the HydroShield™ Technology which uses powerful magnets to create a leak-resistant seal, ensuring contents stay secure and dry.
These features, backed by their performance in real-world conditions, are a significant part of why YETI has been able to command premium prices for its products. They offer a combination of functionality, durability, and design that appeals to a wide range of outdoor enthusiasts.
M   A   R   K   E   T   I   N   G        B   O   O   K
The playbook for how to create a brand your consumers will love
Beloved Brands is your secret weapon to guide you through every challenge that you face in managing your brand
Get ready to challenge your mind as we take you on a deep dive to find the most thought-provoking strategic thinking questions that will help you see your brand in a whole new light.
Our unique process for defining your brand positioning will push you to find fresh ideas and new possibilities for how to differentiate your brand based on both functional and emotional benefits.
But we won't just leave you with ideas – we show how to transform your thinking into action.
Learn how to write a brand plan that everyone can follow, ensuring that all stakeholders are aligned and contributing to your brand's success.
We'll walk you through the marketing execution process, from writing an inspiring brief to making smart and breakthrough decisions on both creative advertising and innovation.
And when it comes to analyzing your brand's performance, we've got you covered. Learn how to conduct a dive deep audit on your brand to uncover key issues that you never knew existed.
And, don't just take our word for it: our Amazon reviews speak for themselves.
With over 85% of our customers giving us a glowing five-star rating and an overall rating of 4.8 out of 5.0, we know we're doing something right. And with numerous weeks as the #1 bestseller in brand management, you can trust that we have the experience and expertise to help you achieve success.
"The cheat code for brand managers!"
"It is without a doubt the most practical book for those who want to follow brand management that I have ever read in my life! Beloved Brands is written by a real, experienced marketeer for marketers. This book contains methodologies, tools, templates and thought processes that Graham actually used and uses in his career."
Read our sample chapter on strategic thinking

Understanding YETI's target market and brand positioning.
First, let's use our functional and emotional cheat sheets to see where YETI should play. 
Functional benefits
To help brand leaders kickstart their brand positioning work, I have taken the 12 functional need state zones that expands to over 50 potential functional benefits. As you look through the list, gravitate to the functional benefits you think will fit the needs of your consumers and differentiates your brand by looking for words where your brand does it better than competitors. The functional benefits that YETI should focus on includes works better for you, sensory appeal, and the experience. 
Emotional benefits
Moreover, we have a list of 50 potential emotional benefits help build an emotional brand positioning statement that differentiates your brand. The emotional benefits that YETI should play with include staying in control, optimism and knowledge. Most importantly, you want to own one emotional space in the consumer's heart as much as you own the rational space in the consumer's mind.
To illustrate, click on YETI's consumer benefits above to zoom in.  
When we talk about stellar brand positioning, YETI's journey offers invaluable lessons. In understanding their target market and brand positioning, we can truly appreciate how they've dominated their space. Here's a breakdown of how they achieved this, using both functional and emotional benefits:
📌 Functional Benefits:
While there are over 50 potential functional benefits a brand can lean on, selecting the right ones is pivotal. For YETI, the clear standouts were:
Works better for you: YETI products, renowned for their durability and performance, are designed to seamlessly serve users, be it on a camping trip or during everyday use.
Sensory Appeal: Every aspect, from design to materials, exudes quality and robustness.
Experience: Using a YETI product isn't just about utility. It's about the holistic experience that reassures consumers about their choice.
📌 Emotional Benefits:
Emotional connections anchor brands into consumers' hearts. For YETI:
Staying in Control: The reliability of YETI products means consumers always feel in control of their situation, no matter where they are.
Optimism: Knowing you have a product that won't disappoint you adds positivity to any adventure.
Knowledge: Owning a YETI product is often a badge of being informed and making savvy choices.
The ultimate goal? Own an emotional space in the consumer's heart as definitively as you own the rational space in their mind. YETI has masterfully achieved this balance.
To illustrate, click on YETI's consumer benefit ladder above to zoom in.  
Their functional benefits includes works better, sensory appeal and helping the experience come to life. The consumers want the best performance to help them in the wild. The best bug spray, best sleeping bag, and the best cooler. 
The emotional benefits focus on staying in control, optimism, and knowledge. For those who love life in the wild, they want to control the controllables. Yes, they love the uncertainty, but they want those to be more about the nature. They want to see a bear or catch the biggest fish. They want to see an rainbow or a crazy sunset. What they don't want is their cooler to break or their drinks to go warm on a hot day.
Putting together their brand positioning statement
YETI's target market is primarily outdoor enthusiasts who value high-quality and durable products. This includes people who enjoy camping, hunting, fishing, tailgating, and other outdoor activities. YETI understands that its consumers are not just buying a product; they are investing in an item that they expect to withstand extreme conditions and last for years.
The main consumer benefit for YETI is an un-compromised performance that allows you stay in control to give you the most exceptional experience in the wild.
To illustrate, click on YETI's brand positioning statement above to zoom in.  
The biggest concern YETI should have is selling too many high-end coffee mugs to city folks who despise camping. While they may see it as added revenue for YETI, it may cause their core 'outdoors people' target to rethink 'is this brand for me?' I love that Patagonia will no longer sell to Wall Street or Silicon Valley types wearing their branded vests around downtown. Stay true to the brand.
YETI's Organizing Brand Idea
Ground-breaking performance products that will improve your time In the wild.
"Ground-breaking performance products that will improve your time In the wild" embodies YETI's commitment to creating products that stand the test of nature. Whether it's in their brand promise, story, innovation, or customer experiences, YETI consistently delivers on this organizing brand idea.
To illustrate, click on YETI's brand idea map above to zoom in.  
This brand idea can be mapped across different aspects of their brand:
Brand Promise:
YETI promises to deliver premium, durable products that meet the needs of the most demanding outdoor enthusiasts.
Brand Story:
The YETI story is one of two brothers who were unsatisfied with the coolers available on the market and decided to make their own. The resulting product was so durable and efficient that it started a revolution in the cooler market.
Innovation:
Product innovation would come from necessity and firsthand experience – not from market research and data analysis.
Purchase Moment:
The purchase moment for a YETI should be easy for the outdoor enthusiasts to buy. Premium pricing reinforces desire and the idea that you are investing in a high-performance product that will make your time in the wild better.
Consumer Experience:
Encourage YETI consumers often share their experiences to strengthens the brand's community of outdoor enthusiasts. The brand encourages this sharing through hashtags, challenges, and contests.
Learn from these brand case studies
Explore how these real-world examples demonstrate the effectiveness of our brand management tools. Click on the logo to read the case study.
To read our case studies, click on the brand logo you want to read more about.
The power of social media and influencer strategy in YETI's brand building.
The YETI brand leverages social media and influencers quite effectively. They engage with professional athletes, hunters, fishers, and other outdoor personalities who use and endorse their products. These influencers often have a significant social media following, which provides additional exposure for the brand.
Moreover, YETI maintains an active presence on various social media platforms where they share user-generated content, organize contests, and encourage customers to share their outdoor experiences with YETI products. This helps in building a vibrant community around the brand and in creating hype.
YETI's storytelling: A unique twist to brand building.
One surprising element of YETI's social media strategy is the brand's use of storytelling. They have a section on their website and social media platforms called "YETI Presents", where they share stories of outdoor adventures and experiences. These stories often feature YETI products, but the main focus is on the story itself, which creates an emotional connection with the audience and strengthens their brand image. 
Best examples of YETI's storytelling.
YETI has mastered the art of storytelling, positioning themselves not just as a product manufacturer but as a brand deeply embedded within the outdoor lifestyle. Here are three standout examples of YETI's storytelling prowess:
"YETI Presents" Series:
Story Example: "Deserted" – This story follows the journey of a surfer named Dave Rastovich. He ventures from the city to an isolated beach to enjoy solitude and surfing. The film beautifully captures the essence of the solitary experience in nature, with the serenity of the waves and the stunning landscapes. YETI's products are subtly incorporated, showing them as essential companions for such adventures.
Tales of the Wild Series:
Story Example: "Cosmo" – This short film, part of YETI's 'Tales of the Wild' series, depicts the story of Cosmo, a fly-fishing guide in the Seychelles. He takes viewers on a journey through the pristine landscapes, sharing his personal connection to the environment and his passion for conservation. It encapsulates the bond between nature and the people who live within it. YETI's products are woven into the story, representing the bridge between man, nature, and adventure.
Built for the Wild Campaign:
Story Example: "Ice Man" – In this story, YETI portrays an ice sculptor named Tim Linhart. It dives deep into Linhart's passion for creating musical instruments out of ice, something that seems almost impossible. The video beautifully blends the cold, hard reality of ice with the soft, melodious tunes played on the instruments, showing that with passion, the impossible becomes possible. Again, YETI's products subtly make an appearance, emphasizing their role in extreme conditions and their support for unconventional passions.
Through these stories, YETI does more than just advertise products; they capture the spirit of adventure, passion, and the unyielding bond with nature. They tell stories of people, their passions, and their connection with the environment, all while subtly integrating their products into the narrative. It's a masterclass in brand storytelling, making the audience feel a part of a larger community of enthusiasts, adventurers, and dreamers.
Go to YETI's YouTube page to see plenty of their stories coming to life: YETI YouTube
Our brand toolkit for consumer brands is our most comprehensive template helps you communicate your brand plans, brand positioning, business review and creative briefs.
Our brand plan template  offers slides for vision, purpose, analysis, key issues, strategies, and execution plans, ensuring a thorough approach to your brand's development. The brand positioning template guides you through defining your target profile, crafting a brand positioning statement, and developing a unique brand idea, concept, values, story, credo, and creative brief. Finally, our business review template provides slides for in-depth analysis of the marketplace, customers, competitors, channels, and your brand.
Choose the right template for your business needs