In my generation, it was usually pretty easy to spot a P&G marketer. They are the type of marketer who had "the" answer. The "P&G way" used to be: find something (almost anything) that you're better at than your competitor and then make the most of it, by showing a side-by-side demonstration, naming the "next leading brand" and quite possibly add some blue liquid to the TV ad. P&G exploited this execution through most of the 1970s and 1980s. Don't get me wrong: I have always respected P&G for what it is. They did a good job for decades using that same trusted formula. They just stuck to the same formula a bit too long, and it caught up to them by the late 1990s.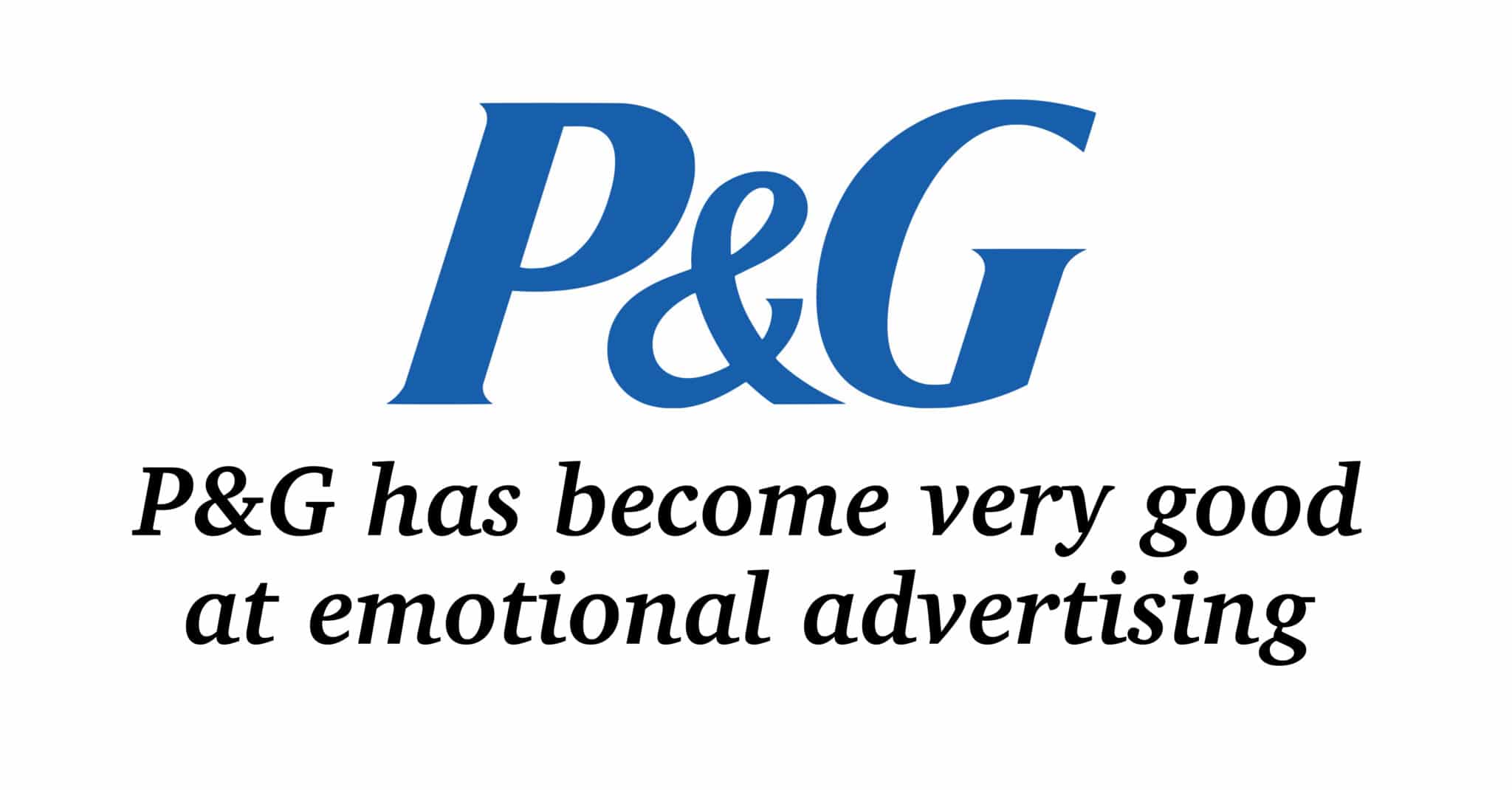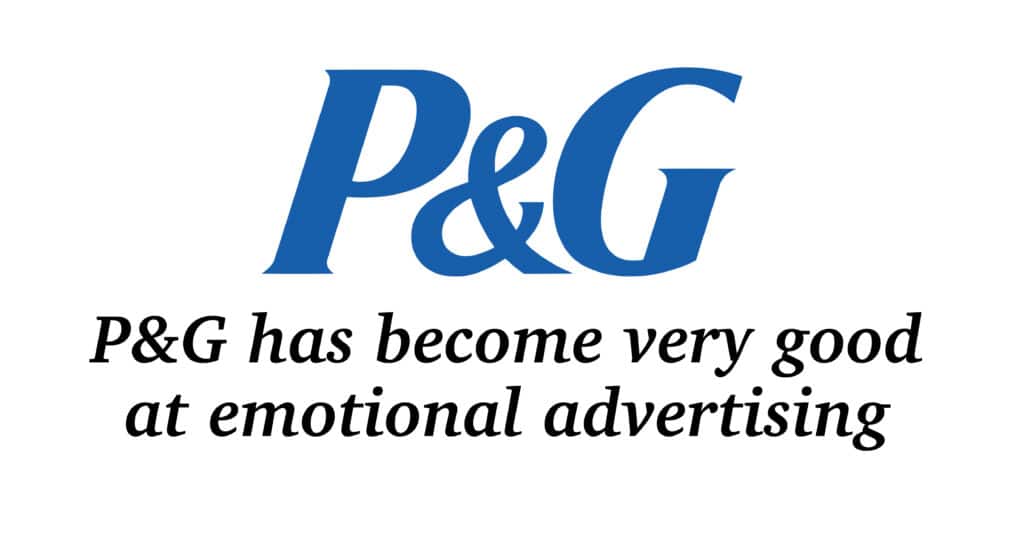 P&G in the 1980s and 1990s
Here are a few examples of the classic 1980s P&G advertising, including the famous blue liquid type ads. All logic, all demos.
To view, click on the > or volume controls to see the P&G advertising. 
By 2000, the P&G formula seemed worn out and they suddenly appeared to hit a brick wall. Growth dried up, several key brands lost their leadership of the market to rivals, and new product launches proved disappointing or even to be downright failures. 
Competitor products had caught up, and in some cases surpassed them. Colgate was beating Crest, Listerine was beating Scope, Finish was beating Cascade, Dove was beating Ivory and others were catching up or passing the trusted P&G brands, the stock price fell dramatically from $120 to $85 almost overnight. 
Strategically, brands really have four choices:  

Better
Different
Cheaper
Not around for very long
In the crowded consumer packaged goods (CPG) world, "better" had become increasingly difficult. Every category is so cluttered. Everyone has copied every non-patented product feature. Claims are getting even harder to gain separation from competitors. We are into the world of incremental-ization of fast-acting tabs, quick-dissolving strips or ultra powders. Yawn. More and more, what is winning is "different."  
Dove's "real beauty" campaign taught CPG marketers a vital lesson
Unilever was able to demonstrate the emotional side of their brand, giving them a much tighter connection with consumers. As Dove overtook P&G's Ivory brand, it triggered new thinking for CPG marketers and seems to have awakened P&G marketers to emotional advertising.
To view, click on the > or volume controls to see the P&G advertising.
Watch the transformation P&G has made with their advertising
I thought P&G did a very nice job at the 2012 Olympics, the one sponsor that seemed to jump out. "Thank You Moms" showed everything that moms did for their athletes, and just as Mom is an enabler, so is P&G to the Moms. I'm sure quite a few moms were shedding a few tears over this one. Whether it did anything for the business or not, it sure seems to have opened up the way P&G is willing to communicate. 
To view, click on the > or volume controls to see the P&G advertising.
The more emotional P&G ads of the last decade
Since the "P&G Moms" campaign, P&G has produced some of the best ads of the decade. At the base of P&G's communication is the strategic shift from always being "better" to now being "different." Instead of looking at unique product feature differences, they are looking at unique consumer insights that will help them connect with consumers. The ads have shifted from pure product demos to connecting with moments within the consumer's life.  
The Always "Like a girl" campaign is an inspirational video that connects with true insight about the perception of how girls run changes as they hit puberty.  The ad starts by asking older teens and 20-somethings to run like a girl, and they depict a negative stereotypical overly feminine running style. Then, it asks 10-year-old girls to run like a girl, and they run in a highly athletic manner. It asks what changes to make the older girls see running as a negative. The ad challenges viewers to rethink their stereotypes. It inspires girls with an uplifting message to be themselves and encourages them to believe that, "running like a girl" is a good thing. The Always brand closely lines itself to the insights about the changes happening at puberty, just as moms and daughter will be choosing the feminine hygiene brand they will use. 
To view, click on the > or volume controls to see the P&G advertising.
The Old Spice "Smell like a man" campaign's quirky, over-the-top humor is so different, it captured immense attention and helped P&G reinvigorate the Old Spice brand. The ad uses a series of quick cuts, putting the actor in crazy circumstances. His dry, over-the-top delivery adds to the humor.
To view, click on the > or volume controls to see the P&G advertising.
M   A   R   K   E   T   I   N   G        B   O   O   K
The playbook for how to create a brand your consumers will love
Beloved Brands is your secret weapon to guide you through every challenge that you face in managing your brand
Get ready to challenge your mind as we take you on a deep dive to find the most thought-provoking strategic thinking questions that will help you see your brand in a whole new light.
Our unique process for defining your brand positioning will push you to find fresh ideas and new possibilities for how to differentiate your brand based on both functional and emotional benefits.
But we won't just leave you with ideas – we show how to transform your thinking into action.
Learn how to write a brand plan that everyone can follow, ensuring that all stakeholders are aligned and contributing to your brand's success.
We'll walk you through the marketing execution process, from writing an inspiring brief to making smart and breakthrough decisions on both creative advertising and innovation.
And when it comes to analyzing your brand's performance, we've got you covered. Learn how to conduct a dive deep audit on your brand to uncover key issues that you never knew existed.
And, don't just take our word for it: our Amazon reviews speak for themselves.
With over 85% of our customers giving us a glowing five-star rating and an overall rating of 4.8 out of 5.0, we know we're doing something right. And with numerous weeks as the #1 bestseller in brand management, you can trust that we have the experience and expertise to help you achieve success.
"The cheat code for brand managers!"
"It is without a doubt the most practical book for those who want to follow brand management that I have ever read in my life! Beloved Brands is written by a real, experienced marketeer for marketers. This book contains methodologies, tools, templates and thought processes that Graham actually used and uses in his career."
Read our sample chapter on strategic thinking

I never thought during a Super Bowl game, I would ever say, "I'm looking forward to the next Tide ad" but that's what I said when Tide created the perfect harmony of creative idea and media. Tide has always been one of the more trusted brands, but almost stoic and cold in their behavior. Fifty years of side-by-side demonstrations against every possible type of stain. With "It's a Tide ad", using the boring Tide brand added to the humor. With all eyes judging every Super Bowl ad, Tide decided to mock the typical ads, and surprise you that it was Tide doing so. Full marks for attention, brand link and stickiness. As Tide has 99% awareness for being the stain-fighter, they didn't need to overly communicate much. Nice job P&G!
To view, click on the > or volume controls to see the P&G advertising.
A great ad for the Ariel brand from India, that speaks to the insight of the changing times for modern women, articulated by a father observing his daughter in action as she juggles her worklife and homelife. He speaks to his own guilt, and uses that to alter his own behavior. Very emotionally engaging way to layer in the consumer insight. Have a look.
To view, click on the > or volume controls to see the P&G advertising.
Lessons to learn.
Focus on different where you can't win on better.
Instead of product features, move to consumer insights
Storytelling and moments connect more with your consumers than claims and demos.  
Great job P&G connecting with consumers.
The Creative Brief defines the box.
Use our Creative Checklist to determine if the creative work is in the box.
Then, we introduce a Creative Checklist that is designed to help you make advertising decisions. When you see the creative marketing execution come back from your experts, use our creative checklist to make decisions. Next, use your feedback to your marketing experts to steer the ideas back in-the-box. Importantly, the Creative Checklist highlights the gaps you see. Your role is to provide your problems with the work, while avoiding providing a solution. Let your creative marketing execution experts use their in-the-box creativity to figure out new solutions that will fit the box. 
To illustrate, click to review how our Creative Checklist helps decide if the creative advertising fits the box..
Use our ABC's of Advertising: Attention, brand link, communication stickiness
Here are four questions to ask:
To illustrate, click on the ABC's of advertising to see details.
Get comfortable with various advertising techniques.
Video on how to use in-the-box creativity
Have a look at our video on how to use in-the-box creativity to ensure our marketing execution stays on strategy. We introduce how our Creative Brief defines the box the work must play in. And, our Creative Checklist to allow you to decide if the marketing execution delivers. To read more, click on this link: How to use in-the-box creativity. 
To view, use the ▶️ controls to play our brand strategy video. 
Coca-Cola case study: Lessons from the best Coke ads of all time
Over the past 100 years, Coca-Cola has been the best advertising brand. Sure, Nike and Apple have battled for the best over the past 40 years, but they'd need to get to 2080 before challenging Coke. What you can learn from the best Apple Advertising of all time
Apple advertising has delivered "simplicity" since the 1970s. Apple's advertising has been relatively consistent for over 40 years and incredibly connected with consumers. You could build an Apple case study on the advertising alone. So we did!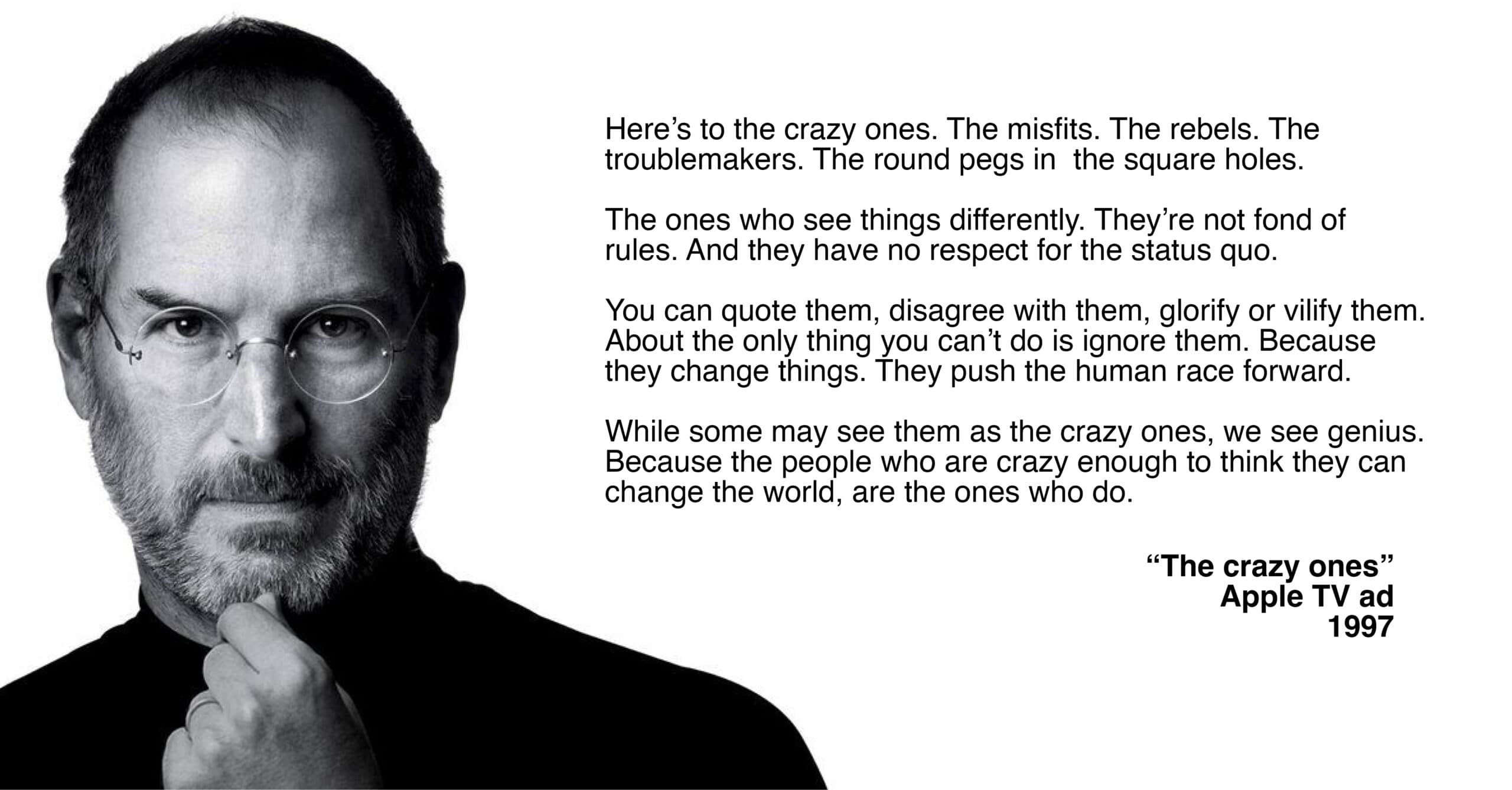 Our Nike case study looks at 30 years of 'Just do it'
Learn from these brand case studies
Explore how these real-world examples demonstrate the effectiveness of our brand management tools. Click on the logo to read the case study.
To read our case studies, click on the brand logo you want to read more about.