Before we dive into our McDonald's case study, let's get one thing out of the way–the McDonald's brand is not on its last legs. For the last 20 years, I get hundreds telling me that McDonald's won't survive the next five years. 
"SuperSizeMe" killed the brand. 
It's so unhealthy. 
No one eats there anymore. 
Yet, McDonald's stock price is up 71% over the last five years, compared to flat for RBI, their main competitor who owns Burger King, Tim Horton's, and Popeye's. And its stock dramatically outperforms Starbucks, which grew a modest 21% over the past five years.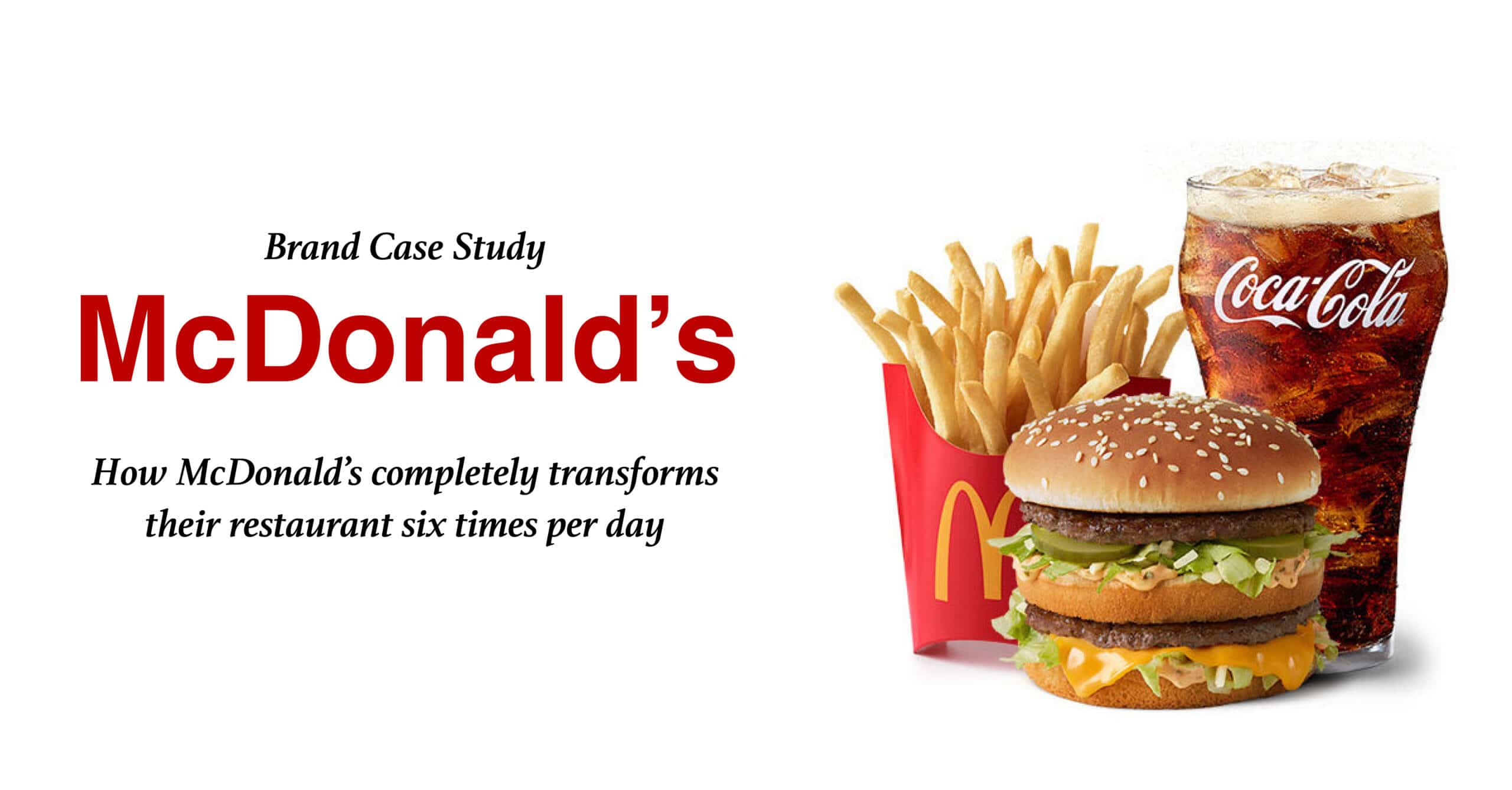 What McDonald's does might not work for your brand 
In our McDonald's case study, the second thing is the warning 'don't try this at home.' Never use McDonald's as a rule for you to operate your brand. They target everyone. They try to sell anything. McDonald's is not the best at anything anymore. Somehow they keep growing. 
It would be easy to argue that they don't have the best product in any category. From Shake Shack to In-N-Out or Five Guys, local burger places are the preferred burgers, Chick Fil A or Popeyes are the preferred chicken, and Starbucks is the preferred coffee/breakfast. 
They no longer have the gold standard for service. Ray Kroc would hate what's going on. Chick Fil A kills it on service, with Starbucks and In-N-Out burgers also ahead. While McDonald's has improved their drive-thru speed, the trend is moving the other way with slower, much more personal service and accurate delivery. The Chick Fil A drive-thru model with a staff member standing out taking orders from customers has been a huge hit.  
Unlike Starbucks, no consumer wants to display the McDonald's logo with pride publicly in terms of image. It is our dirty little secret craving that we hide. Even Ronald McDonald seems caught in a 1970s time warp. 
So how is McDonald's driving such a strong performance?
McDonald's secret sauce is transformation 
At the heart of our McDonald's case study we see that their success comes from being able to completely transform their restaurant six times per day. Each comes with a different target, a different product offering, and a different in-restaurant customer experience. McDonald's flexibility in responding to customers' specific needs drives their results. 
If you like this McDonald's case study, then you might enjoy our two Starbucks stories.
When someone tells me McDonald's targets everyone, I respond, "yes, but never simultaneously." And that's part of the beauty of McDonald's. 
McDonald's is six restaurants in one building. Every few hours, they make a dramatic transformation. 
From 5 am to 9 am, McDonald's focuses on the office workers on the way to work. They put their best staff on the drive-thru, where they will pump out coffee and breakfast items for the next 3-4 hours. It's all about speed and accuracy to get consumers on their way to work. 
At 9 am, they noticed their restaurants were empty. The McDonald's solution is a low-priced 'coffee and a muffin' to attract seniors. A brilliant move. As a work-from-anywhere consultant, I've found myself in a few McDonald's at 10 am. When I look around, I notice that I am the youngest person. By 15-20 years.
To illustrate, click on the chart for the  McDonald's case study above. 
Depending on location, the suburban McDonald's becomes over-run with teenagers at lunchtime, while downtown locations are packed with bankers and office workers. The staff must focus on pumping out meals as quickly as they can. Any delay could cause conflict with customers looking to eat fast. 
At 4 pm, someone better make sure the Playland is clean because many parents and toddlers are showing up, looking to wear out some energy. 
Over the dinner hour, expect families to come in or pick up meals through the drive-thru. Or the odd after soccer game celebration.
Through the rest of the night, it turns into a gathering place for high school students and college students who might be bar hopping. Keep the snacks and nuggets ready. And keep the area clean. 
Repeat the next day. 
Take your brand knowledge to new heights with our Beloved Brands playbook
Beloved Brands is a comprehensive guide that covers the fundamentals of brand management. It goes deep on strategic thinking, brand positioning, brand plan development, advertising decisions, media planning, marketing analytics, and the brand financials. This is an opportunity to build your marketing skills to help your career. And, it will provide you with the roadmap for driving growth on your brand.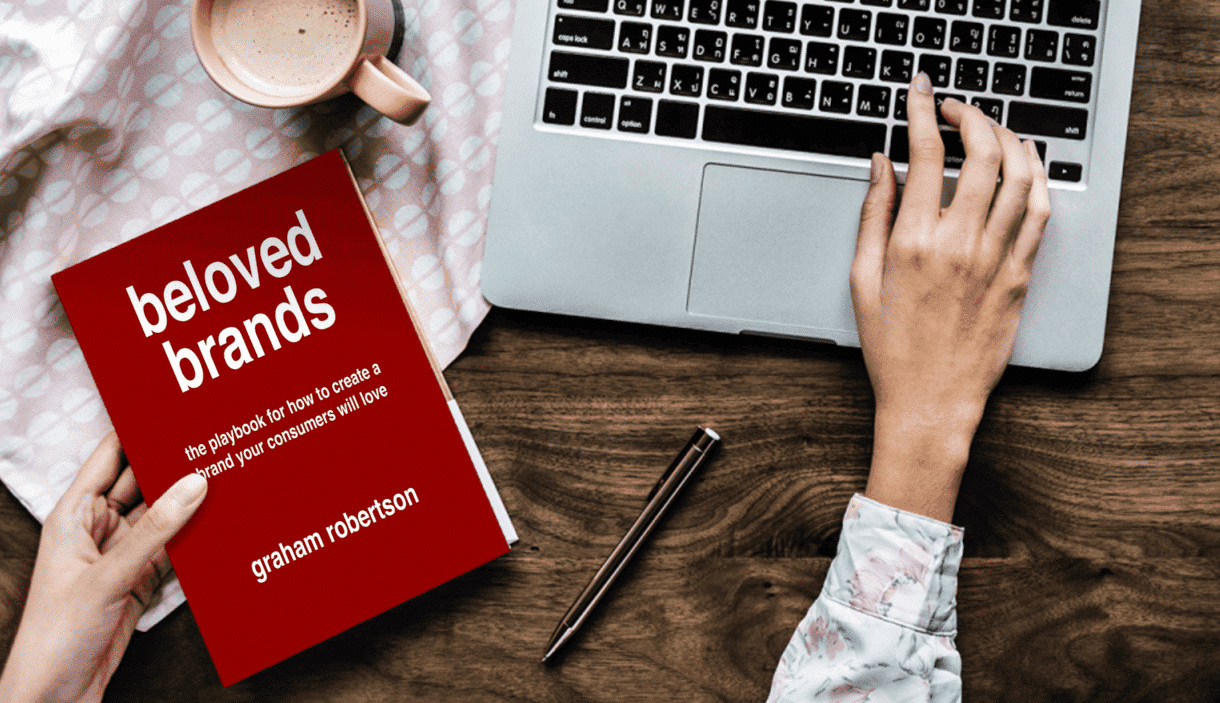 Marketers see Beloved Brands playbook as a go-to resource, as they keep it within arm's reach for any new project. We are thrilled to see that it has received a 5-star rating from nearly 90% of Amazon reviewers. Additionally, we have also created playbooks for B2B Brands and Healthcare Brands, catering to specific industries.
The 3 D's for McDonald's - digital, delivery and drive thru
As we continue our McDonald's case study, we see a shift to digital. They have noticed consumer habits are shifting to on the go. And McDonald's is investing in digital, delivery, and drive-Thru. The best brands change from how we want to sell to how our consumers wish to buy.
McDonald's is building on its digital foundation to make the consumer experience more personal and convenient. They are trying to create more reasons to digitally engage with them through mobile ordering, payments, delivery, rewards, or deals.
Digital transformation is easier to say than do
The Covid pandemic spurred on a lot of the digital focus. As of 2022, companies continue to invest with a mentality of "throw it at the wall and see if it sticks."
McDonald's has invested $300 million into Dynamic Yield, an AI company that uses predictive analytics to deliver personalized customer experiences on purchase history, weather, time of day, and more to create customized offerings. But, it did not work for McDonald's. It appears they are divesting. So now, it's on to plan B.
McDonald's has some catching up on food delivery to battle UberEats, Just Eats, or local delivery. They plan to integrate their delivery options into a Global Mobile App. Time will tell if this will work. For consumers, the advantage of going thru a delivery app is the variety beyond one restaurant.
McDonald's is also investing in using the App to get the curbside pickup to avoid long drive-thru lines.
The digital transformation part of the McDonald's case study will continue for the next decade. We'll see a few good ideas and many failed attempts. The McDonald's of 2030 will likely have doubters. But I'm guessing it will continue to grow.
Learn from these brand case studies
Explore how these real-world examples demonstrate the effectiveness of our brand management tools. Click on the logo to read the case study.
To read our case studies, click on the brand logo you want to read more about.
McDonald's global product menu
Like Coke, they became global before we started to call it global. They've learned more lessons than textbooks on global marketing can track. At first, the menu was homogenous around the world. Now, McDonald's offers many unique items to each location. 
As someone who has traveled to over 30 countries for my consulting job, I have noticed the fluidity of the McDonald's global menu. This flexible menu is a major part of the McDonald's case study. They are set up to meet the local tastes of consumers. Have a look at the video below that showcases McDonald's menu from around the world.
To read our case studies, click on the brand logo you want to read more about.
We empower the ambitious to achieve the extraordinary.
Without a doubt, our role at Beloved Brands is to help the ambitious marketers who are trying to improve their marketing skills. Most importantly, we will prepare you so you can reach your full potential in your career. You will learn about strategic thinking, brand positioning, brand plans, marketing execution, and marketing analytics. As well, we provide a suite of marketing tools, templates that will make it easier to do your job, processes that you can follow, and provocative thoughts to trigger your thinking. 
Have you gone through an assessment of the marketing skills of your team? Take a look below:
The fundamentals of marketing matter.
Our Beloved Brands marketing training programs cover different streams to suit the type of marketer you are. For instance, our marketing training covers consumer marketing, B2B marketing, and Healthcare marketing. 
The marketing fundamentals that we show in this article are part of what we use in our marketing training programs. Ambitious marketers will learn about strategic thinking, brand positioning, brand plans, marketing execution, writing creative briefs, advertising decision-making, marketing analytics, and marketing finance. 
Importantly, when you invest in our marketing training program, you will help your team gain the marketing skills they need to succeed. Without a doubt, you will see your people make smarter decisions and produce exceptional work that drives business growth. 
Finally, I wrote our Beloved Brands playbook to help you build a brand that your consumers will love. If you are a B2B marketer, try our B2B Brands playbook. And, if you are a Healthcare Marketer, try our Healthcare Brands playbook.
Everything a Marketing must know about.
Importantly, Brand leaders need to know how to think, define, plan, execute and analyze with the best of them. Moreover, while the brand leaders don't really know how to do anything, they are looked upon to make every decision. Have a look at our five minute video on everything a marketer must know. To read more, click on this link: Everything.
To view, use the ▶️ controls to play or volume buttons 
If you are looking to make your marketing team smarter, we can help. To get started, email Graham Robertson at [email protected]