What should you do when someone hands you a financial statement. If you want to succeed in brand management, you have to understand marketing finance. After all, you are running a business. Consequently, if you only like the activity of marketing, then you should become a subject matter expert. Because, if you cannot work the finances of your brand, you will not get promoted beyond brand manager. 
Anyone who does not include "profit" in their definition of a brand has never run a brand before. To me, a product is a basic commodity you sell. Most importantly, a brand creates a bond that leads to a power and profit beyond what the product alone can achieve. 
To start, we use our marketing finance 101 to do a quick dissection of your profit statements.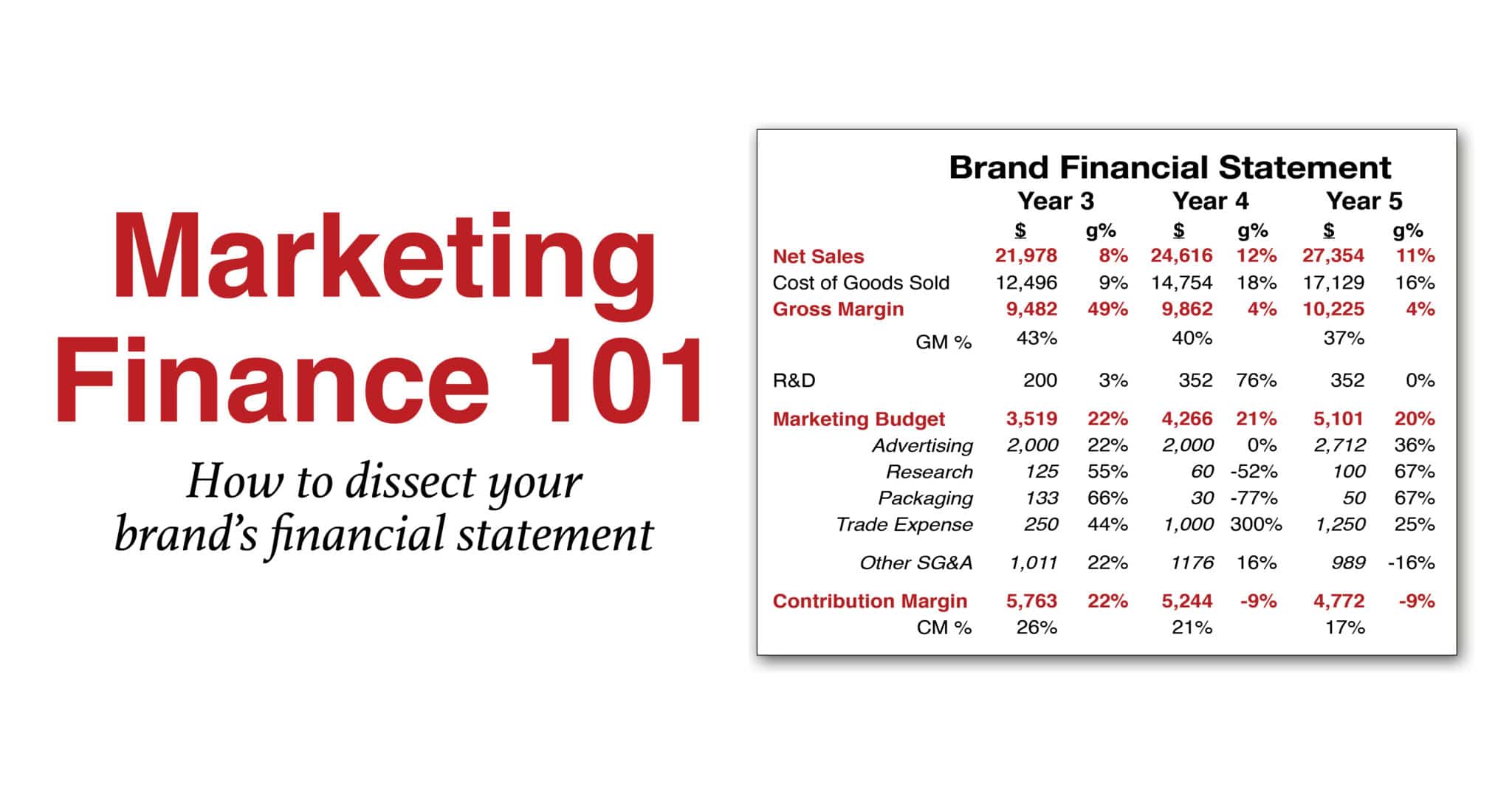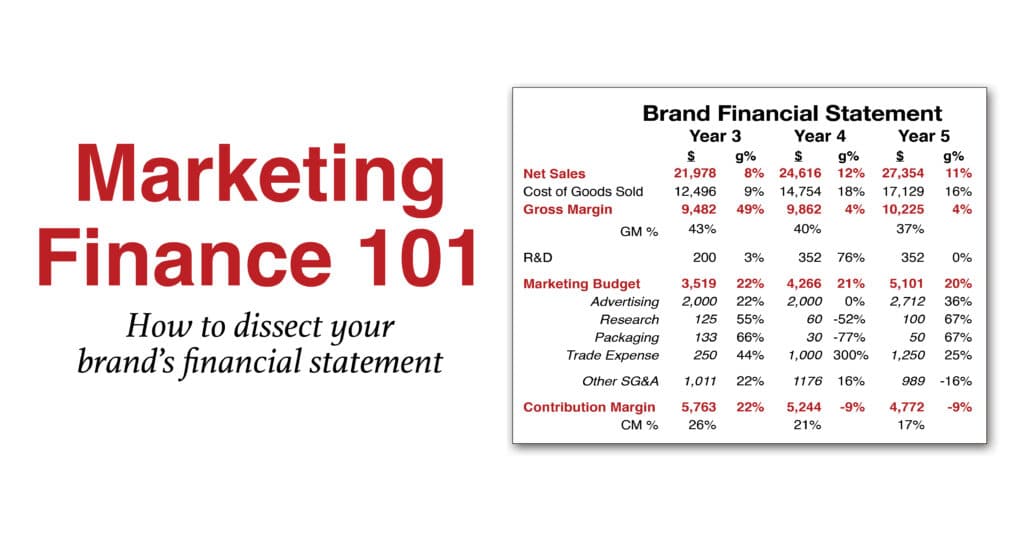 For many of us, we became marketers because we were attracted to the strategic, creative, and psychology aspects of business. And, if finance is not a natural skill, when your finance manager hands you the brand's profit and loss (P&L) statement, it can be rather intimidating. To start, look at the sales growth, gross margins and draw out comparisons. 
First, you need to understand the sales growth rate, relative to the economy or the category growth. Then, look at the gross margin percentage. Next, dig into the contribution margin percentage. Finally, do a quick comparison between spending growth rate and the sales growth rate.  
Once you have understand these four elements of the financial statement, you can begin digging deeper.
Step 1: As a leader of the brand, I start by trying to understand the growth rate.
Most brand leaders have brand growth as their number one objective. Marketing finance starts with a quick calculation to figure out the average growth rate but, as you dig in, you should try to find out what happened each year to give you a better feel of the brand performance. There are two calculations you can use, either average growth rate or compound annual growth rate (CAGR).
In this example, the average growth rate is 7% and CAGR % is 9.1%, but very high compared to the overall economic growth of 2-3%. My first instinct would be to look at the category growth to see if the brand is gaining or losing market share. Next, the year-by-year growth shows the growth rate has shot up to 12% over the past two years. Then, I would make a mental note to expect to see this as an investment brand and determine whether the profit is paying off yet.
Video on how to build your sales forecast
Step 2: My eye is drawn immediately to the gross margin percentage, as a first signal of brand health or to try to understand the strategy behind the brand.
Divide the absolute gross margin by the sales. You can assess the brand's health by comparing the margin percent over time to see the trend line, with other brands in your portfolio to assess the opportunity cost, or with other competitive brands in the category.  
In this example, the gross margin percentage has fallen from 43% in 2018 down to 37% in 2020, which should prompt you to go a layer deeper to look at price and cost of goods. Regarding price, dig around to see if there has been an average price decrease, then look to see if it is due to an increase in trade spend, a shift in the sales mix to lower-priced items, or even a shift to lower margin items.
Step 3: Next, look at contribution margin percentage, dividing the bottom line contribution income by the overall sales, using your brand's cost of goods and impact on overall profit.
Some cost factors are outside the brand's control, such as foreign exchange, raw material cost increases, duties, and transportation costs. However, you also need to look out for factors within the brand's control. And, was there a strategic decision to change to a higher cost raw material? Was there increased quality control at the manufacturing site? Did you switch to a more expensive supplier or change the location of your production?
In the example, an alarm bell goes off when I see the contribution margin percentage has fallen from 26% to 17% in three years. My first observation is the sales are up dramatically, yet both the gross margin percentages and contribution margin percentages are down. While the gross margin percentage is down, the gross margin dollars increased. However, in this case, the contribution margin dollars have gone down from $5,763 to $4,772. After two years of investment, the brand is not responding fast enough to cover that spend level.
Step 4: Finally, look at the comparison between the sales growth rate and the spending growth rate.
While sales are growing at 12% over the past two years, spending is up 22%. The brand is not covering the spending increase. Dig in to understand if the payback was expected to be slower. If not, I would dig in to explain why it is not paying back: not the right message, competitive activity, or market dynamics. 
Eight ways to drive brand profit
Premium pricing

Trade loyal consumers up to a higher price

Lower cost of goods

Lower marketing and selling costs

Steal competitive users

Get loyal users to use more

Enter into new markets

Find new uses for the brand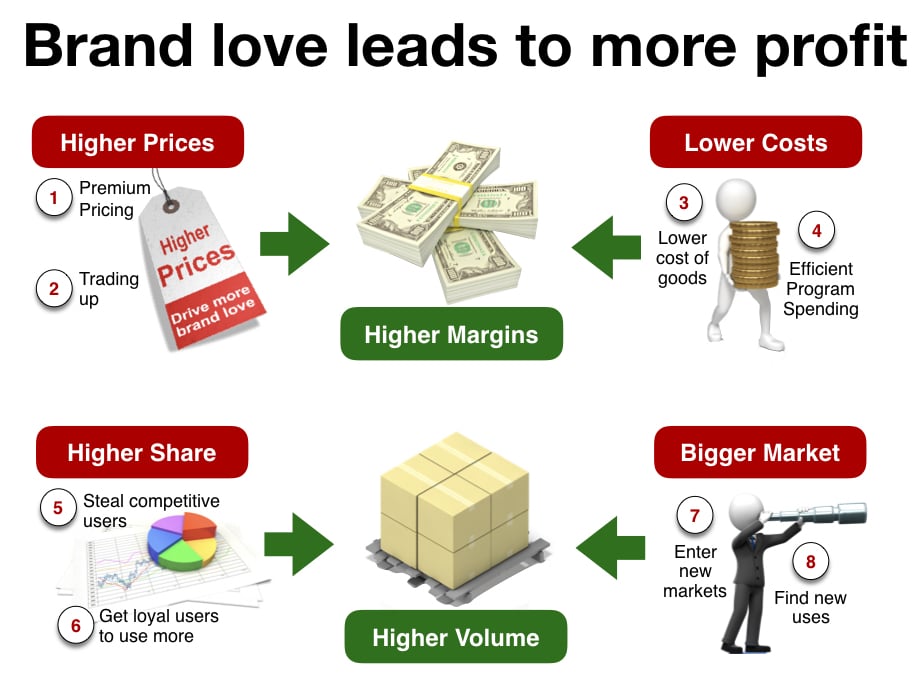 Now you are set to dig in deeper with marketing finance
To read more on brand profitability, here's a deeper look at the 8 ways to drive profit within our marketing finance 101:
M   A   R   K   E   T   I   N   G        B   O   O   K
The playbook for how to create a brand your consumers will love
Beloved Brands is your secret weapon to guide you through every challenge that you face in managing your brand
Get ready to challenge your mind as we take you on a deep dive to find the most thought-provoking strategic thinking questions that will help you see your brand in a whole new light.
Our unique process for defining your brand positioning will push you to find fresh ideas and new possibilities for how to differentiate your brand based on both functional and emotional benefits.
But we won't just leave you with ideas – we show how to transform your thinking into action.
Learn how to write a brand plan that everyone can follow, ensuring that all stakeholders are aligned and contributing to your brand's success.
We'll walk you through the marketing execution process, from writing an inspiring brief to making smart and breakthrough decisions on both creative advertising and innovation.
And when it comes to analyzing your brand's performance, we've got you covered. Learn how to conduct a dive deep audit on your brand to uncover key issues that you never knew existed.
And, don't just take our word for it: our Amazon reviews speak for themselves.
With over 85% of our customers giving us a glowing five-star rating and an overall rating of 4.8 out of 5.0, we know we're doing something right. And with numerous weeks as the #1 bestseller in brand management, you can trust that we have the experience and expertise to help you achieve success.
"The cheat code for brand managers!"
"It is without a doubt the most practical book for those who want to follow brand management that I have ever read in my life! Beloved Brands is written by a real, experienced marketeer for marketers. This book contains methodologies, tools, templates and thought processes that Graham actually used and uses in his career."
Read our sample chapter on strategic thinking

We empower the ambitious to achieve the extraordinary.
Without a doubt, our role at Beloved Brands is to help the ambitious marketers who are trying to improve their marketing skills. Most importantly, we will prepare you so you can reach your full potential in your career. You will learn about strategic thinking, brand positioning, brand plans, marketing execution, and marketing analytics. As well, we provide a suite of marketing tools, templates that will make it easier to do your job, processes that you can follow, and provocative thoughts to trigger your thinking. 
Have you gone through an assessment of the marketing skills of your team? Take a look below:
The fundamentals of marketing matter.
Our Beloved Brands marketing training programs cover different streams to suit the type of marketer you are. For instance, our marketing training covers consumer marketing, B2B marketing, and Healthcare marketing. 
The marketing fundamentals that we show in this article are part of what we use in our marketing training programs. Ambitious marketers will learn about strategic thinking, brand positioning, brand plans, marketing execution, writing creative briefs, advertising decision-making, marketing analytics, and marketing finance. 
Importantly, when you invest in our marketing training program, you will help your team gain the marketing skills they need to succeed. Without a doubt, you will see your people make smarter decisions and produce exceptional work that drives business growth. 
Finally, I wrote our Beloved Brands playbook to help you build a brand that your consumers will love. If you are a B2B marketer, try our B2B Brands playbook. And, if you are a Healthcare Marketer, try our Healthcare Brands playbook.
If you are looking to make your marketing team smarter, we can help. To get started, email Graham Robertson at [email protected]
What type of marketer are you?
We believe that marketers learn best when they see our marketing concepts applied to brands that look like their own. We have come up with specific examples – consumer, B2B and healthcare – to showcase our marketing tools. Click on the icon below to choose your interest area.