For the last five years, the Tim Horton's brand has been slipping fast. While McDonald's stock price is up 60%+ the last five years, Restaurant Brands International who owns Tim's has seen half that growth. Once the pride and representation of what it means to be Canadian, Tim's now feels anything but. This timeline coincides with the time they have been owned and operated by the cost-slashing, private equity company, 3G Capital.
While Tim's has kept robust advertising budgets and constant new product offerings, their behavior towards their franchisees has been hostile, and in turn, the franchisees' behavior toward employees has been despicable. Wage fights, canceled coffee breaks, and layoffs have trickled into the news. How does a company that sells coffee cancel coffee breaks?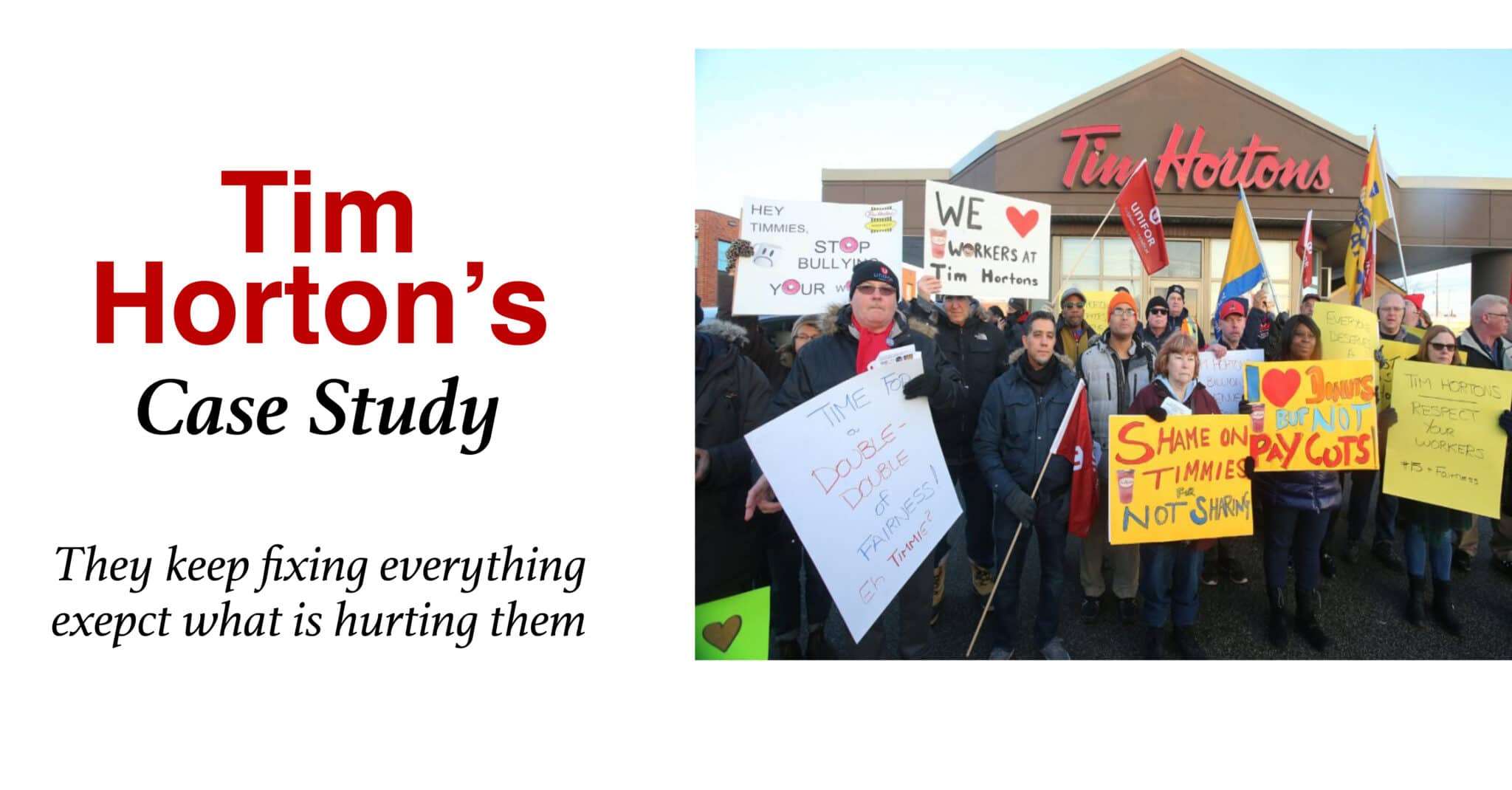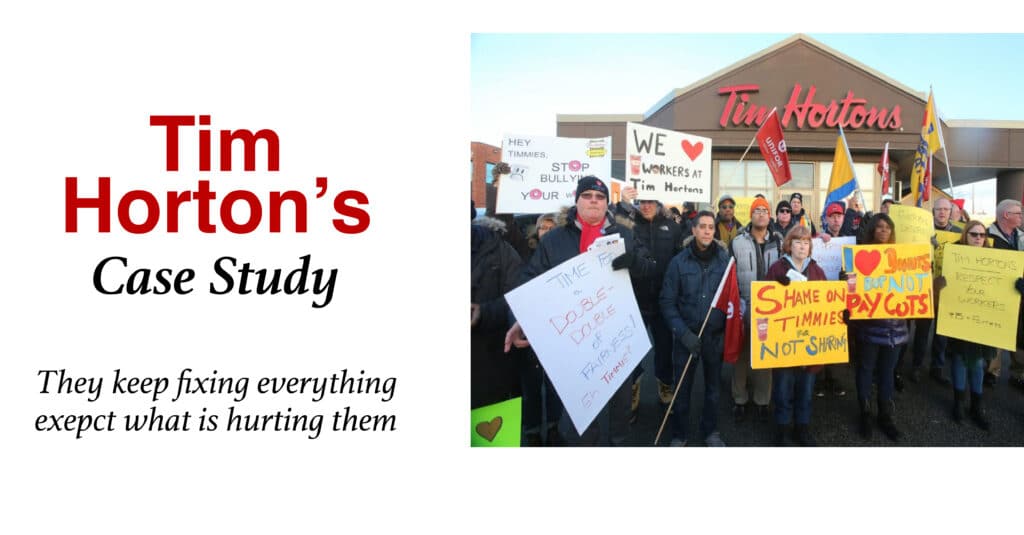 The environment created by the Tim Horton's toxic culture is impacting the consumer experience. With a disgruntled workforce, consumers rarely hear "please" or "thank you" and never see a smile. Compared to the warmth of a Starbucks experience, going to Tim's now feels cold and hollow. The consumer experience is anything but how Canadians see themselves, and the brand continues to tumble.

What is Tim's doing to address the issues with their employees?
So far, they have launched a meatless burger, launched into China, established a rather pathetic loyalty card, and now have a bad TV ad about a guy who sips 300 cups a day. In summary, they have done everything possible to run away from their problem, hoping it goes away.
As leaders, we always have to keep in mind that the problems that we hope go away by themselves tend to come back by themselves even bigger. Tim's reluctance to address the consumer experience is not helping the problem go away.
Tim Horton's had an incredible tight bond with Canadians
It has always been oddly funny at the tight bond Canadians have had with Tim Horton's. The same pride that Italians have with Ferrari, Canadians had with a coffee and donut shop. Ten years ago, this "True Patriot Love" ad, which used a line from Canada's national anthem perfectly fit their brand. Now, they couldn't get away with running this ad. 
Canadian author Pierre Berton once wrote: "In so many ways, the story of Tim Hortons is the essential Canadian story. It is a story of success and tragedy, of big dreams and small towns, of old-fashioned values and tough-fisted business, of hard work and hockey."
As a Canadian, we took an odd pride in Tim Horton's. At work, people would go on a Timmies run. Parents take a cup of coffee to the local hockey arena to watch their kids play hockey. On the way to work, people build in 5-10 minutes into their drive so they could wait in line at the Tim's drive-thru. When Tim Horton's went public, the stock quickly soared. I remember a friend saying they didn't mind waiting in the drive-thru because they owned some Tim's stock, and the value of the stock would go up more than the price of the cup of coffee they were buying that day.
Here's one of Tim's heart-warming TV ads
Above, click on the arrow to play the video.
Managing the Tim Horton's brand
The best brands manage each of the consumer touchpoints.
Brand leaders must manage the consistent delivery of the brand idea over every consumer touchpoint. Whether people are in management, customer service, sales, HR, operations, or an outside agency, everyone should be looking to the brand idea to guide and focus their decisions.
There are five main touchpoints that reach consumers, including the brand promise, brand story, innovation, purchase moment, and consumer experience. Regardless of the order, they reach the consumer; if the brand does not deliver a consistent message, the consumer will be confused and likely shut out that brand. While brands cannot control what order each touchpoint reaches the consumer, they can undoubtedly align each of those touchpoints under the brand idea.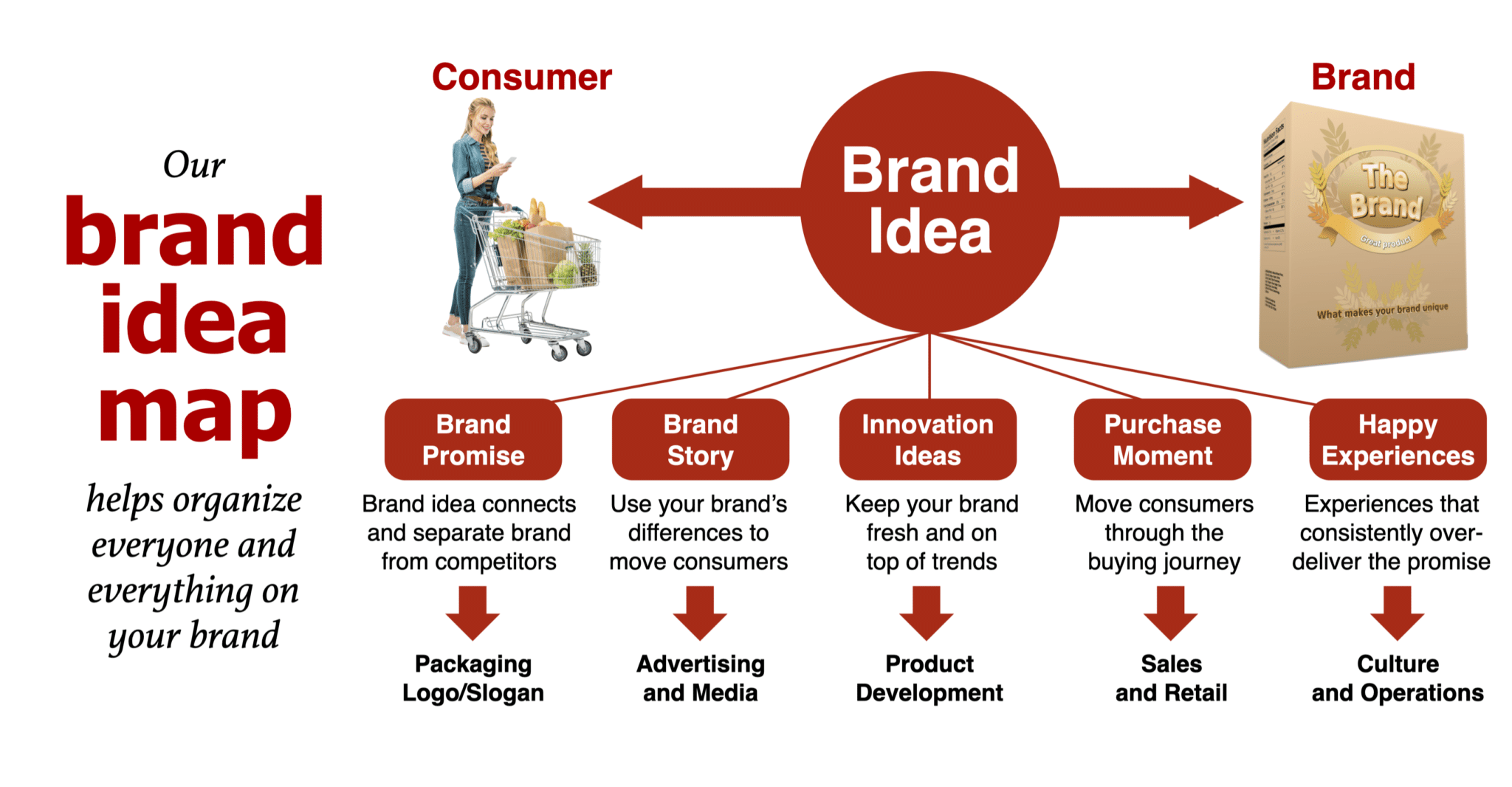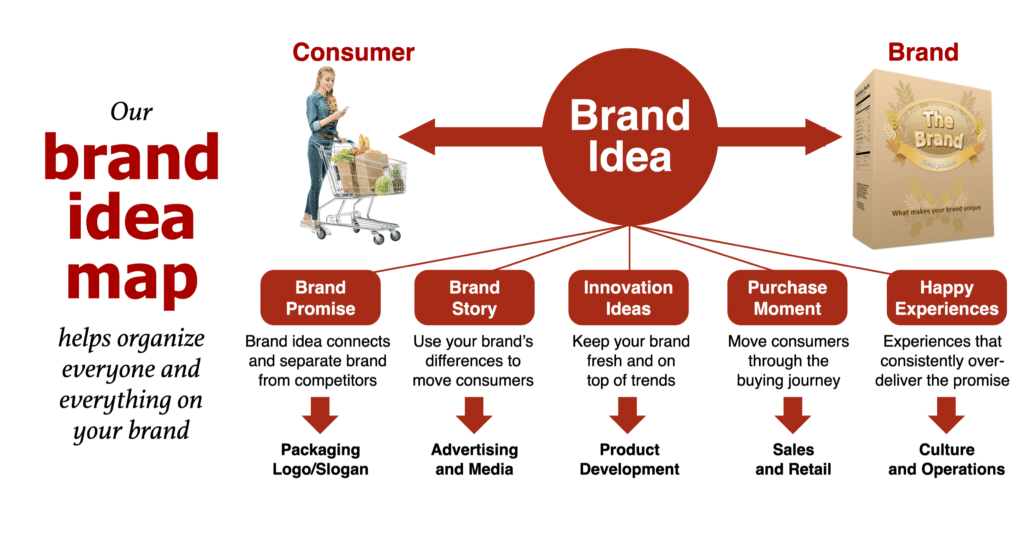 Tim Horton's culture is not lined up.
Not only should your brand idea steer all the consumer touchpoints, but it also makes an excellent audit for where you are not delivering the brand idea. For Tim Horton's, they keep spending their effort on the brand promise and story; they have a confusing innovation, and a failure at the purchase moment and consumer experience. 
I see brands like Tim's think that a new ad or new product can fix what is obviously frustrating to consumers. Tim's keep ignoring the obvious, over and over again. Fix your relationship with your franchisees and push them to fix their relationship with their employees, and use your brand to guide a best-in-class consumer experience.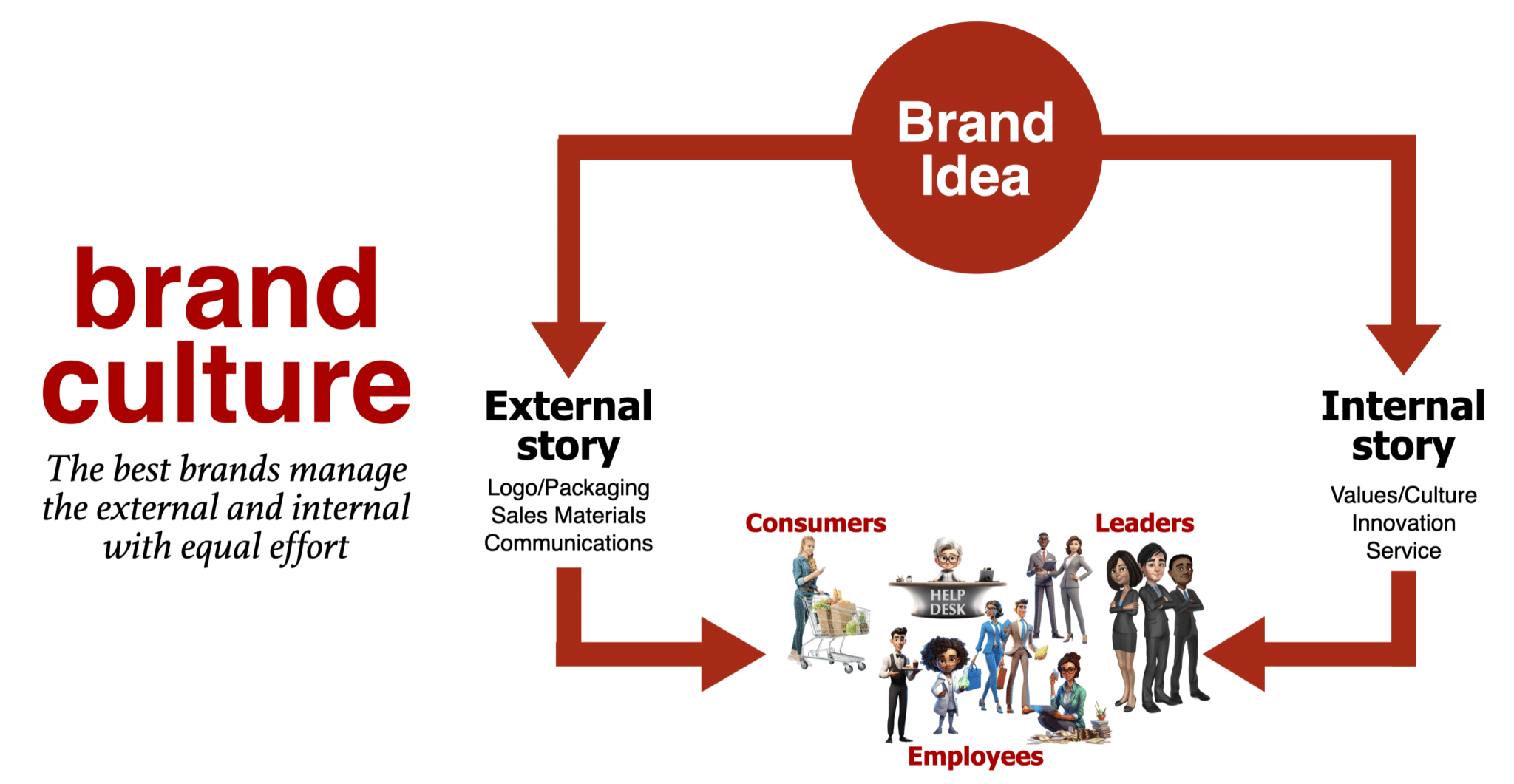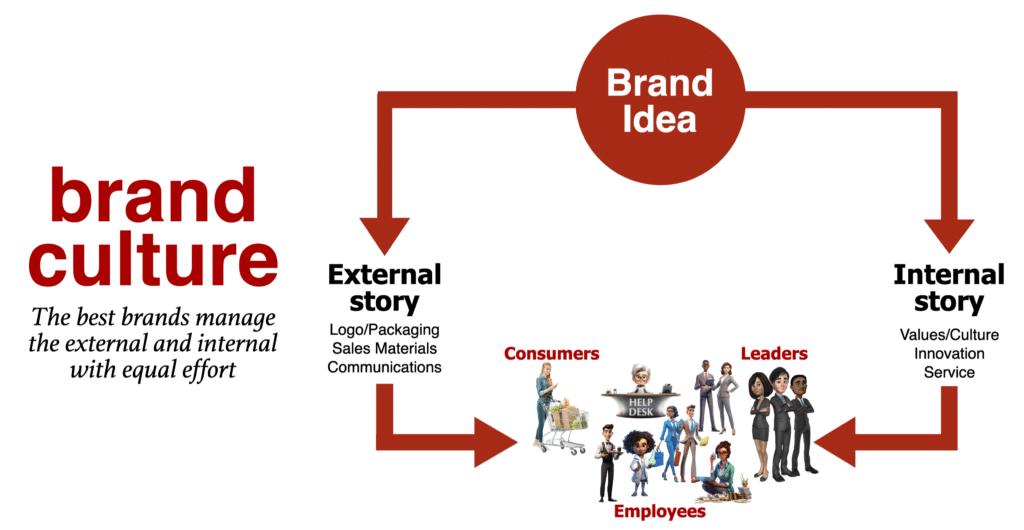 Key Issues facing Tim Horton's
Tim's fight with franchisees.
Over the last decade, the relationship with Tim's and their franchisees have gotten worse. Things got even worse in 2018 as Ontario raised the minimum wage from $11.90 an hour up to $14.00 an hour. While McDonald's and Starbucks allowed menu price increases to help offset the wage increases, Tim's refused. They squeezed the franchisee by an average of $7,000 an hour. In turn, franchisees responded by cutting employee benefits such as paid coffee breaks and contributions to health plans. 
Tim's started to make the news for the wrong reasons: a beloved Canadian coffee brand cutting out coffee breaks for employees. One of the restaurants had their staff go on strike over a 10 cent an hour dispute. Over the last two years, there have been around 50 demonstrations against Tim Horton's were held across Canada. As Tim Horton's should be standing for the average Canadian, the visual of the average Canadian is fighting back against them destroys any good feelings.
Tim Hortons now in a new fight with their franchisees.
In 2023, Tim Hortons terminated the franchise contract of the president of a group of unhappy Tim Hortons franchisees. The franchisees had recently expressed concerns about declining profitability due to increasing costs for food and supplies. Ron Fox, a second-generation Tim Hortons franchisee who has owned restaurants for more than 20 years, received notification on Thursday from the parent company that his agreement had been terminated. 
Two sources familiar with the situation confirmed this news. Mr. Fox owned two restaurants located in Brantford, Ontario, and was appointed president of the Alliance of Canadian Franchisees last March. The group claims to represent the owners of almost one-third of Tim Hortons' 3,896 locations in Canada. (Source: Globe & Mail)
Above, we show striking Tim Horton's workers. 
Bad response by Tim's management.
Tim Horton's released a foolish statement against the protests which threw their franchisees under the bus. "These recent actions by a few restaurant owners, and the unauthorized statements made to the media by a 'rogue group' claiming to speak on behalf of Tim Hortons, do not reflect the values of our brand, the views of our company or the views of the overwhelming majority of our dedicated and hard-working restaurant owners." This statement adds just more fuel to the lousy relationship between Tim's and their franchisees. 
The Tim's brand reputation continues to hemorrhage
In May 2018, the Reputation Institute reported that Tim Hortons had fallen from 13th to 67th in its study of Canada's most reputable companies. Digging in deeper, an Ipsos study (below) showed that 35% of consumers said their opinion of Tim's has gone down over the past five years. That number should be setting off alarm bells for Tim Horton's. The data shows 25% say the service has gotten worse, and 19% say the coffee has gotten worse. The coffee is still the same, but when our feelings over the brand and the consumer experience gets worse, it makes consumers re-evaluate everything about the brand. In terms of the most performance results, Tim Hortons' sales have fallen 1.5% over the past twelve months.
To illustrate, click on the diagram above to zoom in.
Instead of fixing their problems which are in plain sight, here's what Tim's has been doing
Tim's launched one outlet in China with plans for a whopping two more. Compared to 3,000 Starbucks in China, these two locations won't make any dent. 

Tim's launched a meatless burger, even though they don't sell a meat burger. This confusing launch made no sense. It feels like a desperate attempt to capitalize on a trend, not a long-term strategy. Months later, Tim's discontinued the meatless burger. 

Tim's also launched a meatless sausage in a wrap or a biscuit. While this launch is trying to appeal to the rapid growth of vegans and vegetarians, the meatless sausage has dairy cheese and an egg. That isn't very smart. Months later, Tim's discontinued the meatless sausage. 

Tim's launched a new loyalty card that gives consumers a free coffee or donut every 7th purchase. The problem is that consumers have begun noticing that not every location is willing to honor the loyalty card. This poor execution goes back to the poor relationship between Tim's and their franchisees. 

Tim's launched a fake high-end cafe as a stunt in downtown Toronto. There was no Tim's branding, but it gave the illusion of a small local cafe, yet it was selling the same products as a typical Tim's. While the stunt was trying to say their products are good enough to sell a high-end cafe, isn't the stunt just saying Tim's has done such a lousy job at their brand image that people will pay more for unbranded Tim's products than they will pay for branded Tim's products. 

They launched a new breakfast cereal, in a partnership with Post cereals. This won't fix the bad customer service.

Recent successful launch of 'Tim Biebs', a new Justin Bieber Timbit. The TV ads generated a lot of awareness, and sales were up.
As a marketer, it is hard to watch Tim's continue to run away from their problems as the brand continues to fall.
Marketing your brand to your own employees
Brand leaders must manage the consistent delivery of the brand idea over every customer touchpoint. Whether people are in management, customer service, sales, HR, operations, or an outside agency, everyone should look to the brand idea to guide and focus their decisions. 
The best brands should spend as much effort marketing internally, so everyone at your company understands and shares the idea behind your brand, as your people will be the ones who deliver your brand's promise to your customers.
We usually think of marketing as messages directed only to the customers. For a service-oriented brand like Tim's, I recommend equal effort in the marketing to your own employees, as they are the front-line face of your brand, and their behaviors will establish your brand's reputation. 
Use your internal brand communications tools to drive a shared definition of the brand idea, as well as getting everyone to articulate how their role delivers that brand idea. Give the external and internal brand story equal importance to the customer experience you create for your brand. Everyone who works on the brand should use the brand idea as inspiration to guide consistent decisions and activities across every function of your organization. It is the people within the brand organization who will deliver the brand idea to the customer. Everyone needs a shared understanding of and talking points for the brand.
When you work on a brand that leads to the customer experience, your operations people will be responsible for the face-to-face delivery of your brand to the customer. Develop a list of service values, behaviors, and processes to deliver the brand idea throughout your organization. 
Building your brand culture
Brand values form the backbone of your organization. They may come from your background, how you grew up, rules you identify with or how you see your priorities in life. Your beliefs come from your experience, helping explain why and how you choose to do business, how you treat your people, and how you conduct yourself as a leader and as a person in the community. These beliefs should be personal, ethical, or rooted in frustration for how you see things happening in the world. Your inspirations should excite team members who work behind the scenes of the brand. Inspirations should stimulate your people to go beyond the norms of effort or passion. 
For organizations, I believe it works best when your people have input into creating and building your values because they will feel included, heard, and invested in your brand's success. Maybe that is one of my own core values in a bottom-up approach to building brands. However, the closer your values reflect the realities of what your people believe in, the more successful you will be in using those values to inspire greatness.
To illustrate, click on the diagram above to zoom in.
Tim Horton's has a long way to go to fix their culture and consumer experience
Other Fast Food articles we cover
Learn how McDonald's changes their restaurant six times a day. Read how McDonald's has fallen in the customer service rankings and how Chick Fil A leads the pack. And, read how In-N-Out is one of the best places to work. We've never loved the Burger King Moldy Whopper campaign which has not paid off with added share or sales. Finally, read about the new burger war between Five Guys, In-N-Out, and Shake Shack.
We empower the ambitious to achieve the extraordinary.
Without a doubt, our role at Beloved Brands is to help the ambitious marketers who are trying to improve their marketing skills. Most importantly, we will prepare you so you can reach your full potential in your career. You will learn about strategic thinking, brand positioning, brand plans, marketing execution, and marketing analytics. As well, we provide a suite of marketing tools, templates that will make it easier to do your job, processes that you can follow, and provocative thoughts to trigger your thinking. 
Have you gone through an assessment of the marketing skills of your team? Take a look below:
The fundamentals of marketing matter.
Our Beloved Brands marketing training programs cover different streams to suit the type of marketer you are. For instance, our marketing training covers consumer marketing, B2B marketing, and Healthcare marketing. 
The marketing fundamentals that we show in this article are part of what we use in our marketing training programs. Ambitious marketers will learn about strategic thinking, brand positioning, brand plans, marketing execution, writing creative briefs, advertising decision-making, marketing analytics, and marketing finance. 
Importantly, when you invest in our marketing training program, you will help your team gain the marketing skills they need to succeed. Without a doubt, you will see your people make smarter decisions and produce exceptional work that drives business growth. 
Finally, I wrote our Beloved Brands playbook to help you build a brand that your consumers will love. If you are a B2B marketer, try our B2B Brands playbook. And, if you are a Healthcare Marketer, try our Healthcare Brands playbook.
Everything a Marketing must know about.
Importantly, Brand leaders need to know how to think, define, plan, execute and analyze with the best of them. Moreover, while the brand leaders don't really know how to do anything, they are looked upon to make every decision. Have a look at our five minute video on everything a marketer must know. To read more, click on this link: Everything.
To view, use the ▶️ controls to play or volume buttons 
If you are looking to make your marketing team smarter, we can help. To get started, email Graham Robertson at [email protected]
What type of marketer are you?
We believe that marketers learn best when they see our marketing concepts applied to brands that look like their own. We have come up with specific examples – consumer, B2B and healthcare – to showcase our marketing tools. Click on the icon below to choose your interest area.
Brand Management Mini MBA
Invest in your future. If you are an ambitious marketer, looking to solidify your marketing skills, our Brand Management Mini MBA will teach you about strategic thinking, brand positioning, brand plans, advertising decisions, and marketing analytics.
Have a look at our brochure on our Mini MBA program
Use  >  to move through the brochure or  x  to see the full screen. 
You get 36 training videos, key chapters from our Beloved Brands Playbook, and a Brand Management Workbook with exercises to try in real-time. You will earn a brand management certificate that you can use on your resume or LinkedIn profile.