As we crave big, bold, beautiful work, the You can't stop us campaign by Nike continues to inspire consumers, and hopefully, other advertisers. The advertising includes the richness in storytelling. First, the emotion of reaching beyond what we ever thought possible. Next, the editing is perfect. Finally, the recognition of our favorite athletes mixed in with real-world people accomplishing their greatness.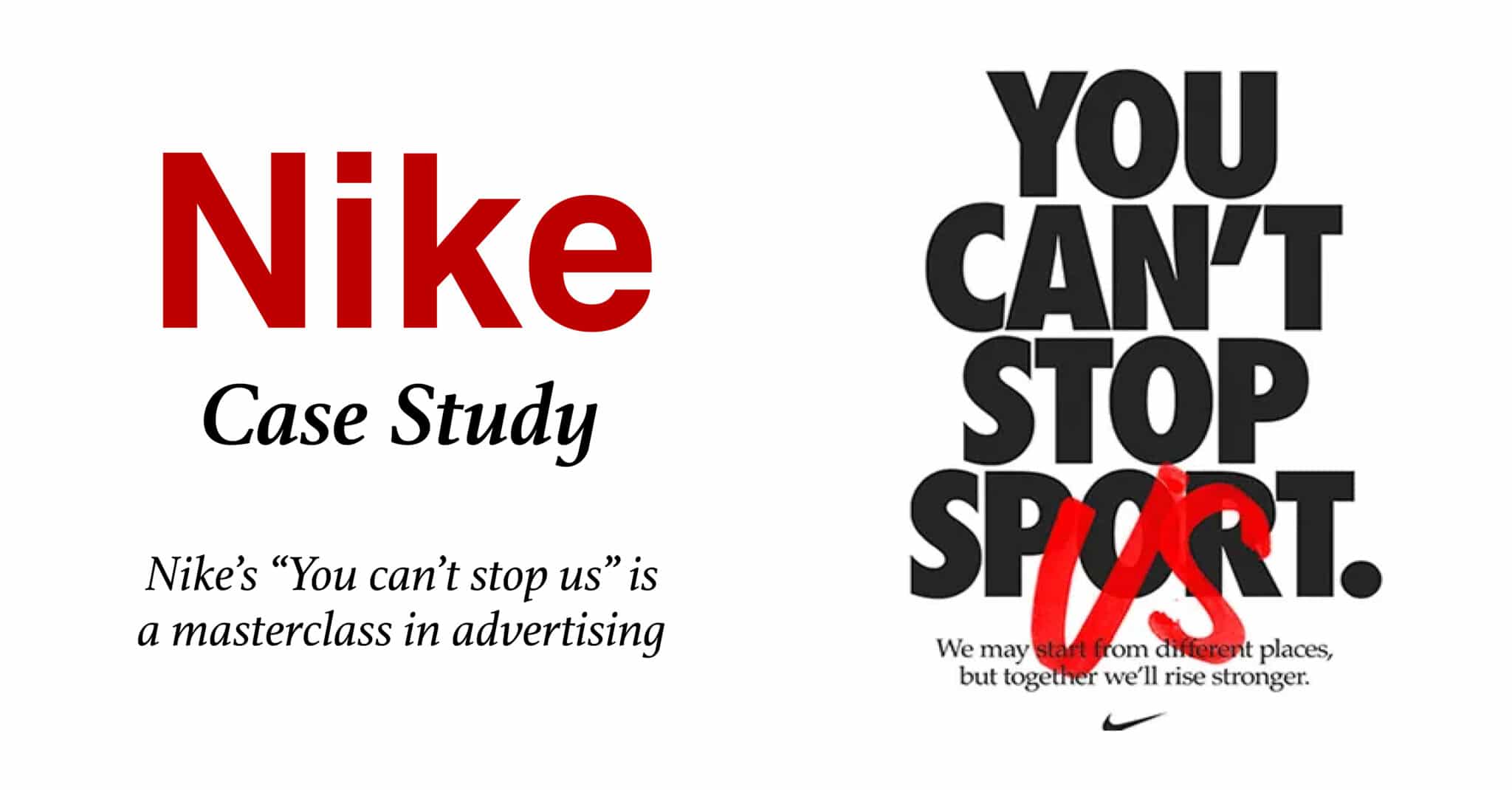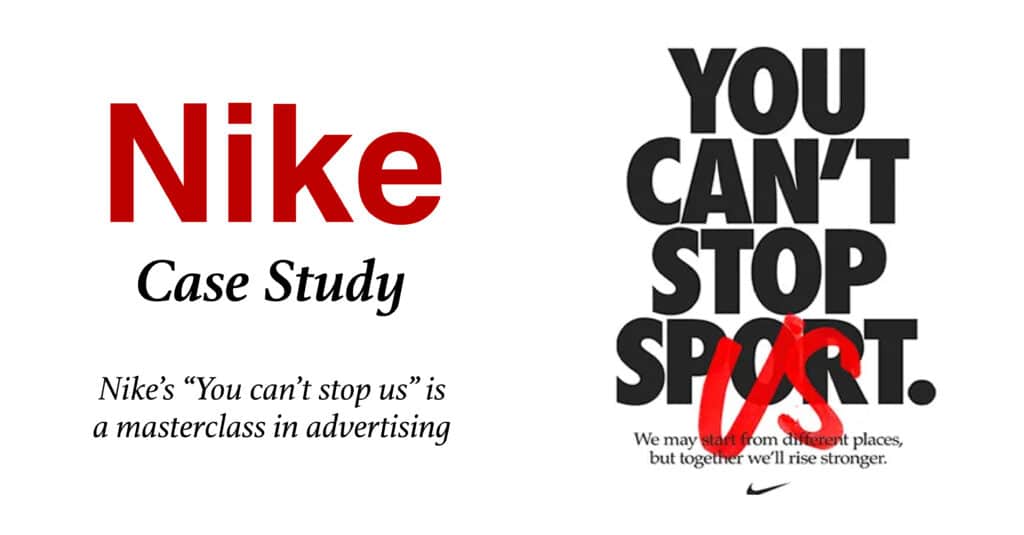 While everyone else is letting AI hound and annoy consumers into buying their products, Nike and Apple are shining the brightest with videos that give us chills and goosebumps. We need more great advertising work.
To view Nike's You can't stop us advertising, use the video control tools.
I love the split-screen technique with 36 different pairings. With you can't stop us, Nike researched over 4,000 different video options to narrow it down to the perfect fittings. Above all, the ad delivers on Nike's stated purpose is to unite the world through sport to create a healthy planet, active communities, and an equal playing field for all. Nike doesn't want to let closed gyms or empty stadiums hold us back, and is showcasing the many ways that athletes continue to push forward.
Similarly, the Nike's "You can't stop us" campaign builds on Nike's comeback story ad from a few months ago. That ad linked famous comebacks in sports to what we are going through with the Coronavirus. 
To view Nike's You can't stop us advertising, use the video control tools.
What can you learn from the best Nike ads?
How to predict advertising success
Let's take this creative thinking to a predictive advertising model, changing the creatively different to branded breakthrough, and the smart strategy becomes motivating consumers.  
The branded breakthrough is "how you say it." It uses creativity to capture the consumer's attention within the clutter of the market while linking your brand closer to the story. And, the motivating message is "what you say." You have to communicate the main message to connect with consumers memorably, so the ad sticks enough to move consumers to see, think, feel, or act differently than before they saw the ad.
To illustrate, click on the diagram to zoom in. 
When judging advertising, the most important thing I look for is to ensure the creative idea within the ad that drives the attention, tells the brand story, communicates the main benefit and sticks in the consumer's mind. Importantly, when you see a story, device, copy, or a visual that does not fit with the delivery, then you have a red flag. You run the risk that the creativity of the ad works against your objectives. 
The ABC's of Advertising: Attention, brand link, communication stickiness
Here are four questions to ask:
To illustrate, click on the ABC's of advertising to see details.
Test out the ABC's of advertising using the You Can't Stop Us ads from Nike. How would you score those ads using the ABC's?
The best marketing execution uses in-the-box creativity. Indeed, we believe there is great marketing execution that uses emotional advertising, humor, feel-good ads, and consumer insights. 
Importantly, we have posts on writing creative brief, running the advertising process, making advertising decisions, and media plans. 
Moreover, read how to conduct your own marketing research, social media plans, and how to lead the innovation.  
Challenge yourself to get better at advertising
If you realized that how you show up as a client is the most significant factor in getting better advertising, would you show up differently? If so, then show up right.

Be one of your agency's favorite clients. Never treat anyone like they have to work on your business. Inspire everyone to want to work on your brand.

Undoubtedly, stay focused on one target, one strategy, one consumer benefit and one brand idea. Avoid the just in case list or adding one more thing.

When writing a brief or providing feedback, resist controlling the creative outcome. Give them your problems, not your solutions.

Importantly, be willing to fight anyone in the way of great work, even with your boss. You will start to see everyone on the team fight for you.

LOVE your advertising, and never settle for OK. Never approve OK advertising that feels safe. What signal do you think it sends everyone involved?
Take your brand knowledge to new heights with our Beloved Brands playbook
Beloved Brands is a comprehensive guide that covers the fundamentals of brand management. It goes deep on strategic thinking, brand positioning, brand plan development, advertising decisions, media planning, marketing analytics, and the brand financials. This is an opportunity to build your marketing skills to help your career. And, it will provide you with the roadmap for driving growth on your brand.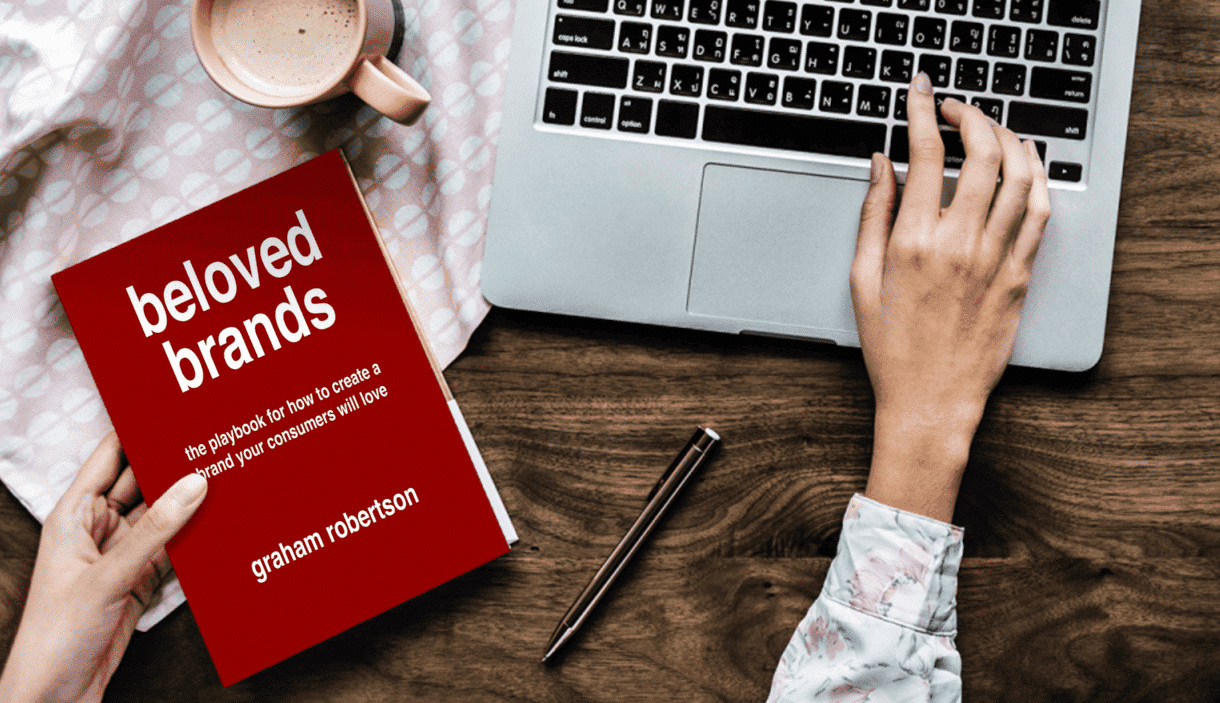 Marketers see Beloved Brands playbook as a go-to resource, as they keep it within arm's reach for any new project. We are thrilled to see that it has received a 5-star rating from nearly 90% of Amazon reviewers. Additionally, we have also created playbooks for B2B Brands and Healthcare Brands, catering to specific industries.
Learn about brand positioning
To find your ideal brand positioning statement, you want to find the space that is most motivating to consumers. And, find the space that is most ownable for your brand. Our brand positioning statement process starts with a defined consumer target your brand will serve. Then, we focus on the emotional and functional benefits that differentiate your brand. Further, we use support points to help differentiate your brand from competitors.
Learn about marketing plans
A strategic marketing plan gets everyone on the same page, including senior management, sales, product development, customer service and your agency partners. So, we have a one-page brand plan to help. That way, everyone drives against the same vision, key issues, strategies, and tactics. Throughout this article, I will show how to write a marketing plan, with a few marketing plan examples. And, we have a marketing plan template you can purchase. 
How to write a Brand Concept
One of the most important skills marketers need to know is the fundamentals of writing a brand concept. Read our step-by-step process for how to create a brand concept that brings your brand to life. Learn how to lay out the brand concept with the brand idea, consumer insights, main message, support points and call-to-action. 
What type of marketer are you?
We believe that marketers learn best when they see our marketing concepts applied to brands that look like their own. We have come up with specific examples – consumer, B2B and healthcare – to showcase our marketing tools. Click on the icon below to choose your interest area.
Brand Management Mini MBA
Invest in your future. If you are an ambitious marketer, looking to solidify your marketing skills, our Brand Management Mini MBA will teach you about strategic thinking, brand positioning, brand plans, advertising decisions, and marketing analytics.
Have a look at our brochure on our Mini MBA program
Use  >  to move through the brochure or  x  to see the full screen. 
You get 36 training videos and key chapters from our Beloved Brands Playbook, and a Brand Management Workbook with exercises to try in real-time. And, you will earn a certificate you can use on your resume or LinkedIn profile.