Our Apple case study starts with 𝘁𝗵𝗲 𝗱𝗮𝘆 𝗦𝘁𝗲𝘃𝗲 𝗝𝗼𝗯𝘀 𝗿𝗲𝘁𝘂𝗿𝗻𝗲𝗱 𝘁𝗼 𝗔𝗽𝗽𝗹𝗲. The is the starting point that 𝘁𝗿𝗮𝗻𝘀𝗳𝗼𝗿𝗺𝗲𝗱 𝗔𝗽𝗽𝗹𝗲 𝗶𝗻𝘁𝗼 𝗼𝗻𝗲 𝗼𝗳 𝘁𝗼𝗱𝗮𝘆'𝘀 𝗺𝗼𝘀𝘁 𝗮𝗱𝗺𝗶𝗿𝗲𝗱 𝗯𝗿𝗮𝗻𝗱s. Steve Jobs recognized that consumers were frustrated by how all the other technology brands designed their products in a lab without any thought for the consumer. Steve Jobs made the most significant contribution to the Apple brand strategy in how he starts with the consumer experience and then work back to the technology.
The Apple brand strategy that we see today builds everything around the brand idea of "Apple makes technology so simple that everyone can be part of the future." Then, we witnessed the most incredible decade that any company has ever seen, with Apple launching iTunes, iPod, iMac, the MacBook Pro, MacBook Air, iPhone, and the iPad.
If you are a marketer, looking to improve your knowledge by looking at what Apple has done so well, our Apple case study will teach plenty of lessons for using a brand idea to inspire and steer everyone who works on the brand. At every step of the Apple brand strategy, we will provide a link to click on and learn how the process can work on your brand.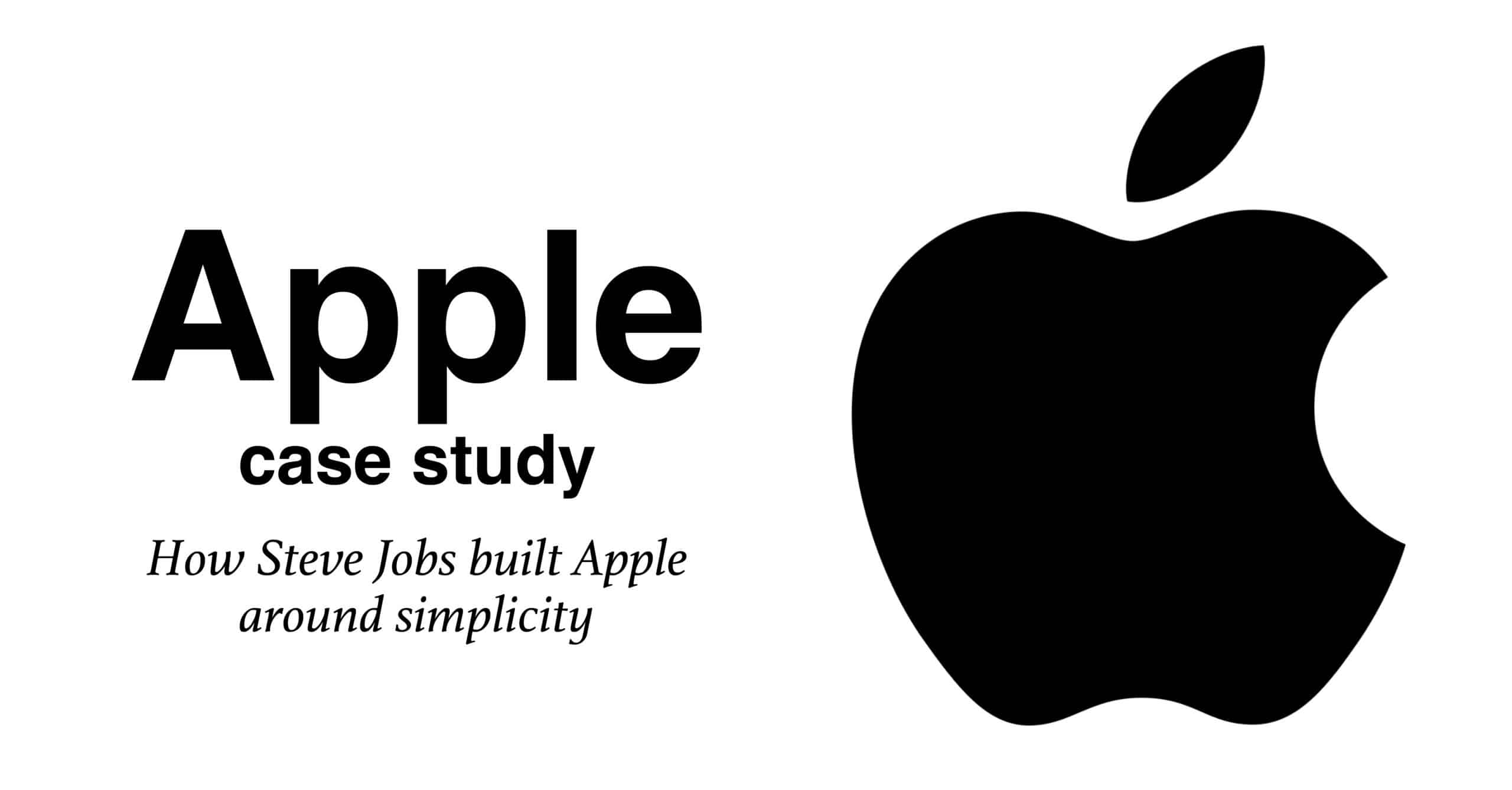 Our Apple case study will show how to come up with Apple's brand positioning statement, and brand plan. Then, I will show how Steve Jobs pushed to stretch their "simplicity" brand idea across their company. Everyone who works behind the scenes know their role in delivery simplicity.
Simplicity drives all Apple advertising. 
Even back in the 1980s, Apple started with "technology for the rest of us" when they took on IBM. And, they continued that attack with "I'm a Mac" ads that took on Microsoft. Simplicity drives Apple innovation. Steve Jobs pushed for great advertising. 
The beauty of Apple is how they take complex technology and simplify it so consumers can do more with Apple products. 
The Apple brand strategy even drives their retail stores. Their Genius bar helps answer technology questions. They allow consumers to play with their products. Apple sales people are trained to avoid "geek speak." 
After Steve Jobs came back in 1997, he shifted the focus to rebuilding around the  brand idea of "Apple makes technology so simple that everyone can be part of the future." Jobs came in with a consumer-first approach in a market dominated by an obsession with gadgets, bits, and bytes. At the heart of our Apple case study is the use of the brand idea of simplicity, and the impact it has on the Apple brand strategy.
Undoubtedly, simplicity is one of the values Steve Jobs held very close to his heart. For example, he built simplicity into everything Apple did and everything it stood for. Even over the last decade, Apple is still following the Steve Jobs playbook.
Apple builds everything behind the "simplicity" brand idea.
We use our consumer benefit ladder to find differentiation. Importantly, turn your brand's features into consumer benefits. Stop thinking about what your brand does. And, start thinking about what your consumer gets. That's when your brand positioning statement comes alive.
Functional consumer benefits.
To help brand leaders kickstart their brand positioning work, I have created 12 functional zones that expands to over 50 potential functional benefits. For instance, as you look through the list, gravitate to the functional benefits you think will fit the needs of your consumers and differentiates your brand by looking for words where your brand does it better than competitors. While you might start with our words, try to layer in your own creative language with the specific category or consumer language.
Emotional consumer benefits.
Below is a list of 40 potential emotional benefits help build an emotional brand positioning statement that differentiates your brand. Importantly, you want to own one emotional space in the consumer's heart as much as you own the rational space in the consumer's mind.
To illustrate, click to zoom in to see our consumer benefit cheatsheets.
Choosing the right benefit clusters for Apple
Using our brand positioning process, our Apple Case study narrows in on the brand's potential benefit clusters of the functional and emotional benefits. Below, we show how Apple's three functional benefit zones includes simplifies life, sensory appeal and the experience. And, Apple's three emotional benefit zones includes optimism, feeling free and getting noticed. 
For example, click to zoom in to see the Apple's consumer benefits.
M   A   R   K   E   T   I   N   G        B   O   O   K
the playbook for how to create a brand your consumers will love
Covering every aspect of brand management, it is no wonder that our readers reach for Beloved Brands multiple times each week to guide them through the challenges of day-to-day brand management.
Get ready for a mind-bending journey as we take you on a deep dive into your brand strategy. We'll challenge you with thought-provoking questions designed to shake up your thinking and help you see your brand in a whole new light. And our unique process for defining your brand positioning will leave you with fresh ideas and new possibilities for how to differentiate your brand.
But we won't just leave you with ideas – we'll show you how to turn them into action. Learn how to write a brand plan that everyone can follow, ensuring that all stakeholders are aligned and contributing to your brand's success. We'll walk you through the creative execution process, from writing an inspiring brief to making smart and breakthrough decisions.
And when it comes tao analyzing your brand's performance, we've got you covered. Our innovative methods will help you dive deep and uncover insights you never knew existed, giving you the knowledge you need to make the best decisions for your brand's future.
But don't just take our word for it – our Amazon reviews speak for themselves.
With over 85% of our customers giving us a glowing five-star rating and an overall rating of 4.8 out of 5.0, we know we're doing something right. And with numerous weeks as the #1 bestseller in brand management, you can trust that we have the experience and expertise to help you achieve success.
Ready to join the ranks of the Beloved Brands community? Order our book on Amazon, Rakuten Kobo, or Apple and start your journey towards brand success today.
Take a read through our sample chapter on strategic thinking
85% give Beloved Brands a perfect 5-Star rating!
The cheat code for future brand leaders!
It is without a doubt the most practical book for those who want to follow brand management that I have ever read in my life! Beloved Brands is written by a real, experienced marketeer for marketers. This book contains methodologies, tools, templates and thought processes that Graham actually used and uses in his career.
I have Brand Love for Beloved Brands!
As a 24-year marketing veteran at a Fortune 100 company, I thought I knew everything I needed to know about building brands until I started following Graham on social media. Graham has an amazing gift of bringing to life the critical elements of brand building and management in a delightful, easy-to-understand way and includes numerous examples and case histories that turn theory into practical reality for the reader. His tools and templates throughout the book make it VERY easy for the reader to immediately apply the critical principles of brand management to build a brand that consumers will love for the long term.
I know other new brand managers that have literally used this to review their business' and create their annual brand strategy plans. Undeniably, Beloved Brands is phenomenal in concept and in execution. I highly recommend this book.
Building Apple's brand idea
Everyone seems to call the short-form description of a brand by different names; brand DNA, big idea, brand essence or shout from the mountain. I keep it simple by calling it the brand idea. Essentially, to win in the marketplace, your brand idea must be interesting, simple, unique, inspiring, motivating, and ownable. 
I created a brand idea blueprint with five ideas that surround it.
On the internal brand soul side, describe the products and services, as well as the cultural inspiration, which is the internal rallying cry to everyone who works on the brand. On the external brand reputation side, define the ideal consumer reputation and the reputation among necessary influencers or partners. The brand role acts as a bridge between the internal and external sides.
For example, click to zoom our Apple Case Study based on brand positioning.
The Apple case study uses the brand idea for Apple is "making technology so simple that everyone can be part of the future." Most importantly, Steve Jobs insisted they take a consumer-first mentality, as they transform leading technology advancements into "consumer-accessible" technology, helping fuel the perception among the mass audience that Apple is an innovative leader. 
For example, click to zoom in to see the Apple case study based on a brand idea and brand positioning.
Our Apple Case study is part of our Beloved Brands Mini MBA. Take a look.
Below is an example video (30 minutes) from our Beloved Brands Mini MBA. We use the Apple case study to demonstrate many of our brand positioning tools.  
To view, click on ARROW to play the video or the SOUND the adjust the volume.
A Brand Key model is a tool from consumer marketing that allows marketers to lay out the unique selling proposition (USP) elements of their brand on one page. Essentially, this article will go through the Brand Key model explained with nine elements that build the USP. And, with each element, we will show you the work you need to do. 
Below is the Brand Key example for the Apple brand. It really brings to life Apple's unique selling proposition of simplicity. To read more on brand key models, click on this link: Using a Brand Key Model to define your brand's USP.
To illustrate, click on the Apple Case Study diagram to see Apple's Brand Key Model explained.
Use Apple's brand idea as a lens to see the problems not delivering
Apple has done a great job in taking that simplicity brand idea and stretching it across their brand story through advertising, and their innovation plan (as they have entered many new technology categories). 
They have also used their brand idea to guide how they manage the purchase moment (to make sure their retail outlets are easy for consumers), and how they create happy experiences for consumers. And, when they don't nail the ideal consumer experience, they go out of their way to help out. They also have the genius bar and on-site lessons, which help increase the knowledge of consumers.
The other beauty of having a crystal clear brand idea, is that everything that goes against that brand idea almost acts like an obvious virus. Looking below, here are four examples of where Apple is missing out on "simplicity" which puts the brand idea at risk. Above all, these should trigger action plans to build into your brand plan. In pointing out these flaws within our Apple case study, I am yet to see Apple take action. 
I wonder what Steve Jobs would think of these flaws.
How the five elements of smart strategic thinking sets up Apple's famous turnaround plan:
1. Set a vision of what you want.
To start our Apple case study, their vision is to make it easy to get everyone to be part of technology in the future. The main issue was how to create brand fans then mobilize them to spread the word to the masses.
2. Invest resources in a strategic program.
Next, Apple invested and aligned everything behind a brand idea defined as "Apple makes technology so simple; everyone can be part of the future." They use this brand idea at every touchpoint, including the brand positioning, communication, innovation, purchase moment, and experience.
3. Focus on an identified opportunity.
For decades, Apple consistently focused on empathizing with—and taking advantage of—the consumer's frustration with technology. In the 1980s, they attacked IBM personal computers as being too complicated. In 2005, they used "I'm a Mac, and I'm a PC" advertising to attack Microsoft. Each time, they used its "consumer-first" mentality to transform leading-edge technology into accessible consumer technology.
4. Leverage a breakthrough market impact.
Above all, the Apple brand strategy takes a fast-follower stance that takes current technology and makes it simple to use. Every platform, including desktops, laptops, phones, watches, tablets, and music streaming delivers the brand idea of simplicity. They deploy high profile launch hype to use vocal advocates to spread the word to their friends.
5. Performance result that pays back.
Most importantly, Apple created a consumer bond with their brand fans to enter new categories. On top of that, it is now the most beloved consumer-driven brand, with premium prices, stronger market share, sales, and profits. The Apple brand strategy used brand love to help drive a remarkable 40x revenue growth over 10 years, skyrocketing from $5.7 billion in 2005 to $240 billion in 2015. This rapid growth helps cover the high costs of advertising and R&D, giving them very healthy operating margins, up over 35%. All this strategic effort has increased their market capitalization approaches $1 trillion.
We are going to build out a Brand Strategy Roadmap that can steer the brand for the next three to five years. And, we'll show a one-page Annual Brand Plan. We'll show the rough brand plan work you can do.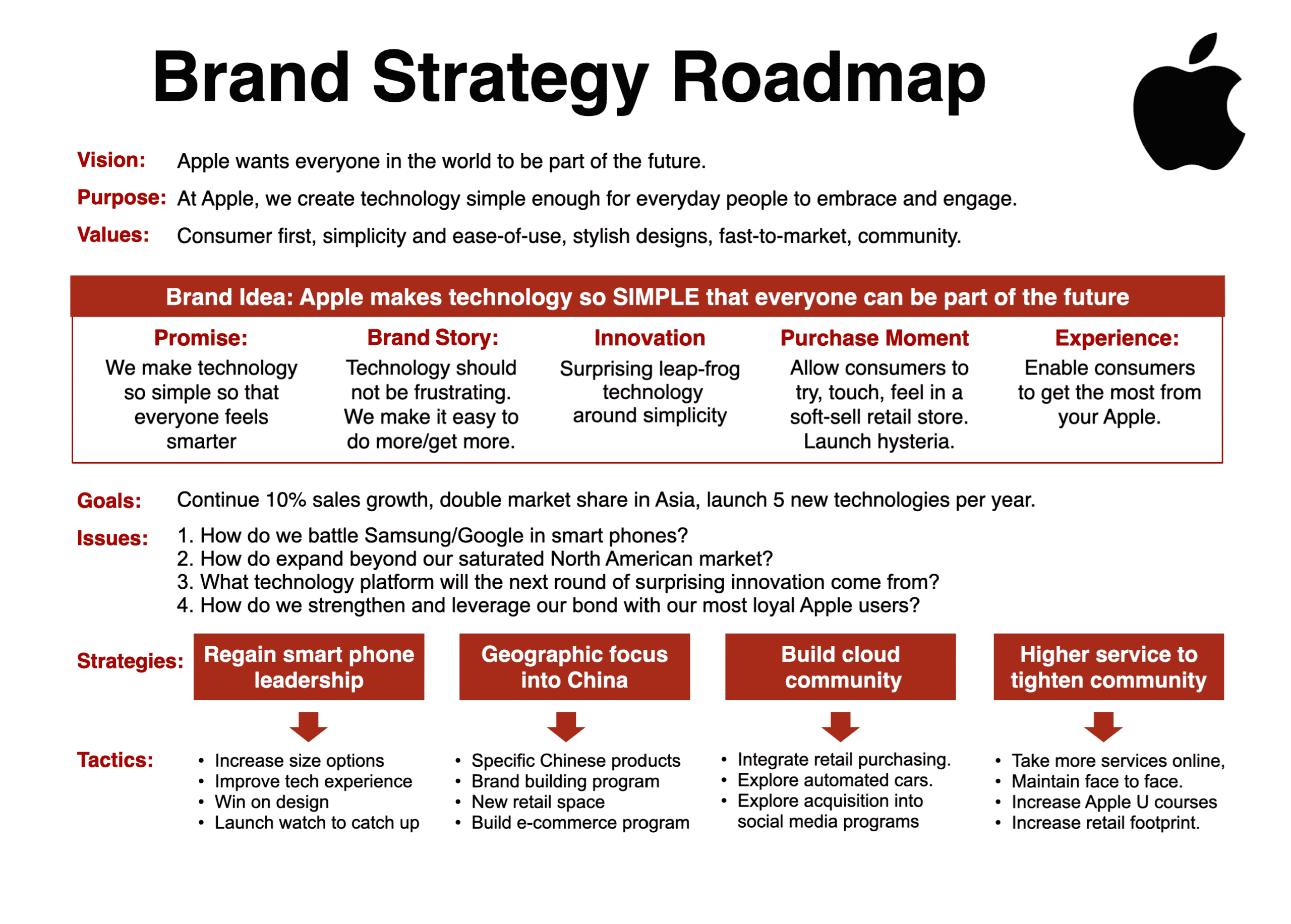 For example, click to zoom in to see the Apple Case Study Brand Strategy Roadmap.
The rough brand plan for Apple
With the Apple case study, our strategic thinking model sets up the core elements the Apple brand plan:
Vision: 
Apple wants everyone in the world to be part of the future.
Goals: 
Continue aggressive sales growth, geographic expansion into China, launch a major new consumer-friendly technology each year.
Key issues: 
How do we convey Mac's superior user experience versus the traditional PC? 
How do we enter the music industry and increase the availability of online music to support our iPod?
Strategies: 
Apple will launch a full communications assault to challenge the PC/Microsoft Windows dominant position by finding flaws in the PC to contrast with Mac computers' simplicity to steal significant market share by enticing frustrated PC consumers to buy a Mac. 
Apple will launch a full assault against the entire music industry with a disruptive innovator stance to show how iTunes provides higher quality digital music on your iPod much cheaper, faster and smarter than CDs to gain an entry point into the music industry.
Tactics: 
TV advertising to highlight new features and challenge competitors. 
Launch innovation each year including phones, tablets, online music, watches and personal computers. 
Laugh specific products for China. Increase retail space around the world. Build out the e-commerce program.
For example, click to zoom in to see the Apple's Brand Strategy Roadmap.
Advertising has delivered "simplicity" since the 1970s

Apple's advertising has been relatively consistent for over 40 years and incredibly connected with consumers. The early print ads of the 1970s, as Steve Jobs was launching Apple, talked about how we designed the computer, so you don't have to worry about the details. 
Steve Jobs pushed for the "1984" TV ad for the Mackintosh launch that spoke about the freedom from machines. Although the message was a little ahead of its time, it fit with simplicity. Above all, the brilliance of the side-by-side "I'm a Mac and I'm a  PC" TV ads epitomized the brand idea by making the PC seem overly complicated and frustrating while setting up the Mac as the simple alternative.
Take a look at some of "I'm a Mac" TV ads. Enjoy!
To view the ad, use the ▶️  button to play.  
Marketers can learn from case studies of the world's best brands
Marketers can unlock valuable insights and strategies by examining brand case studies from the world's best brands such as Apple, Starbucks, Nike, Tesla, Coca-Cola, and Ritz-Carlton. These industry-leading brands have demonstrated the power of innovative marketing approaches. They use captivating storytelling, and strong brand positioning to achieve remarkable success. Learn from Elon Musk to Steve Jobs.
By delving into these brands' marketing tactics and lessons, marketers can gain a deeper understanding of how to effectively reach, engage, and inspire their target audiences, ultimately elevating their own marketing game and driving growth for their brands.
Building product innovation around simplicity
Apple has taken many failed technology ideas like online music, tablets, or mp3 players, and turned them into consumer-friendly platforms such as iTunes, iPads, and iPods. With each new product, Apple uses launch hype to generate excitement to spark the enthusiasm of the early adopters who spread the word. Also, Apple has successfully taken its cherished brand fans into new categories. 
The combination of Johnny Ives and Steve Jobs created many of the great Apple products. 
Learn how we make innovation decisions.
Purchasing Apple products is very simple, including its own retail store experience
The retail stores are a major part of the Apple Case Study.
Steve Jobs saw a vision for retail, to help Apple use simplicity to manage the purchase moment through its retail stores, making sure the experience is simple and straightforward. All staff carry a credit card machine and complete the transaction very quickly. No lines or cash registers. 
Simplicity shines through the store layout, with the genius bar for one-on-one tech questions and support and the training area to teach classes. The brand also puts every Apple product on display to allow consumers to take them for a test drive. It's all about delivery the consumer experience that Steve Jobs loved so much.
Take a look at the most beautiful Apple stores in the world. 
Even when Apple products are in other stores, the brand has used its power with that retailer to create a distinct store-within-a-store concept, which replicates a similar look and experience from Apple's own retail locations.  Take a look at a few of those beautiful store locations below, or go to our article by clicking this link: Beautiful Apple stores.
For example, click to zoom in to see Apple's most beautuful store locations.
For example, click to zoom in to see Apple's most beautuful store locations.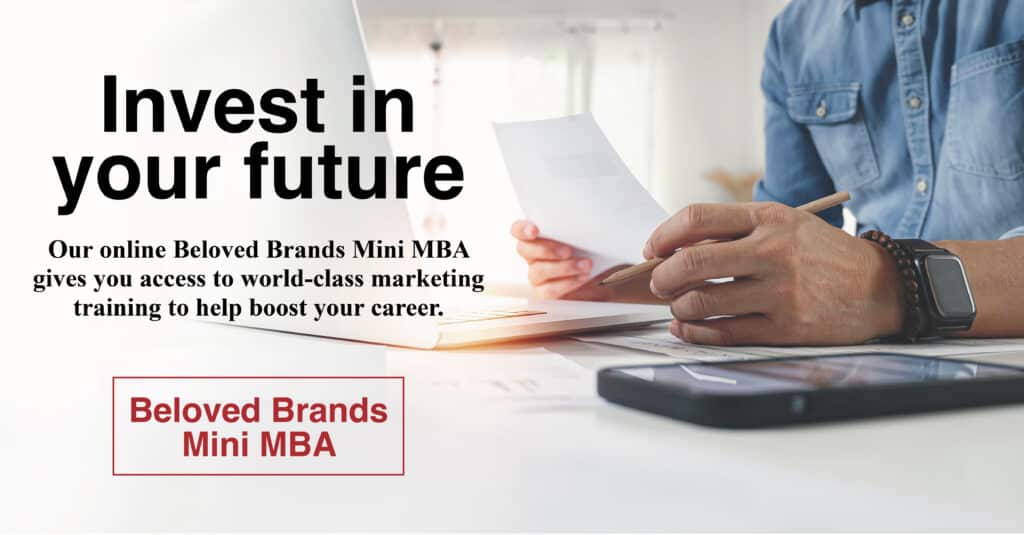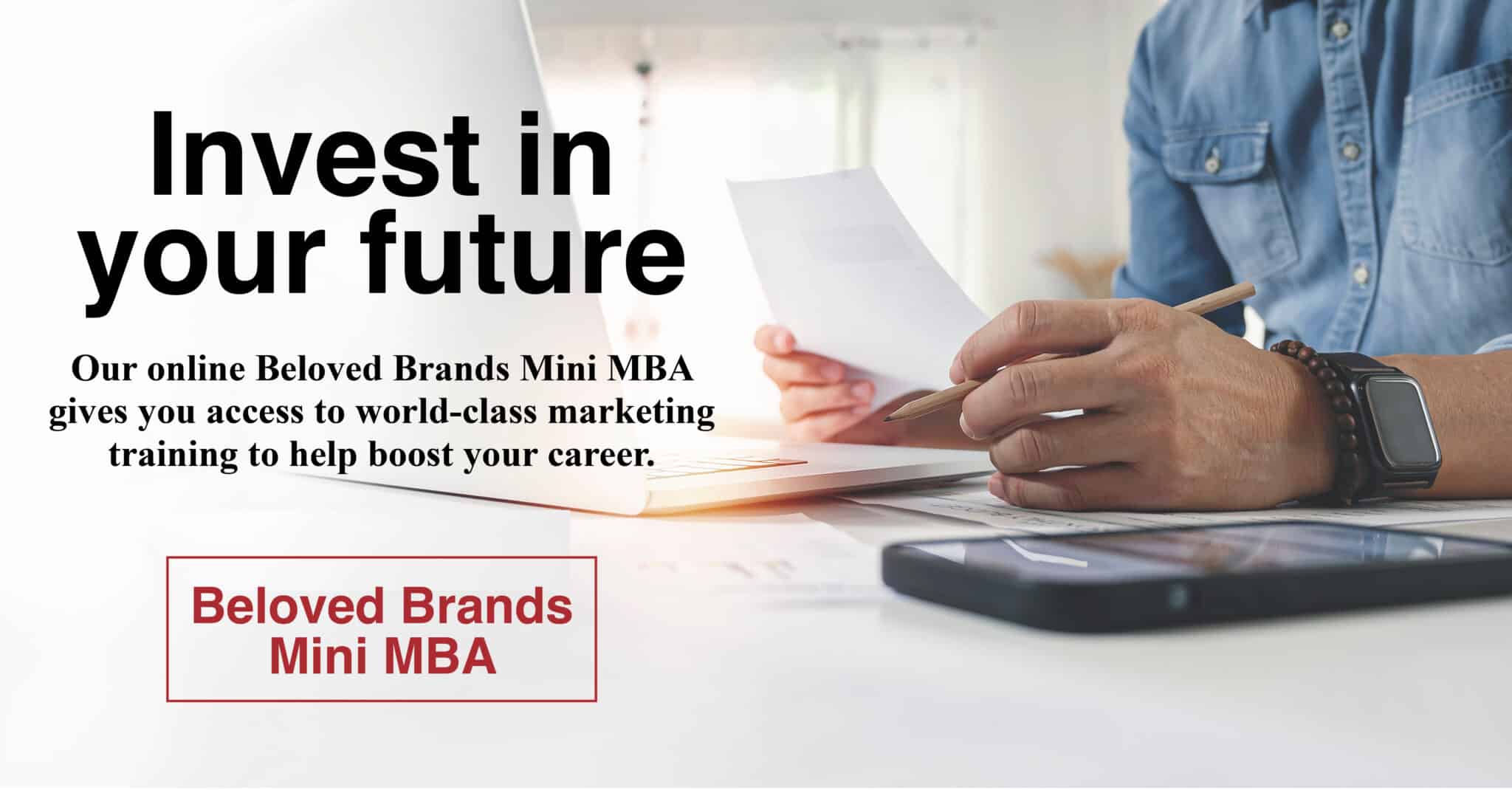 Invest in your future. If you are an ambitious marketer, looking to solidify your marketing skills, our Beloved Brands Mini MBA will teach you about strategic thinking, brand positioning, brand plans, advertising decisions, and marketing analytics. 
Our Beloved Brands Mini MBA program
Use  >  to move through the brochure or  x  to see the full screen. 
With our Beloved Brands Mini MBA, you get 36 training videos that allows you to learn at your own pace. We provide key chapters from our Beloved Brands Playbook, and a Brand Management Workbook with exercises to try in real-time. Earn a certificate you can use on your resume or LinkedIn profile. 
Apple consumer experience
Obsessing about the consumer experience
As Steve Jobs famously said, "You have to start with the customer experience and work backward to the technology." Apple even believes opening your Apple products should be like unwrapping a gift. 
Steve Jobs wanted the consumer to be able to use any Apple product right away rather than spending hours loading software or setting up your machine. Regarding product integration, Apple products work together, and they work the same way, which makes it very simple for consumers when they move from one Apple product to another.
Next time you are in a brainstorming session, try to think like Steve Jobs. 
How Apple's brand love leads to increased power
As we continue our Apple case study, let's take a look at the power and profit Apple generates through brand love. 
As they achieved an extremely tight bond with a loyal mass of followers, they use the tight consumer bond to generate brand power that they quietly wield in the market. Apple's retail network of stores generates twice the sales per square foot of any retailer in the world, yet it is a very soft-sell environment. 
I was recently on a double-decker bus tour of New York City, and when the bus went past the 5th Avenue Apple flagship store, half the bus stood up to take a photo. And, they have such a power over the supplier network with an array of engineers following extremely tight procedures. 
Also, they have a power over the media, generating over $2 billion worth of free media each year. Moreover, Apple fans want to work at Apple, many times giving up lucrative jobs just to be part of the brand.
Smartphone loyalty scores
Below, we can see the loyalty scores of the various smartphones. Apple leads the way with over 90% loyalty, moving from one model to the next. Samsung's loyalty is below 70%. And LG has fallen to 32%. At LG's level, you're constantly needing to source new consumers. That's an extremely expensive way to manage your brand. 
Whoever says loyalty does not exist has not talked with Apple consumers. Apple significantly outperforms their competitors, and uses that loyalty to drive future sales. 
To illustrate, click to zoom in on the financial results of our Apple Case Study.
Apple's prices continue to increase
As Apple's loyalty holds strong, they are able to increase their pricers with each model. Loyal consumers are less price sensitive. This translates the Apple brand strategy into added profits. Steve Jobs used hype marketing to create a very tight bond with consumers. 
We can see how Apple uses power over their consumers to add price each year. Their iPhones deliver 40% profit margins, 4x higher than their competitor profits. 
To illustrate, click to zoom in on the financial results of our Apple Case Study.
The power of the Apple brand
How Apple's brand power leads to increased profit
The Apple brand strategy extrapolates the power they generate into profit, with their incredible financial performance over the last 15 years. And, they generate significant price premiums, relatively lower cost of goods and moderate marketing spend ratios. Most importantly, this holds their margins at healthy levels for a technology firm. 
Furthermore, Apple has entered many new categories over the past 15 years, each time their army of loyal fans has followed, moving into laptops, phones, tablets and the music business. In each segment, they continue to gain share to drive volumes. 
Finally, the higher margins and higher volumes make for a beautiful profit statement. 
We can use our 8 ways that a brand can drive profit to see the impact of that the magic of the Apple brand has on profits. Apple uses price, cost control, entry into new categories and driving market share in each category. To illustrate, click to zoom in on the financial results of our Apple Case Study.
Even though Apple gives the perception of an extremely friendly brand who is on the side of the consumer, they are now a huge mass market corporate brand, with a market capitalization of $500-600 billion, which 2-3 times the value of companies like Coke, Procter & Gamble, Pfizer, and IBM. 
So, if you invested a mere $10,000 in 2005, you would have $240,000 a decade later. The Apple case study is indeed a glorious look at the vision of Steve Jobs.
To conclude our case study, we can see how Apple uses their brand loyalty to drive revenue and profitability each year. Their P&L is a thing of beauty. To illustrate, click to zoom in on the financial results of our Apple Case Study.
Apple turns their brand love into higher power and profits
We empower the ambitious to achieve the extraordinary.
Without a doubt, our role at Beloved Brands is to help the ambitious marketers who are trying to improve their marketing skills. Most importantly, we will prepare you so you can reach your full potential in your career. You will learn about strategic thinking, brand positioning, brand plans, marketing execution, and marketing analytics. As well, we provide a suite of marketing tools, templates that will make it easier to do your job, processes that you can follow, and provocative thoughts to trigger your thinking. 
Have you gone through an assessment of the marketing skills of your team? Take a look below:
The fundamentals of marketing matter.
Our Beloved Brands marketing training programs cover different streams to suit the type of marketer you are. For instance, our marketing training covers consumer marketing, B2B marketing, and Healthcare marketing. 
The marketing fundamentals that we show in this article are part of what we use in our marketing training programs. Ambitious marketers will learn about strategic thinking, brand positioning, brand plans, marketing execution, writing creative briefs, advertising decision-making, marketing analytics, and marketing finance. 
Importantly, when you invest in our marketing training program, you will help your team gain the marketing skills they need to succeed. Without a doubt, you will see your people make smarter decisions and produce exceptional work that drives business growth. 
Finally, I wrote our Beloved Brands playbook to help you build a brand that your consumers will love. If you are a B2B marketer, try our B2B Brands playbook. And, if you are a Healthcare Marketer, try our Healthcare Brands playbook.