In a world of big data and analytics, every brand should have a monthly report to track how the brand is doing through the course of the year. While these reports can feel tedious to write, the 3-4 hours it takes to dig in is a good investment in discipline, knowledge as well as maintaining that touch-feel of managing the brand. 
The monthly report serves as a guide for all those across the company to stay on track with the annual plan everyone is committed to delivering. It gives senior management awareness of the grass-root issues, it enables course correction decisions at the senior levels, it exposes weakness and risk. It should carry action statements within the document that serves as a mini-version of the brand plan. And finally, the monthly report gives everyone a sense that the brand team has full control of what's happening on delivering the plan. For those looking to build their analytical skills, explore our Mini MBA Brand Management Certificate. 
The monthly report should answer the following CONSUMPTION questions:
What's the one-line story that captures what's happening on the brand? Think of the monthly report as your elevator speech for the CEO.
What's the dollar, tonnage or unit share, on a 4-week, 12 -week and YTD basis? Focus on the share that the company uses–it can vary. Having all 3-time breaks allows people to see the trends.
How's the brand doing vs year ago, prior periods, vs the category or vs plan for the year? Speak in terms of both % and share point changes. Theory of relativity allows you to tell the story better.
What's the competition doing? Trends in the consumption, tracking results related to their brand funnel or potential action that's rumored in the marketplace.
Drivers and inhibitors
What are the top 3 drivers of the brand for the month or year? It can be a combination of consumption trends (sku, regions, channel, account, flavor etc), beneath the surface Brand Funnel scores, program results that are contributing to share, competitive moves. Use the monthly report to explain how you're going to continue these going forward.
What are the 3 inhibitors and what are you doing about it? These are things that are holding back the brand. Expose weaknesses you're seeing in the programs, potential distribution gaps, competitive moves that are beating you, changes in consumer behavior etc. Explain what you plan to do about it, giving the assurance that you are running the brand.
Below is an example of the consumption section of our monthly report template.
The monthly report should answer the following SHIPMENT questions:
What's the one-line story that captures what's happening on the brand? The monthly report is the story that you know you could back up when confronted by the VP of sales in the same elevator. If it's bad news, they will have to answer to the CEO.
What's the overall sales for the month, the quarter and how will it impact the year-end call? Senior management might adjust their own forecast or may change their short-term investment stance based on that performance.
How are the sales by key account, by skus or by regions? Track on both the month and on a YTD basis. This highlights the strength and exposes weakness.
Drivers and inhibitors
What are the top 3 drivers of the brand for the month or year? You want to highlight the accounts, skus or regions that are showing the most growth, explain why and tell what you're going to do to keep these going.
What are the 3 inhibitors and what are you doing about it? These are things that are holding back the brand. While the sales numbers are on the chart, start to explain the top line of what's happening. Connect with the Account lead, ensuring they buy into the statement you're about to put. This gives you a chance to stay connected to what's happening on each account. 
If your account people aren't great at getting back to you, saying "I'm about to write a monthly report for the President and I want to know what's going on at your account". They'll get back to you. Also, you need answers in the monthly report to show that you are trying to get as much out of the brand as you can. Both short and long-term.
Below is an example of the sales section of our monthly report template.

As you are analyzing the mounds of data in front of you, you want to dig in everywhere that you can.
Start at the 4-week share for the brand overall, compare it to the 12-week, then the 52-week, and see the major trend. This is the start of the story for the monthly report. Dig deeper on regions, channels, and skus, figuring out the relative differences you start to see–either on the overall share basis (development index) or on the overall growth rate. Do the same with major competitors. That should give you the basis of your 4-week story and you can begin the document.
You next want to focus on the performance for the overall year. 
With both consumption and share, you want to give management a good forecast on what you think will happen. This can be in consultation with sales and your demand teams. The story has to be consistently told and shared with the senior leaders. If they sense a disconnect, it will look bad on you.
If you have good tracking studies, dig in on program tracking (advertising, sampling, in-store, professional recommendations etc) any brand funnel tracking (awareness, trial, repeat, U&A) that can support what's happening on the consumption and shipments.
Drivers and Inhibitors are things that are happening in the market, not things that could happen. Ideally, they should match up to the Annual Brand Plan and the objectives of the brand. Think of these monthly reports like 1/12th of your brand plan–not only highlighting how the brand is doing, but what you are willing to do about it.
Keep the monthly report on one page, forcing your writing style to be more direct. A senior leader should be able to digest it in 10 minutes.
Putting the monthly report together
To illustrate, click to zoom in for details.
When I was an Assistant Brand Manager, I dreaded having to do the monthly report. It was a chore that cut into my life. It took all day to find the data. Even all night. I always wondered if anyone would ever read my report. And, I was awful on my first few attempts. I kept thinking if I can just get promoted to Brand Manager, I will no longer have to ever write a monthly report ever again. After a year, I became a master of the report. 
When I did get promoted to Brand Manager, I re-wrote it for my boss. 
And when I made it up to the VP Marketing level, I read everyone's report in detail, even sending back inquiry questions for each of the 15 brands I had under me. I started to do my own version of the monthly report for the regional President. 
I dug in the same way I had at the junior levels and crafted the story. Not only did it project a sense of control over my business, it allowed me to sleep better because I knew what was going on with my business. I actually was in control.
I always believe, "You run the brand. Don't let the brand run you."
Strategic key issues video lesson
Watch how to find the key issues on your brand that you can use in your marketing plan. If strategic thinkers see the right questions first, then you need to find the best possible questions before you can think about solutions.
To view, use the ▶️ controls to play or volume buttons 
A force field marketing analytics tool is best served for those brands in a sustaining position where marketing plays the role of driving innovation and creativity within a box. Always keep in mind that Drivers and Inhibitors are happening now. You can see the impact in the current year. Anything in the future gets moved down to opportunities and threats which are not happening but could happen. Invariably, people mix this up, and things that could happen move up when they really shouldn't.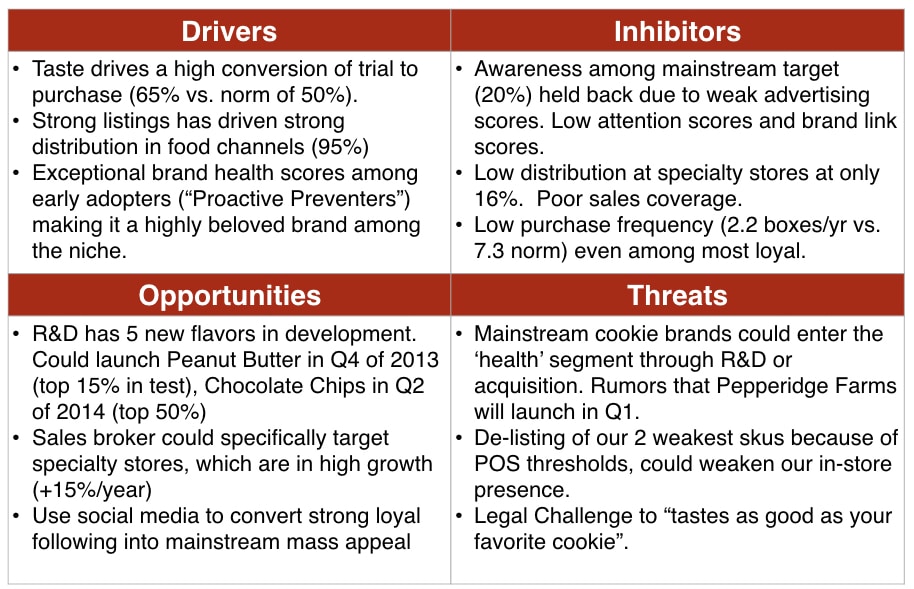 The best thing about the force field marketing analytics tool is you can easily take it into an action plan because you want to keep the drivers going and overcome the inhibitors. Then take advantage of the opportunities and minimize or eliminate any serious threats. It's a great simple management tool.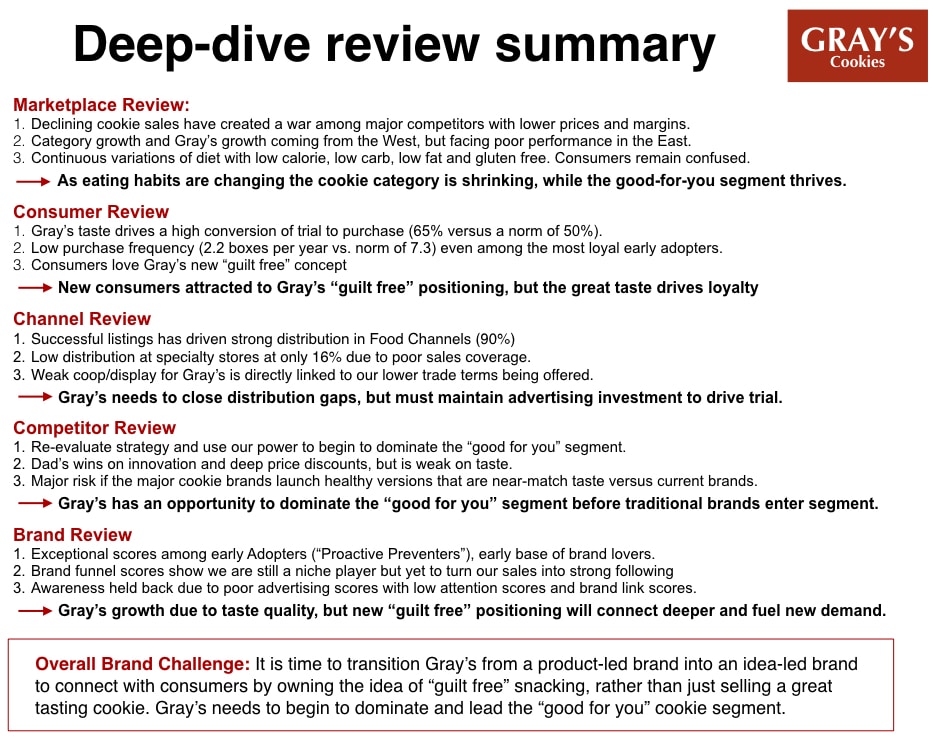 Brand Management Mini MBA
Invest in your future. If you are an ambitious marketer, looking to solidify your marketing skills, our Brand Management Mini MBA will teach you about strategic thinking, brand positioning, brand plans, advertising decisions, and marketing analytics.
Have a look at our brochure on our Mini MBA program
Use  >  to move through the brochure or  x  to see the full screen. 
You get 36 training videos and key chapters from our Beloved Brands Playbook, and a Brand Management Workbook with exercises to try in real-time. Earn a certificate you can use on your resume or LinkedIn profile. 
On a classic marketing team, there are four key levels:

Assistant Brand Manager.
Brand Manager.
Marketing Director or Group Marketing Director.
VP Marketing or CMO.
To illustrate, click to zoom in on the brand management career pathway. 
At the Brand Manager level, it becomes about ownership and strategic thinking within your brand plan. Most Brand Managers are honestly a disaster with their first direct report, and get better around the fifth report.
When you get to the Marketing Director role, it becomes more about managing and leading than it does about thinking and doing. To be great, you need to motivate the greatness from your team and let your best players to do their absolute best.
And finally, at the CMO level, you must create your own vision, focus on your people to make them better and shine, drive the business results, and run the processes.
Our Beloved Brands Marketing Training program will make your team smarter.
If you are running a marketing team, you will always benefit from having a smarter team. When you invest in our marketing training program, you will help your team gain the marketing skills they need to succeed. As a result, you will see them make smarter decisions and produce exceptional work that drives business growth.
We'll work with your team to help them learn more about the five core marketing skills: Strategic Thinking, Brand Positioning, Marketing Planning, Marketing Execution, and Brand Analytics. Most importantly, your marketers will learn new tools, concepts, and ideas to trigger new thinking. To help their skills, we get participants to take each tool on a test run. Then, we give feedback for them to keep improving. 
To illustrate, click to zoom in on the brand management career pathway. 
Strategic Thinking:
Our marketing training teaches brand leaders how to ask tough strategic questions to slow everyone down and engage in debate of options to move forward. To start, you will be given various tools to approach strategy in a thoughtful, analytical way. Importantly, marketers need learn how to change brain speeds to move from a strategic thinker style to uncover what is holding back a brand, and onto an instinctual thinker style on marketing execution.
We introduce our Strategic ThinkBox that allows marketers to interrogate their brand. Importantly, our ThinkBox pushes you to take a holistic look at the brand's core strength, competitive landscape, tightness of the consumer bond, and business situation.
Brand Positioning:
Our brand positioning process teaches how to decide on the target market, consumer benefits, and reasons to believe. To start, you will learn to define the ideal consumer and frame the definition with their biggest needs, consumer insights and their enemy. Then, we provide our benefit cheatsheets to help learn how to discover the functional benefits and emotional benefits that a brand can deliver. Importantly, marketers need to make a decision on trying to stake out a unique space that is motivating to consumers, and ownable for the brand.
Learn to use our brand idea tool and see how it helps to communicate the brand idea to everyone across the organization. Finally, marketers will learn how to take the brand positioning work and translate it into a brand concept, brand story, and a brand credo.
Marketing Plans:
We see the marketing plan is a decision-making tool on how a brand will spend their limited resources. Moreover, the marketing plan communicates the expectations to everyone who works on the brand. Importantly, we teach marketers how to put together the vision, purpose, goals, key issues, strategies and marketing execution plans.
Learn how to write key issue questions and strategic statements that forms the foundation of the marketing plan. In addition, our marketing training provides various marketing planning templates including our one-page brand plan and ideal Marketing Plan presentation deck.
Marketing Execution:
Our marketing execution training starts with the concept of our Marketing PlayBox that matches up to the Strategic ThinkBox. To keep marketers on strategy throughout the execution stages, our Marketing PlayBox helps find in-the-box ideas that meet four dimensions: they are focused on our target, fit with the brand, deliver the message, and execute the strategy.
To start, we show how the creative brief sets up the PlayBox, serving as the bridge between the plan and execution. We go through the creative brief line-by line and give you examples of the best and worst. Importantly, you will learn to use our Creative Checklist to help make smarter decisions on creative communications. We workshop how to give feedback to your agency based on gaps you see with the checklist.
Learn to make media decisions that match up to your consumer's purchase journey. In addition, we provide a similar Innovation Checklist to compare innovation ideas.
Brand Analytics:
Our comprehensive brand analytics training teach brand leaders how to lead a deep-dive business review. We outline the best analytical thinking so you can become a well-rounded marketer.
Learn to look at the marketplace, consumer analytics, channels of distribution, competitors or other brands in their industry. And, learn assess the brand itself. Importantly, you will learn how marketing funnels can help assess the brand's performance. We provide 64 analytical questions that marketers can ask of their brand. Finally, we show how to understand the financial performance indicators of the brand.
Take a look at our Marketing Skills assessment tool to see how you or your marketing team measure up.
For more information on our Beloved Brands Marketing Training programs, click below or email Graham Robertson at [email protected]