Managing your marketing career can be stressful. Many times, people get so focused on the job they are in, they never take the time to ask the tough questions. Here are five marketing career questions that you should be asking, at least once a year:
Within your current company, how high up do you think you can really go?

Should you stay in the same industry or look at new verticals?

Should you stay in pure brand management or venture into a subject-matter expert type roles?

How long do you want to keep working?

Do you stay an employee or do you take this moment to leap out on your own?
Answer these career questions honestly before going out into the job market. Use these answers to frame your career strategy. Think of these questions as a starting point to your personal branding or how you might position yourself on your LinkedIn profile.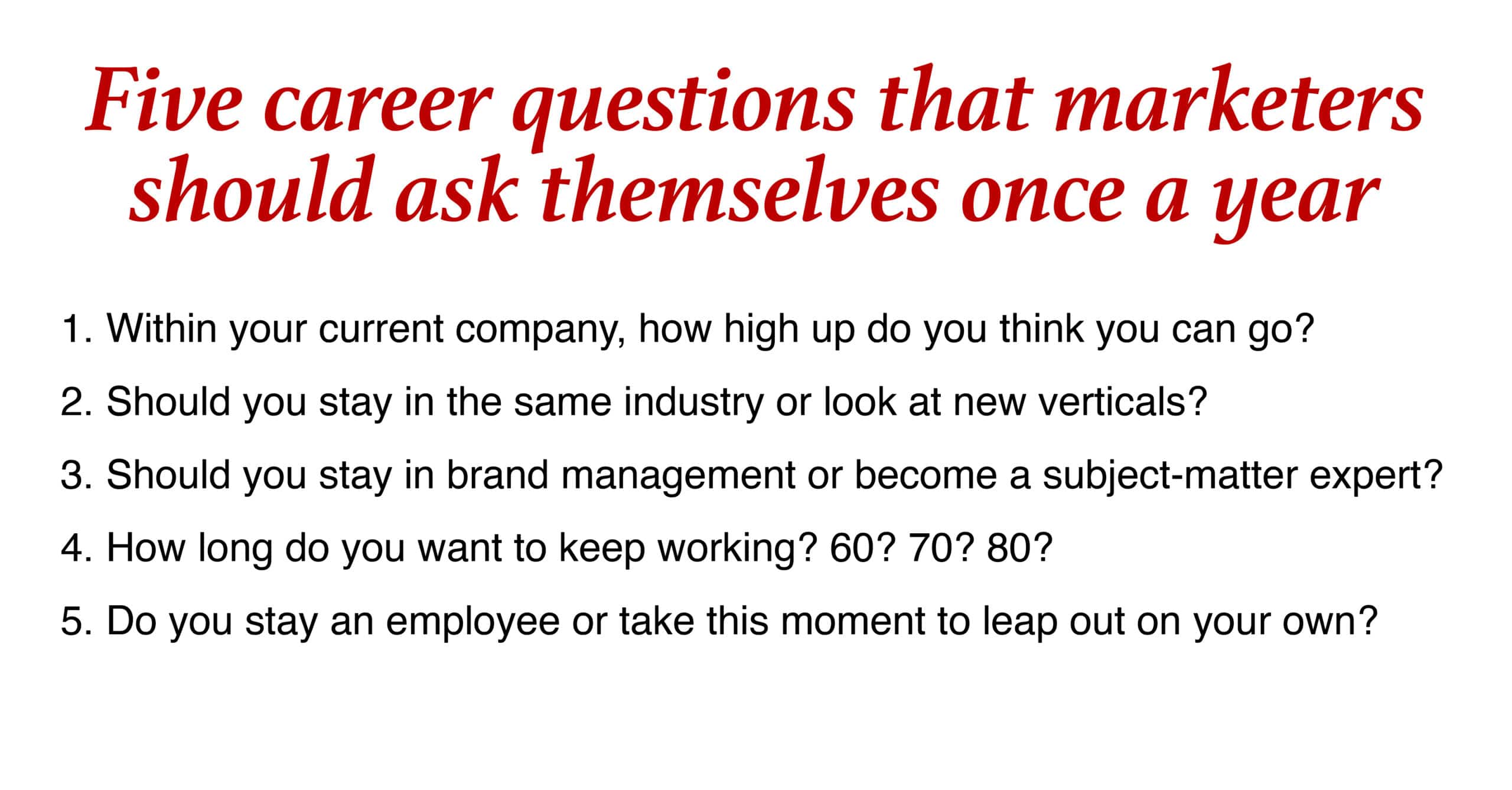 1. Within your current company, how high up do you think you can go?
With the first of the career questions, be very honest. Have you peaked? Yes, there are exceptions, but you can't plan to be one of the exceptions. Once you have peaked, how long do you think you can remain successful within your current company before you get squeezed out? Moreover, you might want to proactively take action, rather than reactively be forced to take action.
2. Should you stay in the same industry or look at new verticals?
With this career question, you might need to let go of the industry you have become comfortable in. If you are in consumer packaged goods, those in brand management still have the power to drive the brands. However, once you leave CPG, marketing's role can get diminished to more of a supporting role. It can become a marketing communications function–either communicating the product or service, which the marketer has little control over. With less control over the pure direction of the business or brand, marketing becomes a bit more of a do-er support function rather than a strategic role that leads the business.
What type of marketer are you?
We believe that marketers learn best when they see our marketing concepts applied to brands that look like their own. We have come up with specific examples – consumer, B2B and healthcare – to showcase our marketing tools. Click on the icon below to choose your interest area.
3. Should you stay in pure brand management or become a subject-matter expert?
This career question sets up one of the harder decisions you will make because once you make it, you might not be able to turn back. It is human nature to want to label people–and this is one of the struggles you will face in managing your career, especially if you become a subject matter expert instead of the general manager role. If you move out of brand management, and it doesn't work out, it might be harder to convince future employers that you are still a generalist who can drive brands.
Just like a brand, we each bring a core strength as a marketing leader. There are four general core strengths to build your brand career around; running the business, marketing execution, strategic thinking, or managing people. Most importantly, manage your marketing career around your core strength. Read our story below on how to build your career around your own strength.
Using the diagram above, start with four chips. You must place one chip where you believe you have the highest competitive advantage to win. Then put two chips at the medium level that backs up and supports the core strength. Finally, the game forces one chip to be at the low end, which is almost a throwaway weakness that will not be part of your long term strategy.
Managing your marketing career
How to manage your marketing career from ABM to CMO
In this post, I will go through what it takes to be successful at each level of your marketing career. And, we provide a link to a game plan for how to move up through each level of marketing, starting at the entry-level Assistant Brand Manager up to the Brand Manager who delivers all activities on behalf of the brand. The Marketing Director level looks after a core business unit team, and the Vice President or CMO oversees the entire marketing team.  
4. How long do you want to keep working? 60? 70? 80?
You will eventually have to start asking this career question. Part of this decision will depend on your finances and your family situation. When I was 25, I would have hoped I'd retire at 55 on an island. However, at 45, I found myself asking "so what do I want to do for the next 15 years?" I had no clue about the answer. It was scary. Now that I've found my second career as a consultant, I want to work till I'm 70!
M   A   R   K   E   T   I   N   G        B   O   O   K
the playbook for how to create a brand your consumers will love
Covering every aspect of brand management, it is no wonder that our readers reach for Beloved Brands multiple times each week to guide them through the challenges of day-to-day brand management.
Get ready for a mind-bending journey as we take you on a deep dive into your brand strategy. We'll challenge you with thought-provoking questions designed to shake up your thinking and help you see your brand in a whole new light. And our unique process for defining your brand positioning will leave you with fresh ideas and new possibilities for how to differentiate your brand.
But we won't just leave you with ideas – we'll show you how to turn them into action. Learn how to write a brand plan that everyone can follow, ensuring that all stakeholders are aligned and contributing to your brand's success. We'll walk you through the creative execution process, from writing an inspiring brief to making smart and breakthrough decisions.
And when it comes tao analyzing your brand's performance, we've got you covered. Our innovative methods will help you dive deep and uncover insights you never knew existed, giving you the knowledge you need to make the best decisions for your brand's future.
But don't just take our word for it – our Amazon reviews speak for themselves.
With over 85% of our customers giving us a glowing five-star rating and an overall rating of 4.8 out of 5.0, we know we're doing something right. And with numerous weeks as the #1 bestseller in brand management, you can trust that we have the experience and expertise to help you achieve success.
Ready to join the ranks of the Beloved Brands community? Order our book on Amazon, Rakuten Kobo, or Apple and start your journey towards brand success today.
Take a read through our sample chapter on strategic thinking
5. Do you stay an employee or do you take this moment to leap out on your own?
Being on your own gives you absolute power to be your own boss. I love it.  However, when anyone asks me if they should, my immediate reaction is to say "it's not for everyone." 
As you consider this career question, make sure you are serious about it, and not getting me to try to talk you into it. It will be you who has to jump off the cliff. I still remember the phone call with my wife, when I told her about ten times "I'm going to do it." I was more preparing myself for it, than telling her. It can feel very risky, but once you realize that you are betting on yourself, you will know you can do it.
The lifestyle is great, but you're on the clock 24/7. Also, it can be a very lonely experience–which surprised an introvert like me.  It took me 18 months to get used to the working alone feeling — no one to talk about the latest celebrity scandals or football games.
Before you ever go on your own, here are two new questions for you:
How do you like looking for a job? As a consultant, we are always looking for our next assignment.

How do you like sales? I remember a wise sales leader once told me, "If you hate sales, start in sales and move up to management. Every other profession will end up in sales." As a consultant, we are always selling. Consulting is my first real sales job and my first service role. Both took time for me to adjust.
Brand Management Mini MBA
Invest in your future. If you are an ambitious marketer, looking to solidify your marketing skills, our Brand Management Mini MBA will teach you about strategic thinking, brand positioning, brand plans, advertising decisions, and marketing analytics.
Have a look at our brochure on our Mini MBA program
Use  >  to move through the brochure or  x  to see the full screen. 
You get 36 training videos, key chapters from our Beloved Brands Playbook, and a Brand Management Workbook with exercises to try in real-time. Earn a certificate you can use on your resume or LinkedIn profile. 
M   A   R   K   E   T   I   N   G        B   O   O   K
the b2b playbook for how to create a brand your customers will love
As a B2B marketer, you know that the key to driving growth is a strong brand. But how do you develop and execute a winning B2B brand strategy? Look no further than the B2B Brands playbook.
Prepare to think differently about your B2B brand strategy with B2B Brands. We want to challenge you with thought-provoking questions and take you through our process for defining your brand positioning. Our goal is to expand your mind to new possibilities for your brand by using real-life examples of successful B2B brand positioning strategies.
We'll start by showing you how to create a brand plan that's easy for everyone to follow, ensuring that all stakeholders understand how they can contribute to your brand's success. Moreover, we guide you through the creative execution process, including how to write an inspiring brief and make decisions to achieve smart and innovative communications.
Finally, we'll teach you new methods to analyze your brand's performance through a deep-dive business review.
Our B2B Brands playbook offers a wealth of knowledge and insights, including B2B case studies and examples to help you learn new techniques. It's no wonder that 85% of our Amazon reviewers have given us a 5-star rating. So, join us on this journey to unleash the potential of your B2B brand.
Take a read through our sample chapter on marketing decisions