B2B follows a different type of targeting. First, while a B2B brand may start off thinking about selling to the entire market, then begin narrowing down based on the kind of customer or the subsegments of the category. As B2B marketers approach their customers, they must understand there are four types of people at the customer, including:  
End-user who has the immediate need.

Decision-maker who ultimately approves the purchase.

Buyer who performs the final sale. 

Influencing voice somewhere in the organization.
Depending on the size, power, and formality of the purchasing process of your customer, these four roles could be four distinct people who rarely engage each other, or for a simple purchase, it could be one or two people.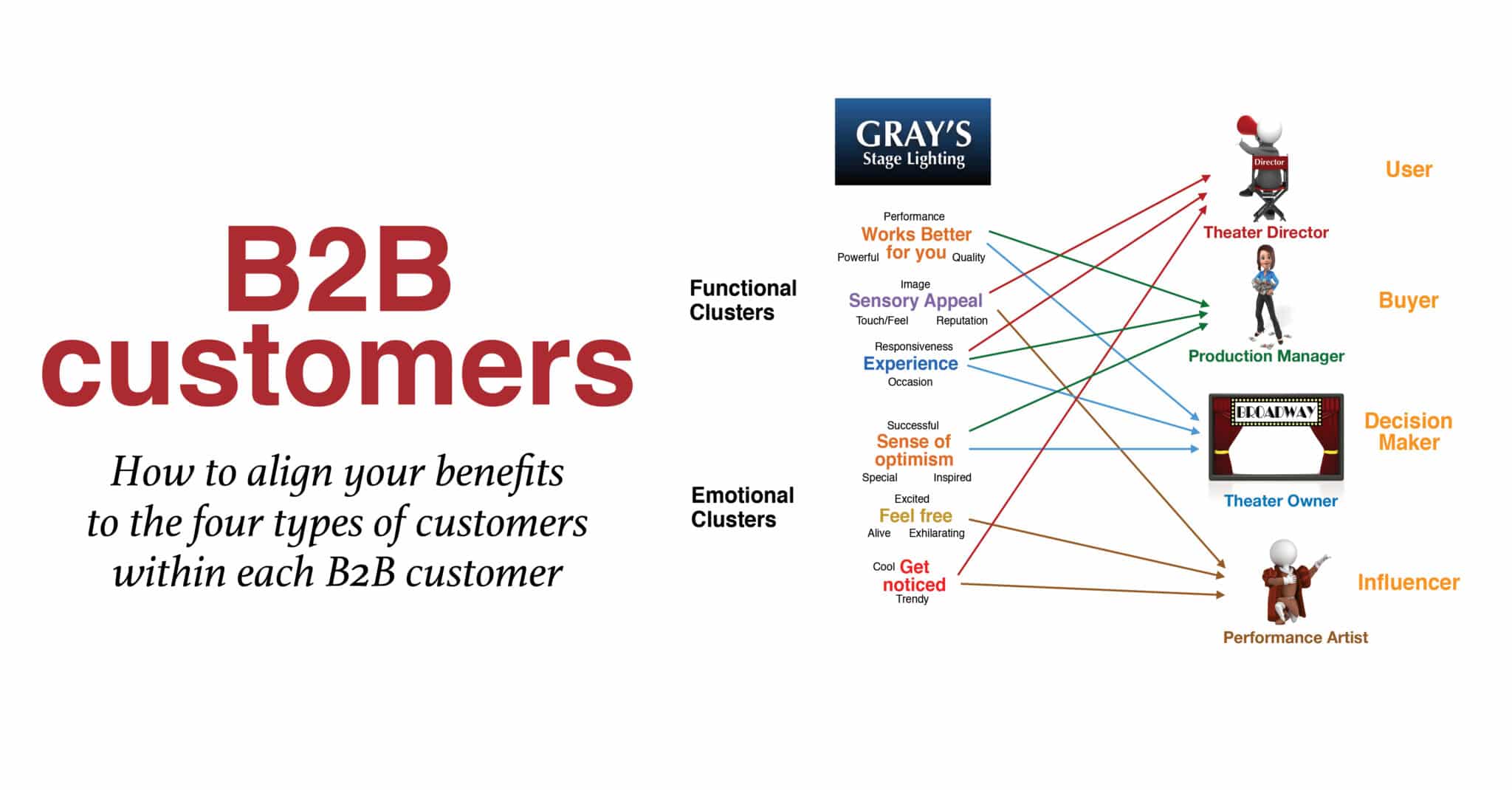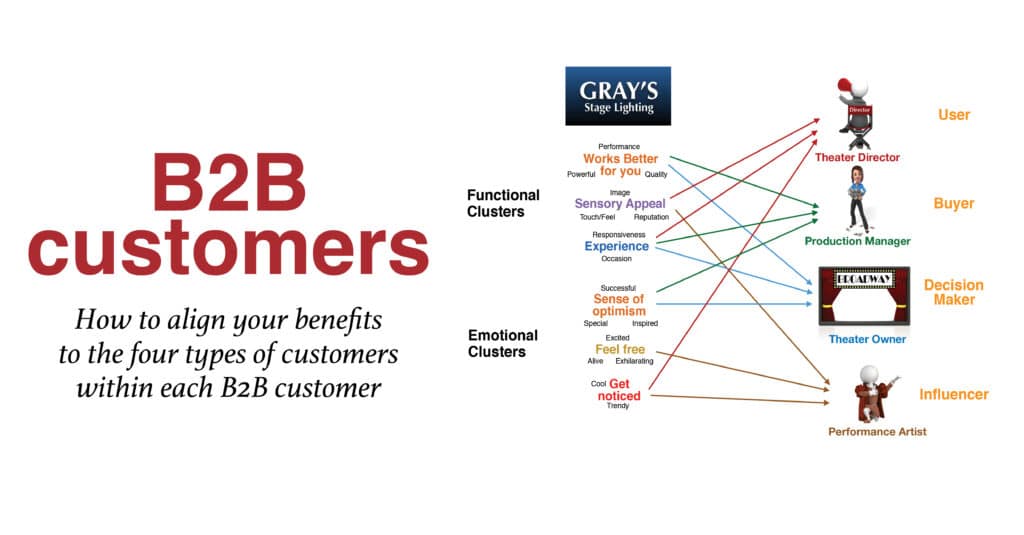 To illustrate what B2B marketers must know, click to zoom in. 
B2B customers act like a four-headed monster with different roles of the people within your customers' companies
As you look at those four roles within your B2B customer audience, you have to understand how each role can impact your sale. I recommend you understand: 
a) Each person's motivation behind a potential purchase.
b) What it will take for them to see, think, do, feel, or whisper? 
c) What could go wrong that you need to watch out for?
d) Where your sales team needs to focus?
To illustrate what B2B marketers must know, click to zoom in. 
The motivation of the B2B end user is most similar to how a consumer would act with a brand. The end user focuses on how their personal experience will help them improve their performance in their role. Like a typical consumer, you want them to think about how the purchase will boost their performance, so they feel motivated to influence stakeholders to close the deal internally. It would help if you got them to use their motivation to fight for the purchase. 
One major caution to watch out for is when the user is forced into a decision by the decision maker (their boss) or the buyer (due to savings), which they might naturally resist. It would be best if you had a personal connection with the end user to gain their trust. Focus your sales team on providing demonstrations or trials to show the end user the functional and emotional benefits related to their performance.
Usually, the decision makers' motivation will focus on understanding how your brand will add to their in-market performance impact and related business results. If they are a former user, they may bring their own bias to the decision. They believe they know what is best for the end user. You will need a logical and quantifiable case for change to help them to think the impact and results will justify their decision. 
When your entrance is through the end user, be careful they are not brought in too late to a potential decision, as it may frustrate them. A deal can fall apart if the user cannot build the case for change. Your sales team should involve decision makers early so you can understand their specific needs and requirements to build a case for change.
Within an organization, the buyer's role is to focus on measures and control so they can find cost savings for the company. They focus on comparative price points and terms. What you want them to see are the savings to justify the purchase. Indeed, they are generalists covering so many different areas of procurement. You need to educate them on the technical aspects of products and services, so they feel in control of the decision. 
The big caution is when the end user does not consult the buyer, it will frustrate them, and you may need to go back to the beginning and explain everything again. The buyer will need firm forecasted numbers to compare with other options. They may compare the metrics to the current status quo or other competitive brands. Your sales team should highlight comparative performance results and focus on the overall cost. When possible, avoid the line-by-line comparison as the buyer may force you to deliver the lowest price on each line. That risks cutting into your overall profitability.
The influencing voice is the hardest to manage, as it can come from anywhere in the organization. It could be a peer or mentor providing advice to your end user. Those individuals are the hardest for you to manage. 
The influencing voices you should focus on are those peripheral leaders in other departments to your end user who will want to influence the purchase. As a result, it can positively impact their vision and goals. For instance, when you are selling travel expense software, the sales leader might be an influential voice. If you are selling new ingredient materials, then the marketing leader would want an influential voice for that decision. 
When influencers are highly motivated, they become an active voice. They whisper to decision maker and user. And, they almost selling internally on impact and performance. You want them selling for your brand, not against. 
The most significant risk you need to manage is, when they see no personal benefit to their role. They turn into an absent voice, which is a passive non-supporter. You need to understand the influencer's motivation, so you can engage them when they are highly motivated, and yet manage them when they do not care.
Build your brand around benefit clusters
Start by looking at the two cheat sheets and narrow down to potential clusters of the functional and emotional benefits. Match what customers want and what your brand does best. I recommend that you take three of the zones from each of the two cheat sheets, and then add 2-3 support words per zone to create a cluster.
For each cluster, use the words to inspire a brainstorm of specific benefit statements that fit your brand, using the specific brand, customer or category words. For Gray's Lighting, a fictional stage lighting brand that provides such a high quality lighting that it brings out every detail on the face of actors. 
Concerning functional benefits, I have chosen to build around functional clusters. Works better for you. Sensory appeal. Customer experiences. Equally, we build behind the emotional clusters. Optimism. Feeling free. Getting noticed. 
Once I made those choices, I began brainstorming 10-15 key benefit phrases that start with "I get…" for the functional benefits and "I feel" for the emotional benefits.  
To illustrate what B2B marketers must know, click to zoom in. 
Using your benefit clusters to manage the four-headed monster of the B2B customer
Using the clusters from Gray's Stage Lighting, below shows how each of the four people within a customer are motivated by the different benefits within your cluster. While you may narrow down your focus for your main communication, as you work directly with the specific people at your customer, the clusters give you a bit more flexibility in how you sell your brand. 
To illustrate what B2B marketers must know, click to zoom in. 
Brand Positioning for B2B brands
Using the customer benefits ladder for B2B brands
Once the customer profile has been completed, brainstorm all possible brand features that give your brand a competitive advantage. Move up to the functional benefits by asking, "So, what do I get from that?" Then move up to the emotional benefits by asking, "So, how does that make me feel?" 
To help brand leaders, I have created benefit cheatsheets with over 50 potential functional benefits and 40 potential emotional benefits. We show how to build your brand positioning around the right benefits. Then, add in the ideal reasons to believe that allow you to complete the brand positioning statement. Below is the brand positioning statement for Gray's Stage Lighting.
To illustrate what B2B marketers must know, click to zoom in. 
B2B marketing can be more challenging than other types of businesses. Rarely do we think of one customer. Instead, we focus on four types of people within the B2B customers. Users. Decision-makers. Buyers. Influencers. Modern day B2B marketing allows you to figure out how to bypass the rules and restrictions of being a preferred vendors. For B2B marketers, we teach how to think strategically, how to use brand positioning, how to build a marketing plan, how to make marketing execution decisions, and how to analyze the brand. 
Regardless, B2B marketers must use their brand positioning to establish a reputation and create a bond with customers. B2B decisions by customers are much more emotional, yet too many B2B companies focus on product features as the main differentiator and use price as their usual deal closer.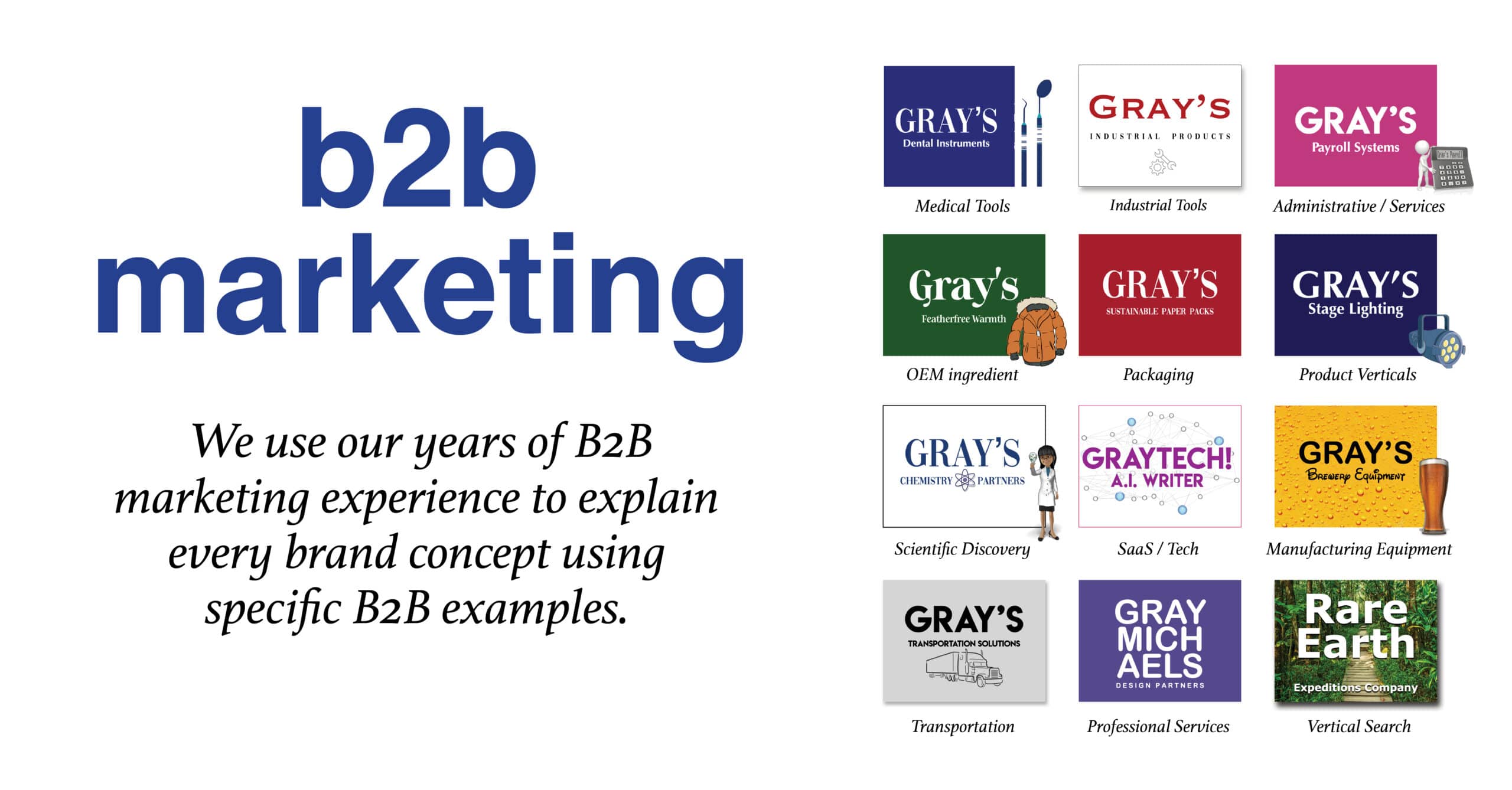 Our brand toolkit for B2B brands is our most comprehensive template helps you communicate your brand plans, brand positioning, business review and creative briefs.
Our brand plan template  offers slides for vision, purpose, analysis, key issues, strategies, and execution plans, ensuring a thorough approach to your brand's development. The brand positioning template guides you through defining your target profile, crafting a brand positioning statement, and developing a unique brand idea, concept, values, story, credo, and creative brief. Finally, our business review template provides slides for in-depth analysis of the marketplace, customers, competitors, channels, and your brand.
Choose the right template for your business needs
Our B2B marketing training will make your marketing team smarter so they deliver their best possible performance on your brand. At Beloved Brands, we empower the ambitious B2B marketers to achieve the extraordinary. Below is our brochure for our training programs.
Below is our brochure that explains how our B2B marketing training can help your team
Engage the buttons to enlarge (X) or advance the slides (>)
How our B2B Marketing Training makes your team smarter
Strategic Thinking:
Our B2B marketing training teaches brand leaders how to ask tough strategic questions to slow everyone down. B2B marketers need to approach strategy in a thoughtful, analytical way. We created a Strategic ThinkBox that allows marketers to interrogate their brand. Most importantly, it helps them look at the most important issues of the business. Furthermore, we force marketers to take a holistic look at their brand's core strength, competitive landscape, tightness of the customer bond, and business situation.
Brand Positioning:
Our brand positioning process starts by finding out the ideal target is and how they would benefit from the brand. For B2B brands, the target could be a user, buyer, influencer, or a decision-maker. We teach marketers how to find the emotional and functional benefits their brand can deliver. Then, we show how to find a unique space for their brand that is interesting, simple, motivating, and ownable. Furthermore, we introduce our brand idea tool and show how to communicate that brand idea across the organization. In addition, B2B marketers learn how to write a brand concept, brand story, and a brand credo document. We show a range of B2B brand examples.
Marketing Plans:
The marketing plan is a decision-making tool that communicates the expectations to everyone who works on the brand. We teach B2B marketers how to put together the vision, purpose, goals, key issues, strategies and marketing execution plans. Our B2B marketing training provides various tools including our one-page marketing plan and ideal presentation deck. Most importantly, we go into detail on how to write key issue questions and strategic statements that forms the foundation of the marketing plan.
Marketing Execution:
Our marketing execution training starts with the development of the creative brief, which serves as the bridge between the plan and execution. We review line-by-line of the creative brief and give you examples of the best and worst. Furthermore, we even provide participants with a checklist to make smarter decisions on your next marketing campaign. We introduce our creative checklist to help make smarter decisions on creative communications. All our examples are B2B brands. And, we emphasize how to match up media choices to the customer journey. Essentially, the skills will help your team get better work from their agency partners.
Brand Analytics:
Our comprehensive brand analytics sessions teach B2B marketers how to lead a deep-dive business review. They need to know how to assess their brand's performance, and set up smarter strategic thinking for their marketing plan. As a result, we get B2B marketers to look at the marketplace, customers, channels of distribution, competitors or other brands in their industry category. Finally, we show how to lead an audit on the performance indicators of the brand.
All our examples are B2B brands
With our B2B marketing training, every example we use in our training is a B2B brand. We believe B2B marketers will learn the concepts if they see brands that are similar to the ones they are working on.
M   A   R   K   E   T   I   N   G        B   O   O   K
the b2b playbook for how to create a brand your customers will love
As a B2B marketer, you know that the key to driving growth is a strong brand. But how do you develop and execute a winning B2B brand strategy? Look no further than the B2B Brands playbook.
Prepare to think differently about your B2B brand strategy with B2B Brands. We want to challenge you with thought-provoking questions and take you through our process for defining your brand positioning. Our goal is to expand your mind to new possibilities for your brand by using real-life examples of successful B2B brand positioning strategies.
We'll start by showing you how to create a brand plan that's easy for everyone to follow, ensuring that all stakeholders understand how they can contribute to your brand's success. Moreover, we guide you through the creative execution process, including how to write an inspiring brief and make decisions to achieve smart and innovative communications.
Finally, we'll teach you new methods to analyze your brand's performance through a deep-dive business review.
Our B2B Brands playbook offers a wealth of knowledge and insights, including B2B case studies and examples to help you learn new techniques. It's no wonder that 85% of our Amazon reviewers have given us a 5-star rating. So, join us on this journey to unleash the potential of your B2B brand.
Take a read through our sample chapter on marketing decisions