Original Story, October 2011: This Saturday, I visited THE BURGER'S PRIEST in Toronto. This is the first blog story I ever wrote. 
Even before you try the burger, you hear the story first. And it's quite crazy. That's the way a brand should be. I have had quite a few people tell me that the Burgers Priest was clearly the best in Toronto. But then they get into the storytelling of what they know. Part of the story is this idea of a secret menu, that you have to ask for.
Funny enough but if you google "Priest Secret Menu", you'll see about 15 stories come up from various Food Critic reviews. Confirms that it's a marketing ploy–and a great one for driving word of mouth. The second part of the story is that the owner, who most describe as crazy, even though they never likely interact with him.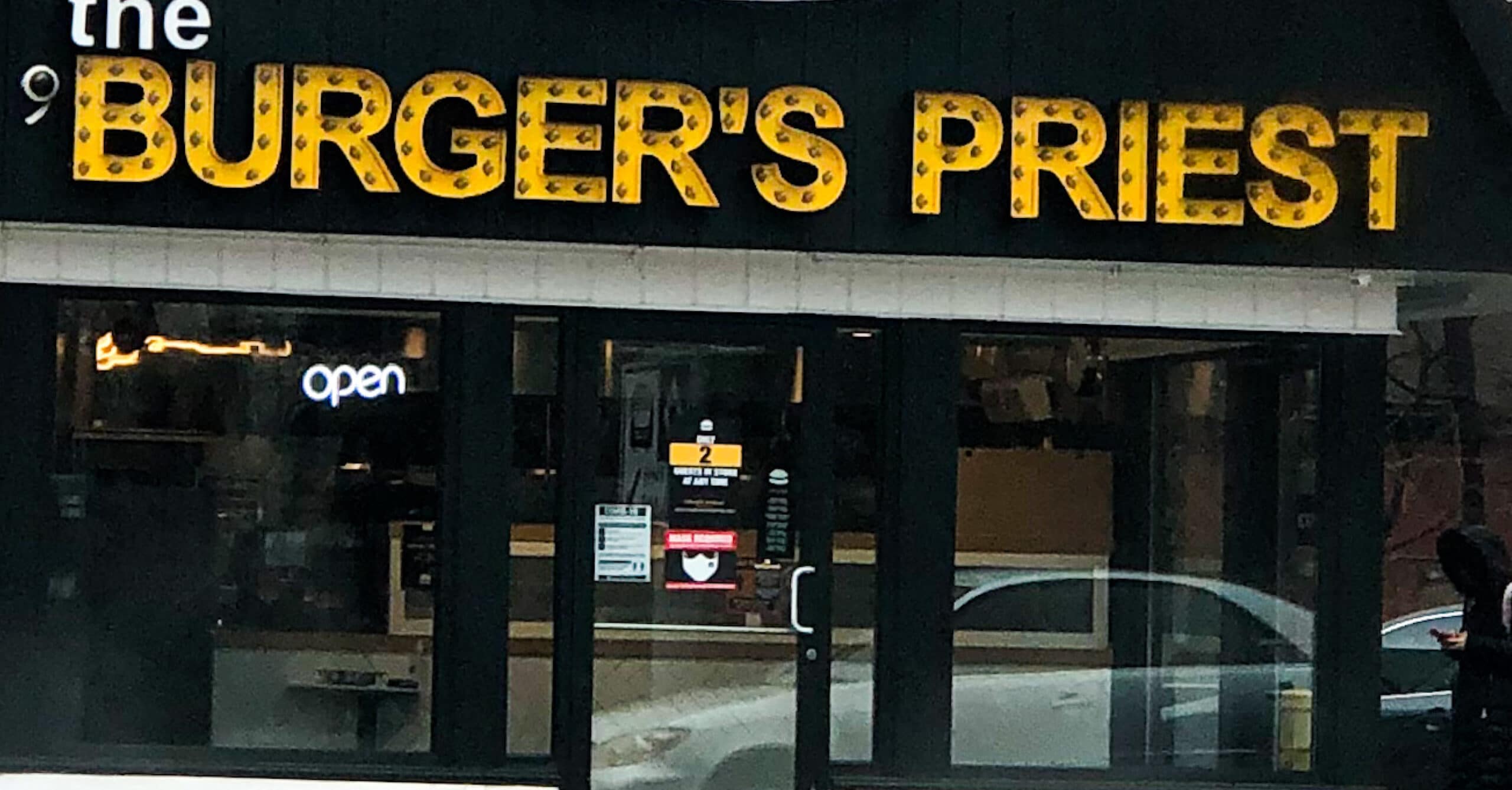 He travelled through the US to find the best burger
Apparently, one day he was looking for a really good burger and couldn't find one. So, he decided to just get in his car and drive until he could find one. He ended up in his car for six months, traveling all through the US from New York to the South, through Texas and over to California and back.
He was intent on learning about the secrets of the best hamburgers he could find. And, he has photos, up at the Priest, of all the great burger places that inspired this burger. Once back, he took all the great ideas and build his own burger. He's layered in the idea that this burger is a religious experience, with the priest's idea. And the mission is to "redeem the burger one at a time". That's the brand story anyway.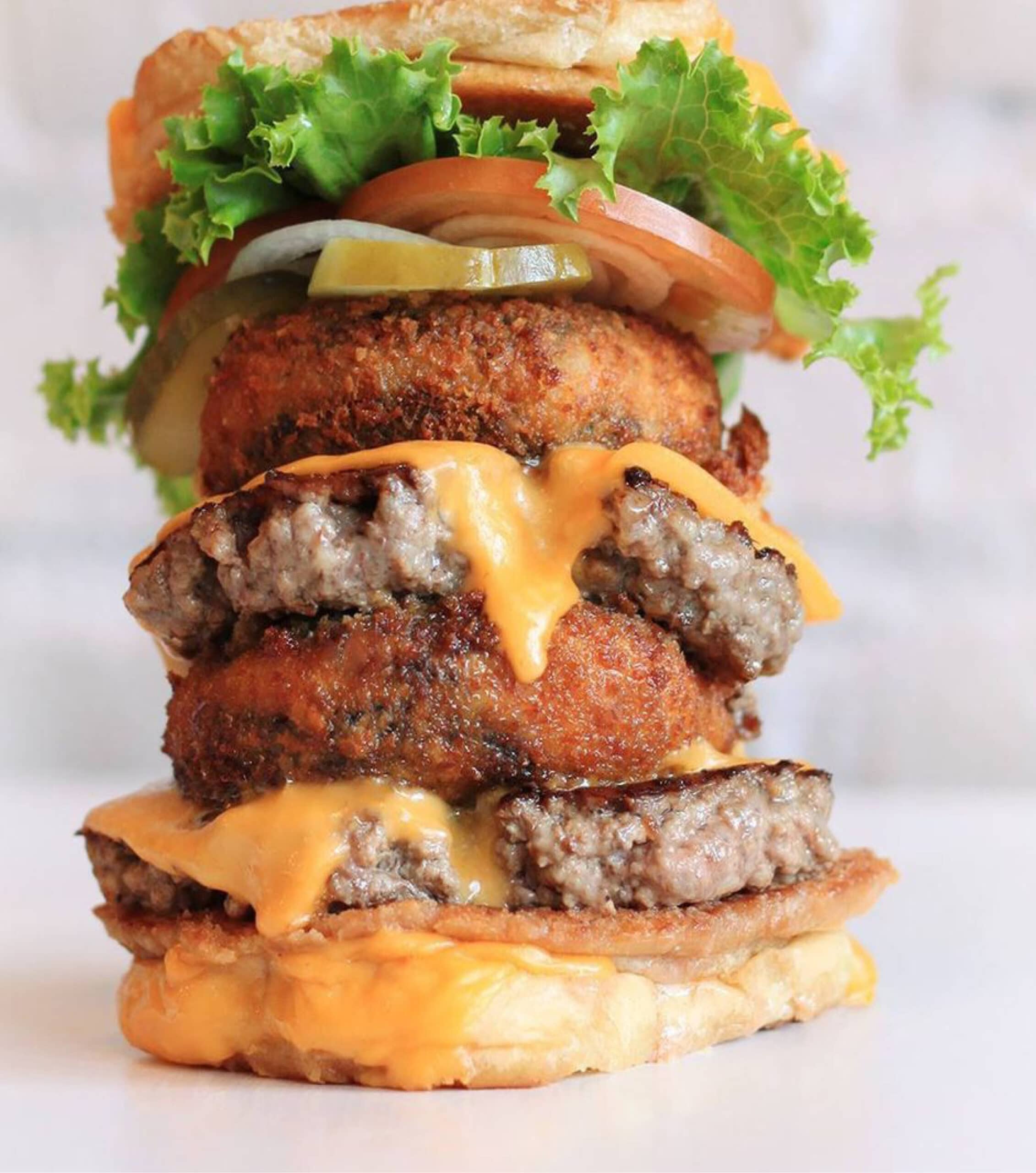 Now with a brand story, you need to create buzz.
Word of mouth on this is amazing. When I got there, just before noon on Saturday, there were already 10 people in line about 10 minutes before the place was open. I also saw the attached sign, asking people to line up to the left to avoid blocking the entrance to the Apartment. I looked for the apartment, and it's about a good 50 feet away.
The story draws people
So clearly, all the story and mystique has created a word of mouth that is getting people to travel for this burger. It's 45 min from my house, and I ran into someone I knew who lives 45 minutes the other way. Both of us just felt compelled to try it. Keep in mind, the stories he's created help drive word of mouth and in turn demand.
The line up makes things much more predictable for him, so the food is fresher/better tasting. He can manage his inventories, staff accordingly and drive down his costs by driving up his volume. Plus, I would have paid anything at this moment for the burger.
Lastly, I started to tell my friend in line that about the Five Guys burger I had which was amazing and a stranger jumped into our conversation to defend his priest, saying it's not even close. Already has brand advocates defending the brand. He's clearly working his branded business system.
Great product
As for the burger, it was ideal. I'd say it's a tie with Five Guys Burgers–which has a story unto itself–with celebrity endorsements like Obama and Shaquille O'Neil. Both use the same technique of keeping the burger juicy while ensuring it's well done on the outside. Very similar taste. (More bacon on the Five Guys, and the Fries are better)
The fries at the Priest need improving to be great. Poor Licks, a Toronto icon for many years, has been losing out the last few. The only good thing about Licks now, is there's never any wait and you can have a nice quiet meal (e.g. no one goes there)
For those of you looking for a great burger, I'd recommend it for sure.
For those of you looking for unique marketing and seeing how a small business is trying to drive a BELOVED BURGER, this is a great example. Not sure if he spent six months figuring out the world's best burger, or just six months becoming the world's best marketer. A great brand in the making.
In-N-Out Burger case study – Ranked 4th Among America's Best Workplaces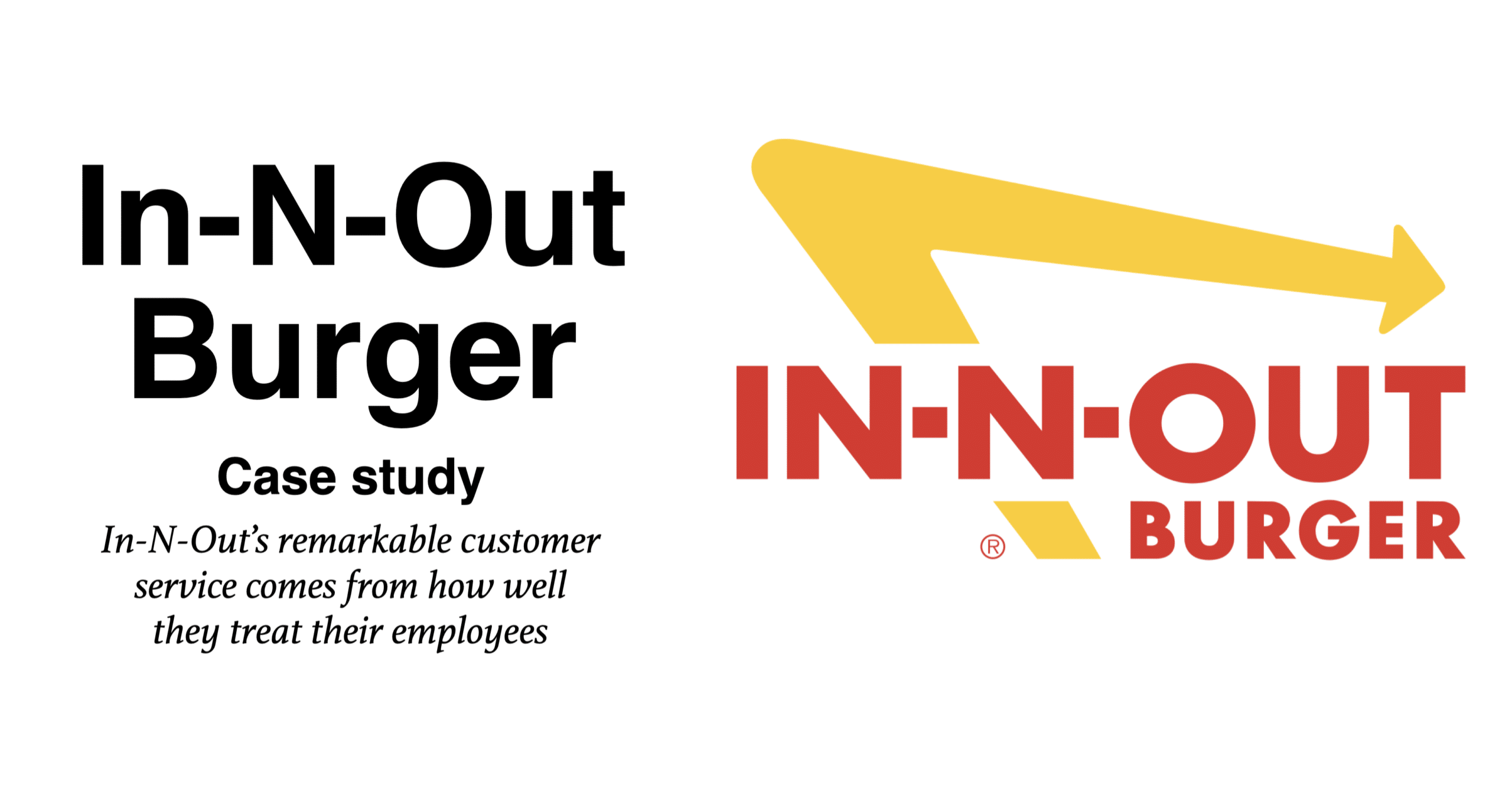 In-N-Out Burger, a brand deeply cherished worldwide, recognizes the extraordinary role its employees play in delivering a remarkable customer experience that reflects the essence of their brand. Even though this West Coast brand is cautiously expanding eastward, it boasts an enthusiastic base of brand devotees. Try challenging its superiority to other burger joints, and you might find yourself in a fervent debate. Hidden under this rampant fandom, however, lies a bedrock of dedicated, diligent, and well-compensated staff members. Read our story that compares all the premium burger restaurants to see who will win.
M   A   R   K   E   T   I   N   G        B   O   O   K
the playbook for how to create a brand your consumers will love
Covering every aspect of brand management, it is no wonder that our readers reach for Beloved Brands multiple times each week to guide them through the challenges of day-to-day brand management.
Get ready for a mind-bending journey as we take you on a deep dive into your brand strategy. We'll challenge you with thought-provoking questions designed to shake up your thinking and help you see your brand in a whole new light. And our unique process for defining your brand positioning will leave you with fresh ideas and new possibilities for how to differentiate your brand.
But we won't just leave you with ideas – we'll show you how to turn them into action. Learn how to write a brand plan that everyone can follow, ensuring that all stakeholders are aligned and contributing to your brand's success. We'll walk you through the creative execution process, from writing an inspiring brief to making smart and breakthrough decisions.
And when it comes tao analyzing your brand's performance, we've got you covered. Our innovative methods will help you dive deep and uncover insights you never knew existed, giving you the knowledge you need to make the best decisions for your brand's future.
But don't just take our word for it – our Amazon reviews speak for themselves.
With over 85% of our customers giving us a glowing five-star rating and an overall rating of 4.8 out of 5.0, we know we're doing something right. And with numerous weeks as the #1 bestseller in brand management, you can trust that we have the experience and expertise to help you achieve success.
Ready to join the ranks of the Beloved Brands community? Order our book on Amazon, Rakuten Kobo, or Apple and start your journey towards brand success today.
Take a read through our sample chapter on strategic thinking
85% give Beloved Brands a perfect 5-Star rating!
The cheat code for future brand leaders!
It is without a doubt the most practical book for those who want to follow brand management that I have ever read in my life! Beloved Brands is written by a real, experienced marketeer for marketers. This book contains methodologies, tools, templates and thought processes that Graham actually used and uses in his career.
I have Brand Love for Beloved Brands!
As a 24-year marketing veteran at a Fortune 100 company, I thought I knew everything I needed to know about building brands until I started following Graham on social media. Graham has an amazing gift of bringing to life the critical elements of brand building and management in a delightful, easy-to-understand way and includes numerous examples and case histories that turn theory into practical reality for the reader. His tools and templates throughout the book make it VERY easy for the reader to immediately apply the critical principles of brand management to build a brand that consumers will love for the long term.
I know other new brand managers that have literally used this to review their business' and create their annual brand strategy plans. Undeniably, Beloved Brands is phenomenal in concept and in execution. I highly recommend this book.
We empower the ambitious to achieve the extraordinary.
Without a doubt, our role at Beloved Brands is to help the ambitious marketers who are trying to improve their marketing skills. Most importantly, we will prepare you so you can reach your full potential in your career. You will learn about strategic thinking, brand positioning, brand plans, marketing execution, and marketing analytics. As well, we provide a suite of marketing tools, templates that will make it easier to do your job, processes that you can follow, and provocative thoughts to trigger your thinking. 
Have you gone through an assessment of the marketing skills of your team? Take a look below:
The fundamentals of marketing matter.
Our Beloved Brands marketing training programs cover different streams to suit the type of marketer you are. For instance, our marketing training covers consumer marketing, B2B marketing, and Healthcare marketing. 
The marketing fundamentals that we show in this article are part of what we use in our marketing training programs. Ambitious marketers will learn about strategic thinking, brand positioning, brand plans, marketing execution, writing creative briefs, advertising decision-making, marketing analytics, and marketing finance. 
Importantly, when you invest in our marketing training program, you will help your team gain the marketing skills they need to succeed. Without a doubt, you will see your people make smarter decisions and produce exceptional work that drives business growth. 
Finally, I wrote our Beloved Brands playbook to help you build a brand that your consumers will love. If you are a B2B marketer, try our B2B Brands playbook. And, if you are a Healthcare Marketer, try our Healthcare Brands playbook.
Everything a Marketing must know about.
Importantly, Brand leaders need to know how to think, define, plan, execute and analyze with the best of them. Moreover, while the brand leaders don't really know how to do anything, they are looked upon to make every decision. Have a look at our five minute video on everything a marketer must know. To read more, click on this link: Everything.
To view, use the ▶️ controls to play or volume buttons 
If you are looking to make your marketing team smarter, we can help. To get started, email Graham Robertson at [email protected]