Who will win the new burger war? It might depend on where you live. If you are in California, you may be partial to In-N-Out, if you are a New Yorker, it is Shack Shake for sure. Everywhere else, it looks like Five Guys is the dominant brand. This is a brand site, so we look at this through the eyes of marketers and consumers, not food critiques. I am also a burger fan, so it's exciting to see us move past McDonald's and Burger King.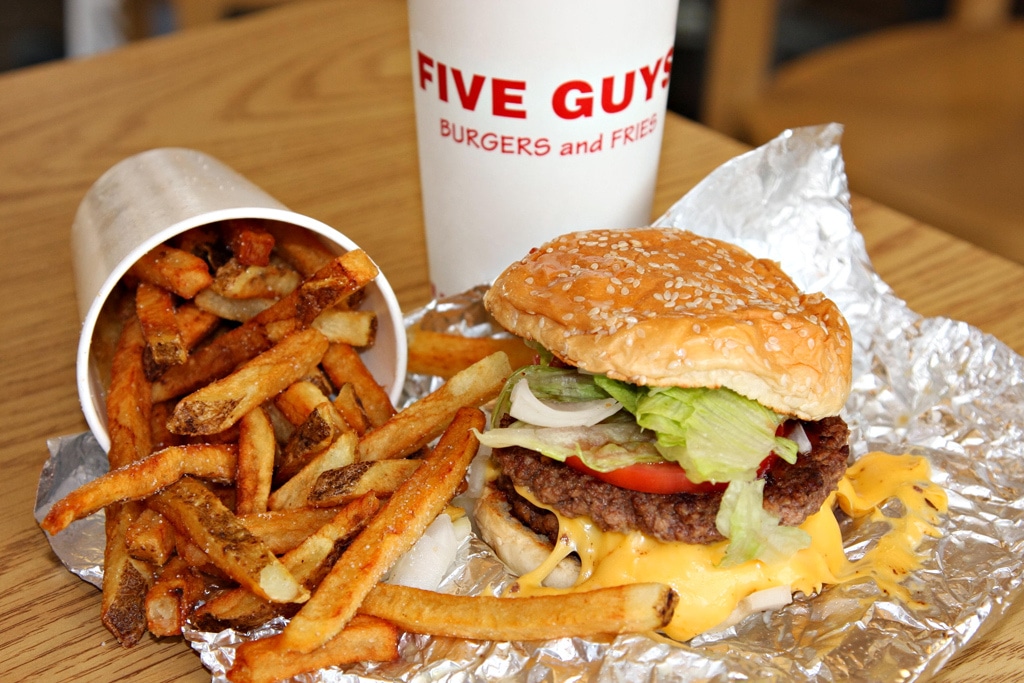 I know there is a lot of debate out there. Let us dispel the myth here: they are almost the same piece of meat. They take a high-quality ground chuck and squish it firmly onto a grill, use a cooking technique to lock in the flavor and create a juicy burger. It is much higher quality meat than McDonald's and much juicier in the end due to the cooking technique.
The only difference is at Five Guys, the burger feels like the burger actually breaks apart more which could make it feel less fast-food while In-N-Out feels very neatly stacked. I do like the bacon at Five Guys, but In-N-Out does a nicely toasted bun. Small details.
VERDICT:  Tie
If the burger is a relative tie, then what else can you look at. Five Guys wins on fries, Shake Shack or In-N-Out wins on Shakes.  I'm a big fries fan, and Five Guys does have pretty darn good addicting fries. They give you enough that you likely won't finish them.  
The In-N-Out fries (except for Animal Fries) are a little bit nondescript and boring. I do like the crinkle cut style Shake Shack fries, but they are frozen, not fresh. In terms of shakes, the In-N-Out shakes are legendary, whereas Five Guys is completely missing out by not even having a shake. 
Verdict: Tie, pick your poison and likely only have it once in a while.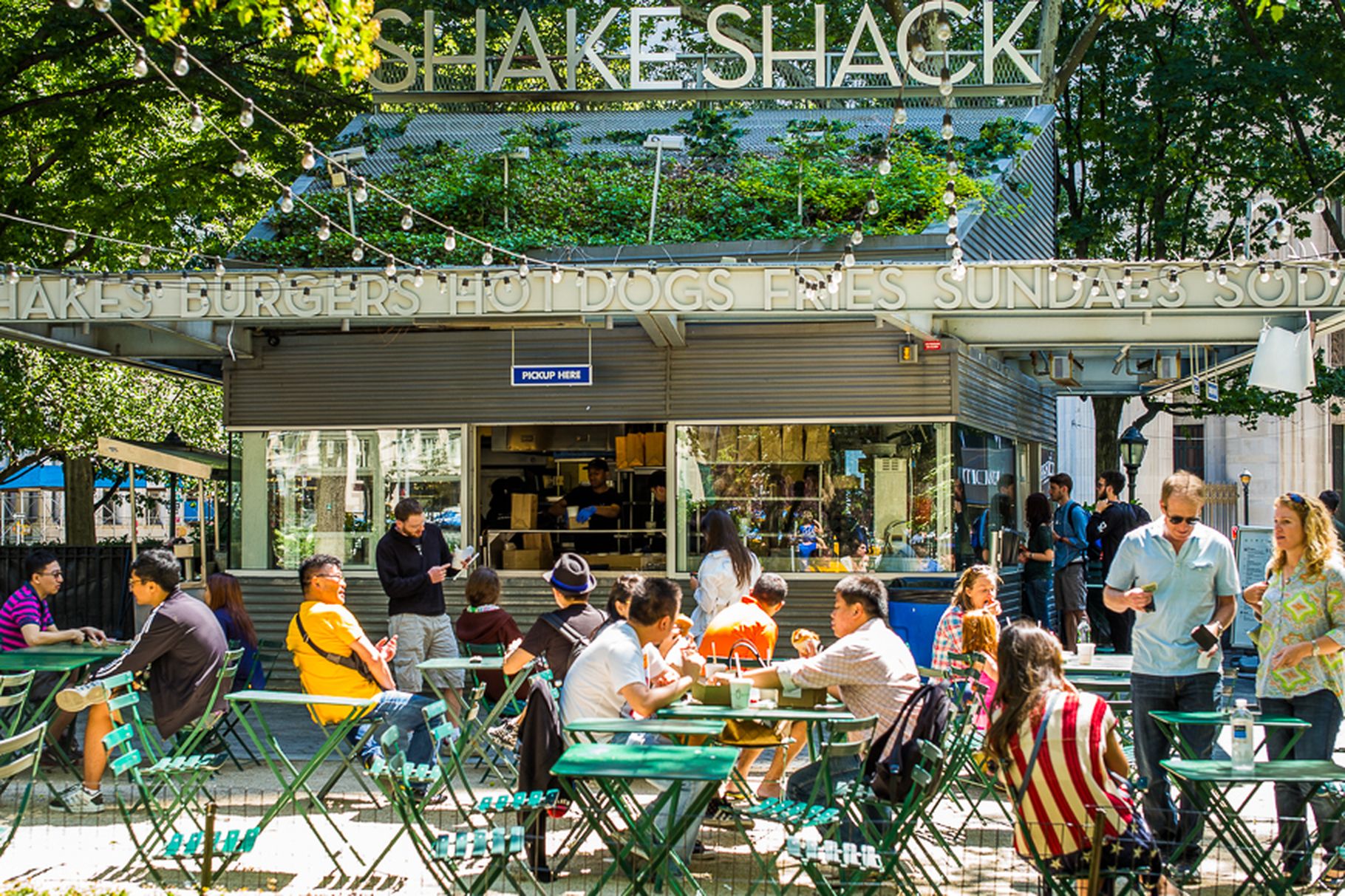 I have to say, neither In-N-Out or Five Guys have a nice atmosphere.  The In-N-Out restaurants have the plastic feel of a McDonald's, with booths too small to fit those who can eat a double-double. The hats on the employees are cute, giving it a 50's diner feel. 
The 5 Guys atmosphere feels like a Costco, with dusty floors, crappy little tables, and chairs. Plus, do we really need 50 signs per restaurant telling us how great you are. There is no effort in their store atmosphere. 
What you are doing is opening up the door to local establishments finding a niche against both of these with a cooler pub-like atmosphere. The Shake Shack locations are much nicer. If you ever get the chance to go to the original Shake Shack in NYC, it is worth it. I was doing some work with an ad agency and arrived a couple of hours before the meeting. I didn't feel like going up early and I noticed about 50 people lined up for lunch at this "shack" in the park.  
Every time I have Shake Shack whether in Dubai or throughout the US, I still think of the park. A little like my first Movenpick experience, 20 years ago, in the middle of the swiss alps. 
Verdict: Shake Shack
What In-N-Out Burger does best
Clearly, as I've heard from the fans, In-N-Out does a great job engaging with their consumers. The secret menu and the secret sauce, the traditions of the double-double, and the "animal fries" all help create a "club" filled with brand fans who will take on anyone that knocks their brand. There's a slight difference in who each attracts.  
In-N-Out's menu items are generally less expensive — the chain is most popular with young men ages 18 to 24 with an income of less than $70,000 a year, according to NPD. By contrast, Five Guys patrons are generally 25 to 50 years old, with an income of more than $100,000. In-N-Out seems to have a more engaged consumer base that it can leverage as 5 Guys is now into the Southern California market ready to do battle right in the backyard of In-N-Out.
At this point, In-N-Out is stuck as a West Coast brand, in California, Arizona, Nevada and now Texas, giving them only 320 locations.  They have not expanded very quickly, believing it is better to be loved by a few than tolerated by many. This gives them a regional strength and more emotional engagement goes to In-N-Out.
www.in-n-out.com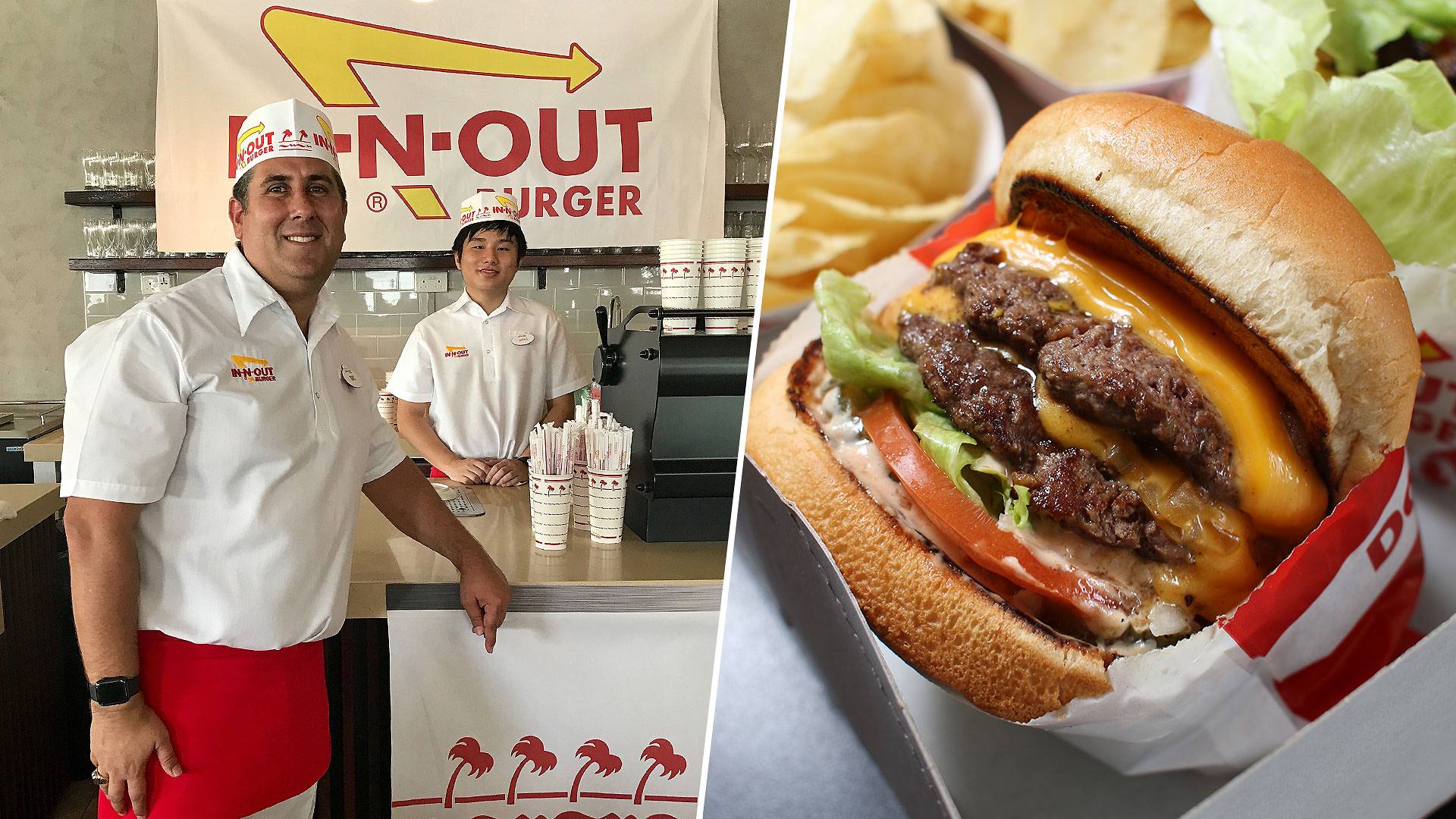 Five Guys has been much more aggressive on their expansion plan. They have pursued winning on review sites and lists that can help drive awareness for the brand. 
In 2010, they won the Zagat best burger. They have aggressively gone after celebrities such as Shaq and Obama. And most of all, they are winning on location, location, and even more location. 
Five Guys is everywhere, with 1000+ locations, fairly national, and even in Canada. Five GuysThey are clearly following McDonald's real estate strategy by trying to be everywhere. The other area where Five Guys wins is pricing. I am a marketer, so the more price you can command the better. 
For relatively the same burger, Five Guys charges twice what In-N-Out charges. In this current stagnant economy, people are proving they'd rather pay $10 for an amazing quality burger than $15 for a lousy steak. It feels like In-N-Out is leaving money on the table with the prices that are just slightly above the McDonald's price points. More aggressive growth goes to Five Guys. 
www.fiveguys.com
M   A   R   K   E   T   I   N   G        B   O   O   K
the playbook for how to create a brand your consumers will love
Covering every aspect of brand management, it is no wonder that our readers reach for Beloved Brands multiple times each week to guide them through the challenges of day-to-day brand management.
Get ready for a mind-bending journey as we take you on a deep dive into your brand strategy. We'll challenge you with thought-provoking questions designed to shake up your thinking and help you see your brand in a whole new light. And our unique process for defining your brand positioning will leave you with fresh ideas and new possibilities for how to differentiate your brand.
But we won't just leave you with ideas – we'll show you how to turn them into action. Learn how to write a brand plan that everyone can follow, ensuring that all stakeholders are aligned and contributing to your brand's success. We'll walk you through the creative execution process, from writing an inspiring brief to making smart and breakthrough decisions.
And when it comes tao analyzing your brand's performance, we've got you covered. Our innovative methods will help you dive deep and uncover insights you never knew existed, giving you the knowledge you need to make the best decisions for your brand's future.
But don't just take our word for it – our Amazon reviews speak for themselves.
With over 85% of our customers giving us a glowing five-star rating and an overall rating of 4.8 out of 5.0, we know we're doing something right. And with numerous weeks as the #1 bestseller in brand management, you can trust that we have the experience and expertise to help you achieve success.
Ready to join the ranks of the Beloved Brands community? Order our book on Amazon, Rakuten Kobo, or Apple and start your journey towards brand success today.
Take a read through our sample chapter on strategic thinking
What Shake Shack does best
They were definitely late the expansion party, with only 120 stores at this point. The NYC location in the park is such a part of their brand, yet it also drives a lot of revenue. At one point, Shake Shack thought they would stay a "New York only brand" which is part of their delay. 
Right now, the US market is fairly saturated with burger shops, so they now have 30% of their locations overseas including Seoul, Tokyo, London, Cardiff, Istanbul, Moscow, Muscat, Beirut, Dubai, Abu Dhabi, Doha, Kuwait City, Riyadh. Pretty smart strategy to see an opportunity in those markets and close on them before the others could. I would say, the more interesting locations go to Shake Shack. 
shakeshack.com 
At this point, the clear winner will be Five Guys. Just like McDonald's versus Burger King in the original burger war, it's not as much about the burger itself but about the aggressive pursuit of real estate. Unless In-N-Out wakes up, takes all that brand love they have generated among their fans, and go on a 5-year big expansion, they will be relegated to a regional brand we only visit on our road trips to California.
Five Guys is quickly becoming the upscale version of McDonald's
In-N-Out Burger case study – Ranked 4th Among America's Best Workplaces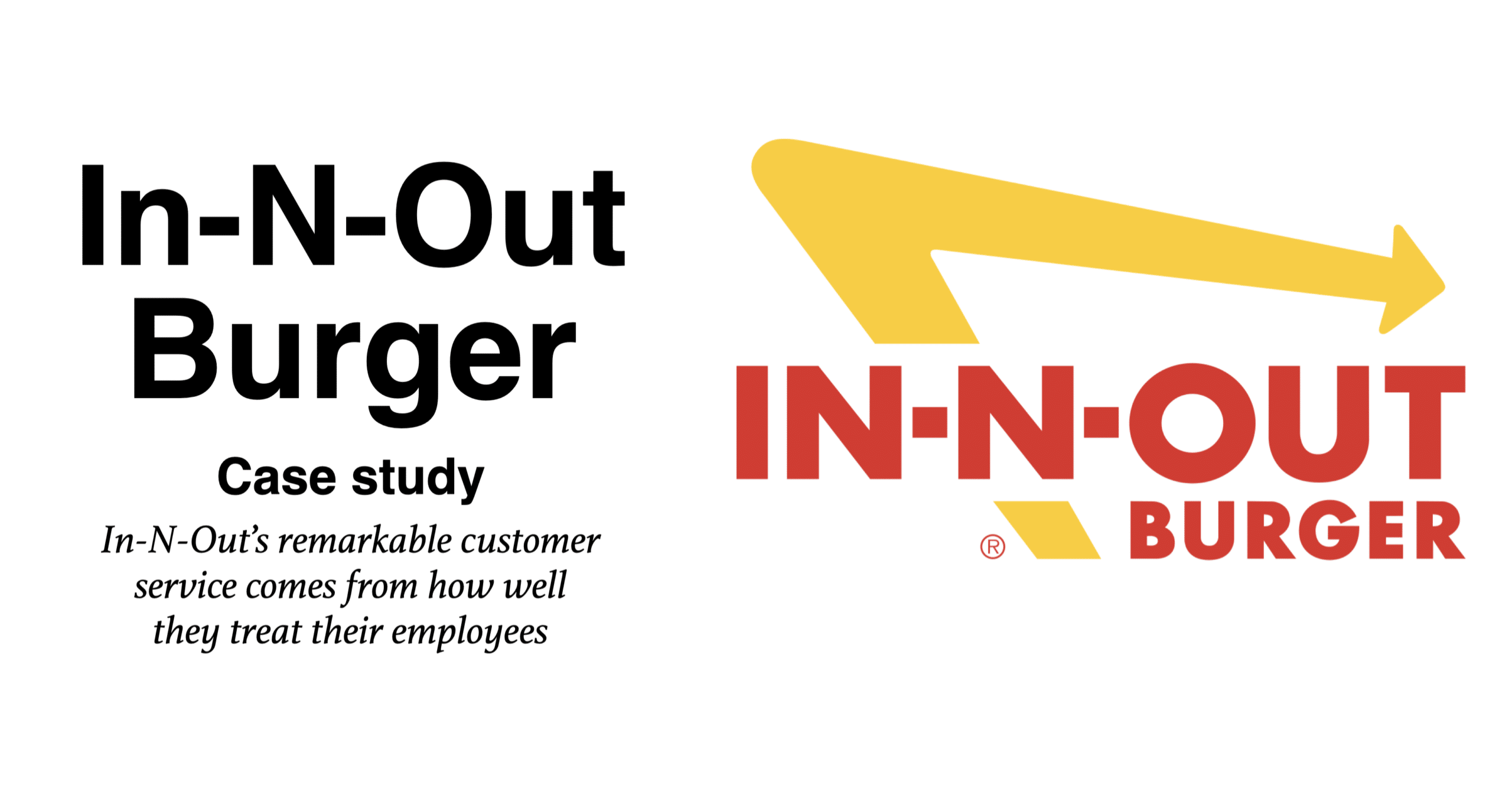 In-N-Out Burger, a brand deeply cherished worldwide, recognizes the extraordinary role its employees play in delivering a remarkable customer experience that reflects the essence of their brand. Even though this West Coast brand is cautiously expanding eastward, it boasts an enthusiastic base of brand devotees. Try challenging its superiority to other burger joints, and you might find yourself in a fervent debate. Hidden under this rampant fandom, however, lies a bedrock of dedicated, diligent, and well-compensated staff members. 
We empower the ambitious to achieve the extraordinary.
Without a doubt, our role at Beloved Brands is to help the ambitious marketers who are trying to improve their marketing skills. Most importantly, we will prepare you so you can reach your full potential in your career. You will learn about strategic thinking, brand positioning, brand plans, marketing execution, and marketing analytics. As well, we provide a suite of marketing tools, templates that will make it easier to do your job, processes that you can follow, and provocative thoughts to trigger your thinking. 
Have you gone through an assessment of the marketing skills of your team? Take a look below:
The fundamentals of marketing matter.
Our Beloved Brands marketing training programs cover different streams to suit the type of marketer you are. For instance, our marketing training covers consumer marketing, B2B marketing, and Healthcare marketing. 
The marketing fundamentals that we show in this article are part of what we use in our marketing training programs. Ambitious marketers will learn about strategic thinking, brand positioning, brand plans, marketing execution, writing creative briefs, advertising decision-making, marketing analytics, and marketing finance. 
Importantly, when you invest in our marketing training program, you will help your team gain the marketing skills they need to succeed. Without a doubt, you will see your people make smarter decisions and produce exceptional work that drives business growth. 
Finally, I wrote our Beloved Brands playbook to help you build a brand that your consumers will love. If you are a B2B marketer, try our B2B Brands playbook. And, if you are a Healthcare Marketer, try our Healthcare Brands playbook.
Everything a Marketing must know about.
Importantly, Brand leaders need to know how to think, define, plan, execute and analyze with the best of them. Moreover, while the brand leaders don't really know how to do anything, they are looked upon to make every decision. Have a look at our five minute video on everything a marketer must know. To read more, click on this link: Everything.
To view, use the ▶️ controls to play or volume buttons 
If you are looking to make your marketing team smarter, we can help. To get started, email Graham Robertson at [email protected]
Learn from these brand case studies
Explore how these real-world examples demonstrate the effectiveness of our brand management tools. Click on the logo to read the case study.
To read our case studies, click on the brand logo you want to read more about.