Every day we hear consumer change, change, change, and more change. The talk at the lunch table will be about the changes we are going to make in our lives next year. We start thinking about resolutions. While we constantly think of ways to improve ourselves, most people hate change.
We think about change more than we take action for change. Psychologists estimate that 95% of the thoughts we will have today are the same thoughts we had yesterday. How's that for change? Brands can help consumers move through a model of change.
When it comes to consumer change, I have always mapped out four types of consumers, based on whether they are proactive or reactive mindset and whether they are trying to prevent or repair a problem.
Proactive consumers are driven by knowledge; reactive consumers are driven by an event. Preventers are willing to change the lifestyle; repair type consumers want to directly address the issue at hand, without changing their overall lifestyle.
How to look at types of consumer change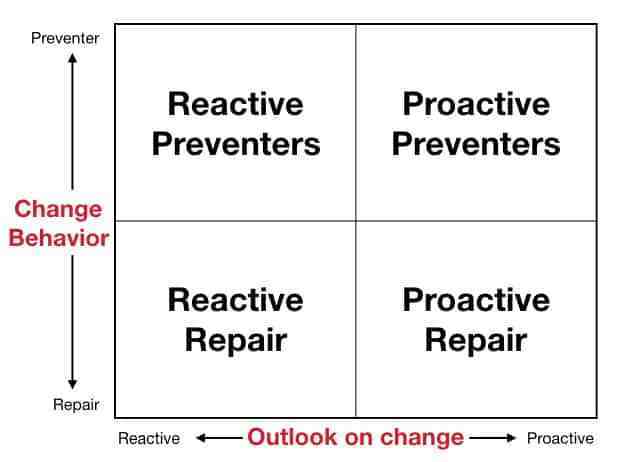 Proactive Preventers do what it takes to maintain their overall health. They watch what they eat, workout, do things in moderation and maintain overall good health. Their change is usually triggered by information about new learnings in the healthcare field. They'd be early adopters of new trends. What lies in their motivation could be a combination of overall health values or something in their family history that might motivate them to maintain such a healthy lifestyle.
Reactive Preventers change their ways and shift their life completely based on a trigger in their life. It could be an event that happened directly to them or someone close to them. The change is an awakening that makes them re-look at everything in their life and then they realize they are no longer invincible. They might start connecting the lifestyle to the event and they want to make the change overall.
Proactive Repair consumers have the need for change triggered by knowledge. It could be a news story or key influencers provide them with new information that makes them undertake the change before things happen. Many times people get so busy they didn't realize what happened and then the trigger makes them re-look and fix it before things happen. The trigger could be having a baby or turning 40 or just a realization that things got out of control.
Reactive Repair consumers are usually those who experience something bad and then they feel forced to make a change. It could be the first major health scare. The change is isolated to the cause of the event.
Ever notice when someone is going to quit smoking they might say "on February 1st, I'm going to quit" or "I'm going on my diet on Monday". It might sound silly but what they are doing is following the Preparation Stage of a Change Model. They put a stake in the ground so they can spend some time mentally getting ready for the change. As we come up on January 1st, we will see people go on diets, quit smoking, join a gym, start following a new routine. It is also why marketers want to own New Year's Eve.
The most common change model has 5 stages:
Pre-Contemplation: Consumers might know they have a problem but have no intention of taking action in the foreseeable future. May have failed before.
Contemplation: Consumers recognize their behavior is a problem. They begin searching for solutions that fit their needs and abilities to succeed.
Preparation: Consumers intend to take action in immediate future. They lock in a date, arrange plans/tools and take other small steps that may help success.
Action: As the big day has arrived, all the motivation built up in the preparation stage will help the first day, and hopefully past the fifth day.
Maintenance: The biggest challenge at this stage is to make it through potential failure points, linked to your old lifestyle/routines. For long-term success, it's important to build new routines in your life.
How marketing can match up to the consumer change model
At the early stages, you need to find some way to trigger consumers into the consideration of the need for change. For the proactive consumers, take advantage of their mindset by trying to trigger a need for change. Drive the awareness of the problem and outline risks, dangers, and issues of non-action.  For the reactive consumers, use influencers such as peers or healthcare professionals to help dialup the seriousness of the need for change.
As consumers move to the contemplation stage, they try to get themselves ready. Show positive easy solutions and make change feel doable. Use your brand to help them visualize what change will look like, and set up the idea that they are capable. Change their minds about their confidence level with something new.
As consumers move to the preparation stage, they look for information to help their journey and reinforce their capability for achieving success. Own search, as consumers turn to the internet before they turn to healthcare professionals. By helping consumers early on, you may hold onto them throughout the change journey. Use the entry point to introduce the idea of a coach or self-help group. As consumers feel reluctant to take action, they worry they may fail. The coach or group can help add confidence they are not in this alone. Professional, peer, counselor, or online support can be highly effective with daily motivational tips to keep going.
Moving to action
Just before the action stage, help them set realistic goals. Baby steps might be necessary early on, so the consumer can experience a degree of success and feel motivated to keep going. Early failure could send them into the relapse before the change kicks in. They say it's twenty-one days to change a habit, but it's usually a lot longer with all the temptations around.
The change doesn't end until you get through the maintenance stage. The consumer needs to build change into their life. Even a year later, consumers could find an event that triggers them into a relapse. A lot of vices are connected with stress. For many, comfort food or a coffee and a cigarette just feel great when things get highly stressful. So a new level of life stress can see the consumer reaching for old habits. Compliance is never an easy thing–even the most serious of heart medications can struggle with compliance.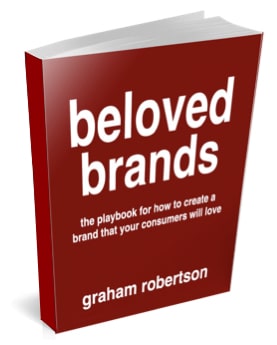 Beloved Brands is the playbook to keep at your fingertips
Our readers tell us they reach for Beloved Brands a few times each week as a reference toolkit to help them with the day-to-day management of their brand. Over 90% of our Amazon reviews receive five-star ratings, and Beloved Brands has spent numerous weeks as a #1 bestseller in brand management
Keep awareness strong at all stages.
Depending on the potential size of the business, you may wish to cover all parts of the change model with a constant level of brand awareness. Stay visible so when the consumer looks for solutions, your brand is the first point of consideration.
Consumer insights for quitting smoking 
When I worked in the quit-smoking categories, I used 360-degree mining for consumer insights. I have never smoked in my life, so all of this was new and forced me to listen, observe, and go deeper.
The starting data point was, "Studies show smokers will try to quit cold-turkey over seven times before reaching for a smoking aid to help them quit." It speaks to how hard it is to quit, and how many times it takes to achieve success. Regarding smoking aids, it shows how the product is the last resort.
Adding observations from focus groups, I could see how smokers become very agitated. We held two-hour focus groups and talked non-stop about what could get them to quit smoking. In the first hour, they were polite, but after one hour without a cigarette, I could see their agitation grow to a boiling point.   
When I listened further, I heard them say, "I feel guilty I can't quit" or "I know I should quit" or "Whenever I quit, I feel I'm not myself. I get so irritable that I give up" or "I wish smoking wasn't so bad for you because quitting smoking sucks." These are some of the underlying feelings coming out, expressed in their words.
Using the emotional need states, I gravitated to the consumer's lack of optimism or confidence to quit, how smokers feel out of control whenever they try to quit, and how they feel not themselves.
Observing how quitting smoking fits into their lives, I could see how they take their misery from trying to quit out on those around them. They linked the moment of quitting smoking with their "worst version of themselves coming out" and talked about "the monster." Some said their spouse or friends had told them they would prefer they keep smoking rather than having to deal with this terrible version of themselves. 
Consumer insight (connection point):
"I know I should quit. I've tried to quit smoking so many times, it's ridiculous. I'm not myself. I'm grouchy, irritable, and feel out of control. Quitting smoking sucks!" When I shared this secret back with smokers who want to quit, they say, "Yup, that's exactly how I feel."
Consumer enemy (pain point):
"I fear quitting smoking will bring out the monster in me, turning me into the worst version of myself." 
Having worked in the quit smoking business for years, here's a TV ad that shows just how hard change really is. People quit 6-8 times on their own before reaching for the help of a quit smoking product. We capitalized on that fact to show a side-by-side demonstration of the difference when using Nicoderm.
Beloved Brands is the playbook to keep at your fingertips
Our readers tell us they reach for Beloved Brands a few times each week as a reference toolkit to help them with the day-to-day management of their brand.
To start, we will challenge you with questions that get you to think differently about your brand strategy.
Then, we take you through our process for defining your brand positioning. We will open your mind to new possibilities for how you see you can differentiate your brand. And, we use examples of brand positioning statements to bring the learning to life.
Next, we will show you how to write a brand plan that everyone can follow. Make sure all stakeholders know precisely how they can contribute to your brand's success.
Moreover, we will show you how to run the creative execution process, show you how to write an inspiring brief, and make decisions to find both smart and breakthrough work.
Finally, you will learn new methods to analyze the performance of your brand with a deep-dive business review.
Above all, over 90% of our Amazon reviews receive five-star ratings, and Beloved Brands has spent numerous weeks as a #1 bestseller in brand management.