Most marketers are not very good at sales forecasting. They either over-think or quite frankly, under-think the forecast. You have to know your business: I do believe that writing a Monthly Report is smart practice. It helps keep your finger on the pulse of the business. 
To be good at sales forecasting, you need to know the underlying key performance indicators, comparing sales trends against future demand. Stay close to your sales team to hear the collection of details that will impact your sales forecast. 
And as the leader of the team, you have to steady the ship and avoid creating your fluctuations. An excellent question I always ask is "So what has changed since last month that makes us change our number?" You will find that many times, the number has changed, yet not very little on your business has changed. That makes no sense. Why would you change the sales forecast?
Avoid panic or over-reaction. Communicate with the supply chain your high/medium/low thinking so they can decide on inventory to avoid missed sales versus excess inventory. Help them manage the risk.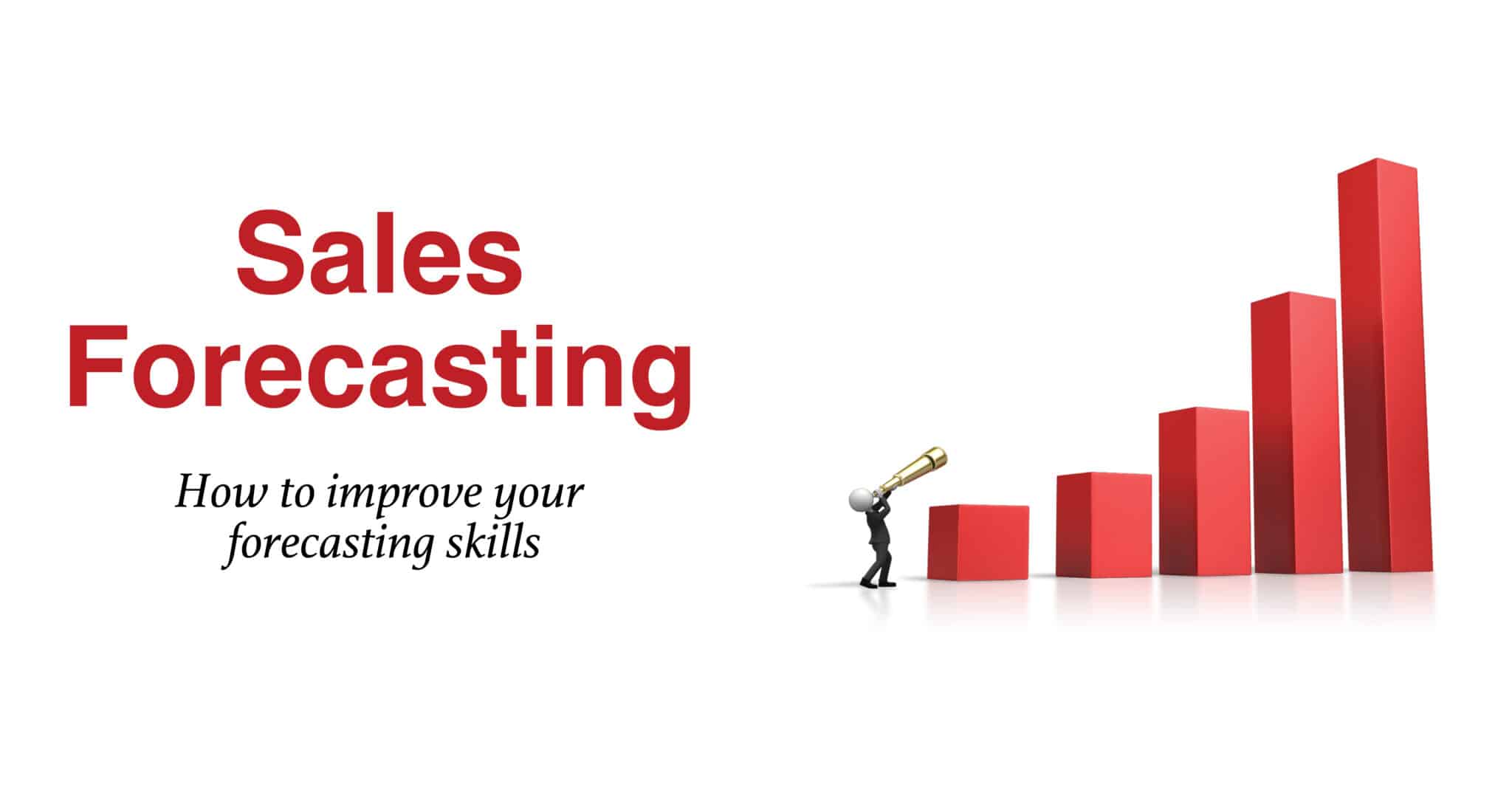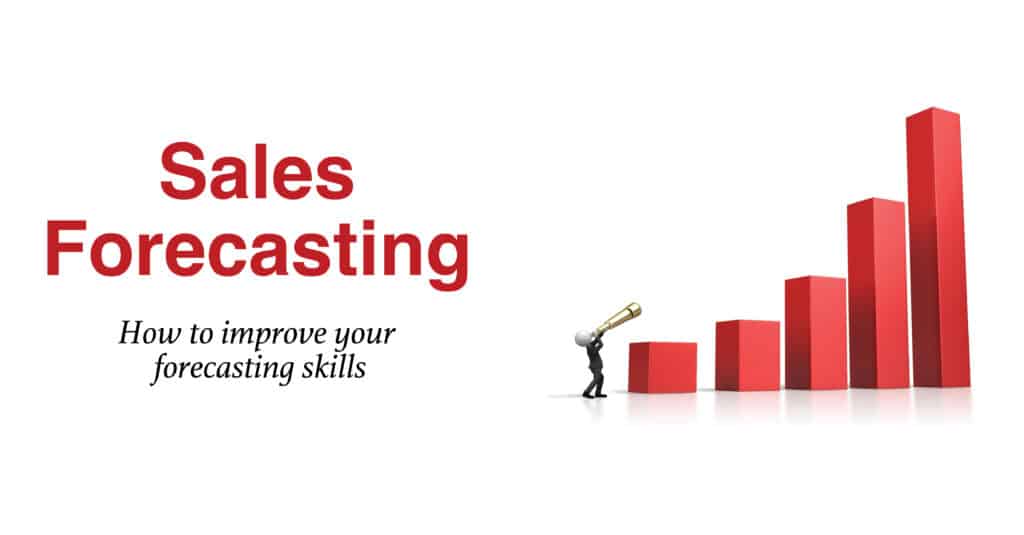 The best forecasting comes from a team effort between marketing, sales, demand planning, and supply chain. Ensure there is a process to review the consumption and sales data. And, then set up a good solid debate.
Watch our video on how to build your sales forecast for your marketing plan
Here are the ten laws of sales forecasting:
1. Your sales forecast will always be wrong
Knowing your forecast is wrong the second you release it, will focus you on finding midpoints, not on exactness. The only question that matters is "how wrong is your forecast?" Get the sales forecast accurate enough that it doesn't hurt the business too much when it is within a reasonable variation.
2. Correct predictions are not proof that the sales forecast method is accurate
It could have been luck. Don't just look at the results; look at your methodology. An excellent, reliable method produces consistent sales forecasts, which month after month will be more important than nailing one period. Process matters.
3. All trends eventually end
No matter how accurately the trend is forecasted, at some point in the future, it will be wrong. Consider what might cause a trend to change (seasonality, new competition, saturated market, etc.) when evaluating a forecasted trend.
4. Complicated forecast methodologies can be dangerous
Simple sales forecasting methods are easy to explain, understand, analyze and debug. Complicated methods tend to obscure key assumptions built into the forecast, which can lead to unexpected failures. It's ok if your supply chain experts use complicated formulas, but balance that with your instincts. Once you let go of your instincts, your forecast will get worse.
5. The underlying data in the sales forecast are nearly always wrong to some degree
Like sales forecasts being wrong, so too is the data that you are basing it on. You can always find better data. But you will never have perfect data. It is just a question of how far off it is. Therefore, the more data in the sales forecasting process, the more likely some critical error will be missed.
6. Data that has not been regularly used is almost useless for sales forecasting
Data quality is usually directly proportional to the number of times it has been used on your business. Without regular usage, data errors remain undetected, and inconsistencies develop. It's better to use reliable data in a forecast even if additional assumptions have to be made in order to use it.
7. Most sales forecasts are biased in some way — usually accidentally
It is challenging to eliminate all bias in a forecast since the forecaster always has to make certain assumptions about which factors to include, how strongly to weigh them, and which to ignore. And sometimes the bias is intentional.
8. Technology will not make up for a bad forecasting strategy
Create an appropriate strategy first, then use the technology to make it better. Everyone always thinks the technology will help with forecasting, but if you don't use your brain and think, the better system will just get you a bad forecast faster.
9. Adding sophisticated technology to a bad model makes it worse
If the model is bad, anything you add to it–statistical methods, time-series methods, neural networks–will make your forecast worse. And now, it will be harder to figure out what is going wrong.
10. Large numbers are easier to forecast than small ones
With forecasting, everything gets easier as the numbers get bigger. A forecast of unit sales where there is an average of 1,000 units sold per month is a lot easier to get right than one where average sales are 2 per month. It is more about the variability than the size itself.
As a leader of the brand, I start by trying to understand the growth rate. Most brand leaders have brand growth as their number one objective. You can do a quick calculation to figure out the average growth rate but, as you dig in, you should try to find out what happened each year to give you a better feel of the brand performance.  
You can also use your marketing funnel analysis to estimate the sales forecast.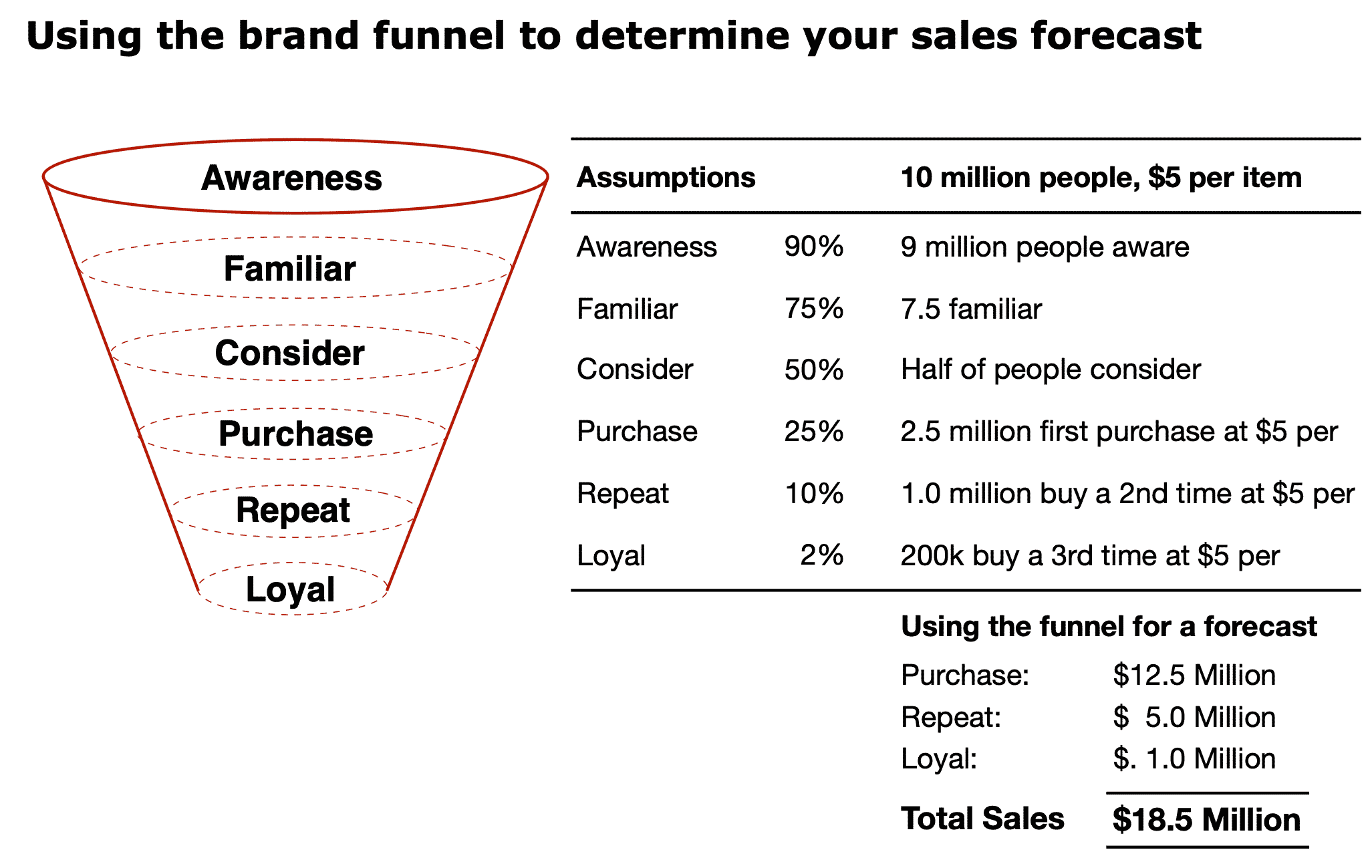 Steal other users
The share and volume game is a traditional tool for marketers. Be careful when trying to gain share. As discussed in the competitive strategy section, attacking competitors can prove challenging. Many times, an attack can result in a spend escalation with neither brand making any gains. When you lead a share war without a substantive competitive advantage, there may not be any winners, just losers.
Offensive share gains: 
Look to gain share using a significant competitive advantage against an opportunity in the marketplace, whether that is a first-mover advantage into new technology, an unmet consumer need, a changing retail channels, or a chance to steal share, using your brand's superior performance against a vulnerable competitor.  
Defensive share stance
Hold your market share or minimize the share losses until your brand can catch up on technology. The best way to protect your brand is to feed your loyal base of consumers who are less likely to switch.
Get users to use more
Going after usage frequency is a difficult strategy. It means telling consumers who have already decided how to use your brand; they should use your brand even more.
A higher share of requirements:
In many categories, even loyal consumers will work within a competitive set of favorite brands. You need to provide a reason, through product superiority claims, consumer experiences, or emotional benefits to persuade loyal consumers to use your brand for every occasion.  
Get current users to use more: 
Look for opportunities with loyal users to create a potential routine or ritual around your brand. 
It is an excellent strategy to use when there is a real benefit to your consumer to use your product more often. Otherwise, consumers will see it as a shallow money grab by the brand. Driving routines or rituals can be difficult. Even with lifesaving medicines, the most prominent issue for frequency is compliance. The best frequency strategy is to link your brand to a part of their current life. Our Special K case study shows how they did a great job with "Use Special K for two meals a day for two weeks, and you will lose 5 pounds." McDonald's offered "Free coffee for 15 straight days" to drive the routine.
When calculating revenue growth, you can use average growth rate, yet a compound annual growth rate is a much truer version of what is happening. In the example above, the average growth rate is 15%, but the more accurate compound growth rate is 12.47%. If you are scared off by math, you can always use the CAGR calculator on the Investopedia website.
Enter new categories  
When your brand has a strong base of loyal consumers, and you see an opportunity to take those consumers into a new peripheral category, you can open up new revenue streams for your brand. Make sure the new category fits with the brand idea, and you can transfer elements of your brand reputation into the new product. 
Our Starbucks case study shows the strategy when they moved to snacks and sandwiches made sense for the brand, and allowed Starbucks to take their loyal morning coffee users into a new product category and a new part of the day. However, their entry into music and movies did not fit the brand. Instead, it distracted them away from the core brand. 
Create new uses
Take the brand and create similar experiences into a new format or new offering. You need to make sure your current brand is in order before you divert attention, funding, and focus on a potential blue ocean expansion area. Be careful with this temptation because the legendary success stories (Arm & Hammer or one-a-day Aspirin) do not come along as often as you might hope.
Use a monthly report to track brand performance
Staying on top of the business will make you much better at the sales forecast.
In a world of big data and analytics, every brand should have a monthly report to track how the brand is doing through the course of the year. While these reports can feel tedious to write, the 3-4 hours it takes to dig in is a good investment in discipline, knowledge as well as maintaining that touch-feel of managing the brand.
The monthly report serves as a guide for all those across the company to stay on track with the annual plan everyone is committed to delivering. It gives senior management awareness of the grass-root issues, it enables course correction decisions at the senior levels, it exposes weakness and risk. It should carry action statements within the document that serves as a mini-version of the brand plan. And finally, the monthly report gives everyone a sense that the brand team has full control of what's happening on delivering the plan. All these questions go into helping you with sales forecasting.
Use a monthly report should answer the following CONSUMPTION questions:
What's the one-line story that captures what's happening on the brand? Think of the monthly report as your elevator speech for the CEO.
What's the dollar, tonnage or unit share, on a 4-week, 12 -week and YTD basis? Focus on the share that the company uses–it can vary. Having all 3-time breaks allows people to see the trends.
How's the brand doing vs year ago, prior periods, vs the category or vs plan for the year? Speak in terms of both % and share point changes. Theory of relativity allows you to tell the story better.
What's the competition doing? Trends in the consumption, tracking results related to their brand funnel or potential action that's rumored in the marketplace.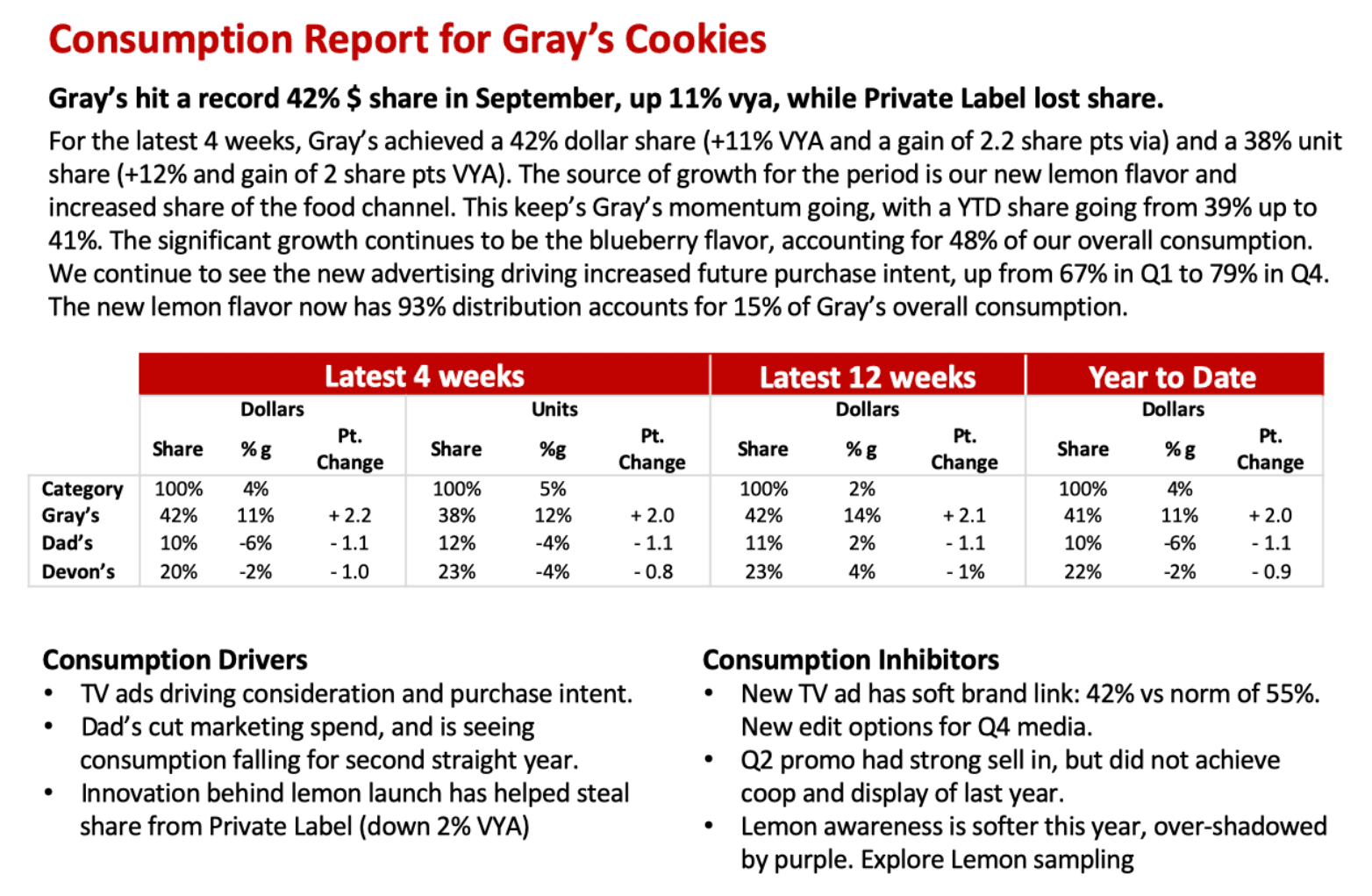 You should analyze your consumer target to better understand the consumer's underlying beliefs, buying habits, growth trends, and critical insights. Use the brand funnel analysis and leaky bucket analysis to uncover how they shop and how they make purchase decisions. You should understand what they think when they buy or reject your brand at every stage of the consumer's purchase journey. And, use consumer analytics to uncover consumer perceptions through tracking data, the voice of the consumer, and market research.
Tracking shipments to customers
Use a monthly report to answer the following SHIPMENT questions:
What's the one-line story that captures what's happening on the brand? The monthly report is the story that you know you could back up when confronted by the VP of sales in the same elevator. If it's bad news, they will have to answer to the CEO.
What's the overall sales for the month, the quarter and how will it impact the year-end call? Senior management might adjust their own sales forecast or may change their short-term investment stance based on that performance.
How are the sales by key account, by skus or by regions? Track on both the month and on a YTD basis. This highlights the strength of your brand and exposes weakness.