Traditionally, B2B marketing has been a function that supports the sales team to get short-term leads. I believe today's B2B marketers should shift their focus to creating a bond with customers, to help win in the long-term.
It is easy to get wrapped up with launching the new product for next week or trying to figure out a price that will help close a deal by noon. You forget to build your brand for the longer term.
For customers, B2B decisions are much more emotional than you think, yet too many B2B companies focus on product features as the main differentiator and price as their usual deal closer. 
The best B2B brands are building tight bonds with customers, so they feel more and think less. You want your best customers to become fans, who will be the first to try your new product and will want you to win the contract with their company.
Go beyond the product to create an exceptional experience. 
The best brands evolve into an experience-led brand, but it is not always a smooth transition. B2B brands face a much greater opportunity to win by adding vital services that elevate you beyond your products. 
The people behind your brand will make the most significant difference. 
B2B brands have the opportunity to build a culture with values and expected behaviors that can inspire everyone who works behind the scenes to deliver their greatest work on behalf of the brand. Make your best people the face of your brand whose "wow" personal stories showcase why they do what they do and the ways your people go over the top to surprise and delight their customers.
Your B2B marketing should connect with people, not companies.
As media options expand, B2B brands can connect with specific customers at companies by communicating their beliefs. They can also make customers feel smarter with content that matters, and they can create emotion with stories of the greatness of their people. With account-based marketing (ABM) techniques, you can reach and build a bond with individuals within a company, even if you are not an approved vendor.
Balance your effort between building your brand and transactional sales support.
One-third of your marketing effort should be brand-building that creates a bond with customers; one-third is transactional sales support around new products and deal closing. If you keep saying "buy me now," customers will eventually forget why they should ever buy your brand. The remaining one-third might surprise you. I want you to focus one-third on your employees who have to understand everything about your brand, including your brand idea, purpose, values, beliefs, and most motivating and ownable customer benefits. Your people are the face of your brand, and they are the ones who will deliver your brand reputation. 
It takes a fundamentally sound B2B marketer to figure out how to win with brand love to attract loyal customers. As marketing rapidly evolves, the fundamentals of brand management matter more now than ever.
Today's B2B marketers are so busy, running from meeting to meeting, and they feel overwhelmed and confused. They have no time to think. Marketing is now about 'get stuff done'— and never about taking the time to stop and ask if it is the right stuff to do
Meanwhile, to build a relationship, you must take the time to genuinely court your customers. To move your customer from stranger to friend and onto the forever stage, you need to think all the time. With the focus on access to big data, marketers are drowning in data, that they do not even have the time to sort through it all to produce the analytical stories to help to make decisions. Marketers are so overwhelmed by the breadth of media choices and the pressure to be everywhere. As a result, the quality of B2B marketing execution has suffered.
If B2B marketers do not love the work they create, how can they ever expect the customer to love the brand?
As the bestselling author of Beloved Brands, I recognized the need for a marketing book that focuses on B2B marketing. Many of the same tools work in both consumer and B2B marketing. My goal in writing this B2B Brands playbook is to make you a smarter brand leader so your brand can win in the market. I know your role and the challenges you face. I have been in your shoes. As a result, I will share everything that I have learned in my 20 years in the trenches of brand management. Essentially, I want to help you be successful. This book is intended as an actionable "make it happen" playbook, not a theory or opinion book.
I have worked in both consumer and B2B marketing, and the similarities are more than you think. I hear, "but we are not a consumer brand" all the time. Yes, you won't be doing a TV ad on the Super Bowl. However, the same principles that have been working in consumer marketing will have tremendous success with B2B brands.
My first job was at GE, working in the commercial and industrial lighting business. As a consultant for the last decade, I have worked on brands in oil and gas, financial services, medical products, commercial real estate, technology, and telecommunications. All of the models and secrets I use with clients will be part of this book. 
What is a B2B brand?
In the diagram above, you will see seven types of brand models. For business-to-business (B2B) brands, we focus on four primary types within our B2B Brands book:
B2C thru B: Sell your products through a third-party partner, whose reps then sell your brand to consumers.
B2B Products: Sell your products as an ingredient or component your customers will use to make their brand better.
B2B Services: Sell your services to companies or individuals at the company who want help to achieve success.
DTC: Sell your products directly to specific B2B customers who are using the product in their jobs or companies. 
Choose your business model based on how your customer wants to buy, not how you want to sell.
A great case study is the Apple brand, which now uses all seven of these business models, as they sell to both consumers and businesses, sell both products and services, sell directly, through retailers, and through their own retail stores. Apple allows customers to engage the brand however the customers wish to purchase.
We will show you how to use your brand idea to align marketing communication choices
In today's cluttered media world, use your brand idea to help organize all types of marketing communication efforts, including your brand story, sales material, trade shows, homepage, search, social media, and any influencer marketing. 
When telling your brand story, you now have many media options available, including white papers, a regular blog, LinkedIn, trade shows, and face-to-face presentations. The challenge is making sure you tell the same brand story, with consistent layers of brand messaging. There is nothing wrong with repetition, especially if you are using various media options to make it more engaging. You might get bored with your words long before any customer will.
To illustrate, click on the diagrams to see details.
B2B marketing can be more challenging than other types of businesses. Rarely do we think of one customer. Instead, we focus on four types of people within the B2B customers. Users. Decision-makers. Buyers. Influencers. Modern day B2B marketing allows you to figure out how to bypass the rules and restrictions of being a preferred vendors. For B2B marketers, we teach how to think strategically, how to use brand positioning, how to build a marketing plan, how to make marketing execution decisions, and how to analyze the brand. 
Regardless, B2B marketers must use their brand positioning to establish a reputation and create a bond with customers. B2B decisions by customers are much more emotional, yet too many B2B companies focus on product features as the main differentiator and use price as their usual deal closer.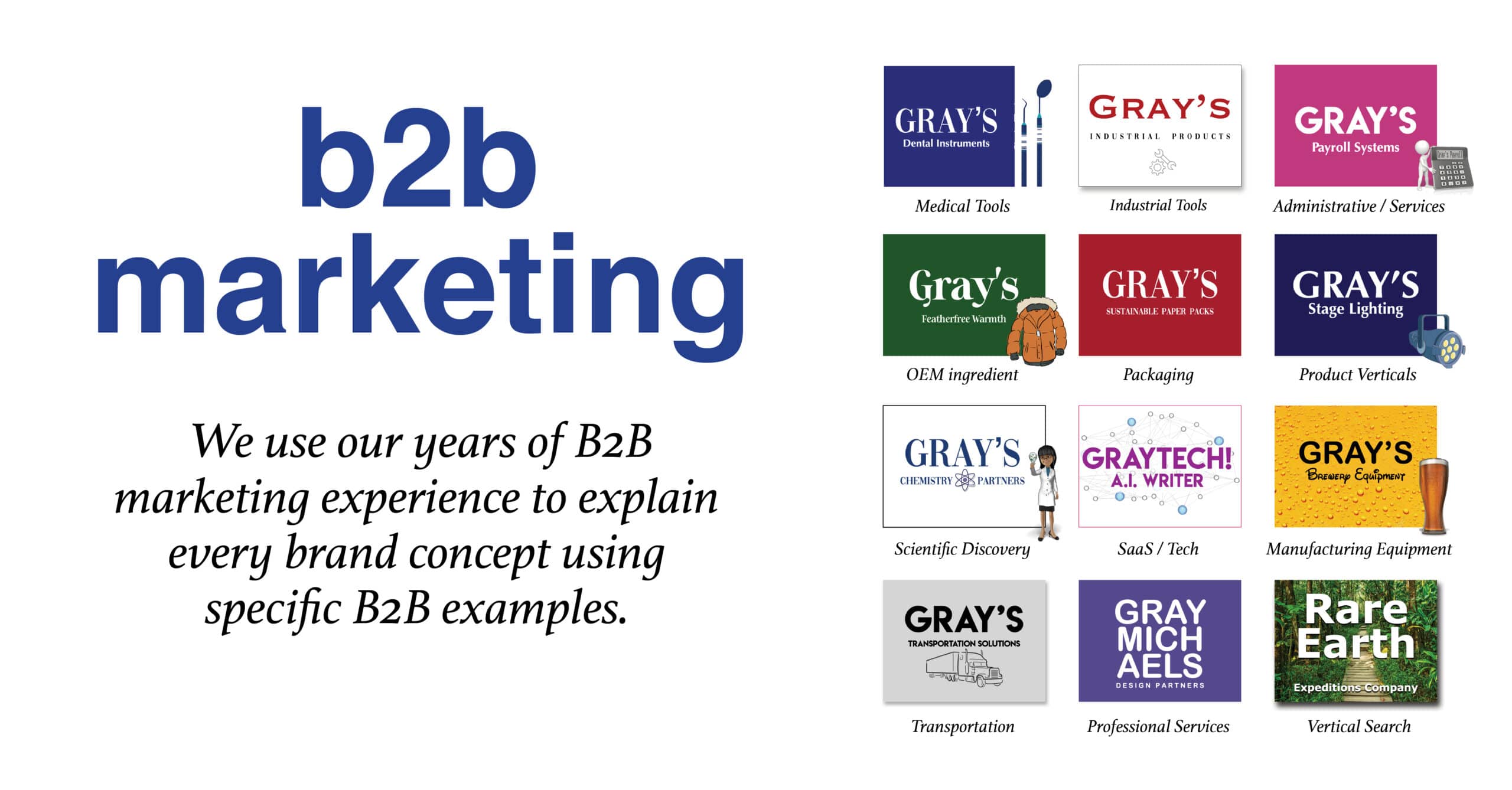 B2B marketers must look at the plan as a decision-making tool that guides everyone who works on the brand. We teach how to come up with the brand vision, purpose, goals, key issues, strategies and marketing execution plans. If you are a B2B marketer, you need to know how to build a B2B Brand Plan.
To illustrate the B2B brand plan process, click to zoom in. 
As you write the annual brand plan, use the vision to steer the decisions. Then lay out the key issues and strategies as the guts of the plan. Lay out in a one pager. Or, use our B2B Brand template presentation. 
Analysis: 
The analysis section lays out the summary from the deep-dive business review with an overview of the top three points, which envelop what is driving your brand's growth, what is inhibiting your brand's growth, which threats could hurt your brand and what opportunities your brand faces.  
Key issues and strategies: 
The key issues and strategies section focuses on the top three issues getting in the way of achieving your vision, which you should put in question format. Moreover, the strategic solutions are the answers that match up to each of those questions. Set goals to measure your brand's performance against each strategy. 
Execution section: 
The execution section maps out the specific plans for each of the chosen execution areas that aligns with the most essential customer touchpoints.  
Our B2B marketing training will make your marketing team smarter so they deliver their best possible performance on your brand. At Beloved Brands, we empower the ambitious B2B marketers to achieve the extraordinary. Below is our brochure for our training programs.
Below is our brochure that explains how our B2B marketing training can help your team
Engage the buttons to enlarge (X) or advance the slides (>)
How our B2B Marketing Training makes your team smarter
Strategic Thinking:
Our B2B marketing training teaches brand leaders how to ask tough strategic questions to slow everyone down. B2B marketers need to approach strategy in a thoughtful, analytical way. We created a Strategic ThinkBox that allows marketers to interrogate their brand. Most importantly, it helps them look at the most important issues of the business. Furthermore, we force marketers to take a holistic look at their brand's core strength, competitive landscape, tightness of the customer bond, and business situation.
Brand Positioning:
Our brand positioning process starts by finding out the ideal target is and how they would benefit from the brand. For B2B brands, the target could be a user, buyer, influencer, or a decision-maker. We teach marketers how to find the emotional and functional benefits their brand can deliver. Then, we show how to find a unique space for their brand that is interesting, simple, motivating, and ownable. Furthermore, we introduce our brand idea tool and show how to communicate that brand idea across the organization. In addition, B2B marketers learn how to write a brand concept, brand story, and a brand credo document. We show a range of B2B brand examples.
Marketing Plans:
The marketing plan is a decision-making tool that communicates the expectations to everyone who works on the brand. We teach B2B marketers how to put together the vision, purpose, goals, key issues, strategies and marketing execution plans. Our B2B marketing training provides various tools including our one-page marketing plan and ideal presentation deck. Most importantly, we go into detail on how to write key issue questions and strategic statements that forms the foundation of the marketing plan.
Marketing Execution:
Our marketing execution training starts with the development of the creative brief, which serves as the bridge between the plan and execution. We review line-by-line of the creative brief and give you examples of the best and worst. Furthermore, we even provide participants with a checklist to make smarter decisions on your next marketing campaign. We introduce our creative checklist to help make smarter decisions on creative communications. All our examples are B2B brands. And, we emphasize how to match up media choices to the customer journey. Essentially, the skills will help your team get better work from their agency partners.
Brand Analytics:
Our comprehensive brand analytics sessions teach B2B marketers how to lead a deep-dive business review. They need to know how to assess their brand's performance, and set up smarter strategic thinking for their marketing plan. As a result, we get B2B marketers to look at the marketplace, customers, channels of distribution, competitors or other brands in their industry category. Finally, we show how to lead an audit on the performance indicators of the brand.
All our examples are B2B brands
With our B2B marketing training, every example we use in our training is a B2B brand. We believe B2B marketers will learn the concepts if they see brands that are similar to the ones they are working on.