Dan O'Brien was a U.S. track and field superstar back in the 1990s.  He competed in the Decathlon and won pretty much everything: World Champion, Olympic Champion, US Champion, and World Record Holder that would stand for 10 years–a lifetime in the track and field world. His story will inspire you. 
Even though he had tremendous success in his track career, it didn't start well. Dan O'Brien went to the University of Idaho on a track scholarship. He struggled with classes, excelled at partying, lost the scholarship, and flunked out. "I was just unprepared for what it took academically," he recalls. "I'd get so far behind, I'd just give up."  
O'Brien went to work as a cabinetmaker in Moscow, Idaho. He fell into debt, kited checks, and wound up in jail wearing a blue jumpsuit and flip-flops. Later, there was a DUI arrest. He was clearly at rock bottom and needed inspiration to get out.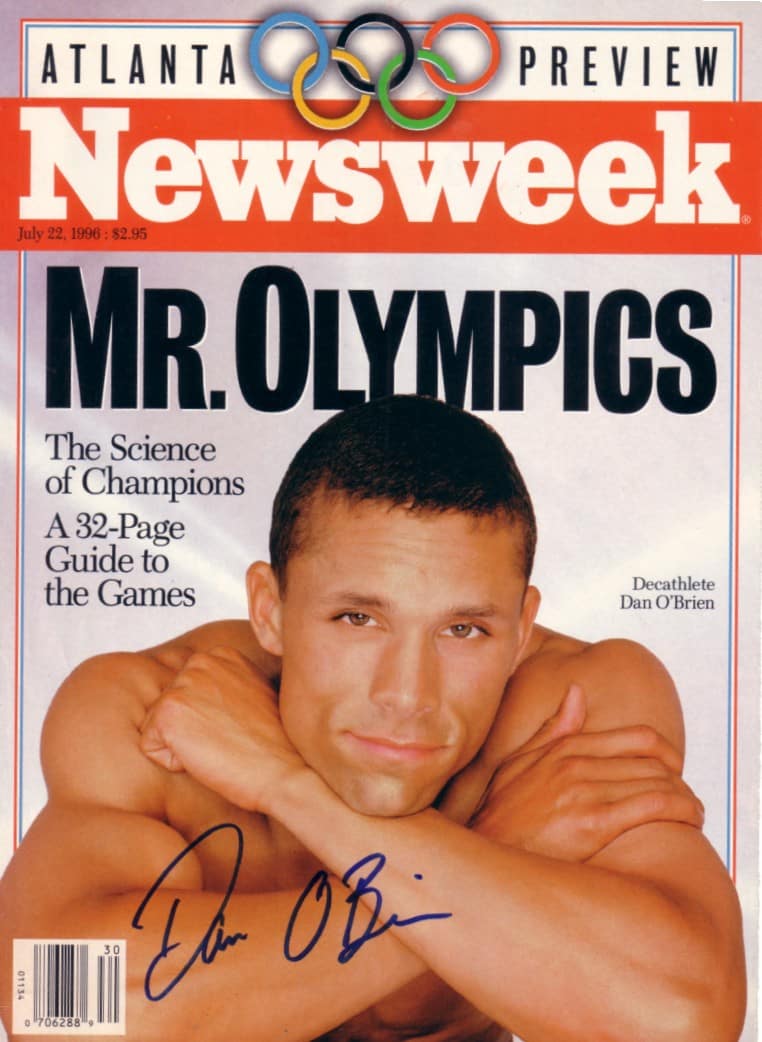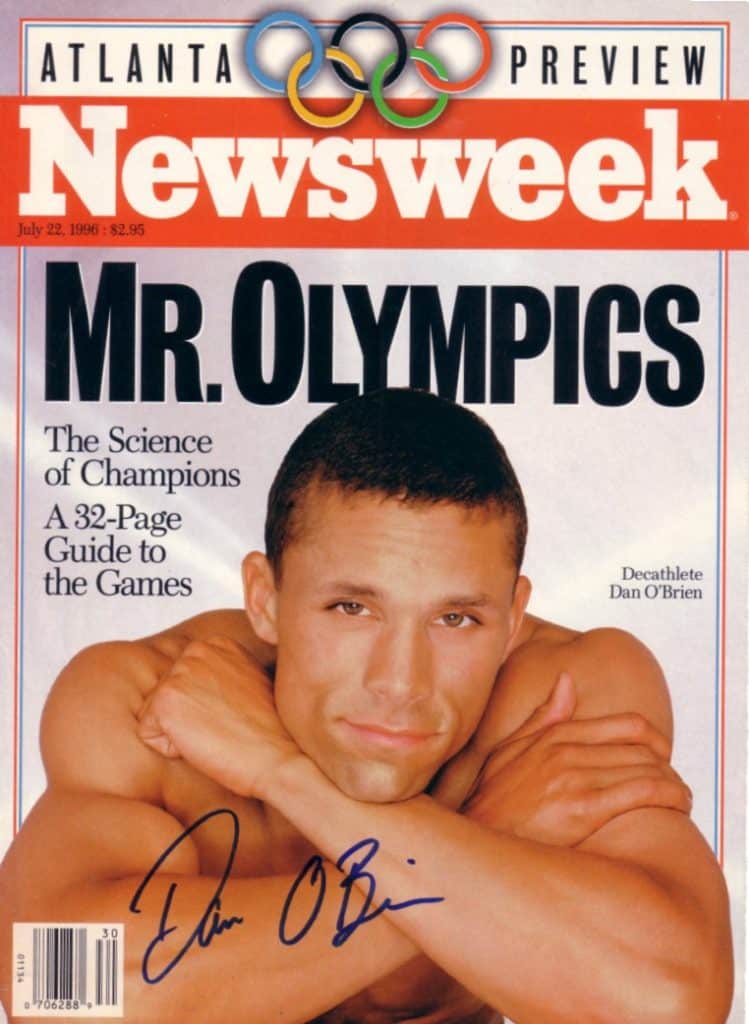 At his lowest point, Dan O'Brien attended a decathlon clinic run by MILT CAMPBELL, the 1956 Olympic gold medalist, who asked each decathlete whether he had written his goals on a piece of paper and placed it in his wallet. O'Brien said he immediately went to his room and wrote "9,000 points" on one side of a small piece of paper and "world's greatest athlete" on the other.
The piece of paper steered him to achieve
"I wouldn't have achieved what I have if I hadn't set those goals," he said. "I was a floater, and as soon as I set solid goals, I could achieve what I wanted."
With 9,000 points, that would be the clear world record holder for decades. World's Greatest Athlete was always given to the reigning world champion of the Decathlon. He kept that paper with him as inspiration and direction. Dan O'Brien didn't know, but he had written a vision statement.
As he climbed out of his struggles, he went to a Junior College, starting to compete again. He then started to compete on the world stage, keeping that note in his pocket. By 1991, he won the World Championships Decathlon, completing half of his Vision Statement. His career was moving full steam ahead.
Qualifying for the Olympics
In 1992, Dan O'Brien was at the US Qualifying event to get into the Barcelona Olympics. As the current reigning world champion, it was natural that the US Olympic team relied on O'Brien to make the team and bring home gold for the Americans. Same with TV networks, sponsors, and event organizers.
At the Qualifying meet for the US Team, O'Brien was in first place after 7 of the ten events, looking like a shoo-in for the team. But then came the high jump. O'Brien made an odd choice of going for a higher height than he needed to, and he never cleared the bar after the required number of attempts. He went from 1st place to 15th and missed qualifying for the Games.
People were stunned and confused. Why would he go for the higher height instead of settling for something that would keep him in contention to qualify? Well, it comes back to the second part of his vision statement: 9,000 points. Based on where he stood after seven events, Dan's calculations showed that he could only get to 9,000 points if he made the higher jump. Yes, high risk, high reward. But it was in line with his vision.
After all, Dan O'Brien didn't have an "Olympic Champion" on his little piece of paper
Not qualifying for the games was a bit of a disaster for Reebok who had put all their money into Dan O'Brien. The US Olympic team was mad, fans were upset and NBC was furious. But Dan kept pushing towards that dream of 9,000 points. Only 3 months after the Barcelona Olympics, O'Brien set a world record of 8,860 points, a record that would stand for a decade. In 1996, he would go on and win Olympic gold for his country.  
Why I love this story so much?
First, if you put everything in your vision statement it gets so watered down. He could have put a laundry list, including Olympic Champion, Millions in endorsements, make tons of money and win every event. But then it would just be he achieved 3 out of 5 things on his list.  
But he decided to focus on what motivated him. While you might wish he won the 1992 Olympic Gold, it wasn't on his paper. He left off what wasn't essential and stuck to it. You should do the same, and you'll find your vision statement offers you both focus and inspiration.  
A good vision should scare you a little bit and it should excite you a lot.
One of the biggest areas I see brands struggling is crafting an inspiring Vision Statement. Many don't have one, and those that do have these long convoluted statements that don't really say anything. After every stakeholder adds their own two cents it's no longer a vision. Pretty soon, your attempt at a vision looks more like a local bi-law explaining where you can fish, land your airplane, and display real estate signs all in one statement. A smart vision statement should inspire and focus your team. Let me tell you the story about Dan O'Brien and a little piece of paper that steered him to achieving everything he wanted.
A vision should open your mind up. It should challenge your thinking. Stretch you to think of things not immediately within reach.  
When Dan O'Brien looks back on his career, we can see how that little piece of paper drove him. The fact that he'll never reach his dream score of 9,000 points in the decathlon rubs like a blister: "I came up short because I set the goal too low," O'Brien says, grinning. "If I had tried to make 9,200, I might have gotten 9,000."
So how can you use this story to challenge yourself and your team to ask: what would be on your piece of paper?
How to find your brand vision
A well-written brand vision should be the ultimate end-in-mind achievement, which answers, "Where could we be?" Think about significant accomplishments that would make you feel completely fulfilled. Put a stake in the ground to describe an ideal state for your future. Every smart brand plan must start with a brand vision statement. When I see struggling brand teams, they usually lack a brand vision.
Some organizations get so fixated on achieving short-term goals they chase every tactic in front of them just to make their numbers. Your vision should steer your entire brand plan. Choose the language and phrases within your vision that will inspire, lead, and steer your team.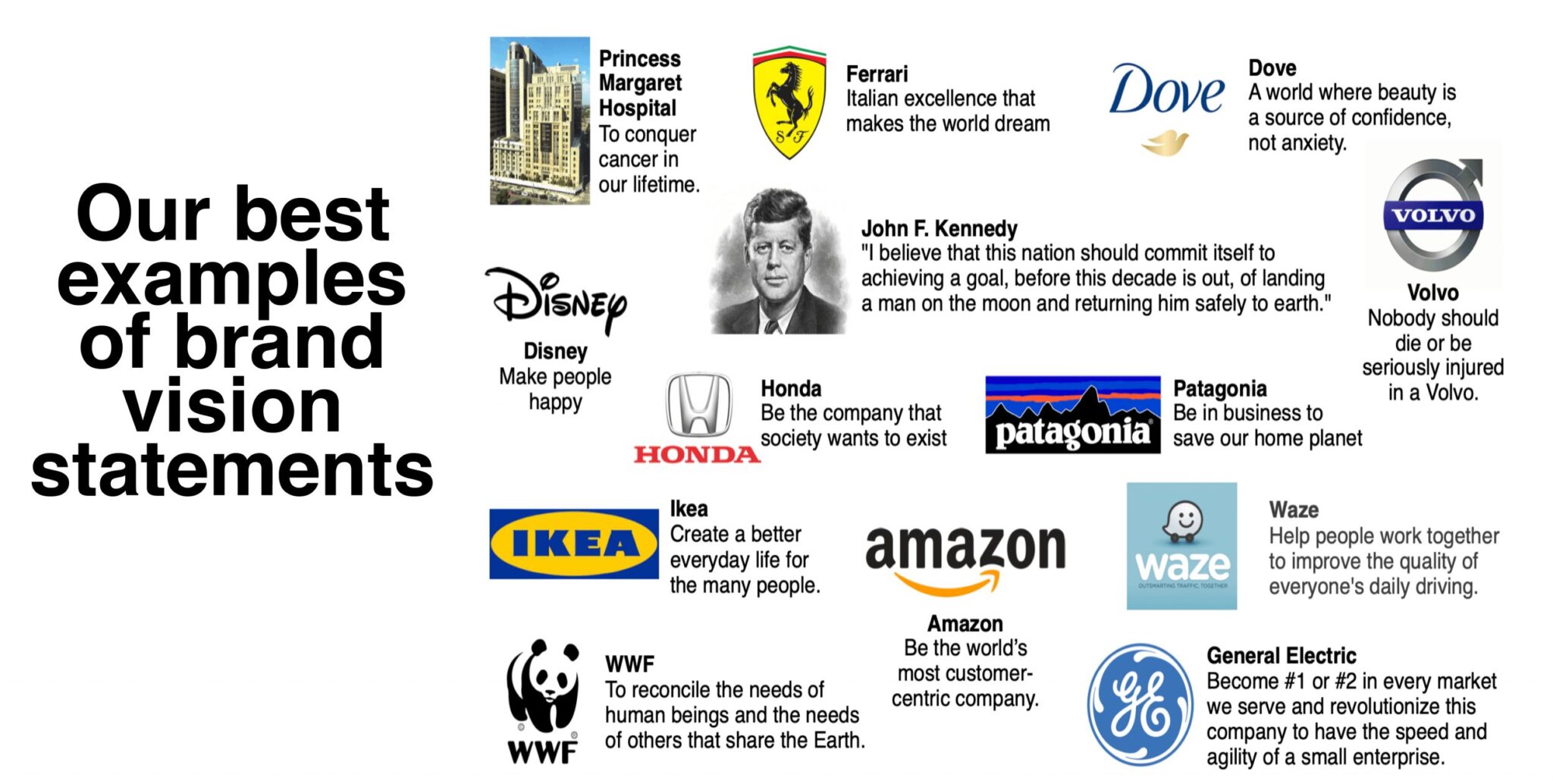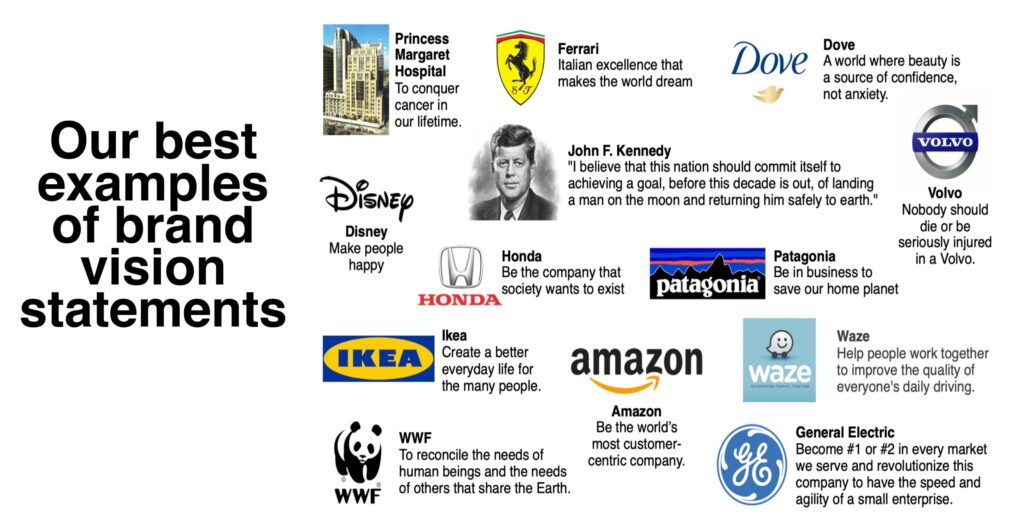 M   A   R   K   E   T   I   N   G        B   O   O   K
The playbook for how to create a brand your consumers will love
Beloved Brands is your secret weapon to guide you through every challenge that you face in managing your brand
Get ready to challenge your mind as we take you on a deep dive to find the most thought-provoking strategic thinking questions that will help you see your brand in a whole new light.
Our unique process for defining your brand positioning will push you to find fresh ideas and new possibilities for how to differentiate your brand based on both functional and emotional benefits.
But we won't just leave you with ideas – we show how to transform your thinking into action.
Learn how to write a brand plan that everyone can follow, ensuring that all stakeholders are aligned and contributing to your brand's success.
We'll walk you through the marketing execution process, from writing an inspiring brief to making smart and breakthrough decisions on both creative advertising and innovation.
And when it comes to analyzing your brand's performance, we've got you covered. Learn how to conduct a dive deep audit on your brand to uncover key issues that you never knew existed.
And, don't just take our word for it: our Amazon reviews speak for themselves.
With over 85% of our customers giving us a glowing five-star rating and an overall rating of 4.8 out of 5.0, we know we're doing something right. And with numerous weeks as the #1 bestseller in brand management, you can trust that we have the experience and expertise to help you achieve success.
"The cheat code for brand managers!"
"It is without a doubt the most practical book for those who want to follow brand management that I have ever read in my life! Beloved Brands is written by a real, experienced marketeer for marketers. This book contains methodologies, tools, templates and thought processes that Graham actually used and uses in his career."
Read our sample chapter on strategic thinking

Use these statements to inspire you as you write your own vision statement. Maybe you will see something that feels familiar to what is in your mind or at least a structure for how you would write your own vision statement.
Your vision should scare you a little and excite you a lot.
You should wonder if you can achieve it and then think of how it would feel if you did. While we do not always accomplish every vision, we rarely achieve more than we thought was possible.
Once you establish your vision, it sets up the key issues of your plan, including obstacles in the way of achieving your vision, which then sets up the strategies for how to reach the vision. As mentioned earlier, a brand plan has to flow like an orchestra, with each element directly related to the others.
Imagine the perfect picture.
To be a visionary, you must be able to visualize your future. You should be able to imagine the perfect picture of your brand in the future to help answer, "Where could we be?" Imagine it is five or ten years from now. You wake up in the most fantastic mood. Think about where you are in your personal life and your business life. Start to imagine an ideal state of what you want. Visualize a perfect future of what has you in such a good mood, and write down the most important things you want to achieve. 
What is your future revenue or market share?

Describe the future culture of your company.

What do you want people to say about your brand? 

What do your own people find motivating about working on your brand?

How do you want customers to describe their experience with your brand?

Name some of the future accomplishments that would make you proud.

What do you do better than anyone else on the planet?

Name something out-of-the-box that would make people talk about your brand.
Checklist for what makes a vision great:
Your vision should last 5-10 years.

It should help you imagine the ideal picture of "where could we be."

Describe your dream, describing what you see, feel, hear, think, say, and wish for your brand.

It should be emotional to motivate all employees and partners to rally behind it.

In plain words, it must be easy to understand, which may already be a familiar phrase within the company.

A great vision balances aspiration (stretch) and reality (achievement).

Consider adding a financial (sales or profit) or share leadership position (#1) number.
Cautions and caveats when writing your brand vision statements:
A vision should not be a positioning statement.

Make sure you have not already achieved it.

Do not make strategic statements. It is not the "how."

Try to be single-minded. Keep tightening it. Do not include everything!

Focus on how to build a purpose-driven, beloved brand
So, with Dan O'Brien as an inspiration, what is on the paper you'd put in your pocket?