Viking Cruises, founded in 1997, is known for its river and ocean cruises. Over the years, it has emerged as a leader in the cruise industry, named the #1 cruise by Condé Nast due to its unparalleled customer experience. What Viking Cruises does so well is it understands the high expectations of its consumer target and then over-delivers as no other cruise line could do. Our Viking Cruises case study aims to unpack the secrets behind the exceptional customer experience at Viking Cruises, which forms a loyal bond with consumers who become Viking explorers, creating outspoken brand fans and a pathway to repeat travel.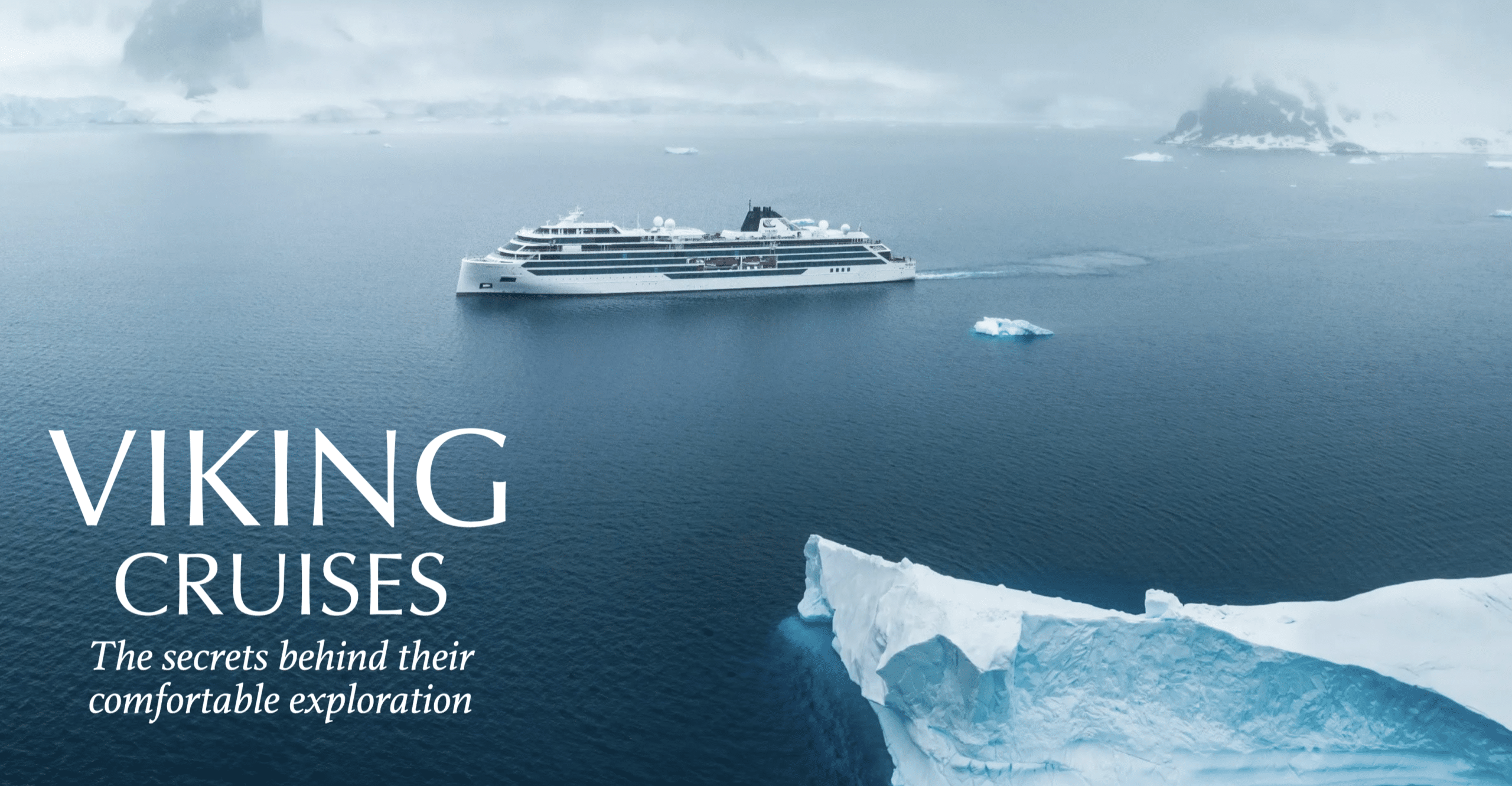 Viking Cruises target market
I love how Viking Cruises alienates certain consumer groups to define who they are targeting. In our brand positioning workshops, we do an exercise to define who is NOT IN the target to figure out who is IN the target. 
In the chart below, we can see that Viking Cruises isolates their discerning high-end target by saying who they don't want in their target: They don't allow children under 18. They don't have casinos or cheesy magic and dancing shows that are stereotypes of the traditional cruises. Their opening price point of $10,000 per couple eliminates the mass market audience. They don't offer the island sun tours. 
Instead, Viking Cruises wants older couples 50+ looking for daytime explorations to learn about a new location. They are going after wealthier consumers who are willing to pay for luxury and high-end services. Their choice of locations is more for the exploration, whether it's Greece, Asia, or up into the Arctic.   
To illustrate, click on the Viking target market tool above as part of our Viking Cruises case study.
What are the needs of the Viking consumers?
The second exercise we do with the target market is to look at the functional and emotional needs of the consumers. Below, we can see those needs come to life for Viking Cruises. 
The functional needs of the Viking consumer include sensory appeals, making them smarter, and the experiences. Moreover, the consumer's emotional needs include curiosity for knowledge, feeling free, and being balanced by feeling comfortable. These last two might feel the opposite, but finding the balance of those two contradictions is the magic of the Viking Cruises. 
To illustrate, click on the Viking target market tool above as part of our Viking Cruises case study.
Viking Cruises target market defintion
These two tools allow us to create a robust target market definition. 
We cater to discerning couples aged 50 and above, driven by an insatiable curiosity to delve into new cultures and locations by day. These affluent travellers seek the pinnacle of luxury and bespoke service, willing to invest in premium experiences that align with their aspirations. They're not just visiting places but ticking off long-cherished bucket-list destinations. Our offering doesn't merely transport them—it tantalizes their senses, enriches their intellect, and immerses them in unparalleled experiences. With Viking Cruises, they don't just travel; they embark on a journey of knowledge, freedom, and profound comfort.
The Viking Cruises Brand Idea
Bringing comfortable exploration to life
Everyone seems to call the short-form description of a brand by different names: brand DNA, big idea, brand essence, or shout from the mountain. I keep it simple by calling it the organizing brand idea. Your brand idea must be interesting, simple, unique, inspiring, motivating, and ownable to win in the marketplace. 
I created a brand idea blueprint with five ideas that surround it. On the internal brand soul side, describe the products and services and the cultural inspiration, which is the internal rallying cry to everyone who works on the brand. On the external brand reputation side, define the ideal consumer reputation and the reputation among necessary influencers or partners. The brand role acts as a bridge between the internal and external sides.
Products and services: First, what is the focused point of difference your products or services can win on because they meet the consumer's needs and separate your brand from competitors?
Consumer reputation: Then, what is the desired reputation of your brand, which attracts, excites, engages, and motivates consumers to think, feel, and purchase your brand?
Cultural inspiration: Next, what is the internal rallying cry that reflects your brand's purpose, values, and motivations that will inspire, challenge, and guide your culture?
Influencer reputation: Who are the key influencers and potential partners who impact the brand? What is their view of the brand, which would make them recommend or partner with your brand?
Brand role (archetype): Finally, what is the link between the internal sound and the external reputation?
To illustrate, click on the Viking brand idea tool above as part of our Viking Cruises case study.
Above, you can see how we have used our brand idea tool to develop Viking Cruises's brand idea: "We help you comfortably explore our world where new discoveries blend with unparalleled luxury and high-touch service."
Viking Cruises = Comfortable Exploration
These words capture the unique selling proposition of Viking Cruises: they provide an exploration-rich journey without compromising on comfort. These two words blend two of Viking Cruises' core attributes. 
"Comfort" speaks to their vessels' luxury, tranquility, and top-tier service. 
"Exploration" encapsulates their immersive, enriching travel experiences with excursions that dig deep into each destination's culture, history, and essence. \
How Viking delivers comfortable exploration
An organizing brand idea simplifies everything. It's not just for the consumer but for everyone who works behind the scenes of the brand. The brand idea represents the inner soul of the brand, but helps project an ideal brand reputation. Our brand idea map helps organize everything and give your brand consistency. To illustrate, click to zoom in.
To illustrate, click on the brand idea tool above as part of our Viking Cruises case study.
Use the brand idea to steer everyone who works on the brand
The best brands consistently deliver. Use a cross-functional team, including salespeople, R&D, human resources, finance, and operations. Their participation is one way to gain their buy-in. But that's not where it stops. 
Use your internal brand communications tools to drive a shared definition. Get everyone to articulate how their role delivers the idea. Give the external and internal brand story equal importance to the consumer experience you create for your brand.
Organizing Brand Idea Map
We use our Brand Idea Map to stretch the brand idea across all consumer touchpoints. We include the brand promise, brand store, new product innovation, purchase moment, and the consumer experience. Our Viking Cruises Case Study uses our Brand Idea map below.
To illustrate, click on the Viking Brand Idea Map above as part of our Viking Cruises case study.
Brand promise: 
Using the brand idea to inspire a simple brand promise separates your brand from competitors. Essentially, position your brand as better, different, or cheaper. For Viking Cruises, their brand promise is the "Immersive discovery of the world's most interesting places with unmatched luxury and attentive service."
Brand story: 
When you use a brand story to bring the brand idea to life, it helps motivate consumers to think, feel, or act while it works and establishes the ideal brand's reputation to be held in the minds and hearts of the consumers. Above all, the brand story aligns all brand communications across all media options. For Viking Cruises, their brand story is "Exploring world wonders with unparalleled comfort. Luxury and discovery seamlessly combined."
Innovation: 
Using the brand idea to build a fundamentally sound product helps stay at the forefront of trends and technology to deliver innovation. Furthermore, steer the product development teams to ensure they remain true to the brand idea. For Viking Cruises, the brand idea drives the innovation: "Our cutting-edge ships take you on a journey of curated excursions to the world's most beautiful locations."
Purchase moment: 
Using the brand idea to move consumers along the purchase journey to the final purchase decision helps align the sales team and set up retail channels. Viking Cruises manages the purchase moment by saying, "Booking your voyage is effortless with all-inclusive and transparent pricing. Our team is here to assist."
Consumer experience: 
Finally, turn the usage into a consumer experience that becomes a ritual and favorite part of the consumer's day. As a result, the brand idea guides the culture of everyone behind the brand who delivers the experience. For Viking Cruises, their brand idea steers the consumer experience in this direction: "Experience our historical exploration with curated excursions backed by luxurious service."
Take a look at the many luxuries of the Viking ships
To illustrate, click to see many Viking luxuries they offer throughout their ships. Part of our Viking Cruises case study.
M   A   R   K   E   T   I   N   G        B   O   O   K
The playbook for how to create a brand your consumers will love
Beloved Brands is your secret weapon to guide you through every challenge that you face in managing your brand
Get ready to challenge your mind as we take you on a deep dive to find the most thought-provoking strategic thinking questions that will help you see your brand in a whole new light.
Our unique process for defining your brand positioning will push you to find fresh ideas and new possibilities for how to differentiate your brand based on both functional and emotional benefits.
But we won't just leave you with ideas – we show how to transform your thinking into action.
Learn how to write a brand plan that everyone can follow, ensuring that all stakeholders are aligned and contributing to your brand's success.
We'll walk you through the marketing execution process, from writing an inspiring brief to making smart and breakthrough decisions on both creative advertising and innovation.
And when it comes to analyzing your brand's performance, we've got you covered. Learn how to conduct a dive deep audit on your brand to uncover key issues that you never knew existed.
And, don't just take our word for it: our Amazon reviews speak for themselves.
With over 85% of our customers giving us a glowing five-star rating and an overall rating of 4.8 out of 5.0, we know we're doing something right. And with numerous weeks as the #1 bestseller in brand management, you can trust that we have the experience and expertise to help you achieve success.
"The cheat code for brand managers!"
"It is without a doubt the most practical book for those who want to follow brand management that I have ever read in my life! Beloved Brands is written by a real, experienced marketeer for marketers. This book contains methodologies, tools, templates and thought processes that Graham actually used and uses in his career."
Read our sample chapter on strategic thinking

Viking people deliver their brand
Viking is clearly a consumer-experience-led brand.
When the consumer experience is your brand's lead strength, the strategy and organization should focus on creating a link between your culture and brand. Make sure your capabilities line up by investing in your people. They are your product. 
Use your brand purpose ("Why you do what you do") and brand values to inspire and guide the service behaviors of your people. Then, build a culture and organization with the right people who can deliver incredible experiences. 
Experience-led brands need to be patient with how fast they build the brand, as the quick mass media approach might not be as fast or efficient as the product-led or idea-led brands. The most effective communication tools for consumer experience-led brands include word of mouth, earned media, social media, online consumer reviews, the voice of key influencers, and consumer testimonials. These brands can make a mistake if they put too much emphasis on price, which can diminish the perceived consumer experience. 
Your brand idea should steer your culture. Read more. 
What Viking does for their people
1. Internal Culture:
At the heart of our Viking Cruises case study, it's important to show how it emphasizes family values, with many of its employees often referring to their colleagues as the "Viking Family." This culture of camaraderie and unity is important on cruise ships, where staff often live and work in close quarters for extended periods. By fostering a sense of belonging and mutual respect, Viking ensures that its staff are motivated to deliver their best.
2. Training and Development:
Viking Cruises invests heavily in staff training. This includes both hard skills relevant to their specific jobs and soft skills that revolve around guest relations and customer service. Viking guarantees consistent service across its fleet by ensuring its staff are well-trained.
3. Stated Purpose and Brand Values:
Viking's chairman, Torstein Hagen, has often emphasized the company's focus on cultural enrichment and exploration. The company's slogan, "Exploring the World in Comfort," reflects its dual emphasis on immersive travel experiences and unparalleled onboard comfort. They consistently deliver their brand message to customers and employees, ensuring all stakeholders understand and align with Viking's mission.
4. Translating Values into Customer Experience:
The emphasis on cultural enrichment is evident in every aspect of a Viking cruise. This includes the onboard lectures, the curated shore excursions, and the destination-driven dining. Employees play a crucial role in delivering this experience. Viking Cruises ensures that they are well-versed in the brand's values and mission and that every guest interaction reinforces its unique selling proposition.
5. Employee Feedback and Continuous Improvement:
Feedback is a vital aspect of Viking's operations. Regular reviews and feedback sessions ensure that employees have a voice within the organization. Viking Cruises can quickly adapt and improve its offerings by listening to its crew members on the frontline of guest interactions.
6. Employee Welfare:
In the competitive cruise industry, retaining top talent is crucial. Viking recognizes this and invests in the welfare of its employees. This includes competitive compensation, opportunities for advancement, and ensuring that living conditions on the ships are comfortable and conducive to rest and relaxation.
At the heart of the Viking Cruises case study, we have shown how its internal culture is shaped by its brand values and commitment to its guests and employees. By fostering a positive work environment, investing in training and development, and maintaining an open communication channel with its staff, Viking ensures that its internal culture translates into an unparalleled customer experience. 
My experience with Viking
In 2022, my wife and I went on a Viking tour of the Mediterranean Sea from Venice to Barcelona. The highlight for us was clearly the tours in each of the stops. Most were 3-4 hours in length and not very taxing. We learned a lot in each tour, almost like a University trip to the museum. Stops in Croatia, Greece, Italy, France and Spain. 
We were not your typical cruise people, but we loved the ship—amazing food, whether in the restaurant or cafeteria setting, backed by outstanding and attentive service. Our room was incredible, the balcony giving us a nice airy feel and the opportunity to see the beautiful landscapes from the ship. We loved the indoor pool. We even went for an afternoon tea for fun. The price tag is quite high but over-delivered against our high expectations. 
To illustrate, click on any of our photos from our trip on the Viking Cruise.