If you think you play in a challenging category, this is the perfect case study to challenge your thinking. Telecommunications consumers are the angriest, most frustrated and disappointed consumers. It's likely as bad as the airline industry. As a result, many of the telecom brands are the most hated in the marketplace. Do they care? Not enough. Especially as AT&T and Verizon see themselves with a duopoly that almost dares you to go with the "just as bad" competitor. About five years ago, T-Mobile entered the market and took advantage of all the hatred, using the "un-carrier" brand positioning. What looked like an insurmountable strategy against the giants has become easy pickings each year for their aggressive growth plan.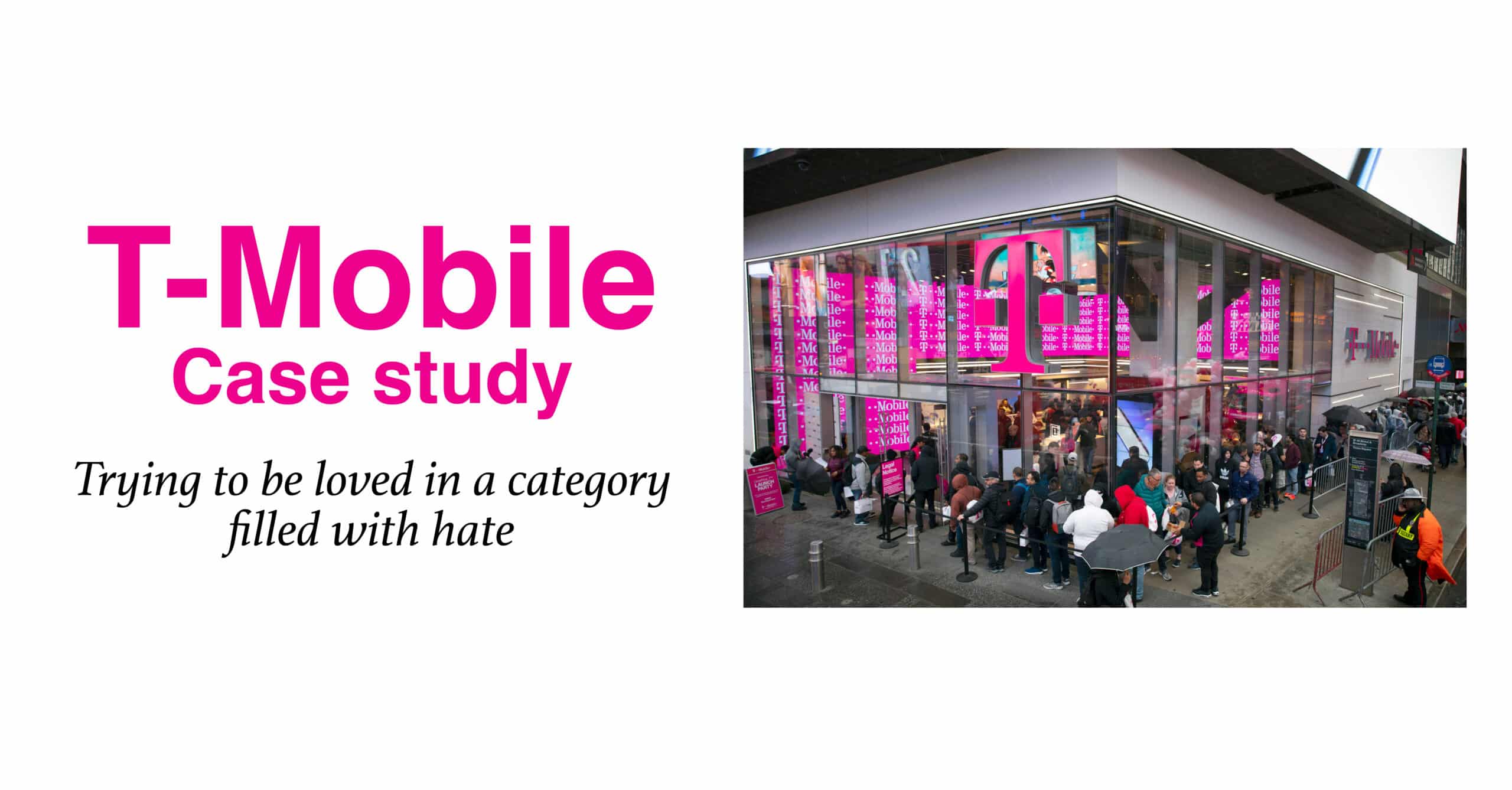 When T-Mobile's so-called crazy CEO says, "I'm all about customers and employees" that doesn't sound so crazy at all. That crazy CEO takes the opposite approach to everything AT&T and Verizon do, backed up by an exceptional customer service idea that lays beneath the surface. If you think marketing is just about logos and advertising, think again. Customer service is the secret sauce for T-Mobile, and the culture they have created allows them to deliver exceptional service.
This is a great case study to show how a brand needs to inspire their culture to deliver.  Moreover, this case study shows that happy customers will lead to higher growth and higher profits.
Disruptor strategy using "un-carrier" moves
It all started with the consumer enemy of "frustration" when T-Mobile said they are going to fix a stupid, broken, arrogant industry. Their first move back in 2013 was the "un-carrier" move to no contracts. This is a classic disruptor strategy which makes the main competitors (AT&T and Verizon) look disconnected from what consumers want.
To illustrate, click on the T-Mobile Brand Strategy diagram above to zoom in.
While everyone wants a game-changer, it is a high-risk, high-reward competitive situation. The trick is you have to be "so different" to catch the consumer's attention and mindshare. Being profoundly different increases the risk you may fail. Also, your success may invite other entrants to follow. At that point, you become the new power player of the new segment. You have to continue attacking the major players while defending against new entrants who attack your brand.

New T-Mobile "un-carrier" move every six months:
1.0: Launch of no contracts

2.0: "Jump" allowed customers to upgrade their phone up to two times per year, by trading in their phone to purchase a new one at the same price as a new customer.

3.0: enabled free international roaming.

4.0: launched the get out of jail where they agreed to pay your early termination fees from the competitors.

5.0: gave consumers a chance to try out a new phone for a week.

6.0: "Music Freedom" with data used on certain streaming music services would no longer count to users' data limits.

7.0:  partnered with Gogo inflight internet for free texting on all flights using Gogo.

8.0:  "Data Stash" lets users carry over unused high-speed data usage for up to one year.

9.0: Business program, allows every line unlimited talk and text, 1GB of data

10.0: "Binge-on" allows users to watch streaming services without counting towards their data

11.0: Tuesday free stuff, including Dominos pizza, Lyft credits, Wendy's Frostys

12.0: Unlimited everything with unlimited talk, text, and data.

13.0: Eliminate wireless service and access fees in an effort to make the pricing more transparent.
Competitors can't keep up
Imagine how hard it is for AT&T and Verizon to make counter moves as T-Mobile picks apart one weakness at a time. It reminds me of the "I'm a Mac" TV ads, which made 66 spots to pick on every weakness by the PCs. To make things worse for AT&T and Verizon is the T-Mobile keeps flaunting his strategy right in the face of his fellow CEOs, who he constantly refers to as dumb-and-dumber.
It's all about the culture behind the brand
While T-Mobile has great Ads to get consumers in the funnel, they are trying to reinvent how they handle Customer Service. They recognize that easy questions are now done online, so the current calls are questions that are tough to handle.
They are now using a team approach focused on 4 questions in assessing the transformation over time: 
Are our customers happier?

Are they staying with us longer? 

And, are we deepening our relationship with them? 

Then are we making their service experience low-effort? 
These are great questions to ask, showing they are serious about being a loved brand.
Use the brand idea to drive every part of what you do
Brand leaders must manage the consistent delivery of the brand idea over every consumer touchpoint. Whether people are in management, customer service, sales, HR, operations, or an outside agency, everyone should be looking to the brand idea to guide and focus their decisions.
There are five main touchpoints that reach consumers, including the brand promise, brand story, innovation, purchase moment, and consumer experience. Regardless of the order, they reach the consumer; if the brand does not deliver a consistent message, the consumer will be confused and likely shut out that brand. While brands cannot control what order each touchpoint reaches the consumer, they can undoubtedly align each of those touchpoints under the brand idea.
M   A   R   K   E   T   I   N   G        B   O   O   K
the b2b playbook for how to create a brand your customers will love
As a B2B marketer, you know that the key to driving growth is a strong brand. But how do you develop and execute a winning B2B brand strategy? Look no further than the B2B Brands playbook.
Prepare to think differently about your B2B brand strategy with B2B Brands. We want to challenge you with thought-provoking questions and take you through our process for defining your brand positioning. Our goal is to expand your mind to new possibilities for your brand by using real-life examples of successful B2B brand positioning strategies.
We'll start by showing you how to create a brand plan that's easy for everyone to follow, ensuring that all stakeholders understand how they can contribute to your brand's success. Moreover, we guide you through the creative execution process, including how to write an inspiring brief and make decisions to achieve smart and innovative communications.
Finally, we'll teach you new methods to analyze your brand's performance through a deep-dive business review.
Our B2B Brands playbook offers a wealth of knowledge and insights, including B2B case studies and examples to help you learn new techniques. It's no wonder that 85% of our Amazon reviewers have given us a 5-star rating. So, join us on this journey to unleash the potential of your B2B brand.
Take a read through our sample chapter on marketing decisions
How the brand idea stretches across the five consumer touchpoints
To illustrate, click on the T-Mobile Brand Strategy above to zoom in.
Brand promise:
Use the brand idea to inspire a simple brand promise that separates your brand from competitors, and projects your brand as better, different, or cheaper, based on your brand positioning. 

While the brand idea challenges the category to be better for customers, T-Mobile promises to deliver better coverage, capacity, and performance. This "un-carrier" idea allows them to deliver what they know their competitors cannot deliver. 
Brand story:
The brand story must come to life to motivate consumers to think, feel, or act while establishes the ideal brand's reputation to be held in the minds and hearts of the consumer. The brand story should align all brand communications across all media options. 

T-Mobile takes a super aggressive stance with competitors, going head to head. The CEO refers to AT&T and Verizon as "dumb and dumber" every chance they get. Their TV ads are highly engaging among boring competitor ads and are equally challenging as their CEO's voice. 
Innovation:
Build a fundamentally sound product, staying at the forefront of trends and technology to deliver innovation. Steer the product development teams to ensure they remain true to the brand idea. 

When you look up to the un-carrier 1.0 to 13.0, it's a constant form of innovation that is customer-centric, 10 steps ahead of the competition. 
Purchase moment:
The brand idea must move consumers along the purchase journey to the final purchase decision. The brand idea helps steer the sales team and sets up retail channels to close the sale. 

T-Mobile has made it easier to switch, whether it's the free trial week, paying the competitor cancellation fees or offering no contract. 
Consumer experience:
Turn usage into a consumer experience that becomes a ritual and favorite part of the consumer's day. The brand idea guides everyone who works on the brand to deliver great experiences. 

It seems T-Mobile is the 

only brand that understands customer experience means loyalty, more influencing of friends to switch over, and the temptation of new customers to join up.
Once you have your idea, you can begin matching up brand values to deliver that idea.
Frontline first, customers are first.

Play to win and have fun.

Results matter. Count on me to deliver.

Be bold. Think big. Make a difference.

Do it the right way.
To illustrate, click on the T-Mobile brand values diagram above to zoom in.
Customer Service that closes the leaks in your leaky bucket
While many think marketing is about putting consumers into the funnel, you should also be analyzing why your consumers can fall out of the funnel at any moment. This tool forces you to look at the various stages a consumer goes through as they move along the brand love curve, and then analyze why they exit your brand.
To illustrate, click on the T-Mobile customer service diagram above to zoom in.
New structure leads to a new type of teamwork
What T-Mobile figured out was customers were opting to use the self-serve options for the easy customer service issues, which meant those that reached the customer service reps were all difficult to solve. T-Mobile restructured its teams, moving from a one-on-one customer service approach to a team approach. Each rep was now part of a team, and they could access peers or tech specialists to solve these difficult challenges. They also had access to coaches, who were super reps and could join in and provide solutions.
To illustrate, click on the T-Mobile customer service diagram above to zoom in.
You can see the impact of the shift. As they solved issues as a team, there were 71% fewer transferred calls and 31% escalated calls to a superior. As a result, the apology credits went down 31% and the lost customers went down 25%. All the effort to get consumers into the funnel is wasted if you can't keep them in. The big result is happier employees and happier customers. The net promoter scores went up 56%.
The results
From all the sales growth T-Mobile has generated, they have doubled their share price in the past five years, while AT&T has not seen any growth, even with the tremendous stock market growth the past 2 years.
To illustrate, click on the T-Mobile results diagram above to zoom in.
Our brand toolkit for B2B brands is our most comprehensive template helps you communicate your brand plans, brand positioning, business review and creative briefs.
Our brand plan template  offers slides for vision, purpose, analysis, key issues, strategies, and execution plans, ensuring a thorough approach to your brand's development. The brand positioning template guides you through defining your target profile, crafting a brand positioning statement, and developing a unique brand idea, concept, values, story, credo, and creative brief. Finally, our business review template provides slides for in-depth analysis of the marketplace, customers, competitors, channels, and your brand.
Choose the right template for your business needs
One of the most important skills marketers need to know is the fundamentals of writing a brand concept. Read our step-by-step process for how to create a brand concept that brings your brand to life. Learn how to lay out the brand concept with the brand idea, consumer insights, main message, support points and call-to-action.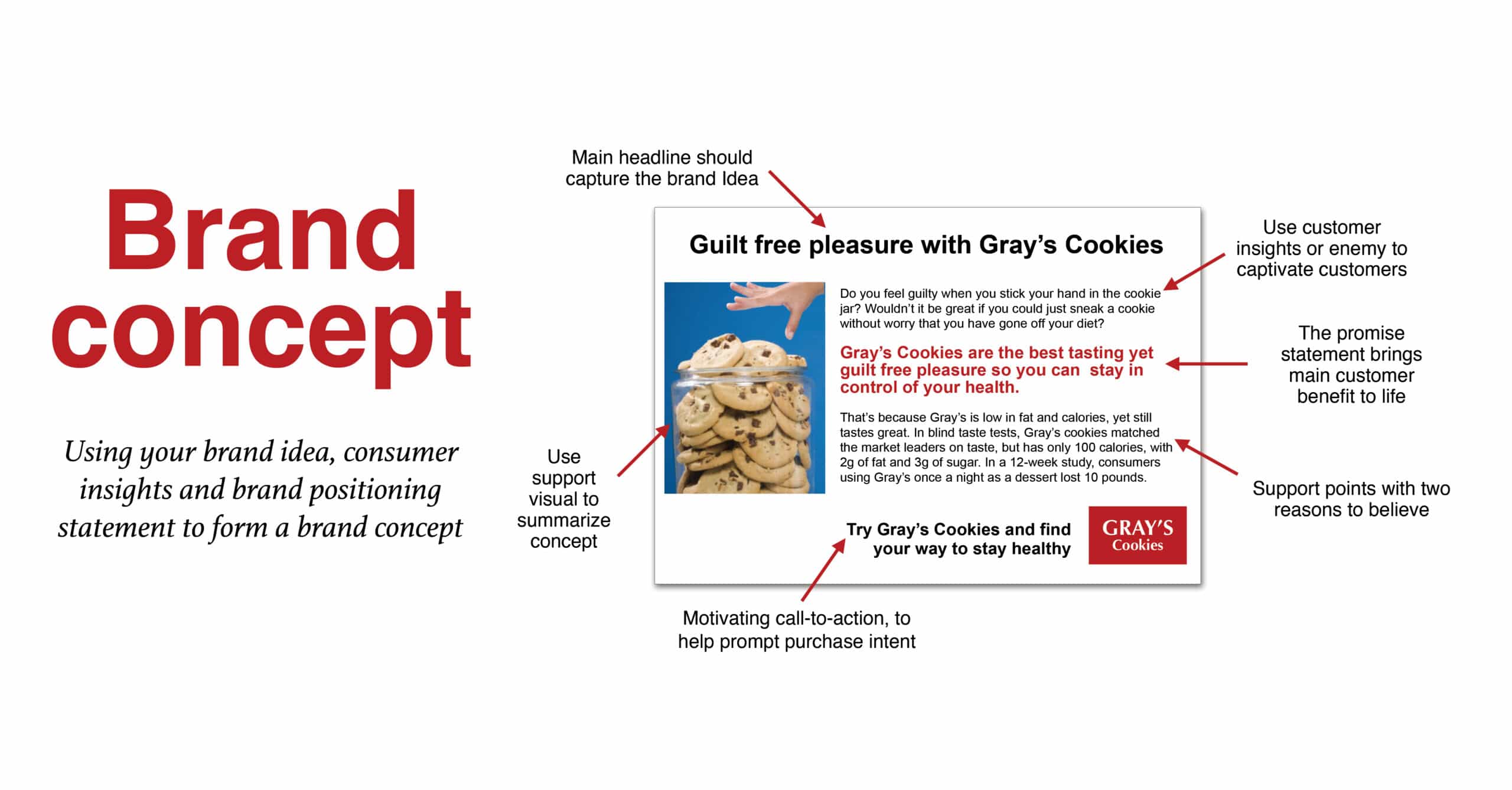 To illustrate, click on the diagram above to zoom in.
On a classic marketing team, there are four key levels:

Assistant Brand Manager.
Brand Manager.
Marketing Director or Group Marketing Director.
VP Marketing or CMO.
To illustrate, click to zoom in on the brand management career pathway. 
At the Brand Manager level, it becomes about ownership and strategic thinking within your brand plan. Most Brand Managers are honestly a disaster with their first direct report, and get better around the fifth report.
When you get to the Marketing Director role, it becomes more about managing and leading than it does about thinking and doing. To be great, you need to motivate the greatness from your team and let your best players to do their absolute best.
And finally, at the CMO level, you must create your own vision, focus on your people to make them better and shine, drive the business results, and run the processes.
Our Beloved Brands Marketing Training program will make your team smarter.
If you are running a marketing team, you will always benefit from having a smarter team. When you invest in our marketing training program, you will help your team gain the marketing skills they need to succeed. As a result, you will see them make smarter decisions and produce exceptional work that drives business growth.
We'll work with your team to help them learn more about the five core marketing skills: Strategic Thinking, Brand Positioning, Marketing Planning, Marketing Execution, and Brand Analytics. Most importantly, your marketers will learn new tools, concepts, and ideas to trigger new thinking. To help their skills, we get participants to take each tool on a test run. Then, we give feedback for them to keep improving. 
To illustrate, click to zoom in on the brand management career pathway. 
Strategic Thinking:
Our marketing training teaches brand leaders how to ask tough strategic questions to slow everyone down and engage in debate of options to move forward. To start, you will be given various tools to approach strategy in a thoughtful, analytical way. Importantly, marketers need learn how to change brain speeds to move from a strategic thinker style to uncover what is holding back a brand, and onto an instinctual thinker style on marketing execution.
We introduce our Strategic ThinkBox that allows marketers to interrogate their brand. Importantly, our ThinkBox pushes you to take a holistic look at the brand's core strength, competitive landscape, tightness of the consumer bond, and business situation.
Brand Positioning:
Our brand positioning process teaches how to decide on the target market, consumer benefits, and reasons to believe. To start, you will learn to define the ideal consumer and frame the definition with their biggest needs, consumer insights and their enemy. Then, we provide our benefit cheatsheets to help learn how to discover the functional benefits and emotional benefits that a brand can deliver. Importantly, marketers need to make a decision on trying to stake out a unique space that is motivating to consumers, and ownable for the brand.
Learn to use our brand idea tool and see how it helps to communicate the brand idea to everyone across the organization. Finally, marketers will learn how to take the brand positioning work and translate it into a brand concept, brand story, and a brand credo.
Marketing Plans:
We see the marketing plan is a decision-making tool on how a brand will spend their limited resources. Moreover, the marketing plan communicates the expectations to everyone who works on the brand. Importantly, we teach marketers how to put together the vision, purpose, goals, key issues, strategies and marketing execution plans.
Learn how to write key issue questions and strategic statements that forms the foundation of the marketing plan. In addition, our marketing training provides various marketing planning templates including our one-page brand plan and ideal Marketing Plan presentation deck.
Marketing Execution:
Our marketing execution training starts with the concept of our Marketing PlayBox that matches up to the Strategic ThinkBox. To keep marketers on strategy throughout the execution stages, our Marketing PlayBox helps find in-the-box ideas that meet four dimensions: they are focused on our target, fit with the brand, deliver the message, and execute the strategy.
To start, we show how the creative brief sets up the PlayBox, serving as the bridge between the plan and execution. We go through the creative brief line-by line and give you examples of the best and worst. Importantly, you will learn to use our Creative Checklist to help make smarter decisions on creative communications. We workshop how to give feedback to your agency based on gaps you see with the checklist.
Learn to make media decisions that match up to your consumer's purchase journey. In addition, we provide a similar Innovation Checklist to compare innovation ideas.
Brand Analytics:
Our comprehensive brand analytics training teach brand leaders how to lead a deep-dive business review. We outline the best analytical thinking so you can become a well-rounded marketer.
Learn to look at the marketplace, consumer analytics, channels of distribution, competitors or other brands in their industry. And, learn assess the brand itself. Importantly, you will learn how marketing funnels can help assess the brand's performance. We provide 64 analytical questions that marketers can ask of their brand. Finally, we show how to understand the financial performance indicators of the brand.
Take a look at our Marketing Skills assessment tool to see how you or your marketing team measure up.
For more information on our Beloved Brands Marketing Training programs, click below or email Graham Robertson at [email protected]
What type of marketer are you?
We believe that marketers learn best when they see our marketing concepts applied to brands that look like their own. We have come up with specific examples – consumer, B2B and healthcare – to showcase our marketing tools. Click on the icon below to choose your interest area.