Social media can be an important medium for brands to express themselves and connect with consumers in a more personal way. However, not every company has a good social media strategy. Many marketers are unsure what kind of content to post. They are unsure how often they should post as the execution side of your social media plan.
The key to a successful social media strategy starts with figuring out how much you will invest in your people resources. You need to determine the strategic objective of social media, choose the right channels for that metric, then develop content that will resonate with that audience and deliver the best results for your business.
A successful social media strategy can grow your brand's business results by tapping into its potential of being able to reach consumers in a personal way, more than any other medium.
And, social media is not just for consumer brands but can work effectively for B2B, healthcare, technology, or employer brands.
Strategic objective of your social media plan
A smart social media plan starts with one very clear objective. Bad strategies try to accomplish too many things at once. The brand needs to know what they want to achieve before they get started with the campaign. Some of the objectives might be to raise awareness. Or, to engage with consumers to increase loyalty. Your strategy can be to spread key information about your brand. You can try to be shared with influence throughout your brand fans audience. Or, you can get people excited about a new product release.
The reasons you should strategically invest in social media include:
Discovery of a new brand message you know will motivate consumers to buy your brand.
Identified change in consumer needs, motivations, or behaviors, which will benefit your brand.
Shift the competitive dynamic, with an opportunity to make gains or a necessity to defend.
Continue to fuel brand growth with a window to drive brand profits.
New distribution channel you can use to move consumers through before competitors do.
The launch of a breakthrough product innovation offering a competitive advantage to your brand.
To make the social media investment pay off, you need to be able to drive a performance result that pays back with an increase in brand power you can use in the future or an immediate increase in brand profit.
M   A   R   K   E   T   I   N   G        B   O   O   K
The playbook for how to create a brand your consumers will love
Beloved Brands is your secret weapon to guide you through every challenge that you face in managing your brand
Get ready to challenge your mind as we take you on a deep dive to find the most thought-provoking strategic thinking questions that will help you see your brand in a whole new light.
Our unique process for defining your brand positioning will push you to find fresh ideas and new possibilities for how to differentiate your brand based on both functional and emotional benefits.
But we won't just leave you with ideas – we show how to transform your thinking into action.
Learn how to write a brand plan that everyone can follow, ensuring that all stakeholders are aligned and contributing to your brand's success.
We'll walk you through the marketing execution process, from writing an inspiring brief to making smart and breakthrough decisions on both creative advertising and innovation.
And when it comes to analyzing your brand's performance, we've got you covered. Learn how to conduct a dive deep audit on your brand to uncover key issues that you never knew existed.
And, don't just take our word for it: our Amazon reviews speak for themselves.
With over 85% of our customers giving us a glowing five-star rating and an overall rating of 4.8 out of 5.0, we know we're doing something right. And with numerous weeks as the #1 bestseller in brand management, you can trust that we have the experience and expertise to help you achieve success.
"The cheat code for brand managers!"
"It is without a doubt the most practical book for those who want to follow brand management that I have ever read in my life! Beloved Brands is written by a real, experienced marketeer for marketers. This book contains methodologies, tools, templates and thought processes that Graham actually used and uses in his career."
Read our sample chapter on strategic thinking

Social media starts with understanding your consumer
The target market is considered to be the group of people who are most likely to purchase the goods or services being offered. It's important for brands to figure out who their target market is, because it can make or break their business.
A good social media strategy uses a combination of demographics, behaviors, and attitudes, and links how a cookie could fit into other parts of their healthy lifestyle.
To make your target more interesting, use consumer insights. Consumer Insights come to life when you start them with the word "I" to force yourself to get in the consumer's shoes and then put them in quotes to begin to use the consumer's voice. 
Many brands don't take full advantage of all the insight they have about their consumers. Many companies are data rich, and insight poor. They don't know enough about what they need, what they want, and how to engage them better. Unable to translate all your data can lead to a disconnect between the company and its customer base.
Marketers Guide to OmniChannel Media
To illustrate, we go through 14 different media choices with when to use and what cautions to be aware of:
📺 𝗧𝗵𝗲 𝗖𝗹𝗮𝘀𝘀𝗶𝗰𝘀: Starting off with the timeless titans – TV, Out-of-Home, and Print. Why are they still relevant, and when should you lean on them?
🌐 𝗗𝗶𝗴𝗶𝘁𝗮𝗹 𝗗𝗶𝘃𝗲: From Digital Display to the mesmerizing realm of Digital Video and harnessing the power of your own video content. The digital domain awaits!
📲 𝗦𝗼𝗰𝗶𝗮𝗹 & 𝗕𝗲𝘆𝗼𝗻𝗱: Navigating the bustling streets of social media, leveraging user-generated content, and mastering the art of PR. We've got the roadmap!
💻 𝗖𝗿𝗲𝗮𝘁𝗶𝗻𝗴 𝗬𝗼𝘂𝗿 𝗢𝗻𝗹𝗶𝗻𝗲 : Ever contemplated when it's prime time to establish your own website? How about acing content marketing or optimizing for SEO? We've got the answers!
To illustrate, click X to expand the document and then the > to view each page.
A smart social media plan uses the brand idea that organizes everything we do. The plan should build on the brand's creative and strategic assets. 
A smart social media post should focus on one main message, bringing elements of the consumer benefit to life. Come up with a list of themes you wish to portray. 
Here are five potential themes for your social media posts: 
Establish the brand positioning

Communicate the brand story
Support the purchase moment
Launch new product Innovation
Highlight exceptional consumer experiences
To illustrate, click on the diagram to zoom in. 
How connected is your brand?
For unknown or indifferent brands, invest in the early part of the consumer journey, with media focused on building awareness to establish the brand positioning in the mind of consumers to separate your brand from the pack. You also need to get your brand into the consumer's consideration set.    
Brands at the like it stage must separate themselves from others, to build momentum and create a following. Focus on closing the deal, by motivating consumers to buy. You can use search tools and deal-closing claims at the point of sale to resolve any remaining doubts.  
As your brand becomes more loved
Brands at the love it stage must turn your consumer's repeat purchases into higher usage frequency and become a favorite part of your consumer's day. The creative must instill emotional benefits, linked closely to the consumer's life moments. An excellent tool to use is to map out the "day-in-the-life" of your target consumer and place messages where they are most likely to engage. 
At the beloved brand stage, you should begin shifting to a maintenance media plan, enough to maintain your brand's leadership presence and perception. Stay aware of the competitive activity, which may force you to adjust your budget levels. At this point, you can shift some of your media resources into enhancing the consumer experience, to retain your happy consumers, and to drive a deeper love to harness an army of brand lovers. You can begin creating shareable experiences for your brand lovers to share with their friends. 
To illustrate, click on the diagram to zoom in. 
Influencers in your social media plan
Old-school marketing used to yell their messages at every possible consumer using mass media, then move consumers naturally through the brand funnel from awareness to purchase and loyalty. With so few media choices, consumers could not escape the advertising. If consumers did not respond the first time, show it to them again and again. Back in the 1970s, it was all about the interruption of consumers, with brands focused primarily on day-after brand recall. Many times, the more annoying the ad, the better it would work. This media planning is not quite the sophisticated media strategy brands need today.
To illustrate, click on the diagram to zoom in. 
New-school marketing whispers to the most loyal brand fans, hoping they drive awareness with influence to their friends. 
The word of a friend will bring more influence to their purchase decision than a random TV ad. As the brand moves to the masses, consumers look for the advice of trusted peers whom they respect to know enough about the latest and greatest of the category. They also look to the brand lovers, giving them evidence the brand does deliver what it promises. Every brand should consider how influencers fit into their social media plan
The role of influencers on the consumer adoption curve
I want to introduce the idea of a consumer adoption curve, which leverages four types of consumers:
Trend influencers
Early adopters
Early mass
Late mass  
I will use this thinking to show how brands can use influencers to trigger each type of consumer, as the brand evolves from the entry-level craft brand to the power player mass brand. 
To illustrate, click on the diagram to zoom in. 
The trend influencer consumers always want leading-edge stuff and are first to try within their social set. They stay aware of what the wise experts are saying, whom they trust or rely upon for knowledge. For brands competing in the car, sports, technology, fashion, entertainment, or foodie markets, there are leading expert reviewers or bloggers who have become the voice of the marketplace. Marketers who have a real revolutionary addition to the category should target and brief these wise experts to ensure they fully understand the brand story and point of difference. This information increases their willingness to recommend new products. 
Influencers are much more than celebrities
The early adopter consumers rely on their trend influencer friends for the details of new brands. However, they will also look to social icons as a secondary source for validation. These social icons could include movie stars, singers, or famous athletes. If the social icons are using the new product, this assures the early adopter the new brand is about to hit a tipping point. These consumers always want to stay ahead of the curve, so that they will adopt it now.
Early mass consumers look for the advice of trusted peers whom they respect within their network. These are the people we go to for advice on a given subject. The early mass also looks to early brand lovers for validation of proven success; This satisfaction level gives them evidence the brand does deliver what it promises. The late mass audience is slow to adopt; they look to friends for recommendations but only when they feel comfortable enough to buy the brand.
Where is your consumer open to listening?
Align your social media with the part of the consumer's life where they will watch, listen, learn, engage, decide, and act. Align with life moments, whether they are parts of the day, the week, the year, or even milestone moments in their life.
A smart tool for a social media plan is to map out the day-in-the-life of your consumer, to try to understand what they go through and where they might be most receptive to your message.
You can take this same tool and map it over the consumer's life, especially to tap into those life moments when people are most willing to reconsider brands. It might be a stage of life, such as going away to university or getting your first job or having your first child. Each life moment is a chance for brands to get consumers to reconsider their current choices.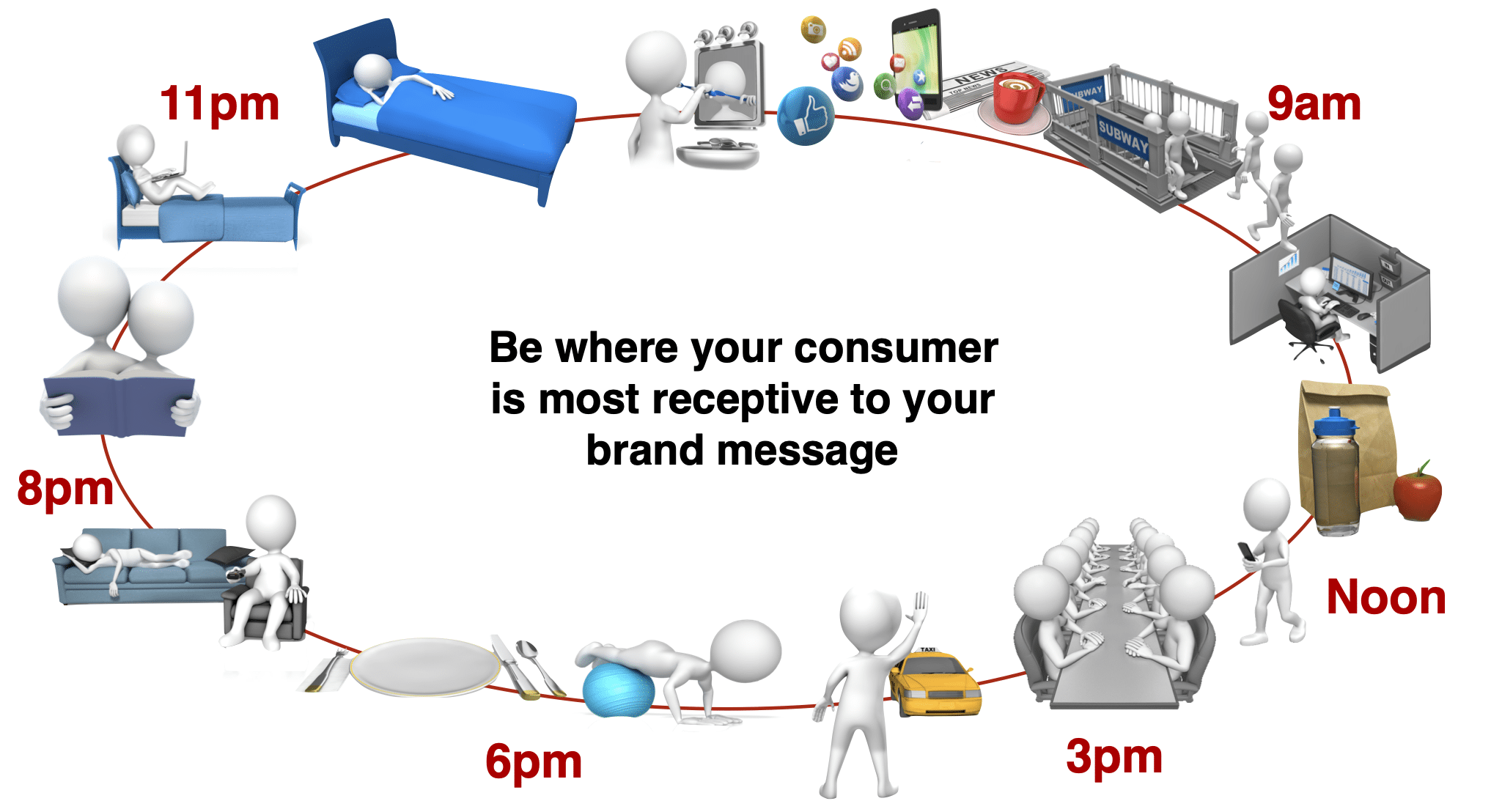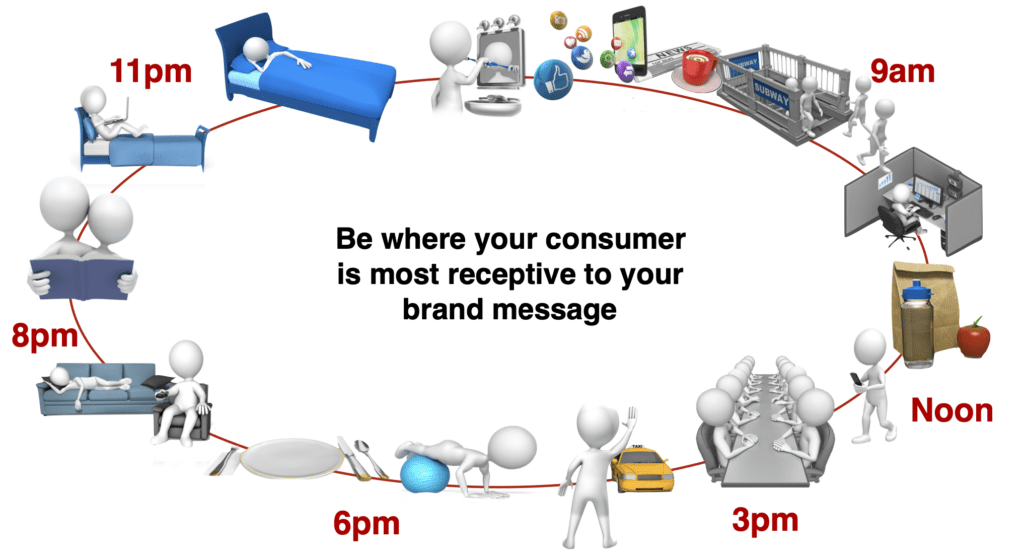 To illustrate, click on the diagram to zoom in. 
Look for the moments of accelerated needs (M.O.A.N.)
At certain moments in our customer's life, their physical and emotional needs will accelerate their openness and consideration certain products or services. Brands can win by capturing consumers right at these moments when their motivation is very high and their knowledge remains low.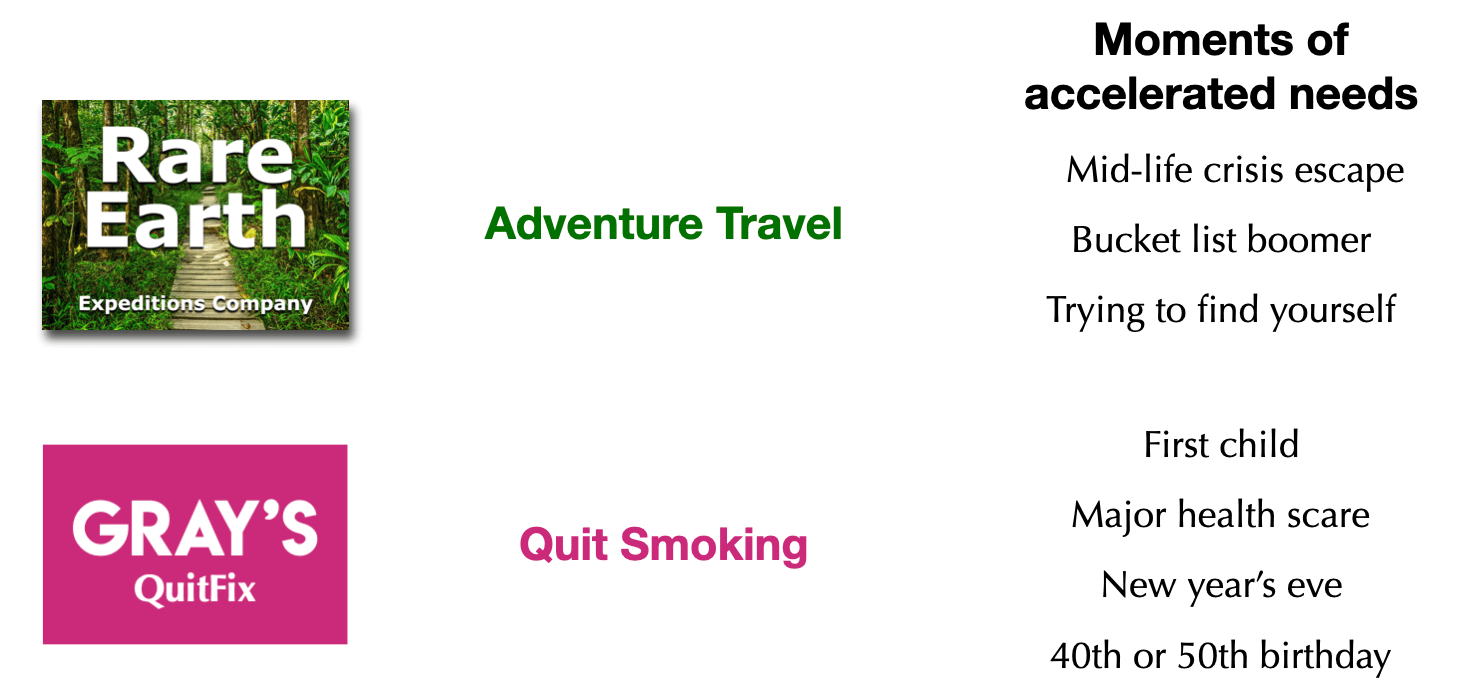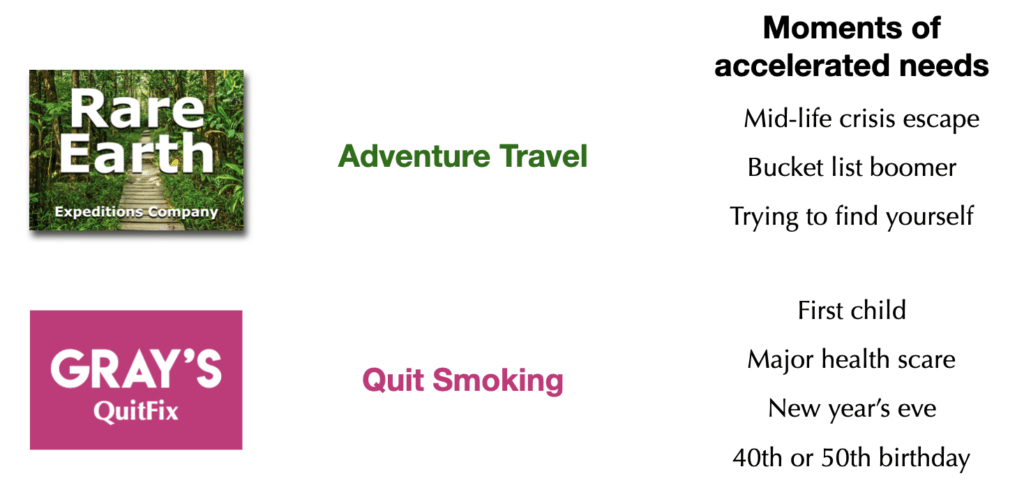 Executing your social media plan
It is important to create a content calendar for your social media site to help you stay organized and plan what type of content you want to publish, when you want to publish it, and how often. In this post, we will explore the best practices for setting up a content calendar.
Research the competitors' social media marketing strategy and tactics. A successful social media strategy and tactics is vital for any company today. Successful companies know that they need to be focused on creating content that their consumers want to see and share. This means having a strong social media presence, with quality content, optimized visual content, and a cohesive voice.
Ensure that you have a team in place that can execute social media efforts on a day-to-day basis, including monitoring for results and analytics reporting. Social media is live, and the best teams make adjustments as needed.
Define Tactics to Use for Each Channel in Your social media
Tactics to use for each channel in your social media are different. While the goals of the campaign are the same, strategies vary on each channel based on its features, audience, and goals. For example, on Facebook groups are not very popular but on Instagram you can build a community.
Some of the most important tactics for social media success include:
Monitoring your posts to see how they are performing
Creating captivating posts that will make people want to share them
Posting regularly so people will get used to seeing updates from you
Posting content appropriate to the platform
There are many different social media channels out there. Each channel has its own culture, tone, and demographic. They also have specific tools that can be useful whether it's graphics, videos, or copy. For this reason, it's important to create content that reflects these differences.
This helps you focus on ensure you can execute that lead channel with a high degree of excellence. You can use a social media sharing tool like Publer to schedule posts across many platforms. 
My own experience with a lead channel
For instance, my LinkedIn feed (50,000 followers) is my lead channel. I then use a scheduler to share posts on my 3 LinkedIn corporate pages (6,000 followers), Facebook (2,500 followers), and Twitter (4,000). Those smaller sites would be exhaustive to manage one-by-one, but quite easy with the sharing site. The downside to using the sharing tool is that the interactions can be less personal.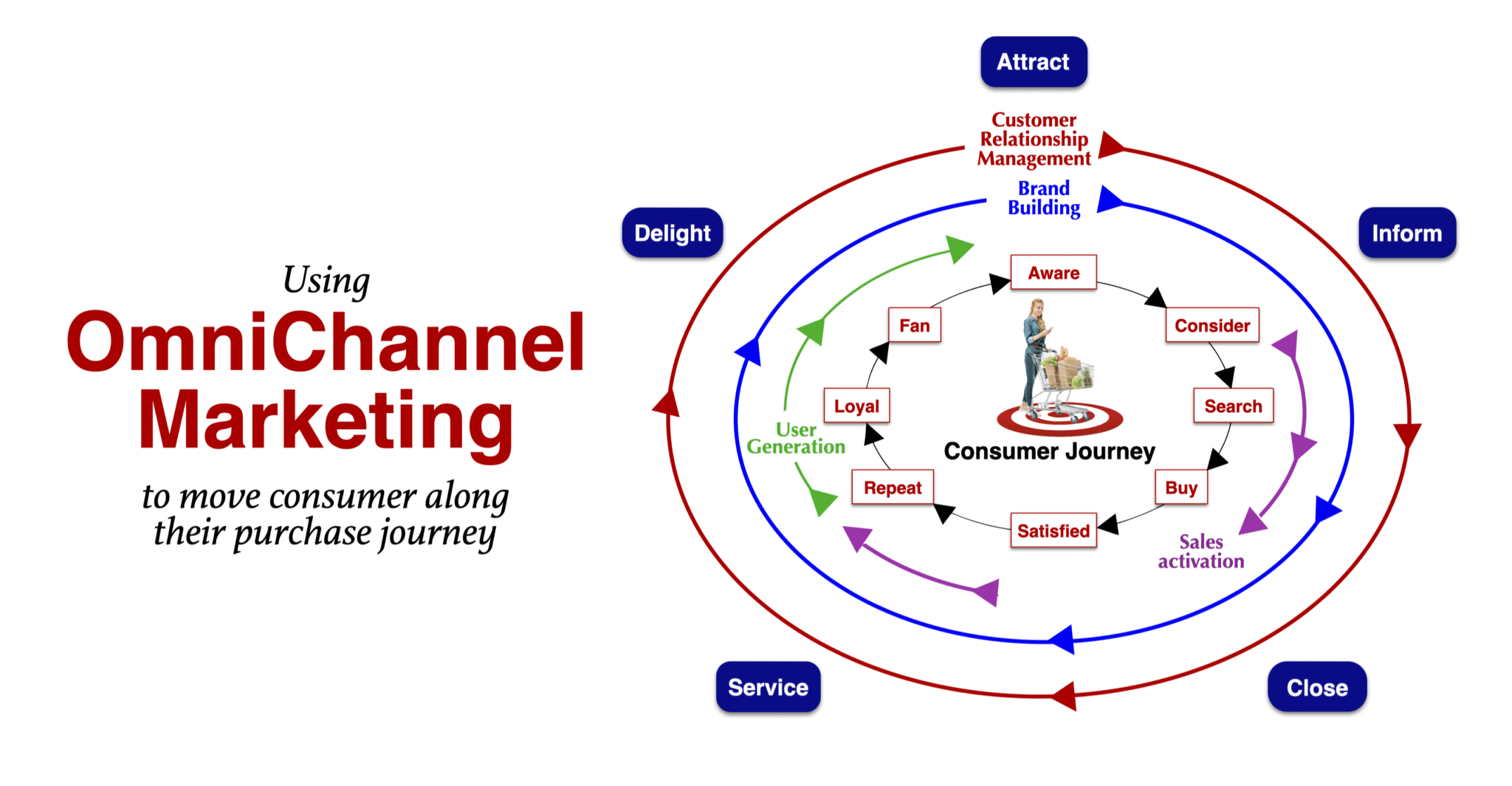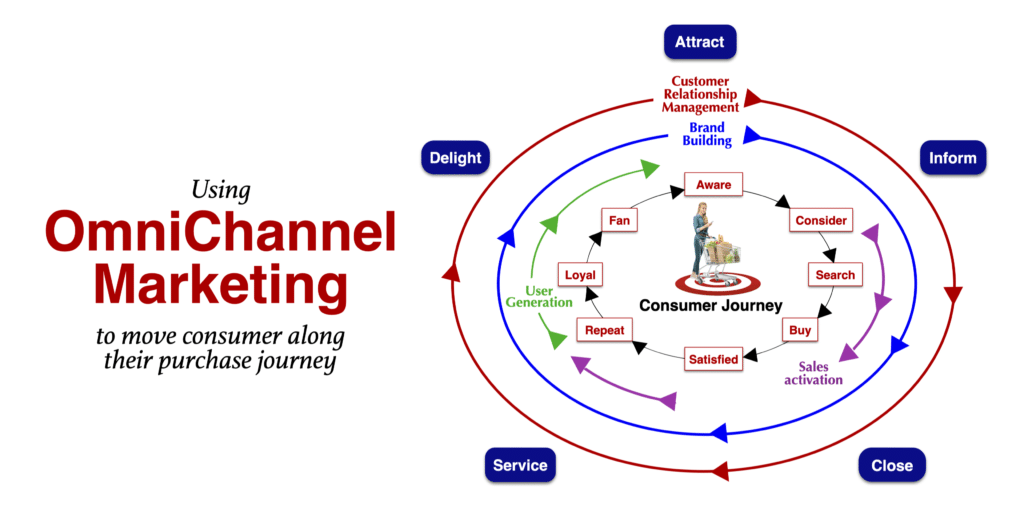 The ABC's of Advertising: Attention, brand link, communication stickiness
Here are four questions to ask:
To illustrate, click on the ABC's of advertising to see details.
The best marketing execution uses in-the-box creativity. Indeed, we believe there is great marketing execution that uses emotional advertising, humor, feel-good ads, and consumer insights. 
Importantly, we have posts on writing creative brief, running the advertising process, making advertising decisions, and media plans. 
Moreover, read how to conduct your own marketing research, and how to lead the innovation.