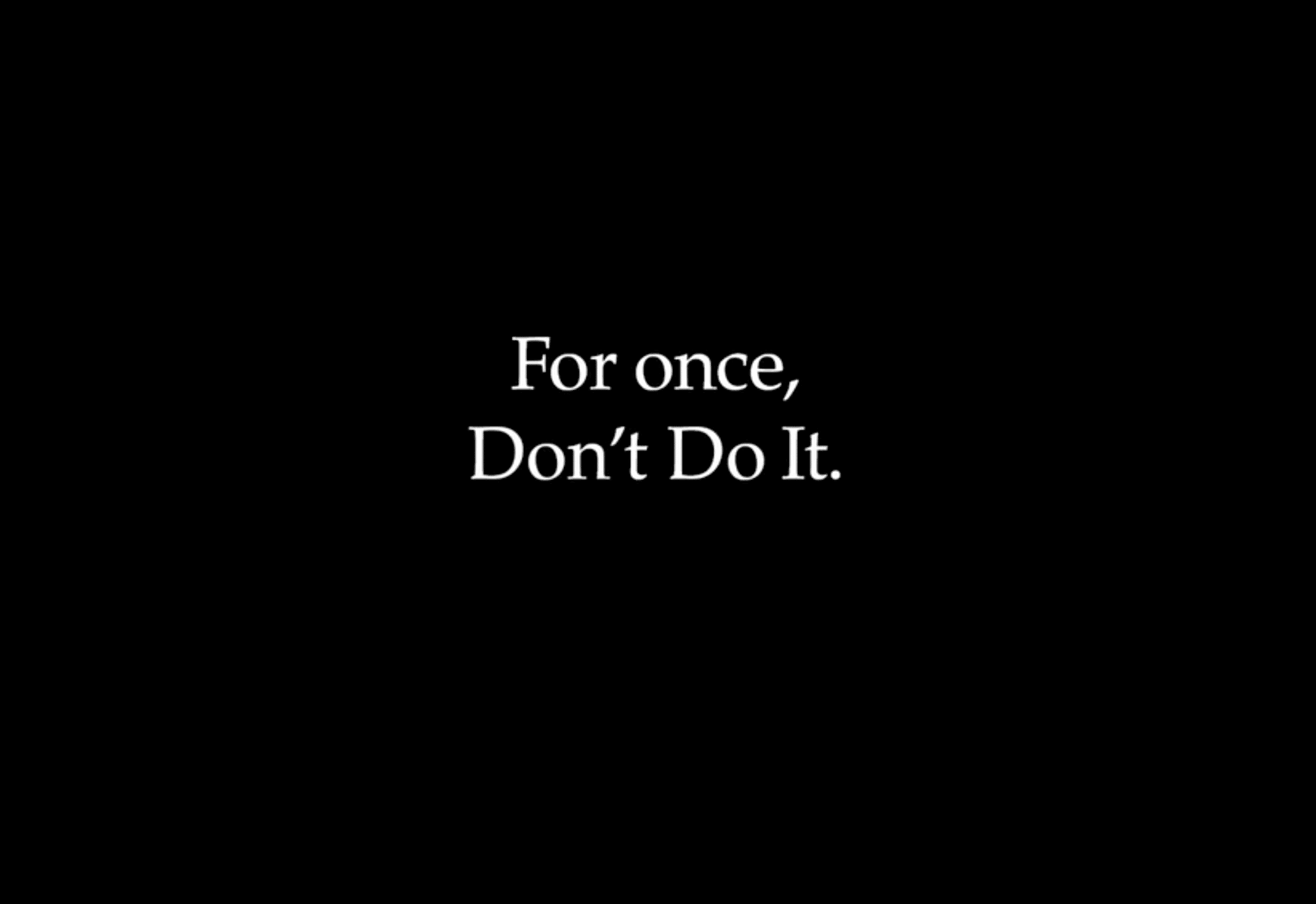 For once, don't do it. 
Don't pretend there's not a problem in America. 
Don't turn your back on racism. 
And, don't accept innocent lives being taken from us. 
Don't make any more excuses. 
Don't think this doesn't affect you. 
And, don't sit back and be silent.
Don't think you can't be part of the change.
Let's all be part of the change.
To view, use the ▶️ controls to play or volume buttons.
The ad builds on NIke's Colin Kaepernick ad
This don't do it ad isn't the first time the Nike has taken a stance on the race relations conversation. On the weekend before the 2018 NFL season, Nike released a powerful ad in support of Colin Kaepernick that prompted both praise and criticism from each side of the political aisles. Nike's stance has paid off as they appeal to a much younger audience. 
While Nike's stock price went down a few points over the few days after the ad launched, Nike saw significant sales growth and a resulting stock price up 25% over the next 18 months. 
To view, use the ▶️ controls to play or volume buttons.
Adidas has shown their support for don't do it
In case you are part of the cancel culture, you should check out this Adidas tweet in unprecedented support of their competitor. Mind you, Under Armour has remained completely silent. 
One problem I am seeing is that people found a way to change the narrative of Colin Kaepernick's protest. And, the same people are now finding a way to change the narrative of George Floyd's death. People are outraged and need to speak out.
How to predict advertising success
Let's take this creative thinking to a predictive advertising model, changing the creatively different to branded breakthrough, and the smart strategy becomes motivating consumers.  
The branded breakthrough is "how you say it." It uses creativity to capture the consumer's attention within the clutter of the market while linking your brand closer to the story. And, the motivating message is "what you say." You have to communicate the main message to connect with consumers memorably, so the ad sticks enough to move consumers to see, think, feel, or act differently than before they saw the ad.
To illustrate, click on the diagram to zoom in. 
When judging advertising, the most important thing I look for is to ensure the creative idea within the ad that drives the attention, tells the brand story, communicates the main benefit and sticks in the consumer's mind. Importantly, when you see a story, device, copy, or a visual that does not fit with the delivery, then you have a red flag. You run the risk that the creativity of the ad works against your objectives. 
The ABC's of Advertising: Attention, brand link, communication stickiness
Here are four questions to ask:
To illustrate, click on the ABC's of advertising to see details.
The best marketing execution uses in-the-box creativity. Indeed, we believe there is great marketing execution that uses emotional advertising, humor, feel-good ads, and consumer insights. 
Importantly, we have posts on writing creative brief, running the advertising process, making advertising decisions, and media plans. 
Moreover, read how to conduct your own marketing research, social media plans, and how to lead the innovation.  
Challenge yourself to get better at advertising
If you realized that how you show up as a client is the most significant factor in getting better advertising, would you show up differently? If so, then show up right.  

Be one of your agency's favorite clients. Essentially, never treat anyone like they have to work on your business. Without a doubt, inspire everyone to want to work on your brand. 

Undoubtedly, stay focused on one target, one strategy, one consumer benefit and one brand idea. For this reason, avoid the just in case list or adding one more thing.  

When writing a brief or providing feedback, resist controlling the creative outcome. Absolutely, give them your problems. And, never give them your solutions.

Importantly, be willing to fight anyone in the way of great work, even with your boss. You will start to see everyone on the team fight for you.  

LOVE your advertising, and never settle for OK. Never approve OK advertising that feels safe. What signal do you think it sends everyone involved? Unquestionably, Ok is contagious. 
Coca-Cola case study: Lessons from the best Coke ads of all time
Over the past 100 years, Coca-Cola has been the best advertising brand. Sure, Nike and Apple have battled for the best over the past 40 years, but they'd need to get to 2080 before challenging Coke. 
What you can learn from the best Apple Advertising of all time
Apple advertising has delivered "simplicity" since the 1970s. Apple's advertising has been relatively consistent for over 40 years and incredibly connected with consumers. You could build an Apple case study on the advertising alone. So we did!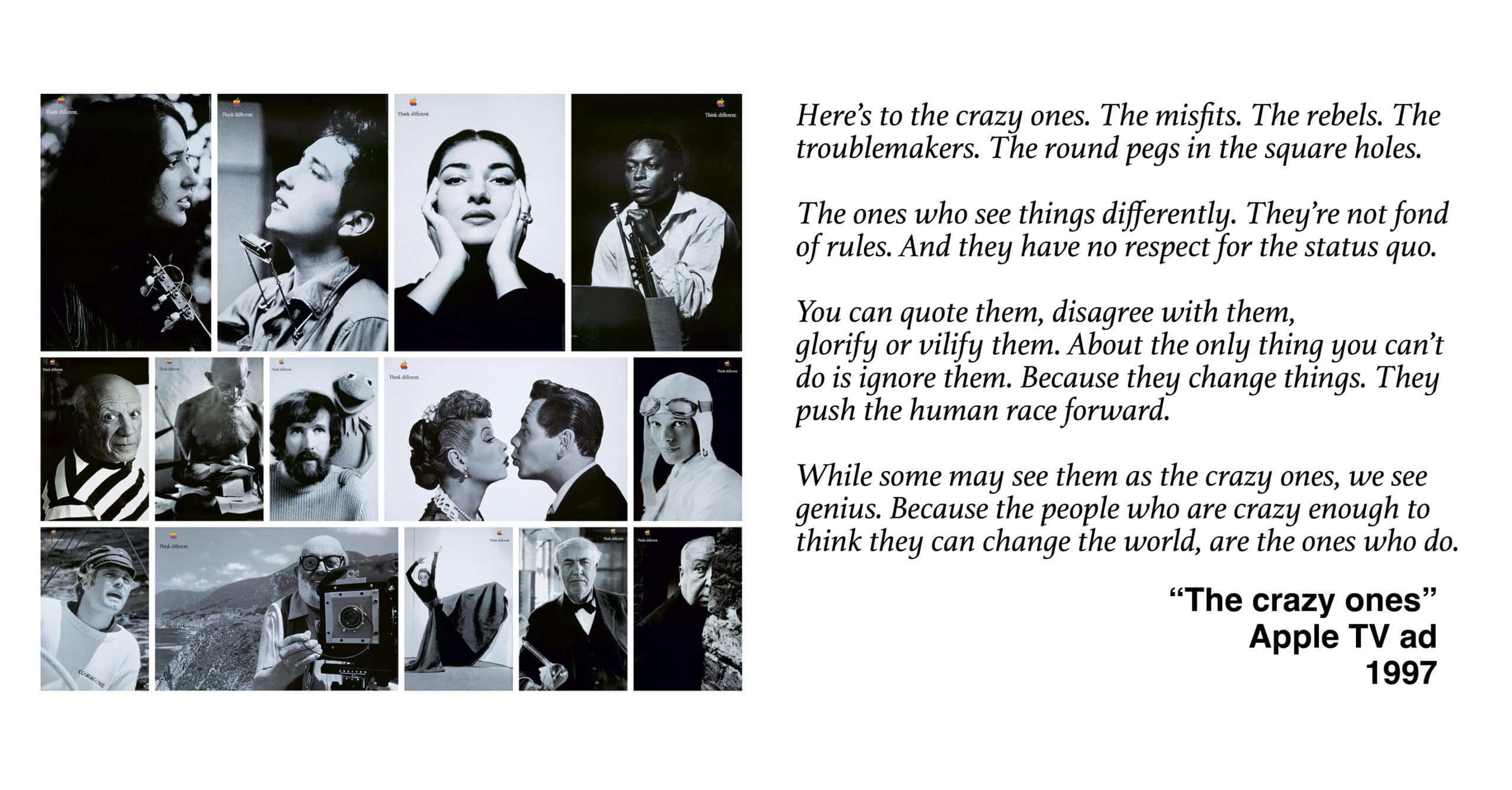 Our Nike case study looks at 30 years of 'Just do it'
To illustrate, click on the diagram to zoom in.
Learn about brand positioning
To find your ideal brand positioning statement, you want to find the space that is most motivating to consumers. And, find the space that is most ownable for your brand. Our brand positioning statement process starts with a defined consumer target your brand will serve. Then, we focus on the emotional and functional benefits that differentiate your brand. Further, we use support points to help differentiate your brand from competitors.
To illustrate, click on the diagram to zoom in.
Learn about marketing plans
A strategic marketing plan gets everyone on the same page, including senior management, sales, product development, customer service and your agency partners. So, we have a one-page brand plan to help. That way, everyone drives against the same vision, key issues, strategies, and tactics. Throughout this article, I will show how to write a marketing plan, with a few marketing plan examples. And, we have a marketing plan template you can purchase.