To land your first marketing job, you have to want it more than anyone else. There are more people who want to be the entry-level Assistant Brand Manager than there are jobs. So how bad do you want this job? Do you want it more than everyone else? Will you do what it takes to get that job?
Years ago, I interviewed so many times before I got the job. And, I must have gone through 100 interviews before I finally landed a position. I remember one time, after 3 minutes the hiring manager looked at my resume and said: "you have zero marketing experience, this won't work." That one still stings after 25 years but made me want it even more.
Persistence has to be the key. If you are only half trying, then I have minimal sympathy. If you are completely immersed in the effort, trust me, you will eventually break through and land your first marketing job.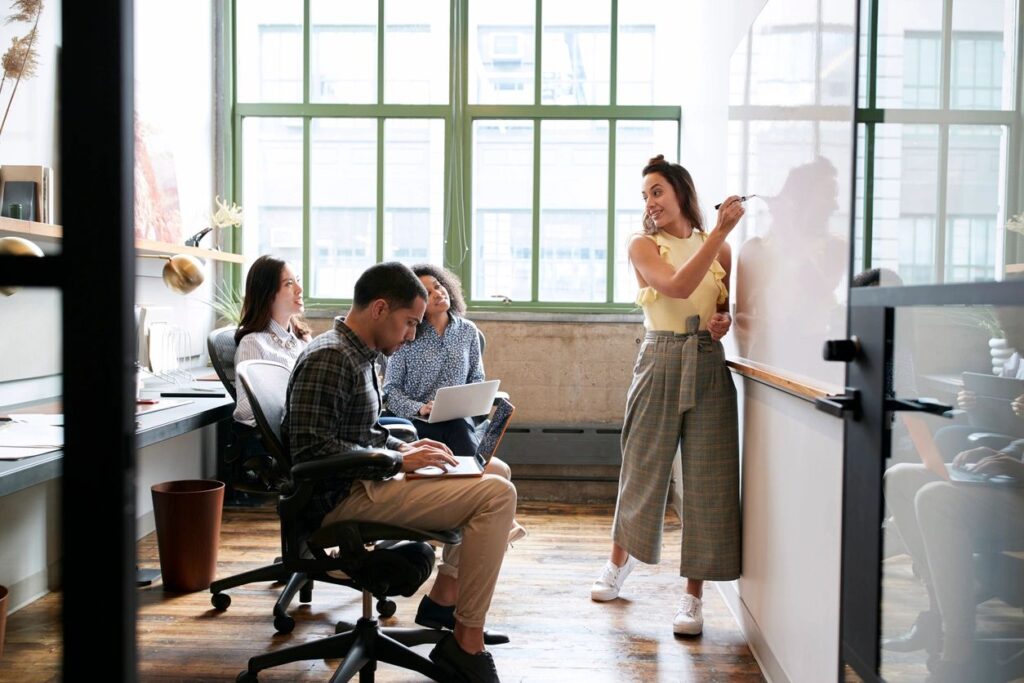 Entry-level marketing job
MBA:
MBAs are one of the biggest sources for recruiting the Asistant Brand Manager (ABMs) which is the first marketing job in most companies. When I was recuriting, going after MBAs gave us the chance to have a consistency in our recruiting efforts, allowed us to have a focused timing for the hiring and even a consistency in starting dates so we could measure and compare ABMs.  One of the silent secrets no one can say is that an MBA ensures that ABMs are the late 20s, rather than 22–which makes it easier for them to work with the sales teams. Now, people always ask me: "Do I need an MBA?" My answer is "No, but it sure helps." It allows you to be part of the formal recruiting process, get in the front door and be judged by that very process, rather than just a one-off hiring manager who is in a panic and doesn't know what they want. My question to you is "Can you do an MBA?" because if you can, I'd recommend it.
Headhunters and Recruiters:
Recruiters were our second source for ABMs, especially when we needed ABMs outside of the formal recruiting process. Some Headhunters specifically fill ABM roles, and you should make sure you connect with them. If you are lucky, you can get a headhunter who gives you tips on your resume or feedback on your interview. Ask for the input. And stay in touch regularly.
Networking with your marketing peers:
As the economy has gotten worse, some companies have cut back on the use of Head Hunters and opted for using a "finder's fee" to employees that recommend someone. So if you can connect with ABMs that already work at the company, they have an incentive to get you hired. The advantages to networking are they'll tell you the hiring manager, process and interview tips. They'll also alert you to when someone quits. Keep in mind, the ABMs in the roles have also landed their first marketing job recently and will have real-time tips for you. 
I would recommend you write down the 10-20 companies you want to work for and get networking with other ABMs, BMs or the HR manager.
Gain experience in the company:
A generation ago, many started in sales and then moved over to marketing. It still can happen, but it's becoming less common. Many today are starting their first marketing job in subject matter roles, whether as a digital or social media specialist. They might also take on a project manager role or customer marketing role.  If you try this route, push to get over the marketing quickly, so you don't get stuck in a role you don't want.
Job posting:
Don't wait for the postings, or you'll be missing out on most of the jobs. The HR department puts up the job posting, either because the company has exhausted all other methods. The posting doesn't always mean there is a job, but HR using it to fill the résumé bank. The new process of hiring is to go on to Linked In and put "We are Hiring" in job groups.
Marketing interview process
On average, you'll need 4-5 interviews to land the job–likely one with HR, a couple at the manager level and a couple at the director level. If it's part of the formal recruiting process, then you need to realize you are being judged at every moment, from the on-campus event to the potential dinner/lunch during the interviews and even how you act between interviews. If they give you a mentor to help you, that person will also have influence. In our debrief about candidates, there were just as many comments about things beyond the interviews as there were the interviews themselves.
Many interviews are moving to the behavioral style where they might say: "tell me a time when you had a conflict…" You need to translate all your strengths and weaknesses into stories that show you have experience in the given area. Write down your answers in the form of Situation Action and Result. Learn how to tell the stories so that it answers the question and showcases your strengths. Even if people don't ask you the "tell me a time…" questions, it can be powerful for you to answer in that method.
You will still get asked, "what's your weakness?" It's such a cliché question now, but it still gets asked. I once had a candidate tell me they hated ambiguity, which was pretty much the death-nail. Avoid the BS style "I'm too hard on myself" or "I work too hard." You sound annoying. The safest option I would recommend is "I'm not very good at negotiating" which is a skill that's not that important for marketing.
Marketing interview questions
Tell me a time you used numbers to sell an idea?
You better have your story tight because your answer will be questioned one or two more levels to see if you know your stuff. Great Marketers can tell stories with analysis.
What's the most creative thing you've ever done?
It doesn't matter what it was, but how far did you push yourself out of your comfort zone to find the creative solution.  Your passion for your idea should come through.
What's the one thing that makes you proud?
When I read your résumé, I want to see significant accomplishments beyond your work experience or school. Football, chess, traveling the world or charity work. I want to hear your story and your pride come through. Great Marketers accomplish things, and I want to know that you have a history of accomplishments. Don't tell just what you did, tell me what you ACCOMPLISHED!
Tell me a time when you've convinced your boss of something they thought wouldn't work.
I want to see if you can make it happen. This answer should show your leadership, selling skills, and willingness to push. A great Marketer can get what they want..
If you were Justin Bieber's agent, how would you maximize his value as a spokesperson?
I always took something in the pop culture news and asked how you would handle it. I was looking to see how curious you are and how you could make something with very little subject matter expertise and put together a plan. A great Marketer has a curiosity and can form opinions quickly. This answer lets me see your thinking. Pop culture is a great area that goes beyond books.
If you were on a team that solved a severe healthcare problem for society, what factors would you use to price it on the global level?
This answer is a very complicated question with many issues, especially adding in the global problem. I want to see you think through those issues and layer those issues into your answer. How do you handle the differences between North America and the Third World? How important is profitability vs. R&D vs. compassion? Moreover, how would you leverage government, key influencers and where would that fit into your answer. Great marketers can handle ambiguity, and there is a lot within this case.
From your previous interview with our company, what's the biggest mistake you made and how would you now change that?
Great marketers are continually pushing themselves to improve. That starts with your assessment. I want to see that you have thought about it and now see a better solution. It also puts you under a bit of unexpected pressure to know how you handle that.
What questions do you have for me?
To me, this is one of the most critical sections. It demonstrates how engaged you are in the process. The quality of your questions will help to separate you. Have five great questions done ahead of time, ask about 2-3 each interview. Ask deep questions, not surface questions. Turn each answer into a conversation starter.
Act like you want that first marketing job
Managing your marketing career
How to manage your marketing career from Assistant Brand Manager to CMO
At every level of your marketing career, you have to adjust to the new role. Brand Managers fail when they keep acting like ABMs and Directors fail when they keep acting like Brand Managers and VPs fail when they don't know what to do. In a classic marketing team, the four key roles are Assistant Brand Manager up to Brand Manager then up to Marketing Director and on to the VP/CMO role.
M   A   R   K   E   T   I   N   G        B   O   O   K
the playbook for how to create a brand your consumers will love
Covering every aspect of brand management, it is no wonder that our readers reach for Beloved Brands multiple times each week to guide them through the challenges of day-to-day brand management.
Get ready for a mind-bending journey as we take you on a deep dive into your brand strategy. We'll challenge you with thought-provoking questions designed to shake up your thinking and help you see your brand in a whole new light. And our unique process for defining your brand positioning will leave you with fresh ideas and new possibilities for how to differentiate your brand.
But we won't just leave you with ideas – we'll show you how to turn them into action. Learn how to write a brand plan that everyone can follow, ensuring that all stakeholders are aligned and contributing to your brand's success. We'll walk you through the creative execution process, from writing an inspiring brief to making smart and breakthrough decisions.
And when it comes tao analyzing your brand's performance, we've got you covered. Our innovative methods will help you dive deep and uncover insights you never knew existed, giving you the knowledge you need to make the best decisions for your brand's future.
But don't just take our word for it – our Amazon reviews speak for themselves.
With over 85% of our customers giving us a glowing five-star rating and an overall rating of 4.8 out of 5.0, we know we're doing something right. And with numerous weeks as the #1 bestseller in brand management, you can trust that we have the experience and expertise to help you achieve success.
Ready to join the ranks of the Beloved Brands community? Order our book on Amazon, Rakuten Kobo, or Apple and start your journey towards brand success today.
Take a read through our sample chapter on strategic thinking