Brands aren't just about logos, taglines, or ads. At the heart of the most successful brands is a keen understanding of their ideal target consumer, a compelling brand vision that steers everyone, and an organizing brand idea that brings it all to life. As a former VP of Marketing for Fortune 500 companies, I have been at the forefront of navigating this intricate maze of brand management. 
And if you're aiming to elevate your brand's stature in today's competitive landscape, there are seven pivotal questions you must be able to answer. We want to challenge your thinking with some different ways of looking at many of the classic problems we face in marketing. 
To illustrate, click on our brand management diagram on the 7 questions every brand must answer.
Our 𝟳 𝗘𝘀𝘀𝗲𝗻𝘁𝗶𝗮𝗹 𝗤𝘂𝗲𝘀𝘁𝗶𝗼𝗻𝘀 e𝘃𝗲𝗿𝘆 winning b𝗿𝗮𝗻𝗱 m𝘂𝘀𝘁 a𝗻𝘀𝘄𝗲𝗿 covers these specific needs:
1️⃣ Consumer Insight & Application
2️⃣ Organizing Brand Idea
3️⃣ Vision & Strategy
4️⃣ Strategic Investments
5️⃣ Managing the Consumer Journey
6️⃣ Building a Brand Culture
7️⃣ Investing in People
1. Consumer Insight and Application
Do you understand your consumers more than your competitors do? And do you integrate this deep consumer knowledge into every aspect of building your brand?
In an age teeming with data, genuine consumer insight is a gold mine. We have more data than we've ever had. But it's not just about accumulating data. It's about interpreting it, finding patterns, and using consumer insights as the foundation of your brand strategy. 
When you deeply understand your consumer, every marketing marketing move, product innovation, or service addition is precisely tailored to your consumers. The goal? Win in the market by outpacing your competitors through real-time solutions, rather than mere products or services.
Finding consumer insights
Building a complete picture of your consumer by looking at multiple sources is an excellent methodology to find consumer insights. Start with market data, and then add your observations, the voice of the consumer, emotional need states, and life moments. 
To illustrate, click on our brand management diagram to see how to find consumer insights.
What we can read: 
Use available data such as market share results, tracking studies, or category trends. Look for underlying explanations of the data breaks, drivers, inhibitors, as well as new trends among consumers, channels, and competitors. Tell the story beneath the data.
What we see: 
Observations of consumer reactions, coming from focus groups, product tests, advertising testing, and direct consumer engagements to add to the insights. Watch how consumers respond.
What we sense: 
Listen to the voice of the consumer (VOC), assessing consumer comments on social media, brand reviews, and market research. Listen for specific word choices, tone, and phrases the consumer's use.
What we feel: 
Use observations and listening to match the emotional need states with how the use of your brand makes them feel.
Day-in-the-life moments: 
Map out the consumer's life with explanations of underlying behaviors, motivations, pain points, and emotions at any moment of the day or week. Conclude how parts of their life could impact their path to purchase.
To illustrate, click on our brand management diagram to see how to find consumer insights.
Once you have completed all five areas of the 360-degree mining process, get in the consumer's shoes, observe, listen, and understand how they think, act, feel, and behave. Be empathetic to their fears, motivations, frustrations, and desires. Learn their language and use their voice. 
Learn the secrets that only they know, even if they cannot explain. Insights are a great way to demonstrate "We know you" because the number one reason consumers buy a brand simply that "It is a brand for me."
To read more about a powerful way to find consumer insights: click here.
Can you articulate your brand idea in 7 seconds in a way that inspires everyone who works on the brand, while establishing a distinct brand position that differentiates your brand from competitors and motivates consumers?
The organizing brand idea projects a consistent promise, tells the brand story, showcases innovation, helps consumers at the purchase moment, and delivers satisfying consumer experiences. Over time, the business can use the brand idea to move consumers to see, think, feel, act, and influence others in ways that build a bond with consumers. The brand idea aligns everyone who works on the front line or behind the scenes, so everyone knows their role in adding value to the brand.
To illustrate, click on our brand management diagram on the organizing brand idea.
In a world of 280 characters and fleeting attention, brevity is power. Your brand idea should be compelling and concise enough to ignite passion internally and differentiate you externally. If your employees can't rapidly convey the essence of your brand, consumers won't grasp it either. It's the elevator pitch that inspires, intrigues, and instills confidence.
To read more about how to find an organizing brand idea: click here.

Does your team rally behind the same long-term vision, purpose, and goals? Are they aware of the challenges obstructing that vision and equipped with strategic solutions to guide their actions towards achieving it?
Unity in vision is the keystone of a thriving brand. Every team member, regardless of their role, should understand and be aligned with the brand's purpose, challenges, and goals. When the vision is clear, the pathway to it becomes evident, and strategy evolves from being reactive to proactive. 
To complete your checklist for building your marketing plan: click here.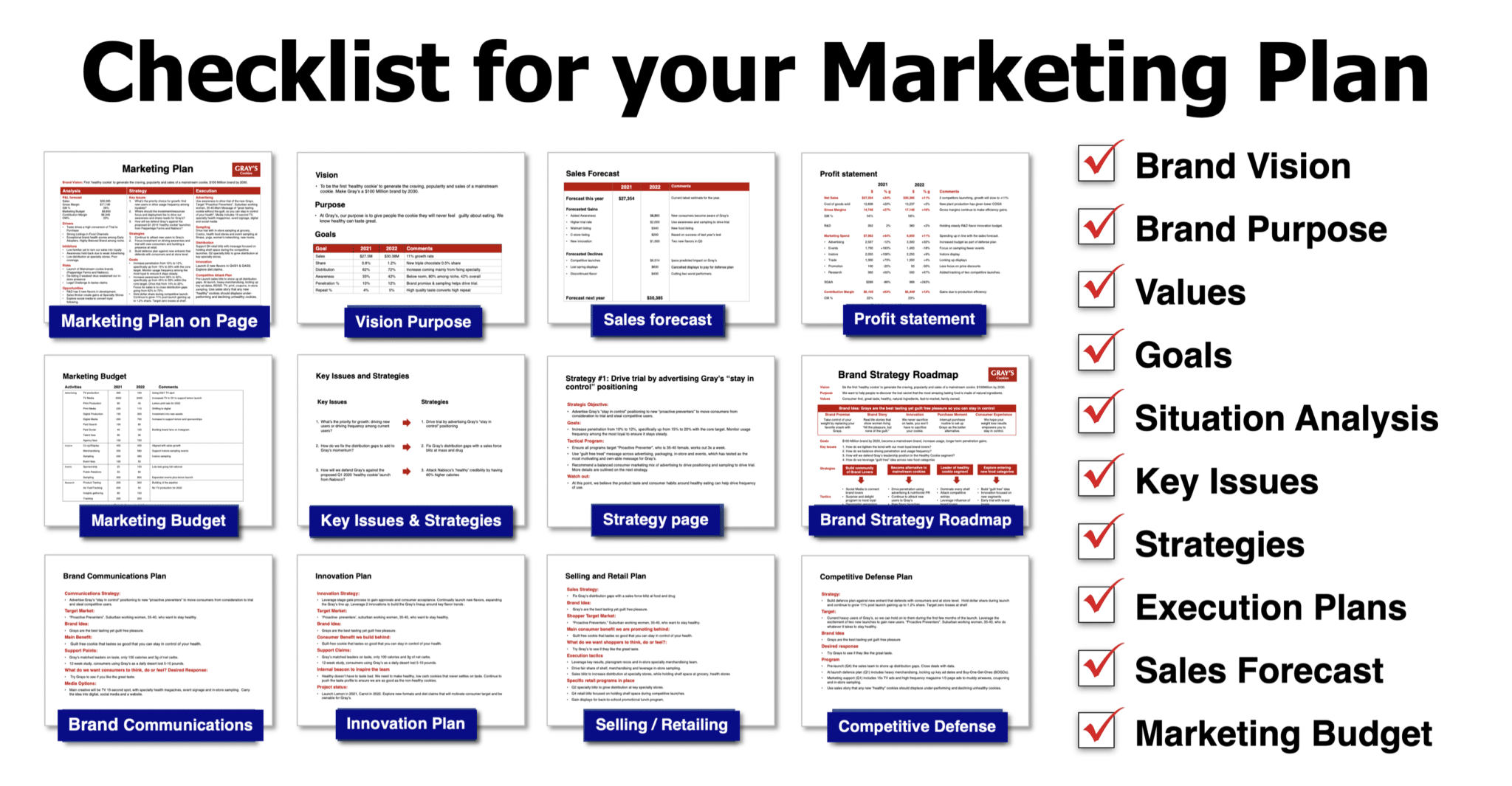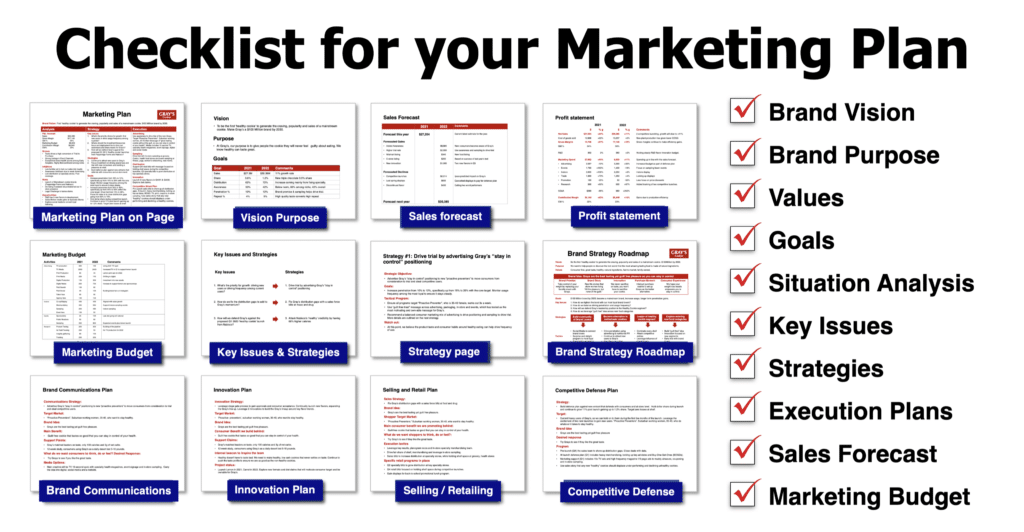 To illustrate, click on our brand management diagram on how to write a marketing plan.
M   A   R   K   E   T   I   N   G        B   O   O   K
The playbook for how to create a brand your consumers will love
Beloved Brands is your secret weapon to guide you through every challenge that you face in managing your brand
Get ready to challenge your mind as we take you on a deep dive to find the most thought-provoking strategic thinking questions that will help you see your brand in a whole new light.
Our unique process for defining your brand positioning will push you to find fresh ideas and new possibilities for how to differentiate your brand based on both functional and emotional benefits.
But we won't just leave you with ideas – we show how to transform your thinking into action.
Learn how to write a brand plan that everyone can follow, ensuring that all stakeholders are aligned and contributing to your brand's success.
We'll walk you through the marketing execution process, from writing an inspiring brief to making smart and breakthrough decisions on both creative advertising and innovation.
And when it comes to analyzing your brand's performance, we've got you covered. Learn how to conduct a dive deep audit on your brand to uncover key issues that you never knew existed.
And, don't just take our word for it: our Amazon reviews speak for themselves.
With over 85% of our customers giving us a glowing five-star rating and an overall rating of 4.8 out of 5.0, we know we're doing something right. And with numerous weeks as the #1 bestseller in brand management, you can trust that we have the experience and expertise to help you achieve success.
"The cheat code for brand managers!"
"It is without a doubt the most practical book for those who want to follow brand management that I have ever read in my life! Beloved Brands is written by a real, experienced marketeer for marketers. This book contains methodologies, tools, templates and thought processes that Graham actually used and uses in his career."
Are your investments focused on building capabilities that will have a significant market impact and drive performance results, moving you closer to a vision that makes your brand more powerful and profitable?
In an age of disruption, merely keeping pace isn't enough. Brands must invest strategically, targeting areas that not only deliver immediate returns but fortify their market position long-term. It's about merging foresight with ambition, ensuring each dollar spent amplifies brand power and profitability.
To illustrate, click on our brand management diagram on how to write a brand strategy statements.
The brand strategy statement must define the capabilities you will invest in (A). It outlines a focused accelerator that you can take advantage of which will make your investment work even harder (B). Next, the strategy must lay out the market impact (C), and the performance result (D). 
To read more on how to write brand strategy statements to use in your plan: click here. 
5. Managing the Consumer Journey
Does your marketing execution engage consumers at every touchpoint, effectively attracting, informing, closing, servicing, and delighting them, building a bond and guiding consumers through their journey with your brand?
In today's dynamic digital age, understanding the consumer journey is paramount to brand success. OmniChannel Marketing offers a seamless strategy that aligns diverse channels, ensuring that consumers receive a consistent and unified brand experience at every touchpoint. This article delves deep into the "brand love curve," highlighting the transformative journey a consumer undergoes – from indifference to becoming a beloved brand. We are seeing a big jump from multi-channel to OmniChannel Media management.
With a perfect balance between long-term brand building and short-term sales activation, brands can craft a symphonic narrative, effectively nudging consumers through awareness, consideration, and ultimately purchase. 
As we shift from traditional multi-media approaches to a more integrated OmniChannel strategy, it's essential for marketers to recognize how diverse media elements, be it paid, earned, owned, or shared, contribute to guiding consumers fluidly through their purchasing journey. 
By tailoring content and engagement strategies at every stage, brands can create meaningful, lasting relationships with their audience, ensuring not only a purchase but a brand advocate for life. If you are in marketing or brand manage, dive in to explore the intricate dance of brand-building, sales activation, and the art of cultivating brand love in an OmniChannel world.
To read how to use OmniChannel Marketing to move consumer along their purchase journey: click here.
To illustrate, click on our brand management diagram on OmniChannel Marketing.
6. Building a Brand Culture
Have you cultivated a brand culture that helps everyone to consistently surpasses the expectations that you have established with consumers?
Culture is the lifeblood of a brand. It's the sum total of shared values, beliefs, and behaviors. A resilient brand culture ensures every interaction with consumers is consistent, genuine, and exceeds expectations. It's what turns customers into brand advocates.
To illustrate, click on our brand management diagram on managing brand culture.
Your brand idea should steer the internal culture to inspire and steer everyone who works behind the scenes of the brand. Brand leaders must manage the consistent delivery of the brand idea over every consumer touchpoint. Everyone should be looking to the brand idea to guide and focus their decisions. Most importantly, companies need to focus on their internal brand, to make sure management, customer service, sales, HR, operations, or an outside agency are all moving in the same direction.
To read more on how to use your brand idea to align the internal culture: click here. 
Do your team members possess the necessary skills and passion to make smart decisions and produce exceptional work, building a bond with consumers and driving business growth?
A brand is only as strong as the people behind it. Investing in their development, ensuring they're equipped with the right skills, and igniting their passion is paramount. When the team understands, believes, and thrives, they create authentic bonds with consumers, fostering business growth.
The five core marketing skills that define your marketing team: 
1️⃣  Strategic Thinking.
2️⃣  Brand Positioning.
3️⃣  Marketing Plans.
4️⃣  Marketing Execution
5️⃣  Brand Analytics.
If you are running a marketing team, you need the best performance from everyone. With our Beloved Brands marketing training, you will see your team make smarter decisions and produce exceptional work that drives business growth. Our brand management training course teaches the marketing skills to help your people gain the confidence they need to reach their full potential.
Invest in our marketing training course, and watch as your marketers evolve into strategic thinkers and proficient practitioners who can navigate every stage of the marketing lifecycle with finesse. Elevate your marketing game with a training program that empowers your team to think, define, plan, execute, and analyze like never before.
To read more about our marketing training programs: click here.
We empower the ambitious to achieve the extraordinary.
Without a doubt, our role at Beloved Brands is to help the ambitious marketers who are trying to improve their marketing skills. Most importantly, we will prepare you so you can reach your full potential in your career. You will learn about strategic thinking, brand positioning, brand plans, marketing execution, and marketing analytics. As well, we provide a suite of marketing tools, templates that will make it easier to do your job, processes that you can follow, and provocative thoughts to trigger your thinking. 
Have you gone through an assessment of the marketing skills of your team? Take a look below:
The fundamentals of marketing matter.
Our Beloved Brands marketing training programs cover different streams to suit the type of marketer you are. For instance, our marketing training covers consumer marketing, B2B marketing, and Healthcare marketing. 
The marketing fundamentals that we show in this article are part of what we use in our marketing training programs. Ambitious marketers will learn about strategic thinking, brand positioning, brand plans, marketing execution, writing creative briefs, advertising decision-making, marketing analytics, and marketing finance. 
Importantly, when you invest in our marketing training program, you will help your team gain the marketing skills they need to succeed. Without a doubt, you will see your people make smarter decisions and produce exceptional work that drives business growth. 
Finally, I wrote our Beloved Brands playbook to help you build a brand that your consumers will love. If you are a B2B marketer, try our B2B Brands playbook. And, if you are a Healthcare Marketer, try our Healthcare Brands playbook.
Everything a Marketing must know about.
Importantly, Brand leaders need to know how to think, define, plan, execute and analyze with the best of them. Moreover, while the brand leaders don't really know how to do anything, they are looked upon to make every decision. Have a look at our five minute video on everything a marketer must know. To read more, click on this link: Everything.
To view, use the ▶️ controls to play or volume buttons 
If you are looking to make your marketing team smarter, we can help. To get started, email Graham Robertson at [email protected]