Christmas is a great time to drive home the connection between consumers and the brand. Get your consumer into an emotional state, and hopefully, those emotions pay back to your brand. But not everyone can pull it off. You likely need to have an established love for your brand already, or it would come across as lacking authenticity. If you are looking to get into the holiday spirit, here are the best Christmas ads I have seen, from all over the world. We include ads from the UK, Ireland, Australia, Poland, Spain, France, Canada and the US. Feel free to add your own to our mix.
You will see a few common themes, such kids surprising us by showing they understand Christmas is more than gifts, or trying to do things for our parents or grandparents. I have added a few that stand out because they run completely counter to these themes.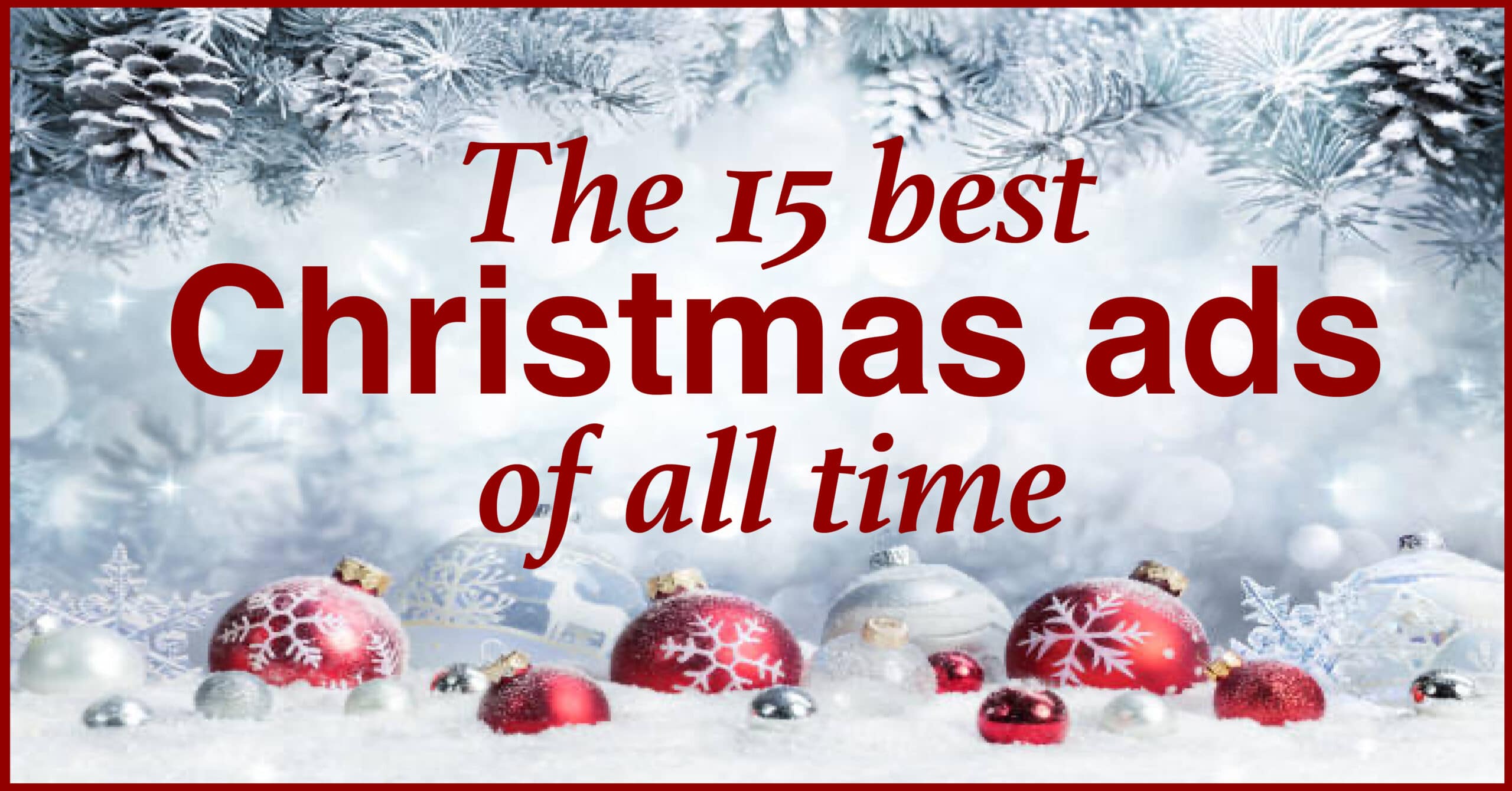 Some of the best Christmas ads I've ever seen are from John Lewis, the department store in the UK. They use beautiful music, a movie-like storyline that demonstrates the beauty of gift-giving, stretched out over 90 seconds. No words are needed to tell the story.  They tug at the heart and bring a reminder of what the season is all about:  the gift of giving. I think this is the best one in the John Lewis (2011) series, with a nice twist and a tug at the heartstrings at the end.
Coca-Cola, the brand that came up with the look of how we see Santa Claus, creates a beautiful Christmas ad. From Argentina, here's a brilliant take on spreading the joy of the season.   
This Christmas ad has great storytelling from Allegro, a Polish website. The ending is very heart-warming. Millions of views so far, lots of tears for sure.
Anuncio Lotería from Spain
Every year, there is a lottery just before Christmas, Anuncio Lotería de Navidad 2016. The last few years, they have done some great ads with deep storytelling. This Christmas ad tells a sweet story of a grandmother who catches the winning number on TV from a few years ago, believing she has won this year's lottery. Very cute that the family goes along with it as she moves through the village. Nice ending.
Marks and Spencer from the UK
Marks and Spencer likely won the UK retailer contest of 2016. This Christmas ad does a nice job in telling the story of Mrs. Claus. While very modern, it still brings a lot of traditional touches of Christmas.
One of the best Christmas ads from 2019. A very simple idea, but nice production. The main kid actor really delivers the magic, even more challenging to do it through visuals, as this ad must work in both English and French. 
To commemorate the 100th anniversary of the start of World War 1, Sainsbury's created this very high production spot, telling the story of how the soldiers took a break from the war to share Christmas together.
Not your normal holiday ad, but I love the creative idea behind this ad: WIN CHRISTMAS. So what beats a beautiful portrait, a puppy that waves or a unicorn? A new bag from Mulberry!!!  
The ad portrays Thomas Burberry as an obsessive inventor and entrepreneur showcasing the emotion he put into his craft. It may take liberties on the excitement of his life–bordering on making him into the world's most interesting man in the world–but we certainly can feel his purpose and passion shining through.
In this 90-second Christmas ad, it shows a typical teenager hanging onto this iPhone constantly, and then from there, the magic happens.
What would happen if Santa crash-landed in the Australian outback? Nice Christmas ad.
Bouygues Telecom from France
A beautiful spot from France that will make you smile, dance, and maybe shed a tear. I love this spot. 
Similar to the Mulberry ad, this dry-humour ad with Jeff Goldblum really stands out. 
From 2020, playing gently on the coronavirus issues, this Christmas ad has a very cute payoff at the end. 
Beloved Brands is the playbook to keep at your fingertips
Our readers tell us they reach for Beloved Brands a few times each week as a reference toolkit to help them with the day-to-day management of their brand.
With Beloved Brands, we want to challenge you with questions that get you to think differently about your brand strategy. Our process for defining your brand positioning will open your mind to new possibilities for how you see your brand.
We will show you how to write a brand plan that everyone can follow and knows precisely how they can contribute to your brand's success.
We will show you how to run the creative execution process, show you how to write an inspiring brief, and make decisions to find both smart and breakthrough work.
You will learn new methods to analyze the performance of your brand with a deep-dive business review.
Over 90% of our Amazon reviews receive five-star ratings, and Beloved Brands has spent numerous weeks as a #1 bestseller in brand management.
The Creative Brief defines the box.
Use our Creative Checklist to determine if the creative work is in the box.
Then, we introduce a Creative Checklist that is designed to help you make advertising decisions. When you see the creative marketing execution come back from your experts, use our creative checklist to make decisions. Next, use your feedback to your marketing experts to steer the ideas back in-the-box. Importantly, the Creative Checklist highlights the gaps you see. Your role is to provide your problems with the work, while avoiding providing a solution. Let your creative marketing execution experts use their in-the-box creativity to figure out new solutions that will fit the box. 
To illustrate, click to review how our Creative Checklist helps decide if the creative advertising fits the box..
Use our ABC's of Advertising: Attention, brand link, communication stickiness
Here are four questions to ask:
To illustrate, click on the ABC's of advertising to see details.
Get comfortable with various advertising techniques.
Video on how to use in-the-box creativity
Have a look at our video on how to use in-the-box creativity to ensure our marketing execution stays on strategy. We introduce how our Creative Brief defines the box the work must play in. And, our Creative Checklist to allow you to decide if the marketing execution delivers. To read more, click on this link: How to use in-the-box creativity. 
To view, use the ▶️ controls to play our brand strategy video. 
On a classic marketing team, there are four key levels:

Assistant Brand Manager.
Brand Manager.
Marketing Director or Group Marketing Director.
VP Marketing or CMO.
To illustrate, click to zoom in on the brand management career pathway. 
At the Brand Manager level, it becomes about ownership and strategic thinking within your brand plan. Most Brand Managers are honestly a disaster with their first direct report, and get better around the fifth report.
When you get to the Marketing Director role, it becomes more about managing and leading than it does about thinking and doing. To be great, you need to motivate the greatness from your team and let your best players to do their absolute best.
And finally, at the CMO level, you must create your own vision, focus on your people to make them better and shine, drive the business results, and run the processes.
Our Beloved Brands Marketing Training program will make your team smarter.
If you are running a marketing team, you will always benefit from having a smarter team. When you invest in our marketing training program, you will help your team gain the marketing skills they need to succeed. As a result, you will see them make smarter decisions and produce exceptional work that drives business growth.
We'll work with your team to help them learn more about the five core marketing skills: Strategic Thinking, Brand Positioning, Marketing Planning, Marketing Execution, and Brand Analytics. Most importantly, your marketers will learn new tools, concepts, and ideas to trigger new thinking. To help their skills, we get participants to take each tool on a test run. Then, we give feedback for them to keep improving. 
To illustrate, click to zoom in on the brand management career pathway. 
Strategic Thinking:
Our marketing training teaches brand leaders how to ask tough strategic questions to slow everyone down and engage in debate of options to move forward. To start, you will be given various tools to approach strategy in a thoughtful, analytical way. Importantly, marketers need learn how to change brain speeds to move from a strategic thinker style to uncover what is holding back a brand, and onto an instinctual thinker style on marketing execution.
We introduce our Strategic ThinkBox that allows marketers to interrogate their brand. Importantly, our ThinkBox pushes you to take a holistic look at the brand's core strength, competitive landscape, tightness of the consumer bond, and business situation.
Brand Positioning:
Our brand positioning process teaches how to decide on the target market, consumer benefits, and reasons to believe. To start, you will learn to define the ideal consumer and frame the definition with their biggest needs, consumer insights and their enemy. Then, we provide our benefit cheatsheets to help learn how to discover the functional benefits and emotional benefits that a brand can deliver. Importantly, marketers need to make a decision on trying to stake out a unique space that is motivating to consumers, and ownable for the brand.
Learn to use our brand idea tool and see how it helps to communicate the brand idea to everyone across the organization. Finally, marketers will learn how to take the brand positioning work and translate it into a brand concept, brand story, and a brand credo.
Marketing Plans:
We see the marketing plan is a decision-making tool on how a brand will spend their limited resources. Moreover, the marketing plan communicates the expectations to everyone who works on the brand. Importantly, we teach marketers how to put together the vision, purpose, goals, key issues, strategies and marketing execution plans.
Learn how to write key issue questions and strategic statements that forms the foundation of the marketing plan. In addition, our marketing training provides various marketing planning templates including our one-page brand plan and ideal Marketing Plan presentation deck.
Marketing Execution:
Our marketing execution training starts with the concept of our Marketing PlayBox that matches up to the Strategic ThinkBox. To keep marketers on strategy throughout the execution stages, our Marketing PlayBox helps find in-the-box ideas that meet four dimensions: they are focused on our target, fit with the brand, deliver the message, and execute the strategy.
To start, we show how the creative brief sets up the PlayBox, serving as the bridge between the plan and execution. We go through the creative brief line-by line and give you examples of the best and worst. Importantly, you will learn to use our Creative Checklist to help make smarter decisions on creative communications. We workshop how to give feedback to your agency based on gaps you see with the checklist.
Learn to make media decisions that match up to your consumer's purchase journey. In addition, we provide a similar Innovation Checklist to compare innovation ideas.
Brand Analytics:
Our comprehensive brand analytics training teach brand leaders how to lead a deep-dive business review. We outline the best analytical thinking so you can become a well-rounded marketer.
Learn to look at the marketplace, consumer analytics, channels of distribution, competitors or other brands in their industry. And, learn assess the brand itself. Importantly, you will learn how marketing funnels can help assess the brand's performance. We provide 64 analytical questions that marketers can ask of their brand. Finally, we show how to understand the financial performance indicators of the brand.
Take a look at our Marketing Skills assessment tool to see how you or your marketing team measure up.
For more information on our Beloved Brands Marketing Training programs, click below or email Graham Robertson at [email protected]