Undoubtedly, the advertising industry has experienced remarkable evolution over the past century. However, the principles and strategies that guided the industry's pioneers remain as relevant today as they were during the "Mad Men" era. In this post, we'll delve into the valuable lessons that modern marketers can draw from seven legendary figures. Firstly, we'll examine the insights of Bill Bernbach, followed by the wisdom of David Ogilvy. Next, we'll explore the creative genius of Lee Clow and the trailblazing ideas of Mary Wells Lawrence. Subsequently, we'll discuss the groundbreaking work of Al Ries and Jack Trout. Lastly, we'll learn from the iconic Leo Burnett. By incorporating these time-tested approaches, today's marketers can elevate their campaigns to new heights.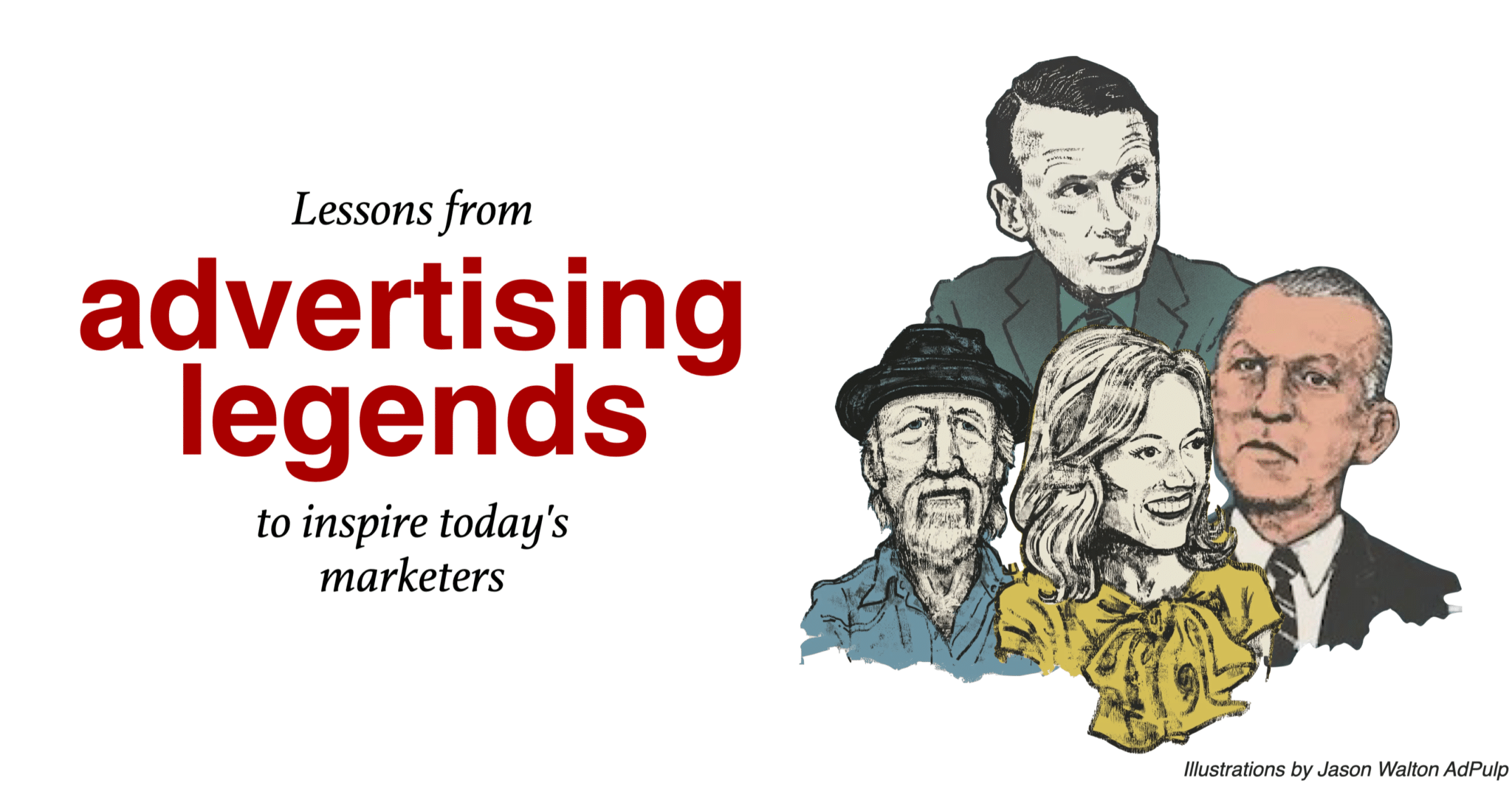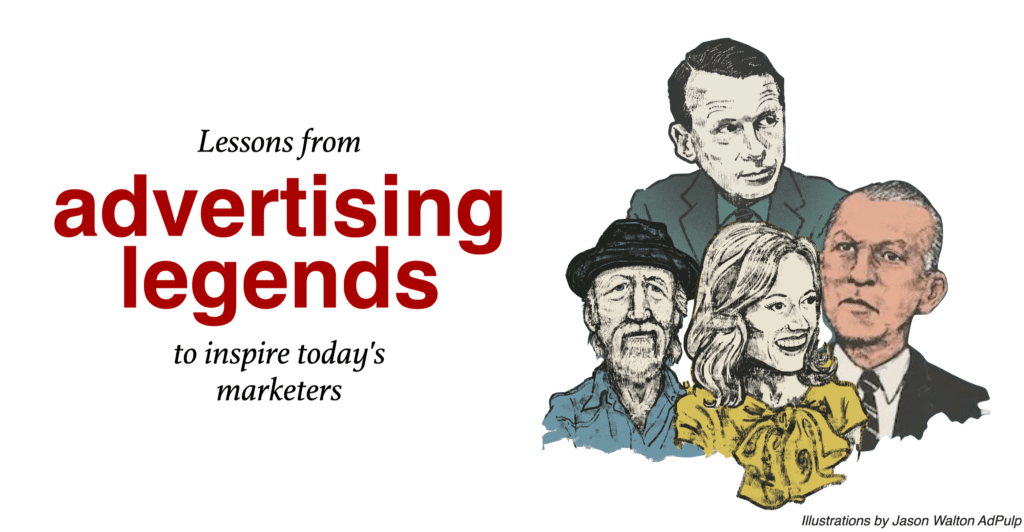 The Power of simplicity and emotional Connection
Bill Bernbach, co-founder of the advertising agency Doyle Dane Bernbach (DDB), is known for his belief in the power of simplicity and emotional connection in advertising. Most importantly, his most famous campaigns include the groundbreaking Volkswagen "Think Small" and Avis "We Try Harder" ads.
Lesson: Keep it simple and relatable.
Consequently, modern marketers can take a page from Bernbach's book by focusing on simplicity and relatability in their campaigns. In today's world, saturated with information and advertising, campaigns that are easy to understand and that evoke an emotional response are more likely to resonate with audiences.
To illustrate, click on either Bill Bernbach ads to zoom in.
The Importance of research and persuasive copywriting
David Ogilvy, the "Father of Advertising," founded Ogilvy & Mather and was known for his emphasis on research and persuasive copywriting. His famous campaigns include Hathaway shirts, "Only Dove is one-quarter moisturizing cream" and "At 60 miles an hour, the loudest noise in the new Rolls-Royce comes from the electric clock" ads.
Lesson: Know your audience and write to persuade.
Modern marketers should prioritize research and understand their target audience before crafting campaigns. Moreover, they should also focus on persuasive copywriting, as compelling messaging can be the key to turning prospects into customers.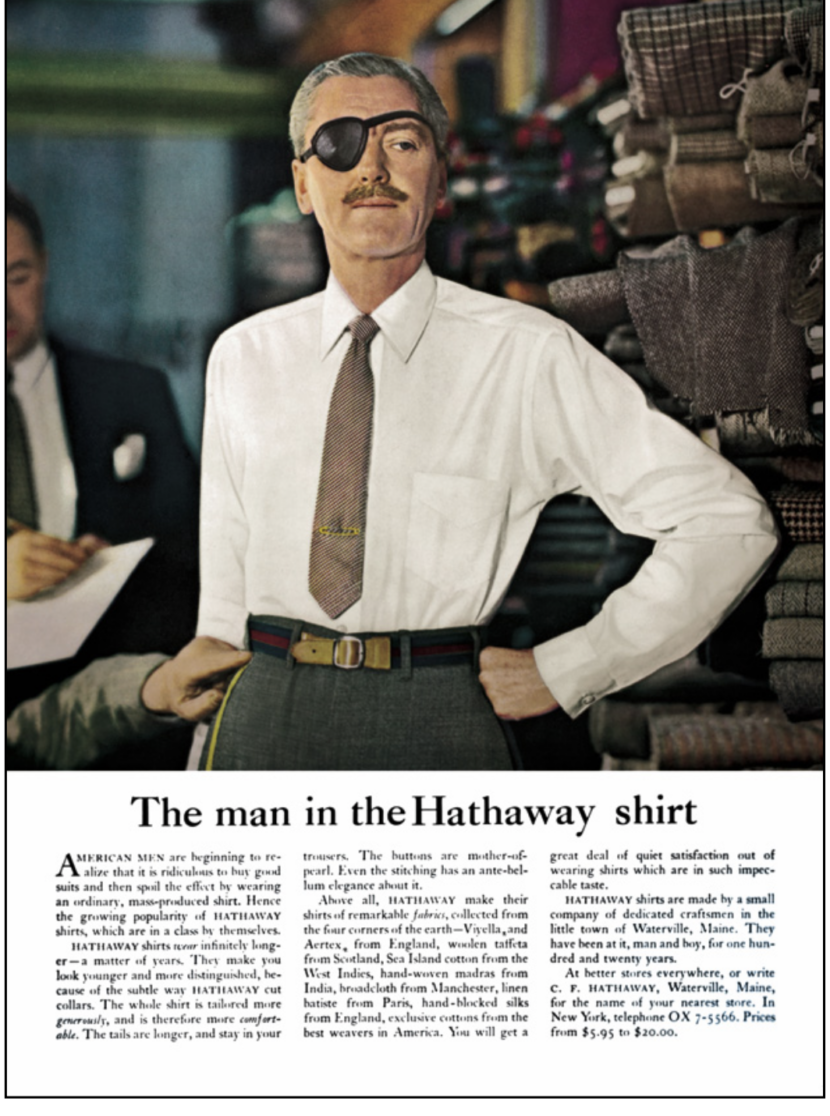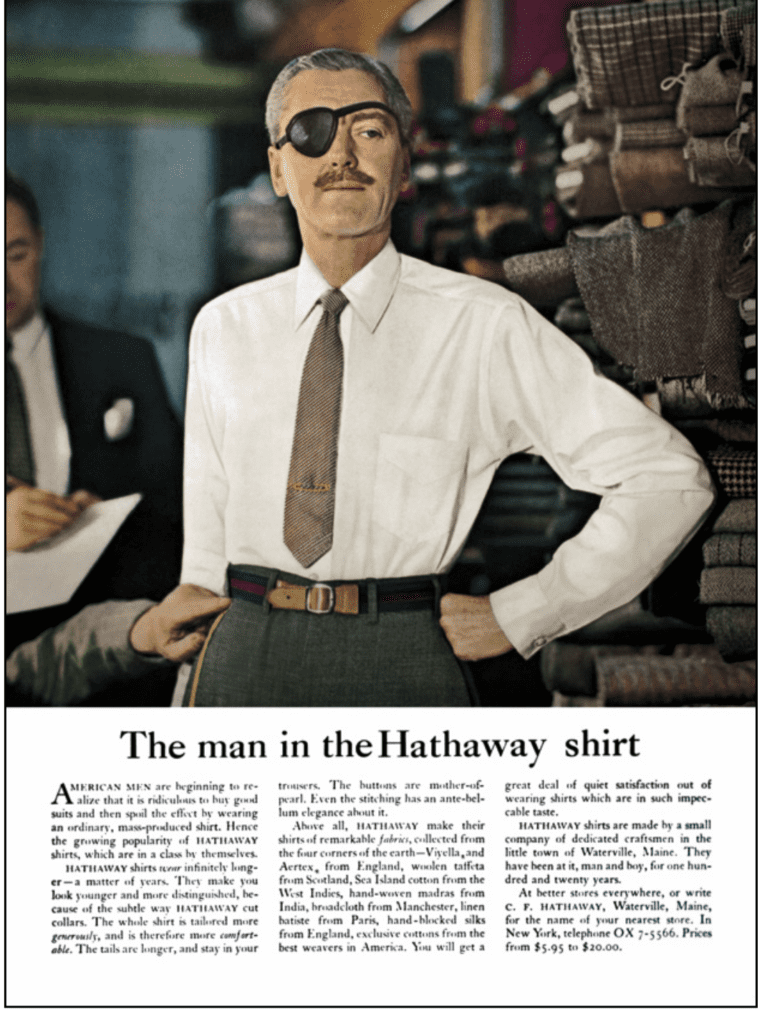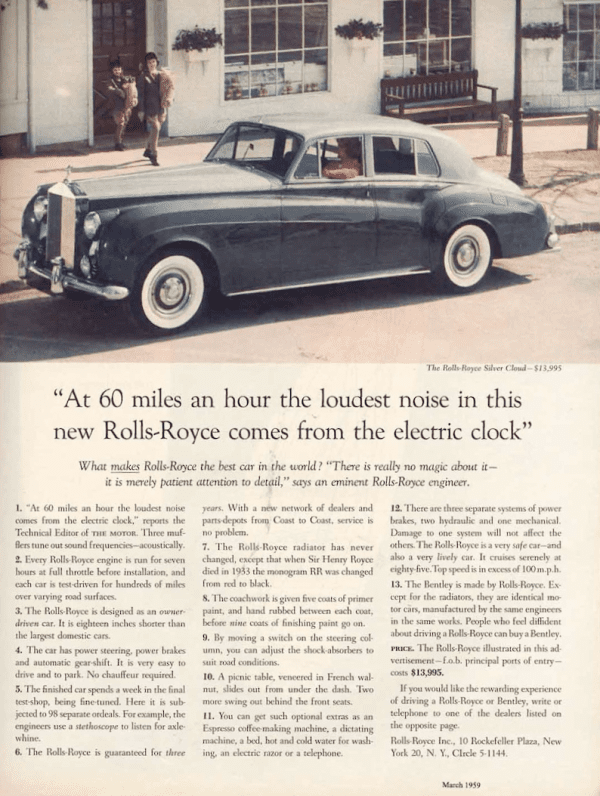 To illustrate, click on either David Ogilvy ads to zoom in.
The art of storytelling and disruptive creativity
Lee Clow, the creative mind behind TBWA\Chiat\Day, is known for his disruptive creativity and storytelling prowess. His most famous work includes the iconic Apple "1984" commercial and the "Think Different" campaign.
Lesson: Tell stories and challenge the status quo.
In today's competitive landscape, marketers must be creative and innovative to stand out. Essentially, by embracing storytelling and challenging the status quo, modern marketers can create memorable campaigns that resonate with their audience, like Clow's iconic work.
To view, click on the arrow button to see the Think Different ad.
The Power of Reinvention and Branding
Mary Wells Lawrence, the founder of Wells Rich Greene, was the first woman to own and run a major advertising agency. An intelligent, energetic, and aggressive leader, Wells became known early in her career as the first woman in advertising to break through the industry's "glass ceiling," after she landed a $12 million account with American Motors Corporation in 1967. Based in New York City, the company made its reputation with innovative work and experienced intense growth in its first decade of business.
Most importantly, she was known for her ability to reinvent brands, as evidenced by her agency's work on the "I Love New York", the Midas touch, Alka-Seltzer, and Braniff International Airways campaigns.
Lesson: Embrace change and build strong brands.
Modern marketers should recognize the power of reinvention and adapt to the ever-changing market landscape. Moreover, by focusing on building strong, consistent brands, they can create lasting impressions and drive customer loyalty.
To view, click on the arrow button to see the original I love New York ad.
M   A   R   K   E   T   I   N   G        B   O   O   K
the playbook for how to create a brand your consumers will love
Covering every aspect of brand management, it is no wonder that our readers reach for Beloved Brands multiple times each week to guide them through the challenges of day-to-day brand management.
Get ready for a mind-bending journey as we take you on a deep dive into your brand strategy. We'll challenge you with thought-provoking questions designed to shake up your thinking and help you see your brand in a whole new light. And our unique process for defining your brand positioning will leave you with fresh ideas and new possibilities for how to differentiate your brand.
But we won't just leave you with ideas – we'll show you how to turn them into action. Learn how to write a brand plan that everyone can follow, ensuring that all stakeholders are aligned and contributing to your brand's success. We'll walk you through the creative execution process, from writing an inspiring brief to making smart and breakthrough decisions.
And when it comes tao analyzing your brand's performance, we've got you covered. Our innovative methods will help you dive deep and uncover insights you never knew existed, giving you the knowledge you need to make the best decisions for your brand's future.
But don't just take our word for it – our Amazon reviews speak for themselves.
With over 85% of our customers giving us a glowing five-star rating and an overall rating of 4.8 out of 5.0, we know we're doing something right. And with numerous weeks as the #1 bestseller in brand management, you can trust that we have the experience and expertise to help you achieve success.
Ready to join the ranks of the Beloved Brands community? Order our book on Amazon, Rakuten Kobo, or Apple and start your journey towards brand success today.
Take a read through our sample chapter on strategic thinking
The art of brand positioning and differentiation
Notably, Al Ries and Jack Trout are the marketing strategists behind the concept of "positioning." Most importantly, they co-authored the seminal book "Positioning: The Battle for Your Mind." Moreover, their work emphasized the importance of differentiating a brand in the minds of consumers.
Lesson: Carve out a unique position in the market.

In order to succeed in today's competitive market, modern marketers must differentiate their brands from competitors. Consequently, by understanding their target audience's needs and preferences, they can carve out a unique position in the market and create compelling value propositions that resonate with consumers.
Remarkably, "Positioning" and "Marketing Warfare" were the first two marketing books I ever owned. Furthermore, I recommend having a look at this fantastic summary of their book "Positioning: The Battle for Your Mind."
To view, click on the arrow button to see the summary of their book, Positioning.
The Power of Symbols and Human Touch
Leo Burnett, the founder of Leo Burnett Worldwide, is renowned for his ability to create enduring brand symbols and emphasize the human touch in advertising. His notable creations include the Marlboro Man, Tony the Tiger, and the Jolly Green Giant.
Lesson: Create memorable symbols and humanize your brand.
In an age where consumers are inundated with advertising, memorable symbols can help brands stand out and forge emotional connections with audiences. Importantly, modern marketers should aim to create iconic brand symbols that encapsulate their brand's essence and personality. Additionally, humanizing your brand by showcasing relatable characters and emotions can foster deeper connections with consumers.
To illustrate, click on Leo Burnett's Marlboro ads to zoom in.
Applying lessons from advertising icons to today's marketing
The advertising legends of the past offer invaluable insights and lessons for today's modern marketers. By embracing simplicity, research, storytelling, reinvention, positioning, differentiation, and memorable symbols, marketers can create impactful campaigns that resonate with their audiences.
To summarize, here are the key takeaways from each advertising legend:
Bill Bernbach: Keep it simple and relatable. Focus on emotional connections.
David Ogilvy: Prioritize research and craft persuasive copy.
Lee Clow: Embrace storytelling and challenge the status quo.
Mary Wells Lawrence: Reinvent and build strong, consistent brands.
Al Ries and Jack Trout: Differentiate your brand through unique positioning.
Leo Burnett: Create memorable symbols and humanize your brand.
Amidst an ever-evolving advertising landscape, it's essential to look back at the pioneers who shaped the industry and learn from their successes and strategies. As a result, by incorporating the timeless wisdom of these advertising legends, modern marketers can navigate the challenges of the contemporary market and build lasting connections with their audiences.
The Creative Brief defines the box.
Use our Creative Checklist to determine if the creative work is in the box.
Then, we introduce a Creative Checklist that is designed to help you make advertising decisions. When you see the creative marketing execution come back from your experts, use our creative checklist to make decisions. Next, use your feedback to your marketing experts to steer the ideas back in-the-box. Importantly, the Creative Checklist highlights the gaps you see. Your role is to provide your problems with the work, while avoiding providing a solution. Let your creative marketing execution experts use their in-the-box creativity to figure out new solutions that will fit the box. 
To illustrate, click to review how our Creative Checklist helps decide if the creative advertising fits the box..
Use our ABC's of Advertising: Attention, brand link, communication stickiness
Here are four questions to ask:
To illustrate, click on the ABC's of advertising to see details.
Get comfortable with various advertising techniques.
Video on how to use in-the-box creativity
Have a look at our video on how to use in-the-box creativity to ensure our marketing execution stays on strategy. We introduce how our Creative Brief defines the box the work must play in. And, our Creative Checklist to allow you to decide if the marketing execution delivers. To read more, click on this link: How to use in-the-box creativity. 
To view, use the ▶️ controls to play our brand strategy video.