It is normal when a Brand Leader is in a category with intense competitive pressures to become obsessed and fixated on what their competitor is up to now.  They launch a bigger size so you launch a bigger size.  They claim fast and you claim faster.  They launch Lemon and you launch more Lemon.  You both do side-by-side demonstrations in your TV ad against each other. Pretty soon, you have both forgotten about the consumer and what they want. And as the two brands fight it out, the shares pretty much look the same as they did last year.  
We believe that a Brand is an idea that is worth loving. Our definition of a brand: "A Brand is a unique idea, perceived in the minds and hearts of the consumer, consistently delivered by the experience, creating a bond, power and profit, beyond what the product itself could achieve." Most brands started as products or services that handled some functional problem in the market, but as they matured and became more closely connected to their consumers, they evolved into a Big Idea, that fulfills consumers' emotional needs.
Another way to say it, most great PRODUCTS were invented to solve a rational PROBLEM in your consumers' daily life. Most great BRANDS solve an emotional ENEMY in your ongoing consumers' life. The question you likely never ask is:  who is the Enemy of your consumer? 
Who is the Enemy of your consumer?
I like to push my clients to think of their consumer's enemy.  It is a starting point to put them in the shoes of their consumer and then they start to use the voice of the consumer.  The enemy is a great way to start a connection because if done right, it shows that you understand them.  It's not just about features that you do, but pushes you into finding the rich emotional zones that you can own.  Picking the enemy gives your brand focus and another way of bringing insight into your brand positioning.  
Starbucks fights off the enemy of a HECTIC LIFE:  Put yourself in the shoes of your Starbucks consumer, who is a 38 year old mom with two kids, wakes up at 615am, not only to get ready for work, but to get everyone in the house ready for their day.  
She drops off one kid at daycare, the other at public school and then rushes into the office for 830am.  She drives a van, not because she wants to but because it's a great choice for carrying all the equipment needed for after-school activities, which are soccer, dance, tutoring and ice hockey.  No one is really old enough to thank her–the only appreciations are random moments of celebration or at the end of a long day.  Just after getting both to bed, she slinks into her bed exhausted. What is her enemy?  It's a HECTIC LIFE.  If only she had a 15 minute moment to escape it all.  She doesn't want to run from it, because she does love her life.  She just needs a break.  A place where there is no play land, but rather nice leather seats.  There are no loud screams, just nice acoustic music.  There are no happy meals here, the drinks and pastries are not average, but have a European touch.  Not only is she appreciated, the 21 year old college student knows her name and what her favorite drink is.  Starbucks fights off her HECTIC LIFE and gives her a nice 15 minute escaping moment in the middle of her day.  Yes, the Starbucks product is coffee, but the Starbucks brand is about MOMENTS.  
Apple fights off the enemy of FRUSTRATION: Unless you work in IT, you likely find computers extremely frustrating.  We have all sat at our computer wanting to pull our hair out. Spending 38 minutes to figure out how print, getting
Error 6303 message that says close all files open and reboot or buying a new computer and you need to load up 13 disks and 3 manuals to read before you can even email your friend to tell them how amazing your computer is. Apple has recognized the FRUSTRATION consumers go through and realized it was in the way of many consumers experiencing the potential of communications through computers.  They capitalized on the frustration of PCs with the famous TV campaign of "Hi I'm a Mac,….and I'm a PC" to demonstrate issues around setting up computers, viruses, and cool applications you can use. Everything Apple does has SIMPLICITY at it's core.  As soon as you open the box you can use it, they have compatibility with other software or external devices and eve the store set up makes it easy to check out or questions of experts. You can even take classes to learn. Yes the Apple product is about computers tablets and phones, but the Apple brand is about fighting off FRUSTRATION by making everything SIMPLE enough so that everyone can be part of the future. Here's how Apple drives simplicity into everything they do: 
Special K fights off the enemy of THOSE FEW EXTRA POUNDS:  As we hit our 30s and 40s, the metabolism slows down, yet we still want to look and feel our best.  The proactive preventer does everything they can to maintain a healthy life but they can still have problems with a few extra pounds.  Yes, there are so many diet programs promising to lose 50 or even 80 pounds.  You can take pills, join a gym, get needles in your butt. Everywhere you look.  It's almost over-whelming to consumers.  But what if you just want to lose 5 or 10 pounds, for that cruise you have coming up, or just to get ready for the summer season?  What if you just want to fit into your favorite pair of jeans again?  You can't show up to Weight Watchers and say "Hi I want to lose 5 pounds".  `  Special K has recognized a potential niche in the market to take on those "few extra pounds" with the Special K challenge promising that if you use Special K for two meals a day, you will lose six pounds, or one jean size.  This is obviously not the miracle cure being offered by everyone, but rather it targets women doing as much as they can already, and want to TAKE CONTROL of their weight.  Here's how Special K takes the idea of empowering women to take control into everything they do: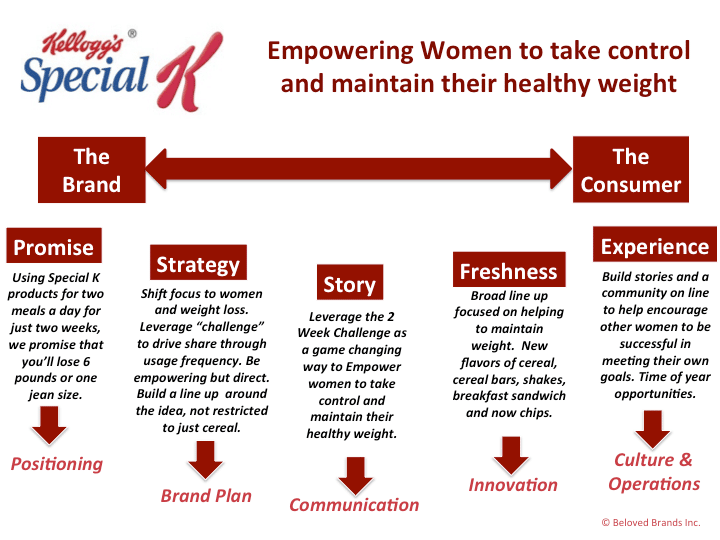 Use the talk of your consumers' enemy to be more insight driven on your brand. Insight comes to life when it's told in such a captivating way that makes consumers stop and say "hmm, I thought I was the only who felt like that".  Stop asking who is your brand's enemy.  At your next team meeting, start off by asking "who is our consumers enemy?" and see if it enables you to connect more with your consumer and see if it takes you into a highly creative zone?  If your team has a problem answering that question, maybe you have a problem in how you run your brand.  
So, who is the enemy of your consumer? 
How loved is your brand?
We believe a brand's source of power is the emotional feelings it generates. With that power comes added profitability.
In the consumer's mind, brands sit on a Brand Love Curve, with brands going from Indifferent to Like It to Love It and finally becoming a Beloved Brand for Life. At the Beloved stage, demand becomes desire, needs become cravings, thinking is replaced with feelings. Consumers become outspoken fans. It's this connection that helps drive power for your brand: power versus competitors, versus customers, versus suppliers and even versus the same consumers you're connected with. The farther along the curve, the more power for the brand. It's important that you understand where your brand sits on the Love Curve and begin figuring out how to move it along towards becoming a Beloved Brand. With the power of connection, the brand can leverage that power into increased growth and profits. To read more, follow this presentation.
Continue Reading